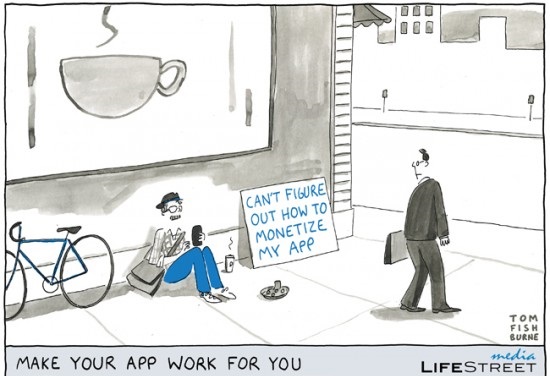 Android and iOS have simply revolutionized the Smartphone market. The Play Store and the Apple Store contains so many apps that if you start downloading and using each one of those, you will need many months to finish the process. The main reason behind such majestic size of the stores is the fact that the applications are easy to create thanks to endless gigabits of training material available online and in the form of books. But one question that these books fail to cover is – How to Monetize These Applications?
In the following blog post we will discuss 6 monetizing methods for apps and help you decide what will work for you.
Paid Apps
This is one of the most sought after monetizing method for application. Other than being developer's favorite method, this method makes the most money and converts easily (if it is really very helpful).
Pros
Simple and easy to implement
Involves good money
Cons
Store keeps certain amount of money (30% in case of Apple)
Cost of future upgrades is also covered within this cost
In – App Advertising
Popular with free application, this method involves displaying advertisements within the application. When the users click on these adverts or even if they view adds, you mint some money (cents actually). Most of the developer allow users to make an in-app purchase (which is another method of monetization) and then display all the features available in the premium version. We can also include the (much-hated) notification adverts in this section.
Pros
Simple and easy to implement
Since the app is free, expect a lot of downloads
Cons
Need a lot of downloads to make some appreciable income
Rate of conversion is too low
In-App Purchases
This method allows the user to purchase some points or premium stuff from within the app. These purchases then can be used to enhance the experience of using the application in some way or the other. For example buying coins in a game app to upgrade guns and tanks.
Pros
Almost unlimited offers can be promoted
New items and premiums can be added with each update and hence capture more money through a single app
Cons
Moderate conversion rate
If you sell through the official store, store keeps a fixed percentage for every deal and every offer promoted throughout the life of the app
SEE ALSO:  Best 3 Apps to Experience iOS 7 Style Control Center in Android
Users Pay To Access The WebApp
This is a kind of monetization I avoid. Although many successful app builders have been able to do wonders with this kind of a solution, it involves double the work than other methods. You create and distribute an application for free for mobile phones but users have to pay a fixed amount to get access to the Web or Desktop app. The basic feature associated with such apps is the syncing of tasks or notes and other such data when accessing the app from different sources.
Pros
Reaches more customers (webapp has its own charm)
Cons
Extra time and money required to develope web-app
Subscriptions
This is my favorite method of capturing fixed amount of money every month. Just like a magazine, people subscribe to see the content of your application on a weekly or monthly basis. For this method to work, content must be fresh, informative and helpful in day to day life.
Pros
Not much competition in the app stores
Can implement more sources of income like in-app purchases through affiliate links
Monthly income
Cons
Conversion rate may fall if you fail to deliver appropriate content
You compete with the free information available on internet
Affiliates and Lead Generation
This method works for the apps that have the ability to sell services. For example, if you create an application for air ticket booking you can earn huge money in commissions if people book tickets using your affiliate links. BUT one major problem with this app is that that it requires a lot of trust from users.
Pros
Cons
Conversion rate is very low
Volume of traffic is the key
SEE ALSO:  Quixey, Search Engine For Apps Across Different Platforms
Conclusion
Different applications demand a different monetization model. While paid app model works excellent for Games, affiliate model will work like a charm for flight booking application. You just need to spend a little time thinking about the approach your users will have towards your application. For example, if you launch a train booking app under a paid app model, I will never spend a dime on such an app because I know there are a lot of free sources available. Now if the same application is provided for free, I will definitely use it to book my flight ticket and unknowingly generate income for you too. Amkay?