Instagram now brings the ability to download reels to all users globally, which was previously only available to US users.
To use this feature, tap on the share icon underneath a reel and click on the download button.
When downloading reels natively, the app watermarks the reel with the Instagram logo and the creator's username.
Instagram allows you to save posts, reels, and other content that you come across on the platform. However, for the longest time, users have been wanting an option to download Instagram reels on their phones. Instagram heard the community's feedback and rolled out this feature in June 2023. However, it was only limited to the US at the time. Now, the feature is rolling out widely, allowing anyone and everyone to download Instagram reels from the Android or iOS app itself. Read on to know how it works.
Download Instagram Reels on Android and iOS
The feature allows you to download reels in up to 1080p resolution if the user has posted them in a higher resolution. Also, the process to do so is the same in both Android and iOS. So, in this case, we are using an Android device to show you everything.
Note: You can only download Instagram reels of Public accounts. So, if you want to download the reels shared by a private account, that isn't possible. Moreover, the Public account needs to have the feature enabled for users to be able to download their reels.
With that out of the way, let's take a look at how you can use this feature:
Firstly, open the Instagram app on your Android and iOS device.
Then, open the reel that you want to download, whether from your Feed, Discover, or Saved section of the app.
Tap on the Share icon underneath that particular reel.
Here, you will be able to see the option to Download in the bottom bar. Simply tap on it, and you are done.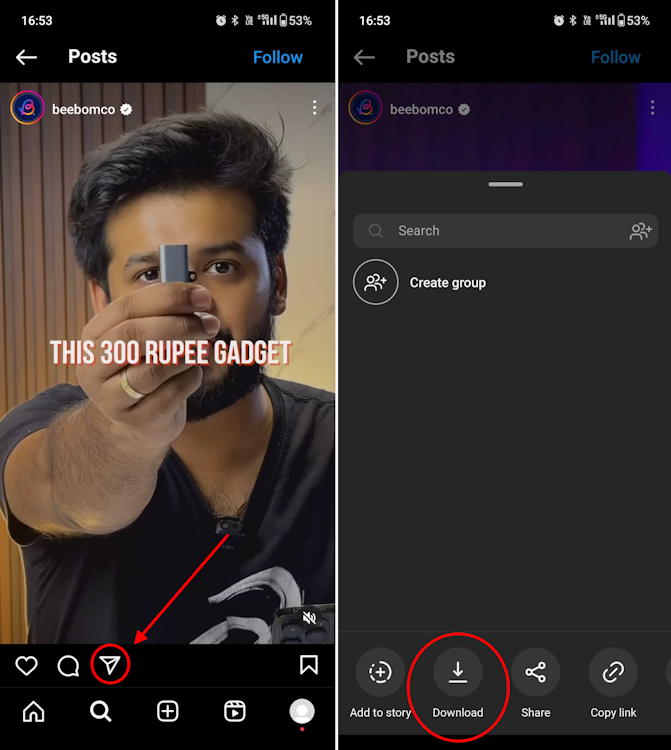 Now, the downloaded Instagram reels will be saved to your device with a watermark of the creator's username on the video. So, just navigate to your phone's gallery to find the downloaded videos.
Also, the ability to download Instagram reels is limited to the Android and iOS apps for now. So, you won't be able to download them when browsing Instagram on the web.
Stop Others from Downloading Your Instagram Reels
There's a reason why Instagram took so long to finally offer a Download button for reels uploaded to the platform. You have probably come across random meme pages sharing content of other creators without crediting them. That automatically leads to these creators losing out on a whole lot of views.
The good thing here is that when downloading Instagram reels natively, the app watermarks the reels with the creator's username. Still, if you want to prevent others from downloading your content, there are two ways to go about it:
Method 1: Disable Downloading for an Existing Reel
To turn off downloading for a reel that already exists on your Instagram profile, follow these steps:
Go to your Instagram profile and tap open the reel that you want to turn off downloading for.
Then, select the vertical three-dot icon at the top-right corner of the reel.
Here, tap on the Turn off downloading option, and that's it.
You can repeat the steps to turn on downloading for the reel on your account. Moreover, you can also learn to save Instagram stories with music via the linked guide.
Method 2: Disable Downloading When Posting a New Reel
You can also turn off downloading before you post a reel on Instagram. To do so:
When making or uploading an Instagram Reel, tap on Next.
Then, scroll down and move to Advanced Settings from the Reel settings page.
Here, you will find the "Downloading your reels" section. Under this, you will see the option to toggle on the "Allow people to download your reels." By default, this option is turned on for Public accounts of users over 18 years of age. Tap on it to turn it off.
Now, you will see a small pop-up window that will let you choose to turn off downloading for only the reel you are uploading or for all your Instagram reels. Tap on the desired setting, and you are done.
If you want to turn on downloading for your reels again, just repeat the steps in both methods.
Whether it is to share it with your circle as a video and not merely a link or to just repost Instagram content, this native reels download option makes it all a lot easier. Not to mention it is indeed a lot more secure than having to rely on a third-party app or website.
Since you can't download Instagram reels on the web if you are using your PC, you can resort to a third-party tool. However, we would highly recommend against doing that since these third-party tools are not secure and may pose a threat to your Instagram account. With that being said, let us know in the comments section whether this guide was helpful or not.
Why don't I see the download option on Instagram Reels?
To be able to download Instagram reels, you have to use a regular account and not a Creator or Business account. Creator and Business accounts don't have the download button under Reels. Also, for the feature to work, the creator of the Reel will have to enable downloading for you to download in the first place.
How do I download Instagram Reels to my gallery?
The native option to download Instagram Reels automatically stores the downloaded reels to your device gallery.
How do I download reels to Chrome?
To download reels to Chrome or from the web version, you will need to take the help of a third-party tool as the feature is not available for the web yet. However, be cautious about using such tools as they may pose a threat to the security and privacy of your account.
What is the difference between saving and downloading Instagram Reels?
When you save Insta reels, you will find them in the Saved section of your Instagram account to watch later. However, the download functionality saves those reels not within the app but on your device gallery altogether.
---
Load More