Usage of smartphones and tablets are growing among children and kids especially love the iPad. However, as a parent, you'll want to use parental controls to keep your child safe when they're on the internet and prevent them from accessing content they shouldn't be accessing on the iPad. You probably want to restrict your child's browsing activities or block apps installation. Thankfully, iOS comes with great parental controls built in, so if you have an iPad, we tell you how The built-in iOS parental controls for iPad come in the form of "Restrictions." In this article, we are going to show you how you can set up parental controls on iPad:
Should You Get an iPad for Your Children?
As a parent, getting an iPad is a matter of choice and budget. If you own a single iPad then it's probable that your child may be using the same iPad for reading books, playing games, school homework, browsing the internet, and engaging with friends on social media. In such a case, you have to turn the restrictions in iPad on and off each time you give them your iPad.
This is tedious, but if you get them an older, refurbished model then you can setup restrictions once and be done with it. There are probably several, cheap Android tablets available on the market but in comparison to iOS none of them give you a superior experience by default, unless you use a third-party app.
Setting Up Parental Controls on iPad
Setting up parental control takes only few minutes and support you in your efforts to keep your child's Internet experience safe, productive, and fun. You can either lock your iPad to a certain app before giving it to your kid or lock down an entire device with comprehensive parental controls.
Setting Up Guided Access Mode
Guided Access lets you lock your device to a single app. When you enable Guided Access, it limits your child to use only one specific app, preventing them from switching to another app or home screen. It lets you disable certain areas of the screen. For instance, you can freeze menu items to prevent accidental gestures or in-app purchases. It also lets you disable hardware buttons. For instance you can disable volume button to prevent your child from changing volume.
To set up Guided Access, open the "Settings" app and navigate to "General > Accessibility > Guided Access". Toggle the Guided Access switch and tap "Passcode Settings" to set a four-digit passcode.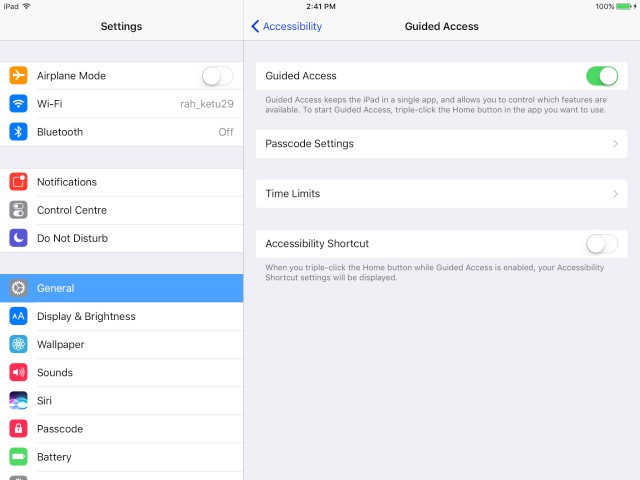 To enable the Guided Access, open the app you want to lock the device to. Then, triple-click the Home button, and choose "Guided Access" from the Accessibility Shortcuts pop-up.
In the next step, adjust the settings for the Guided Access session. Toggle the switch for "Touch", to allow them watch their favorite shows. Tap "Options" under Time Limit to set the duration of the session. Tap "Options" under Hardware Buttons to disable keyboard, volume buttons, sleep/wake button, and motion. Press "Start" to begin the Guided Access session.
While you're in the Guided Access session, you can also tap areas on the screen you would like to disable. Many games have menu items to buy In-App purchases related items such as coins or power-ups. You can freeze those menus to disable the touch.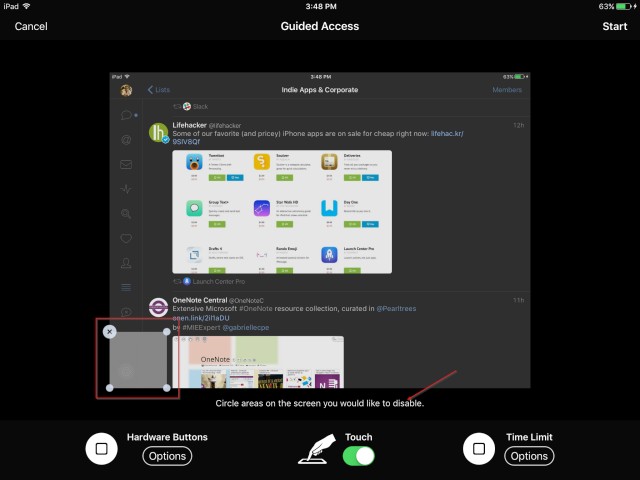 To end the session, triple-click the Home button and enter the passcode you set earlier. Alternatively, you can use TouchID to end the session. Launch the "Settings" app, go to "General > Accessibility > Guided Access > Passcode Settings" and turn on Touch ID. If your child tries to leave the app, they'll see a message "Guided Access is enabled" at the top of the screen. They have to enter the passcode you provided earlier to leave Guided Access mode.
Restrictions in iOS lets you lock an entire device with comprehensive parental controls. There are range of settings to control. Your child cannot disable "Restrictions" unless they provide a passcode. If you forget the settings you set up  for various categories, then re-visit the settings and monitor them periodically.
To set up Restrictions, open the "Settings" app and navigate to "General > Restrictions". Create a Restrictions passcode. You need your passcode to change the settings or to turn off Restrictions. Once you turn on the Restrictions, you can put up data blockades in a number of different categories.
Note: Do not set this to the same passcode you used to unlock the iPad. By doing so, your child will be able to make changes to the Restrictions and potentially disable them without your knowledge.
Blocking Apps, Features, and Services
In this section, you can block certain apps and features: Safari, Camera, Siri & Dictation, FaceTime, and AirDrop. Toggle the switch of individual apps to block them. When you do so, you'll not see their icon on the home screen nor you'll find them during Spotlight search. Although Messages app is not listed, you can block them too.
Go to "Settings > Messages" and disable "iMessage". In the next step, tap "Accounts" under Allow Changes section and tap "Don't Allow Changes". By doing so, your child cannot turn on the Messages app.
A second list of options prevents your child from purchasing, downloading, installing apps, and other content. To prevent only in-app purchases, turn off "In-App Purchases". To completely disable the purchase, turn off "iTunes Store," "iBooks Store," and "Installing Apps." You can also prevent purchases by removing your payment method from your iTunes account.
Note: Even if you've blocked the ability to install new apps, your child can still purchase and install apps, and new materials (game levels, book chapters, virtual credits such as coins and power-ups) within the app. As of now, this loophole still remains.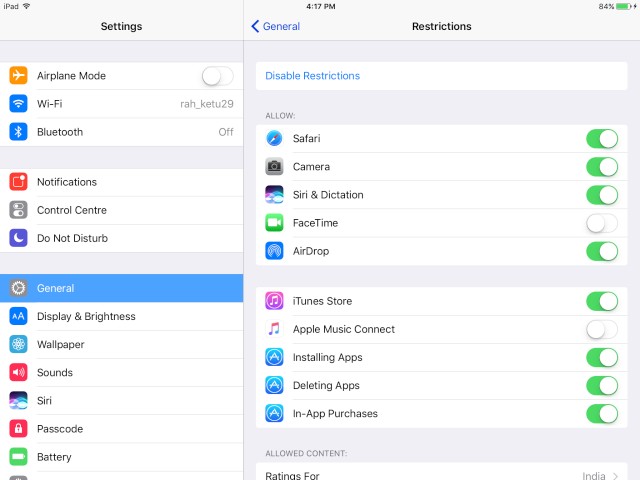 Setting Filters for Content Ratings
In this section, we tell you how you can set filters for various types of content based on the ratings. Every country has its own rating system for Films, TV Shows, Games, Song Lyrics, and so on. Use the "Rating For" control to tell the iPad which country's rating system you want to use. Once that's done, you can control what your child can read, watch, or listen.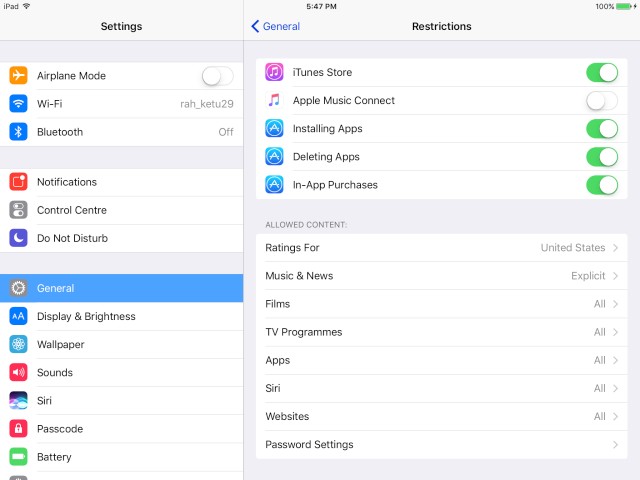 In case of News, Music, Podcasts, and iTunes U, you can turn off "Explicit" to prevent the iPad from playing songs that contain naughty language. With Films, select the highest rating that you'd like to allow. When you specify one rating, all ratings below will automatically get selected. Tap PG-13; any movies rated higher than PG-13 won't play on the iPad nor will be available for purchase.
Apps in the iTunes Store have content ratings too. They are based upon the age and range from 4+ to 17+. Just like Films, select the highest rating that you'd like to allow. When you specify one rating, all ratings below will automatically be selected. Tap 9+; any apps rated higher than 9+ cannot be installed or purchased nor will be visible on the Home screen and Spotlight. This is useful if you'd like to set temporary restrictions without worrying about losing any data.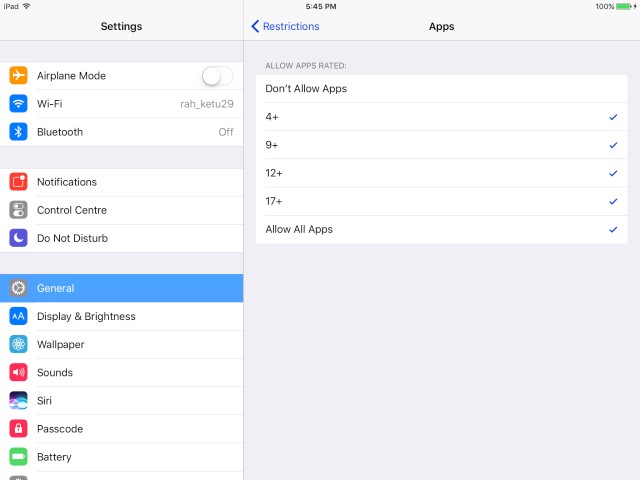 You'll see a setting for "Siri", which lets you block explicit language and web search content. The "Websites" setting lets you limit the adult, or allow only specific websites. The "Password Settings" allows you to set the password for purchasing content on the iTunes and App Store. You have two options — Choose "Always Require" to restrict the purchase completely. Your child cannot purchase anything without your permission. If you choose "Require After 15 minutes," they'll have 15 minutes to make purchases, assuming you've allowed them.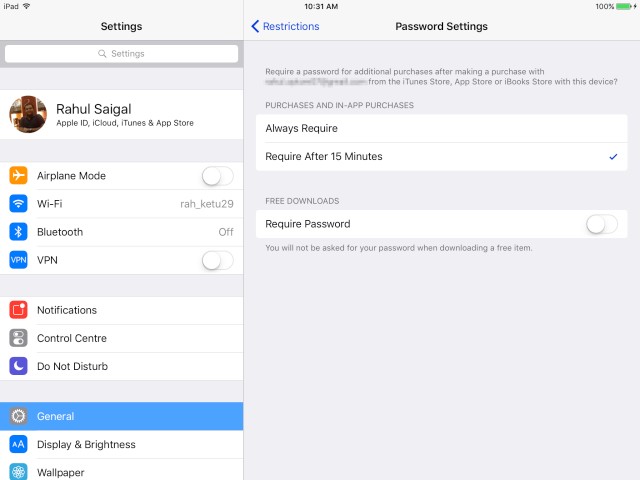 The "Privacy" section lets you allow or restrict Location services, Contacts, Calendars, Reminders, Photos, Bluetooth sharing, Microphone, Twitter, Facebook, and more. Check each of these settings to either "Allow Changes" or "Don't Allow Changes".
You can either allow or block location services for specific apps, but leave behind "System Services". Photos stored on your child's iPad may contain sensitive information. You can prevent new apps from using "Photos". In the same way you can block third-party apps from accessing Twitter or Facebook account.
Allow Changes and Game Center
This section lets you either allow or block your child from making changes to Accounts, Background Refresh, Volume Limit, and TV Provider. Disallowing changes prevents you child from adding, removing, or modifying accounts in Mail, Contacts, and Calendars. You can also block any changes to volume to prevent them from adjusting it.
Finally, you can choose whether your child can enroll in multiplayer games and whether they can add friend in Game Center.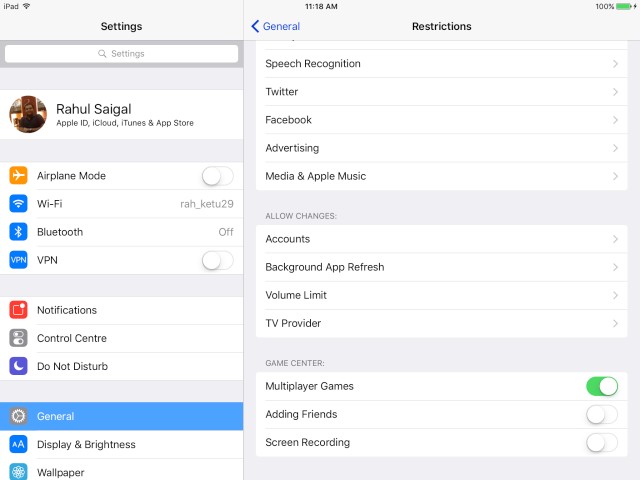 Criteria for Selecting Parental Control Apps
When choosing a parental control app, you must consider following things:
It should let you review all the apps on a device and block or limit app usage.
Filtering tools it offer and the ways it restrict inappropriate content online.
It should let you block messaging apps, alert you when your child adds a new contact or monitor the content of child's texts.
It should keep a log of the location history to know where your child has been and more importantly locate your child in an emergency.
Web based panel for managing all the devices and weekly reports of all the important activities.
Annual subscription cost and limits on the number of devices you can monitor.
Ability to monitor PC or Mac and Android device will be an added advantage.
Avoid apps which offer parental control features but run in stealth mode. For example – WebWatcher and mSpy. It may be illegal in your country.
Third Party Parental Control Apps for iPad
There are pros and cons to both Android and iOS parental controls. By default, iOS restrictions offers more granular options. Due to sandboxing requirements and strict control over apps ecosystem, third party apps don't provide extensive features. The opposite is true for Android but quality of apps can't be guaranteed. Having said that, here are the best parental control apps for the iPad:
1. Norton Family Premier
Norton Family Premier packs all the features a parent could expect from a parental control app on iPad, giving you control over multiple features on multiple devices. At first, you have to create a profile for each child you want to monitor. Default House Rules will be applied for each child based on their age. Install Norton Family on each device your children use to access the Internet. Versions for Windows, Android, and iOS are available separately.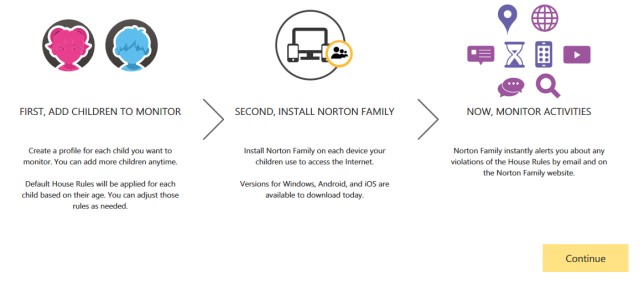 Add your child details and fill in the details that you do not want your child to share on the Internet. It includes social security number, phone number, email address, and more. Tap "Save" and install apps on your child's device. You can add up to 15 children to your account. As you add each child, Norton Family applies pre-defined house rules based on the age.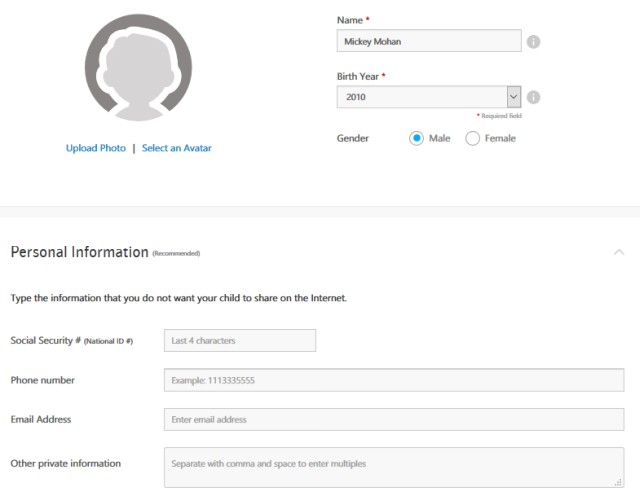 Tap on "House Rules" and adjust the default settings based on the child's need. You can check out this Norton support document for more information on house rules.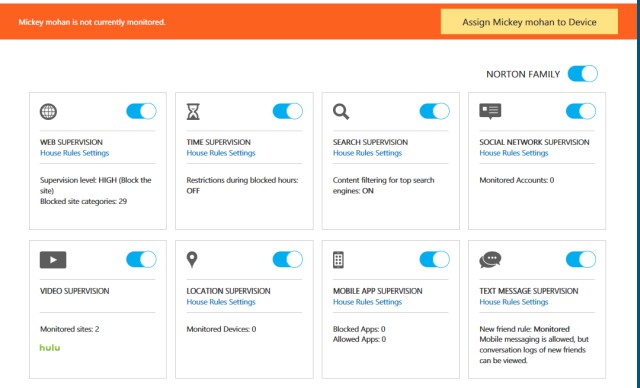 The web filters can keep your child away from questionable websites, and its location tracking feature can give your child's location. You can block individual apps and easily configure restrictions and profiles.
You can subscribe to the weekly and monthly report of your child's activities. If you've a mix of Android and Windows devices as well, then Norton Family is a good option. Call and message monitoring are limited and you can't set time limits on specific apps. The subscription cost is 49.99$ for first year and avail 10 to 20% discount afterwards.
Install: (Free, with in-app purchases)
2. Net Nanny
Net Nanny Family Protection Pass offers you a comprehensive set of parental control features for every device in your home at one low cost. You can add and monitor multiple devices. Apps are available for Windows, Mac, Android, and iOS devices.
It offers a web-based admin console to configure settings and to see reports for all protected devices in a single dashboard. Just like Norton Family, Net Nanny lets you mask profanity, block inappropriate sites and gives you the option to warn your child about a site content instead of blocking them. Reviewing and blocking apps is also possible, you can even temporarily block a app for a limited amount of time.
It also let you monitor your child's social media activities on various social media sites. Net Nanny does not email reports, but can alert you in real time when your child access blocked sites, or overridden a specific page. Net nanny Family Protection Pass will cost you 59.99$ a year to protect 5 device and $89.99 a year to protect 10 device.
Install: (Free, with in-app purchases)
SEE ALSO: How to Hide Photos on Your iPhone and iPad
Set Up Parental Controls on Your iPad
Setting up parental controls on iPad is an easy, intuitive but time taking procedure. We've shown you how to block apps, features, services and take advantage from filters. We've also discussed basic criteria for choosing a parental control app and highlighted some of the best ones. So, try out these parental controls options on your iPad and let us know what you think in the comments section below.