If you're someone who tends to use a lot of stickers and GIFs while chatting with your friends or family, you would be excited to use these new types of emojis introduced in Facebook Messenger – Soundmojis. True to their name, Soundmojis are emojis with sound. So now, before you break the news of your promotion to your family, you can actually add a drumroll to create the suspense. Yeah, Facebook Messenger just gave you the option to add a background score to real-life events. And in this tutorial, we will explore everything you need to know about Soundmojis. So keep reading till the end to find out how to use Messenger's new sound-based emojis.
Guide to Using Soundmojis on Facebook Messenger (2021)
Facebook is always working on innovative new features to elevate the core messaging experience for users. Be it the FB Messenger-Instagram DM integration, Messenger Rooms, Secret Chats, or the newly added Soundmojis. With that said, let's not waste more time and learn about Soundmojis in detail.
What are Soundmojis (or Sound Emojis)?
Facebook announced Soundmojis back in July this year to celebrate World Emoji Day. These sound-based emojis play relevant sound effects or popular song quips based on the nature of the emojis. So, when you send a drum emoji to your friend, Messenger will play the corresponding sound along with an animated emoji in the chat window.
These sound emojis range from common sounds like clapping or a drumroll to parts of trendy pop songs like "thank you, next" by Ariana Grande and "WAP" by Cardi B. The Soundmojis also include audio from some of your favorite TV series and movies like Brooklyn Nine-Nine and Fast and Furious 9.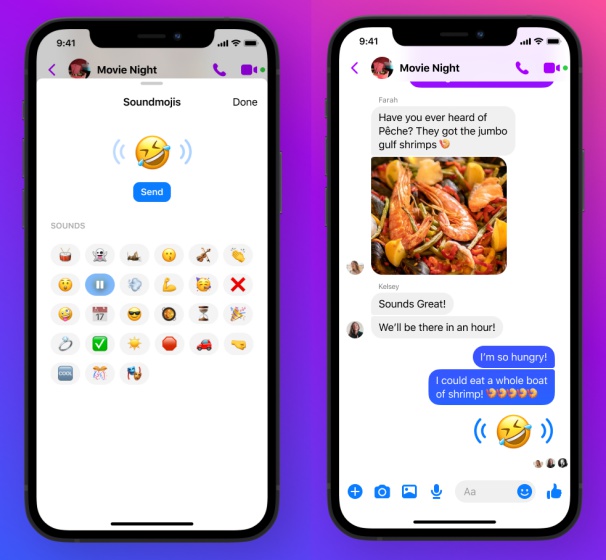 For instance, the chicken bowl emoji plays the part of WAP, where it says "Macaroni in a pot", and the red stop emoji plays Billie Eilish's "Stop, what the hell are you talking about?" from her popular song "Therefore I am".
Until now, emojis and other add-ons like GIFs have been more about visuals. But, this is the first time that Facebook has brought audio into the mix. You can use Soundmojis on Messenger for Android and iOS. Currently, there are around 23 Soundmojis available to share in chats on Messenger. However, Facebook might add more to the list in the coming months.
How to Send Soundmojis on Facebook Messenger
Now that you are familiar with what Soundmojis are, let's take a look at how you can actually send one on Facebook Messenger. However, before sharing a Soundmoji on Messenger, ensure that the app has access to your device's microphone.
For this tutorial, I will be using an iPhone X running iOS 15 beta 4. Nonetheless, it is worth mentioning that Soundmojis are available on Facebook Messenger for Android as well. With that out of the way, let's check out the steps to send Soundmojis:
1. Open Facebook Messenger (Android, iOS) on your device and open a chat window.
2. Tap the emoji icon located to the right side of the message box.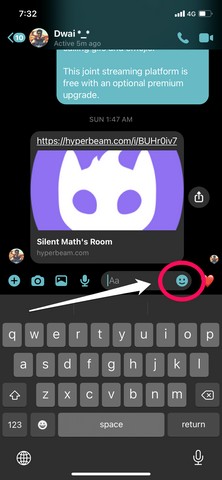 3. Then, tap on the loudspeaker icon at the right to open up the Soundmojis menu in Facebook Messenger. Here, you can find all the available Soundmojis that you can send in a chat.
4. Tap a Soundmoji to preview it, and Messenger will play the sound related to it. You can tap on any of the Soundmojis multiple times to listen to the sound once again before sending it.
5. Once you have selected a Soundmoji that you want to share in the chat, tap on the "Send" button under the emoji. You can check out the video below to get an idea of how Soundmojis look in a chat.
So, that's how you can easily send a Soundmoji to your friends or family on Facebook Messenger to better convey your emotions. Do keep in mind that the recipient needs to tap on the Soundmojis to play the corresponding sound.
Use Facebook Messenger Soundmojis to Convey Your Emotions
That's pretty much it. If you were wondering how to send sound emojis to your friends or family on Messenger, we hope this guide came in handy for you. Soundmojis are an interesting take on plain old, boring emojis we share daily. Further, Facebook also owns WhatsApp and Instagram, so there is a high chance that Soundmojis might come to these social apps sometime in the future. Do you think that's something you are looking forward to? Sound emojis? Let us know your thoughts in the comments section below.
---
Load More