With changing technology, the way we share content with others on the internet is also changing rapidly. First users shared content with sharing written messages, then they started sharing pictures, then videos, and now the hottest thing in the market is live-streaming. Live-streaming was made popular by Twitch, a service that allows gamers to livestream their content to viewers. However, the rest of the world was quickly onto this phenomenon, and services like Periscope, Instagram, Snapchat, and even YouTube started allowing users to livestream their content on their platform. However, today our focus is just YouTube as it recently launched an update which now allows users to schedule their livestream in advance, so their viewers already have an idea when they are going online. If you are someone who livestreams a lot, you will find this feature really handy. So, if you are interested, here is how to schedule livestream on YouTube in advance :
Note: We have tried this feature on Galaxy S8 running Android 7.1 Nougat, however, this feature also works on the YouTube app for iOS as well as on the Web. 
Schedule Livestream on YouTube in Advance
The process is very simple, so just follow along and you will learn in no time.
1. Launch the YouTube app and then tap on the record/livestream button marked in the picture below, and then tap on "Go Live".
2. Here, tap on More options, and then tap on the toggle next to "Schedule for later".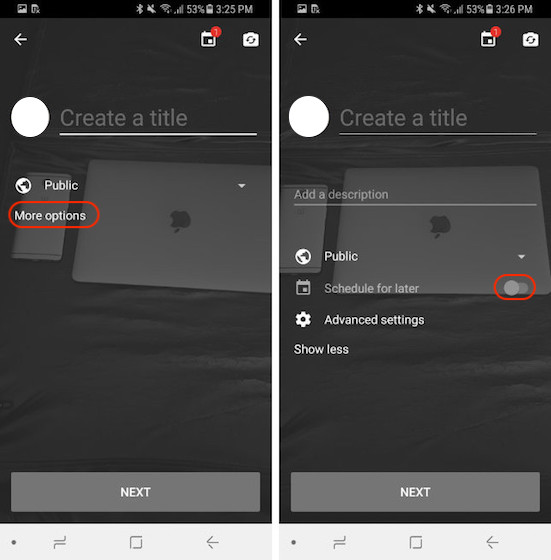 3. As soon as you tap on the toggle, a date and time field will open up. Tap on the date and time to schedule your livestream. For example, in the picture below, I scheduled my YouTube livestream for November the 3rd at 5:25 PM.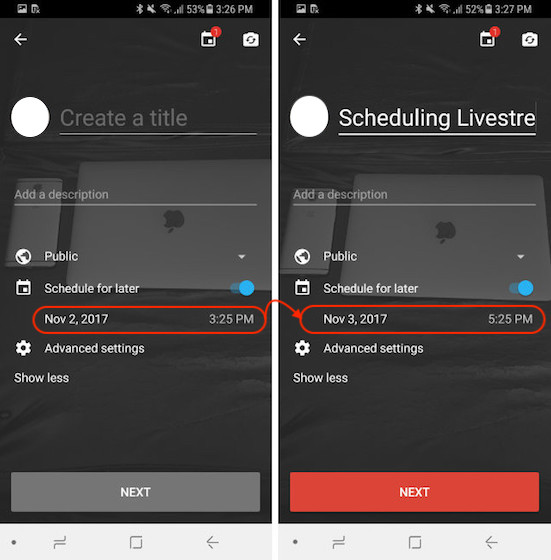 When you schedule a livestream, all your subscribers get a notification for the same. Hence, when you start your livestream, you can be sure that your audience know it, and will be there to watch it if they want to. This is a very simple and small feature, but I can see this helping YouTube content creators a lot.
SEE ALSO: How to Use Instagram Superzoom on Android or iOS
Schedule YouTube Livestreams With Ease
We all know that YouTube is one of the best places for content creators to be, however, when it comes to live-streaming, YouTube lags far behind its competitors. Gamers still prefer to stream on Twitch and normal content creators are using services like Snapchat and Instagram for livestream purposes. However, YouTube's dedication towards making this work might just be the impetus that the YouTube livestream community needs. They are constantly adding new features and the ability to schedule your livestream is a welcome addition. But, will this make users use YouTube livestream or not is a question for the future. Do let us know your thoughts on the subject in the comment section below.
---
Load More