The Google Pixel has been in the news for all the right reasons. It is quite easily the best Android smartphone of 2016, it has the best camera on a smartphone (with a DXOMark score of 89), and is over-all, a very well balanced device. However, one of the lesser talked-about features of the Pixel is the great fingerprint gestures it offers that are part of Android 7.1. You can simply swipe down on the fingerprint scanner on the Pixel, and the Notification Shade drops down. That's really cool, and can definitely prove useful in a lot of situations. If you want Pixel like fingerprint gestures on your Android smartphone, there is a way.
Get the Fingerprint Gestures on your Android Phone
Google Assistant not withstanding (you can get it on your rooted non-Pixel Android Nougat smartphone), features such as these might make you feel like you're missing out on quite a bit, on your non-Pixel smartphone. Well, there's good news for you: XDA user ztc1997 has created an app that you can use on any Android smartphone (Android 6.0+), which will allow you to enable custom gestures for your fingerprint scanner.
Unfortunately, the app is not available in the Google Play Store. You can, however, download it from the official thread on XDA, where the developer has posted the link himself.
Using the Fingerprint Gesture App
Downloading, and installing the app is easy. You can just head on over to the app's thread on XDA, and download the app from the attachment at the end of the original post.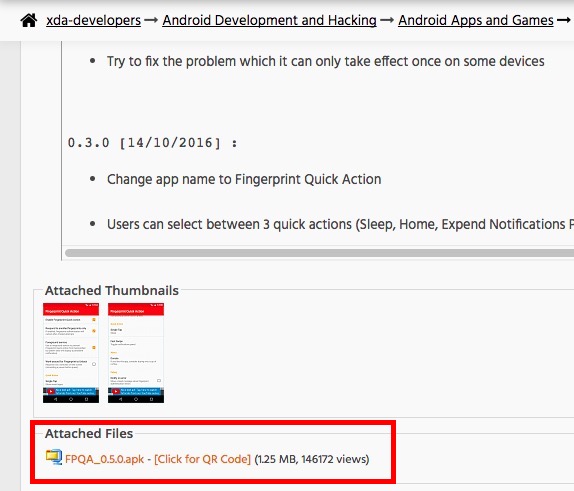 First things first, we need to toggle the app "ON", in our accessibility settings. This is required, as without this, the gestures won't work.
Now that we have it set up, let's jump inside the app. From the get go, it is clear that the app is meant to be a simple app. There are no complicated switches, and poorly worded options (that are more misery than help). Globally, you can choose to enable, or disable Fingerprint Quick Actions as a whole. You also get the option to only respond to enrolled fingerprints. This will ensure that only you can access the Fingerprint gestures on your phone. Not really necessary, in my opinion, but it might come in handy for you, and it is definitely not a bad option to have.
One of the more important settings that you can enable, is called "Foreground Service". This setting simply ensures that the app doesn't get killed when it is sitting in the background. Enabling this will ensure that your fingerprint gestures will work at all times. Even if the app has been sitting in the background for quite long.
Currently, the app features two quick actions: a single tap, and a fast swipe. The developer is planning on adding more, in the future. These actions can be customised to do a lot of different things. You can use them to put your device to sleep, go back, go home, show recent apps, toggle split screen, and a lot of other actions. In my case, I have the single tap set up to "Go Back", and the fast swipe to "Expand notifications panel".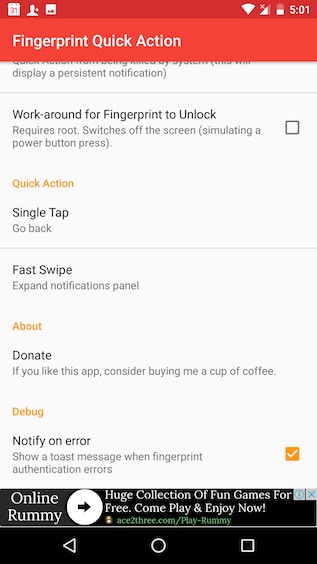 I did notice that the "Single Tap" takes more than a tap to register. You actually have to tap on the fingerprint scanner, and rest your finger there for almost a second before it registers. The fast swipe, works fine, and in any direction.
SEE ALSO: 10 Google Pixel and Pixel XL Accessories You Should Buy
Get Fingerprint Quick Actions on Your Android Phone
With this cool app, you can get Pixel like fingerprint quick actions on any Android phone equipped with a fingerprint scanner. Quick actions are a great way of interacting with your phone, and can save you a lot of time, if set up correctly for the way you use your phone. So, have you used the fingerprint gestures on the Pixel, and did you try out this app on your phone? Do let us know about your experience with fingerprint gestures, and whether you found them useful. Also, if you know of any other apps that add such functionality to an Android phone, do let us know about them in the comments section below.