Characters in Genshin Impact are the pillars of having fun playing the game. Each character in Genshin Impact has its own set of abilities, mechanics, and vision. The rarity of characters is divided into two – four-star and five-star. Four-star characters are not limited to banners and are easy to get (1 in 10 pulls guaranteed) whereas five-star characters are rare (based on pure luck; 1 in 80 guaranteed). To understand how to get five-star characters, you need to understand how the pity system works (which we will go over later in this article). In this guide, let's look at how to get characters in Genshin Impact.
Resources Needed to Unlock Genshin Impact Characters
To get characters in Genshin Impact, there are three main resources that you'll need — Primogems and/or Intertwined Fate, and Acquaint Fate. These resources are what allow you to wish on the banners. Similarly, as you wish for characters and weapons, you also get Masterless Starglitter on every successful four-star pull and Masterless Stardust for every successful three-star pull.
Primogems
Primogems are the most important resource for getting characters in Genshin Impact. They are obtained through multiple ways — exploration, event participation, surveys, character demos, daily commissions, playing character stories, challenging the Abyss, checking mail for maintenance rewards, opening chests, doing quests, special web events, and more.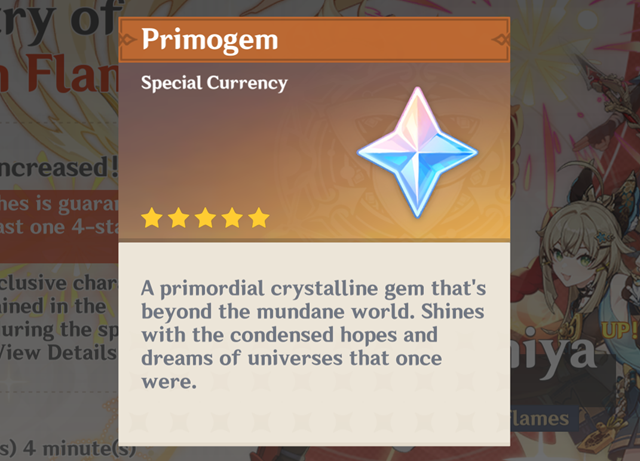 In Genshin Impact, 160 Primogems equal one Intertwined or Aquaint Fate, which are used for wishing for characters on Limited Event banners and Standard banners. The easiest way to get Primogems is by participating in events as they give you at least 420 primogems.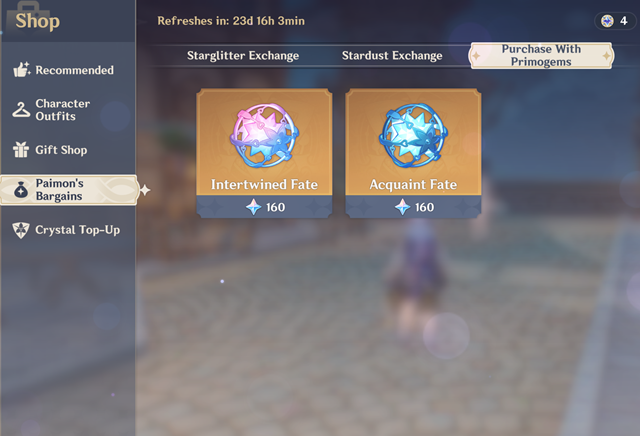 Stardust and Starglitter
The amount of Stardust and Starglitter that you get varies from pull to pull. For example, if you get a duplicate four-star character whose constellation is still not complete, you get two Masterless Starglitter, five if the constellation is complete. For a duplicate four-star weapon, you get two Masterless Starglitter.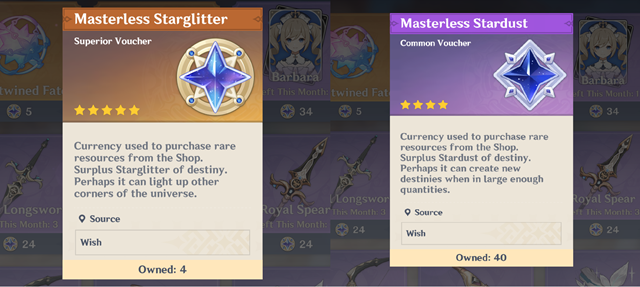 Similarly, for a duplicate five-star weapon with an incomplete constellation, you get 10 Masterless Starglitter and 25 if the constellation is complete. Here's a table to help you understand.
| Character/Weapon | No. of Starglitter Awarded |
| --- | --- |
| 4-star duplicate character (incomplete constellation) | 2 |
| 5-star duplicate character (incomplete constellation) | 10 |
| 4-star character (complete constellation) | 5 |
| 5-star character (complete constellation) | 25 |
| 4-star duplicate weapons | 2 |
| 5-star duplicate weapons | 10 |
Moreover, you get 15 Masterless "Stardust" for every successful 3-star pull. Stardust will help you buy five Intertwined and Acquaint Fate every month after the shop reset, which is important for wishing for characters.
Best Ways to Get New Characters in Genshin Impact
With the prerequisites out of the way, let's look at where and how to get new characters in Genshin Impact.
1. Wishing on Limited Time or Permanent Banners
Limited Event banners allow you to wish for exclusive five-star characters in the game. Each Genshin Impact patch brings four exclusive five-star characters for a month out of which two exclusive characters are reserved for the first half of the month and the rest for the second half. Players can wish for their favorite five-star characters directly using Primogems or by converting them to Intertwined or Acquaint Fate in Paimon's bargains.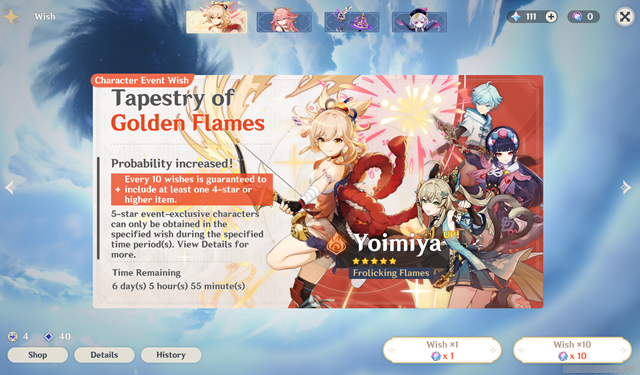 Do note that if you're pulling for your favorite character on the limited event banner, there's a 50% chance that you may not get it but a different five-star character. This is referred to as 50-50. Although, if you don't end up getting the character you were wishing for and end up losing the 50-50, you're guaranteed to get the character in or under the next 80 pulls until or before you hit soft pity (aka luck-based system).
Remember we told you about the pity system earlier? The chances of you getting a 5-star character increase with each pull. When players start hitting their 40th wish on the banner, they have a high chance of pulling a 5-star character in the next pull. The maximum soft pity is 75 before it hits the hard deck of 90 when they're guaranteed a 5-star character. You can always check your pity by counting your pulls in the history section.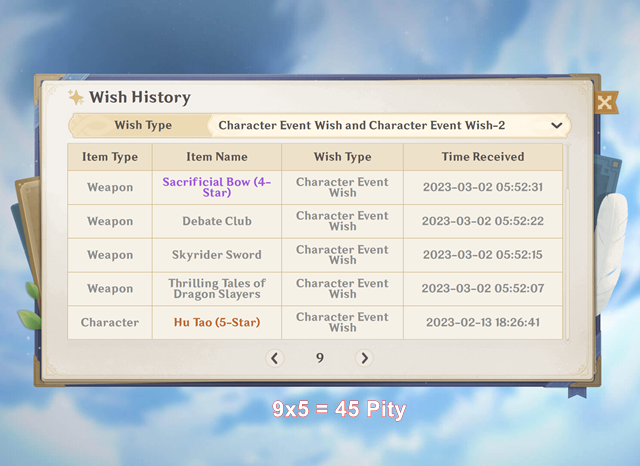 Also, as there are two special event banners, both banners share the same pity. Hence, if you did a ten wish on one banner and a wish on other special event banners, you'd be pulling the 11th time. Of course, this doesn't carry over to the Standard banner.
2. Wishing on the Standard Banner
The Standard banner is your regular banner where you can wish and obtain both characters and weapons. You can do so by using Primogems or Acquaint Fate, but we suggest not doing so with Primogems and spending them on the limited event banners. That's because the characters on the standard banner aren't event-exclusive in Genshin Impact, and you can get them during the course of the game as you get Acquaint Fates and Wish on the banner.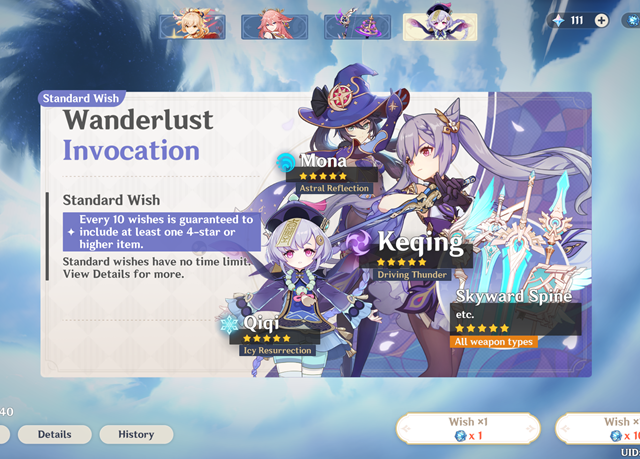 That said, all four-star characters in the game are obtainable by wishing on the Standard Banner. It's just that since the Standard Banner has so many characters, it's hard to get the character you need. Hence, if you're looking to pull a certain character, you're better off pulling on the limited event banner since most four-stars also make a return with the exclusive five-star characters.
3. From Limited Time Events
Genshin Impact is quite free-to-play, and friendly as it gives you a decent amount of Primogems in each patch. Plus, you get a free weapon from an event in patches ending with odd numbers (3.5, 3.7, etc) and a free 4-star character from patches ending with even numbers (3.6 & the upcoming 3.8)
The events are simple and fun to complete and give players a form of redeemable tokens that they can use to redeem Mora, Character Ascension materials, Weapon level-up materials, and a weapon or a character, depending on the patch. This is one of the easiest methods to unlock new characters in Genshin Impact.
4. From the Spiral Abyss
If you're new to Genshin Impact, you'll unlock the Spiral Abyss after reaching Adventure Rank 20, and after smashing to Floor 4, chamber 3, you can unlock two new characters — Xiangling (Pyro; Floor 3, Chamber 3) and Collei (Dendro; Floor 4, Chamber 3). Both of these are great characters in the meta, especially Xiangling. Spiral Abyss also gives you Primogems.

Just make sure you have leveled up your characters enough that they can easily beat the Adventure Rank 20 villains in the wild, and you should be good to go.
5. From Paimon's Bargains in the Shop
With every shop refresh, there appear two four-star characters in the Starglitter Exchange tab in the shop and you can obtain them using Masterless Starglitter. Each four-star character costs 34 Masterless Starglitter to obtain. However, unless you have your favorite character appear in the shop, we recommend against spending the Starglitter. Saving it for the Blackcliff weapons, which are some of the best free-to-play weapons, is a better option.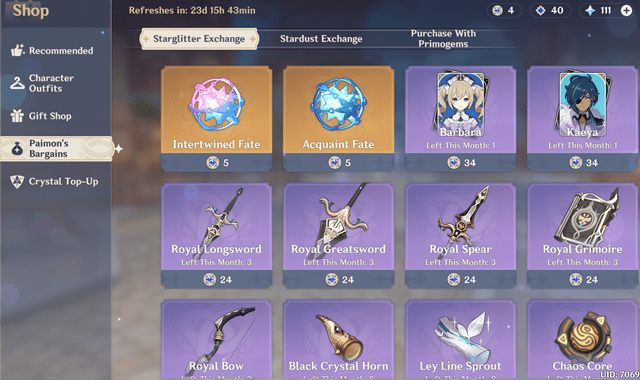 Weapons such as Blackcliff Pole, Longsword, and Slasher have Crit Damage as their main stat and could help you deal increased damage without spending much time perfecting a character. You could also spend the Starglitter to get more Intertwined Fates to get your favorite character on the Limited Event banner in Genshin Impact.