The world is shifting towards wireless technologies. Be it listening to audio, or transferring content, almost everything can be done wirelessly. The two most prominent technologies in this front are Bluetooth and NFC. While the latter one is primarily used for charging, the former finds its use almost everywhere. The most noticeable and evident use is with Bluetooth headsets and earphones. Smartphone manufacturers have started ditching the 3.5mm jack, thus promoting the sales of Bluetooth audio devices. Sadly, these devices don't have a battery monitor in them. While some OEMs such as Samsung, OnePlus, and LG have had inbuilt Bluetooth Battery Level indicators within them, such a feature is missing from the stock Android experience. That being said, recent commits in the AOSP source code suggests that such a feature would be coming soon in the next few updates for the Pixel 2 and Pixel 2 XL. But who likes to wait, right? So if you're someone who wants to monitor their Bluetooth device's battery, read on, as we show you how to show Bluetooth battery level indicators on Android:
Show Bluetooth Battery Level Indicators
Note: The following method only works with devices that have a Hands-Free profile (accept, reject phone calls) or a GATT profile (usually 4.0+ Low Energy devices).
To begin with, download and install the free BatON app from here.
Next up, connect your Bluetooth device to your smartphone. For this illustration, I'll be using my Boat Rockerz 510 headphones.
Once your device is connected, simply open up the BatON app. The app should now be showing the Bluetooth battery level of your Bluetooth device. Alternatively, swiping down on the notification panel should also show you the battery level of your Bluetooth device.
While the app automatically refreshes the battery level, it does so every 3 hours. You can set it to refresh the data more often by following the steps below:
Tap on the 3-dot hamburger menu and select "Settings". Now, tap on "Auto measure".
The settings for the automatic measure will now open up. Tap on "Measure frequency" and then select "15 minutes" from the list.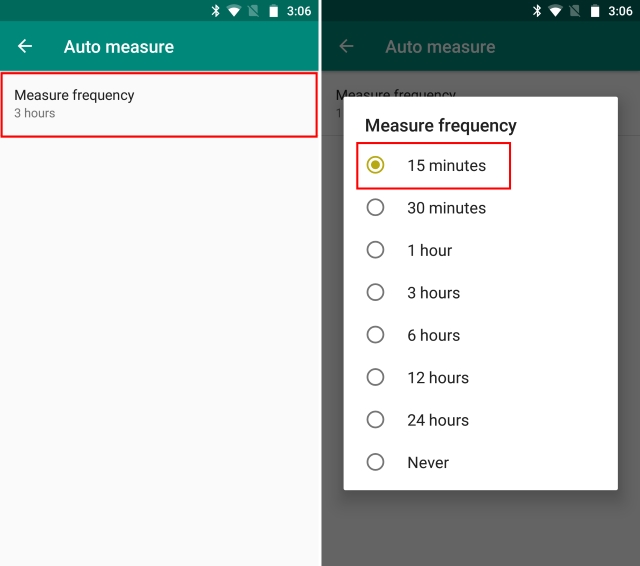 That's it. The app will now automatically refresh the Bluetooth device's battery level data every 15 minutes.
SEE ALSO: How to Move Chrome Address Bar to Bottom on Android
Monitor Your Bluetooth Device's Battery Level Easily on Your Android Device
In a world where we're rapidly moving towards wireless technology, a better battery life is a necessity. With more and more smartphone manufacturers ditching the 3.5mm jack, Bluetooth headphones are on a rise. As such, the ability to monitor their battery levels comes as a great advantage. It helps the user ensure he always has enough battery life for his usage. I know I use the above-described method a lot. But what about you? Do you own a Bluetooth device and did you use the aforementioned method? Let us know about your experiences in the comments section below.
---
Load More