Snapchat has a scoring system that evaluates how active a user is on the platform. Aptly named Snapchat score or Snapscore, you might have heard people talking (or posting) about this mystical number. To help beginner users, we have compiled a guide explaining what a Snapchat score is, how you can find your Snapscore and of others, and a few tips to raise your Snapchat score. If that's something you're interested in, learn how you can check your Snapchat score in the app.
Find and Increase Your Snapchat Score (2022)
What is a Snapchat Score?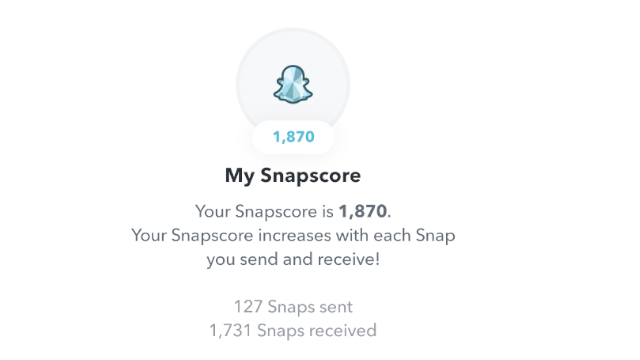 Snapchat score is a measure of your activity on Snapchat. According to the company, your Snapchat score is calculated based on the number of Snaps you send and receive, the Stories you post, and a few "other factors". Yeah, we are not sure what these other factors are, but they do contribute and help increase your Snapchat score.
In simple terms, if someone has a high Snapscore, it is an indication that the person is a frequent Snapchat user. You can head over to the section below to learn how to check your Snapchat score.
How to Find Your Snapchat Score
1. Open the Snapchat app and tap the Bitmoji icon at the top-left corner of the screen. On the Profile screen, you can see your Snapchat score next to the ghost icon. For instance, my Snapchat score is 1,870.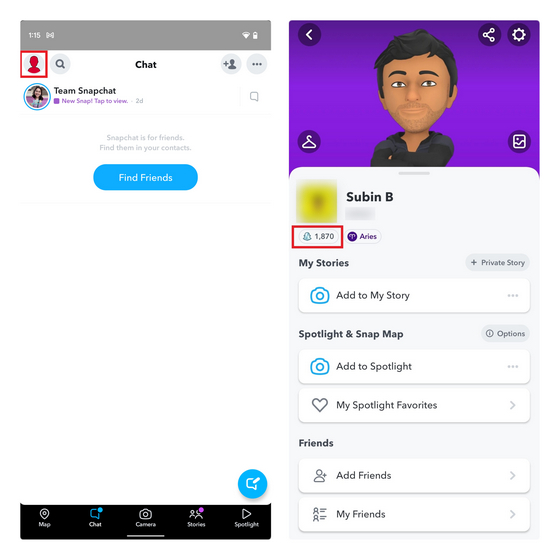 2. Now, tapping on the little ghost icon shows you a breakdown of the number of Snaps you have sent and the ones you have received. As you can see, I clearly need to respond to Snaps I receive more often to increase my Snapscore.
Note: You can see that adding the number of sent and received Snaps (127 + 1731 = 1858) does not add up to the total Snap score (1870) shown in the screenshot below. That proves that Snap story uploads and other factors also play an important role in determining the Snapchat score.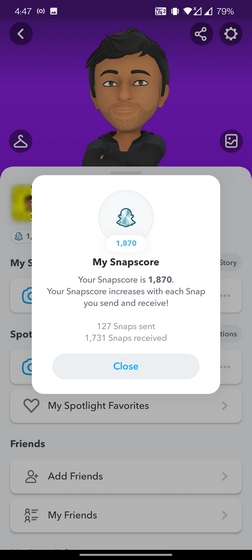 How to Find Snapchat Score of Friends
If you're curious to know your friend's Snapchat score, you can do that too. Just follow the steps below to learn how it works:
1. Open Snapchat and move to the chat tab from the bottom navigation bar. Then, open the conversation window of the friend whose Snapchat score you want to know and tap on their name at the top to access their profile. From the profile screen, you can find the Snapchat score of your friend.
2. Unlike your Snapscore, you won't see the number of Snaps your friend has sent or received when you tap on the ghost icon. Instead, all you see is the total Snapscore. This is a privacy-friendly move as you probably don't want anyone to keep track of your Snap activity.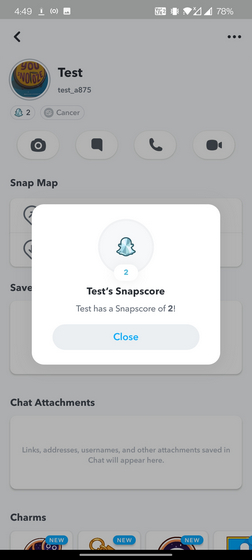 How to Increase/ Raise Snapchat Score: 4 Easy Tips!
While there is no definitive method to increase your Snapchat score, here are a few tips that will help you in the process:
Maintain Snapstreaks
As mentioned above, Snapchat considers the number of Snaps you have sent and received, your Stories, and other factors to calculate your Snapchat score. Clearly, instead of finding hacks, you can increase your Snapchat score by sending and receiving more Snaps.
One fun way of doing exactly that is maintaining Snapchat Streaks. Since keeping a Snapstreak active requires you to send Snaps to each other at least once in 24 hours, you will naturally increase your Snapchat score with minimal effort.
Expand Your Friends Circle
Know some friends you're not connected to on Snapchat? Ask for their Snapcode and connect with them on Snapchat. This way, you can send/ receive Snaps and interact with more people, which in turn helps boost your score on Snapchat.
Send Snaps to More Friends at Once
Next, instead of sending them individually or uploading them to your Story, we suggest you send the Snap to multiple people at once to keep them updated on Snapchat. This way, there's a possibility to earn additional bonus points and increase your Snapchat score even quickly. You might get 11 points on sending a Snap to 10 users at the same time, and you will find this tip useful to raise your Snapchat score.
Use the App More Often
This goes without saying, but your odds of increasing your Snapscore increases if you use the app more often and send Snaps to friends. Since Snap score is a measure of a user's activity on the platform, you will have to use the app to increase your score. And while you're in the pursuit of Snapscores, don't fall prey to websites that promise to increase your Snapscore. That's because they are scams designed to steal your money.
Frequently Asked Questions (FAQ)
Q. How do I check my Snapchat score in 2022?
If you want to check your own Snapchat score, simply head to your profile from the camera viewfinder and notice the number next to the ghost icon under your Snapcode. This ghost icon number represents your Snapchat score. However, if you want to find someone else's score on Snapchat, open their chat window, tap on their profile icon, and look for the ghost icon. Check out this detailed guide for all the steps, along with screenshots for each step.
Q. How is the Snapchat score calculated?
Snapchat says that the score is the combined total of the number of Snaps you send and receive on the platform. You get one point for every Snap you send or receive. Along with Snaps, the Snapchat score also depends on the number of Stories you post, and a few "other factors", which remain undefined at the time of writing.
Q. Does someone know if you check their Snapchat score?
No, your friend or loved one will not be notified if you look at their Snapchat profile to check their username, Bitmoji avatar, Snap score, or any other personal information. That includes their location and photos and videos saved in the chat.
Q. Can I see someone's Snapchat score without adding them as a friend?
Unfortunately, no. You cannot view someone else's Snap score if you have not added them as a friend on Snapchat. You both need to hit the "Add" button next to each other's usernames to become friends, and then only can you find the other person's Snapchat score.
Check Your Score on Snapchat
Snapchat score is often a topic of discussion among users and has a brag factor among the company's young audience. If you were having a hard time figuring out what Snapchat score is all about, we hope this guide helped you. Meanwhile, in case you have accidentally lost your Snapchat Streak, you can check our linked guide to get Snapstreak back in four easy steps.
---
Load More