Google has recently announced the Google Home Preview Program. According to Google, users enrolled in this program will get access to new features for Google Home before they are released publicly. They will not be test or beta builds, but instead at the same level as production version updates. Also, users enrolled in the Preview Program will be able to submit feedback and suggestions to the Google Home team. If you're an owner of the Google Home Smart Speaker and love to stay on the bleeding edge of technology, read on as we discuss how to enroll for the Google Home Preview Program:
Enroll in Google Home Preview Program
Note: Make sure that your Google Home has been properly configured and is connected to the same WiFi network as your smartphone. If not, read our guide here to set-up your Google Home speaker.
Open the Google Home app on your smartphone. Tap on the "Devices" icon in the top-right corner to view your configured Google Home devices.
A list of your Google Home Devices will now show up. Tap on the 3-dot menu button of the Google Home device that you want to enroll in the Preview Program, and then tap on "Settings".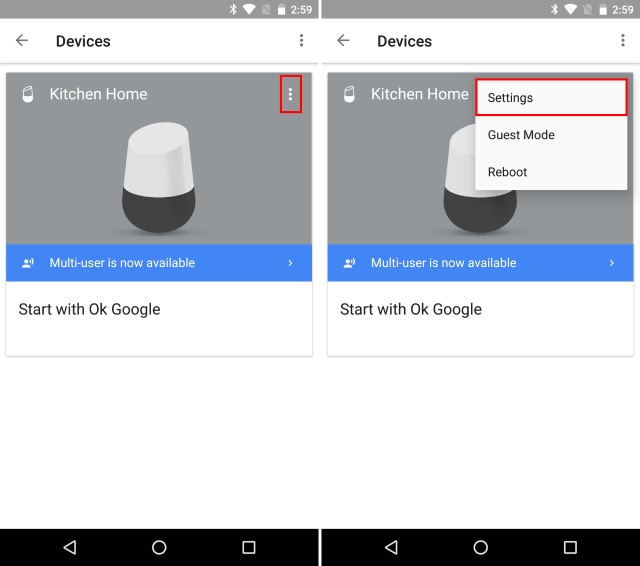 A new window for "Device settings" should now be open. Scroll down to the Device info section, and tap on "Preview Program". A new window showing information for the Google Home Preview Program will be displayed. Make sure that the checkbox next to "Allow email notifications" is checked. Then, tap on "Join Program" to continue.
Note: In case there is no Preview Program option in Device settings, you'll have to reboot your Google Home device.
And that's it. You have now easily and successfully enrolled in the Preview Program. A new dialog box will appear thanking you for joining the program. Simply tap on "Ok, Got It", to close it. Now, when you go back to the device settings page, you'll see that it displays "On (waiting for next preview firmware update)" under the Preview Program title.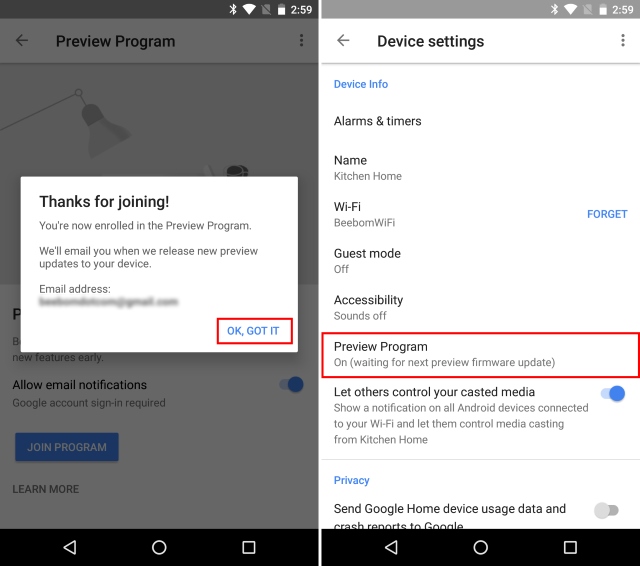 Also, if you open up the inbox of the email that you used to enroll, you would have received a mail from Google, welcoming you to the Google Home Preview Program.
SEE ALSO: How to Add Multiple User Accounts on Google Home
Get Early Access Thanks To Preview Program
Thanks to the Google Home Preview Program, you are now entitled to exclusive early access to the newest firmware and updates for your Google Home device. These updates could be new features, device enhancements or any bug fixes. But what matters is that it puts you ahead of the waiting curve. Share with us your experience about the Google Home and what are the new features you hope to expect in the coming weeks in the comments below.