Dark mode adoption for apps was at its peak back in 2019. Almost every other software maker was focused on rolling out dark mode on their applications. With the introduction of system-wide dark themes on Android and iOS, entering the dark side suddenly got seamless. However, if there is one app that didn't abide by the industry trend, that has to be Snapchat. The photo-centric messaging platform that many people use to maintain Snap Streaks with friends, finally rolled out dark mode on iOS earlier this year, with Android support still slated to arrive soon. Today, we will be going through the steps involved to enable dark mode on Snapchat.
Get Snapchat Dark Mode on iOS and Android (2022)
While the Snapchat app on iPhone includes a native option to enable or disable the dark theme, the setting is missing from the Android app. Now, many Android users have long been wondering how to get dark mode in Snapchat on their device. And well, you have come to the right place. We have included a nifty workaround to enable dark theme in Snapchat on your Android phone. So, without further ado, let's dive in.
Turn on Dark Mode in Snapchat on Your iPhone
1. Tap the Bitmoji icon at the top-left corner to open your Snapchat profile.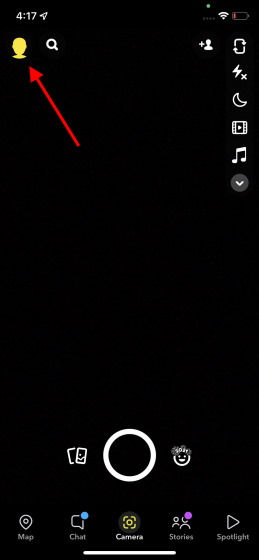 2. From the profile page, press the Settings gear icon at the top-right corner of the screen.
3. Under "My Account" settings, tap "App Appearance" to view the option to change the theme of Snapchat.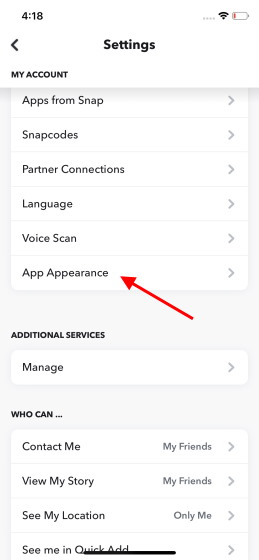 4. From the "App Appearance" settings, choose "Always dark" to enable dark mode on Snapchat from your iPhone.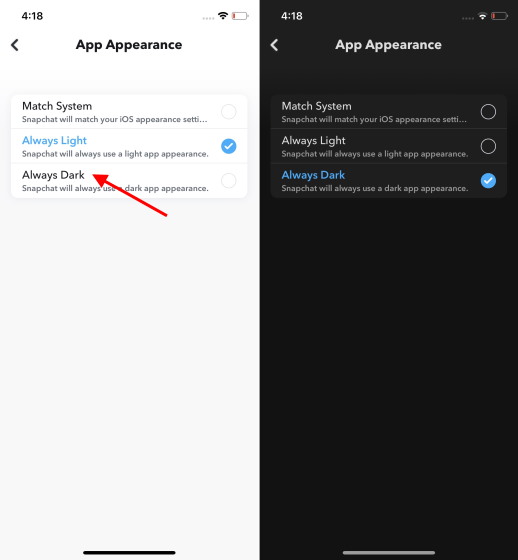 Enable Snapchat Dark Mode in Oppo, Vivo, or OnePlus Phones
You can use the experimental per-app forced dark mode of ColorOS/FuntouchOS to enable Snapchat dark mode on select Oppo, Vivo, and OnePlus phones. For OnePlus phones, do note that you will have to be on an OxygenOS build based on ColorOS.
1. Open the Settings app and tap on "Display & brightness". Now, press "Dark mode settings" to tweak dark mode settings in your phone.
2. Tap on "Dark mode for third-party apps (Beta)" and you will see a list of apps that are compatible with forced dark mode.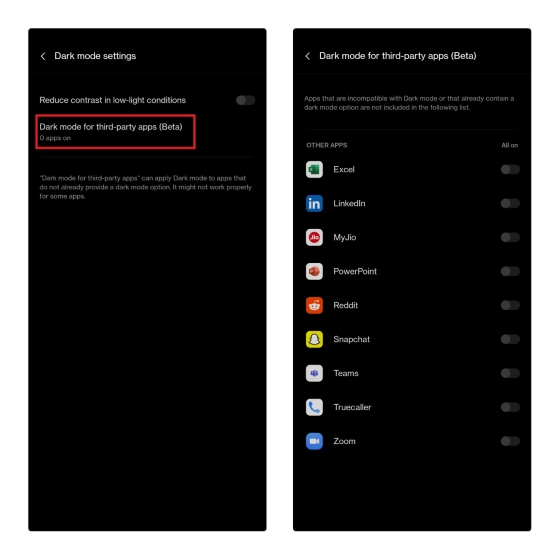 3. Locate Snapchat from the list of supported apps and enable the toggle. When the confirmation prompt appears, choose "Turn on" to enable dark mode on Snapchat.
4. Open Snapchat now and enjoy the dark theme! This implementation looks better than the system-wide forced dark mode enabled via Developer Options. In case you're wondering, the screenshots below are from a OnePlus Nord 2 running OxygenOS 11 with the latest Snapchat version 11.73.0.35.
Get Snapchat Dark Mode on Any Android Phone
Snapchat doesn't have an official dark mode setting on Android just yet. We will be updating this section as soon as Snapchat announces the dark theme for its Android app. The closest option you get right now is by activating the "forced systemwide dark mode" option from developer options. While it isn't perfect, it is better than staring at the current retina-blinding light mode on Android. So, in case you are interested in force-enabling dark mode in Snapchat for Android, here's how to do it:
1. Open the Settings app and press "About phone". Now, scroll down until you find the "Build number" and tap it seven times. You have now enabled developer mode on your Android device.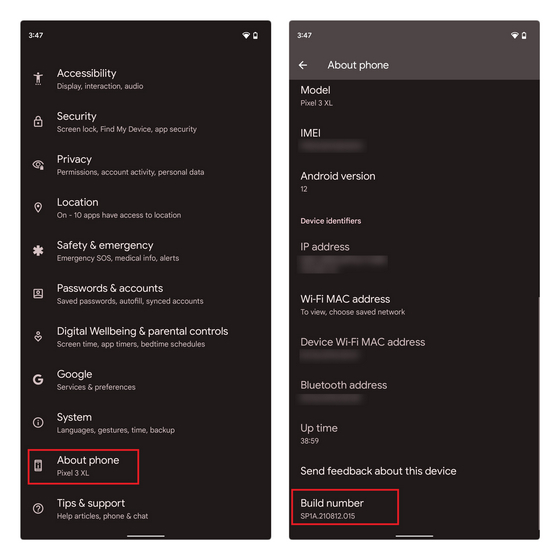 2. Move back to the Settings home page and navigate to "System -> Developer options" to access developer options.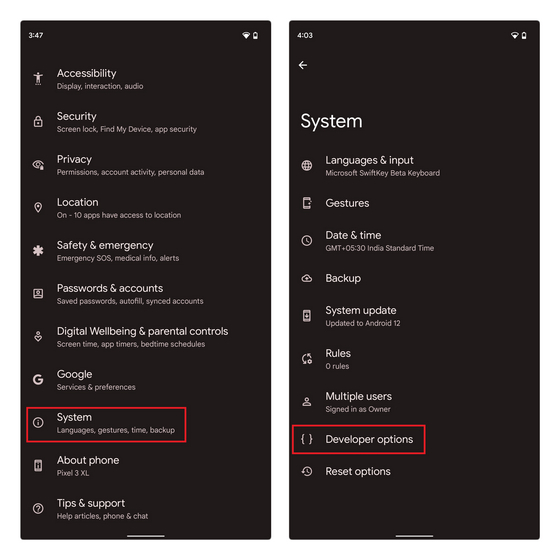 3. Here, enable the "Override force-dark" toggle, and you have successfully enabled forced dark mode on your phone. Going forward, you will notice that Android will invert colors on apps that don't have native dark mode support.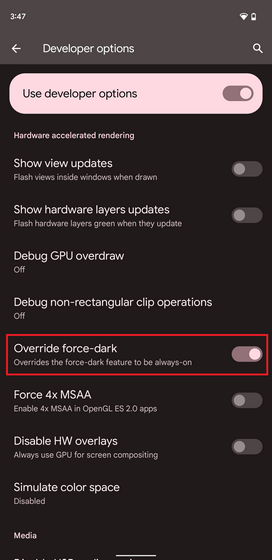 Note: Unfortunately, newer versions of Snapchat don't react to forced dark mode, and the Android app stays in light theme. Hence, you will have to download and install an older version of Snapchat from APKMirror.
4. Click the APKMirror link and hit the "Download APK" button to download Snapchat version 10.72.0.0 on your device. You may miss out on new features if you take this approach, but that's a sacrifice you will have to make to get Snapchat dark theme immediately.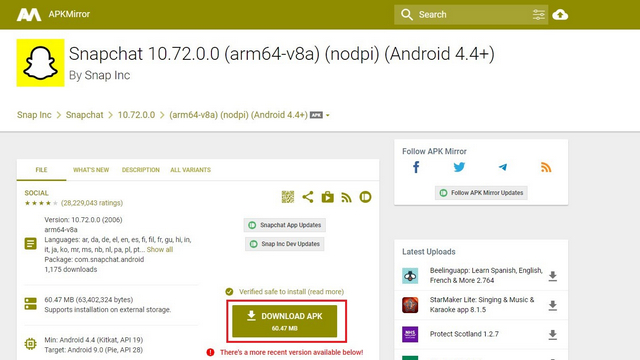 5. As you can see in the image below, the forced dark mode toggle helps you manually enable the dark theme in Snapchat for Android. The text is legible and doesn't have readability issues too.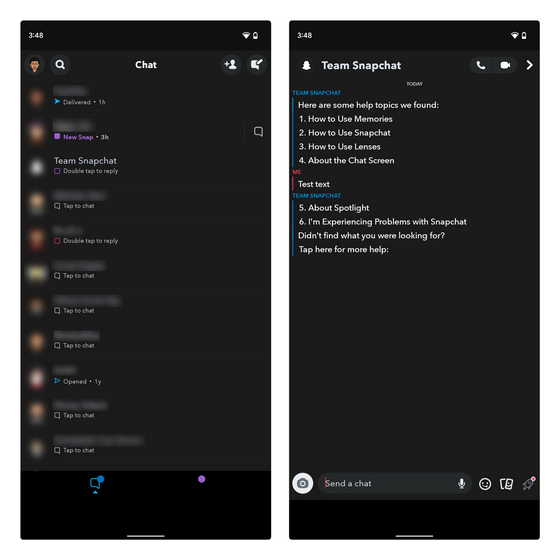 So yeah, this is the only workaround that can get you dark mode in Snapchat on an Android device right away.
By the way, if you're (justifiably) annoyed with the Snapchat developers for not bringing the dark mode to Snapchat on Android yet, you can submit a ticket with your request. To do so, simply open Snapchat and tap on your Bitmoji icon. Then go to Settings and tap on 'I Have a Suggestion'.
Frequently Asked Questions
Q: Is there an official dark theme on Snapchat for Android?
No, Snapchat has not rolled out an official dark theme for its Android app. However, you can use workarounds to force dark mode on Snapchat.
Q: Why is forced dark mode not working on Snapchat?
System-wide forced dark mode via Developer Options no longer works on Snapchat's newer builds. Hence, you will have to use an older build to use forced dark theme. However, you can use the per-app forced dark theme workaround available on select Oppo, Vivo, and OnePlus phones with the latest versions of Snapchat.
Q: Why don't I have dark mode on Snapchat?
If you're on iOS, make sure you've updated to the latest version of Snapchat to use dark mode. Android users will have to wait or use workarounds to get the dark theme on Snapchat.
Q: Does Snapchat+ include dark mode on Android?
The new Snapchat+ subscription brings a lot of exclusive features. However, it doesn't offer dark mode to Android users. What's more, it is likely that dark mode will be available on Android without a Snapchat+ subscription at all, because it's not a special or exclusive feature.
Easily Enable Dark Mode on Snapchat
Snapchat is one of the very few mainstream social media apps to lack dark theme support on Android in 2022. While we hope the company to turn things around next year, we hope this guide helped you get an early taste of the feature right now. If you are interested in turning on dark mode in other popular apps, check our comprehensive guide to enable dark mode everywhere.