WhatsApp chats, or conversations in general, become more fun when you bring emojis and stickers into the mix. WhatsApp already offers the ability to send stickers in chats on its messaging platform. But now, you can make and send avatars in WhatsApp chats. WhatsApp has only recently added the option to create digital Avatars of yourself and share them as stickers, a feature already available on Facebook and Instagram. So if you like the concept of Bitmojis and Memojis, let's learn how you can create a similar Avatar on WhatsApp.
How to Create WhatsApp Avatar (2022)
In this guide, we will explain how you can easily create your own WhatsApp Avatars, send them to people as stickers, and even put them up as your profile photo. Before that, let's take a look at what is the Avatars feature in WhatsApp.
What is a Whatsapp Avatar?
WhatsApp Avatars are digital animated versions of yourself, much like Apple's Memoji and Snapchat Bitmoji. The messaging giant gives you the option to create a personalized avatar, which resembles you as closely as possible. You can make your own avatar by adding several elements like hair style, clothes, facial expressions, accessories, and much more. Further, in an official blog post, WhatsApp states that it will soon add new style enhancements, including lighting, shading, hair style textures, and more.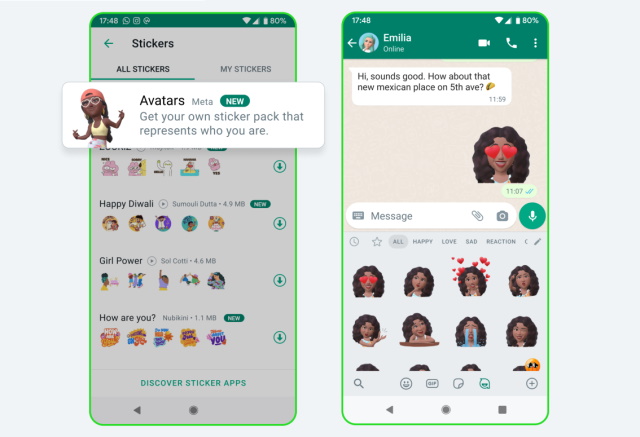 This is similar to how you can create avatars on Instagram and Facebook, which was recently introduced by Meta. However, these can't be used interchangeably on the three social media platforms under Meta's umbrella. Also, you need to design each avatar individually, which is a laborious task, so your avatars might all look different on Facebook, Instagram, and WhatsApp. Maybe, Meta will add interoperability support sometime in the future!
How to Make a WhatsApp Avatar (Step-by-Step Guide)
Avatars on WhatsApp are now available for both Android and iPhone users. You only need to ensure your WhatsApp app is updated to go about the steps to create an avatar on the app.
Note: We tested this feature on WhatsApp version #2.22.24.78 on Android and version #2.22.24.77 on iOS. We have used an iPhone to show the steps to create an Avatar in this tutorial, but they are pretty much the same on Android.
Open WhatsApp and head to "Settings" from the bottom navigation bar. Then, tap the "Avatar" option under your name.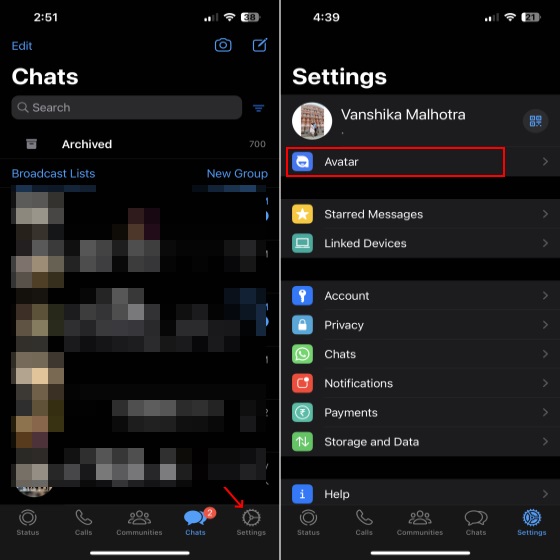 You will now find a "Create your Avatar" option on the next page. Tap it, and a page with details about WhatsApp Avatars will then appear on your screen. Here, click the "Get Started" option to begin the Avatar creation process.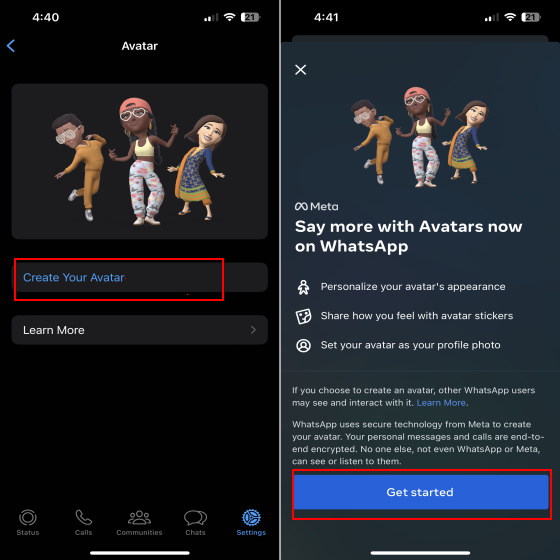 First comes the skin tone option. Select the one that matches yours and tap the "Next" button at the bottom.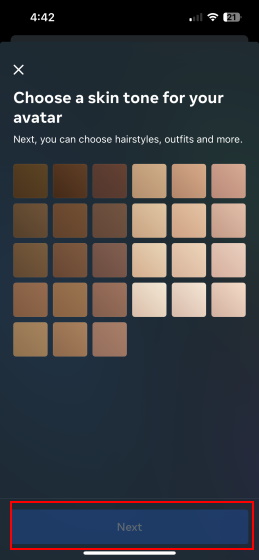 Next up, you will see loads of options to personalize your avatar. You can choose different style enhancement options such as outfits, body type, eye shape/ color/ makeup, eyebrow shape/color, and more. You can even change the nose shape, mouth & lips color, face shape/ markings/ lines, facial hair & color, earrings, and more.
You can select the options that suit your personality best. In case you are confused about what customization option to pick, you can tap the mirror icon (placed on the right side of your avatar) to see yourself while creating your avatar.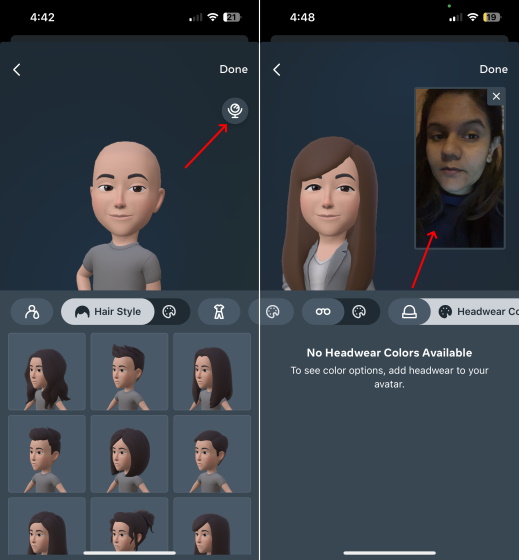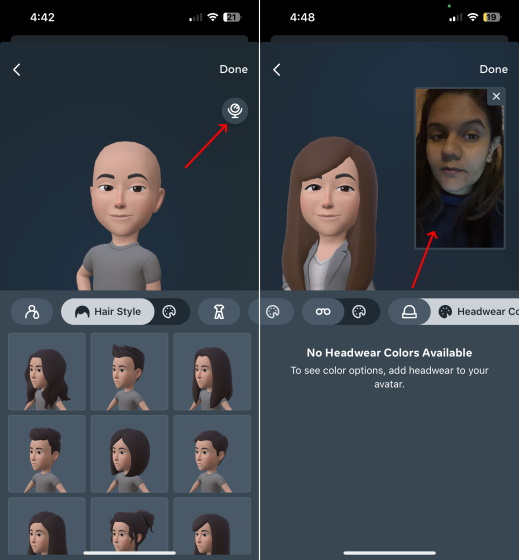 When satisfied, tap the "Done" option in the top right corner to save the changes.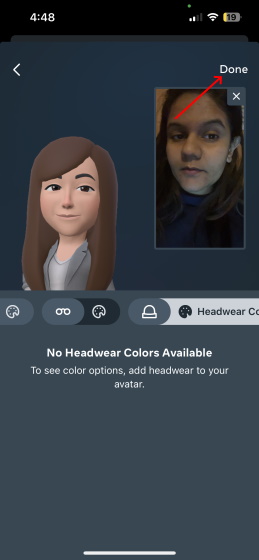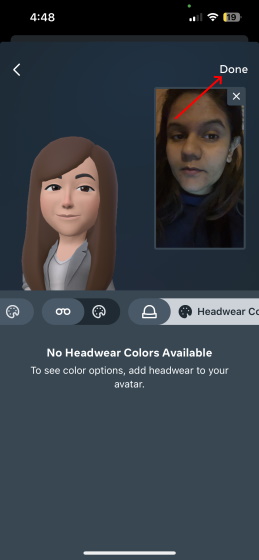 Your WhatsApp Avatar will be updated, and well, you are done. Next, tap on "Next" to reach the Avatar section in the app once again.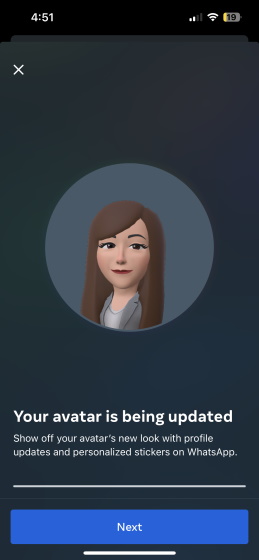 Note: You can head back to Settings -> Avatar to edit your avatar at any point if you need to change something. Just tap the Edit Avatar option to make the changes.
How to Share Your Avatar in WhatsApp Chats
Once you have created your WhatsApp Avatar, you can easily send them to people as stickers. There are two ways to go about that, and they are as under.
Firstly, open a WhatsApp chat and tap the "sticker" icon in the text bar on your iPhone. As for Android users, you need to tap the emoji icon in the text bar.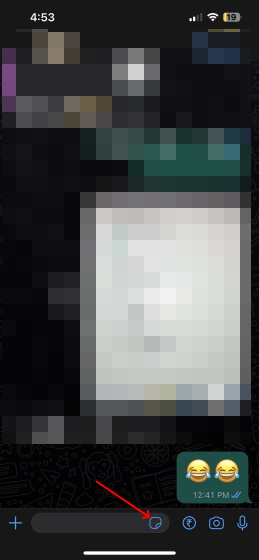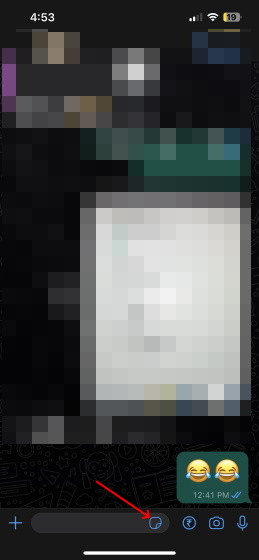 You will now see a WhatsApp Avatar icon at the bottom, next to the GIF and sticker options. Tap the Avatar icon.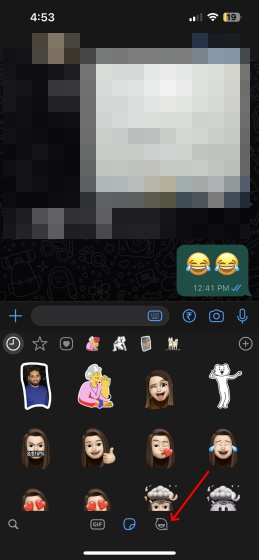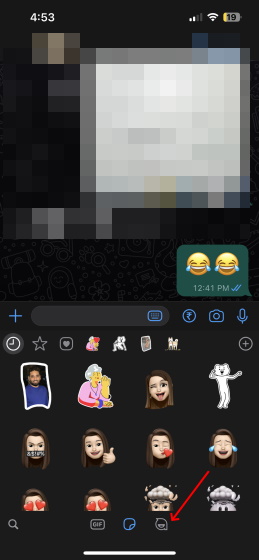 Now, you will see several WhatsApp Avatar stickers based on emotions like love, sadness, anger, and more. Choose your emotion and send the sticker you like. WhatsApp says that it creates over 36 stickers based on your Avatar.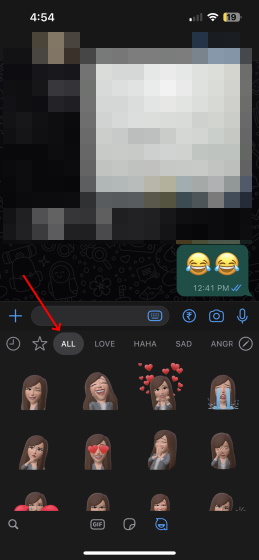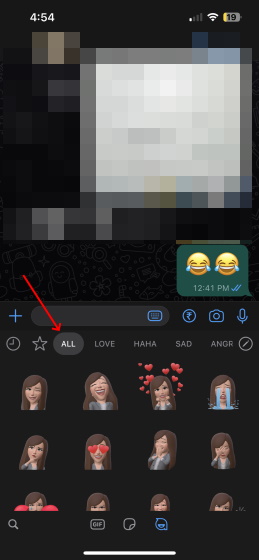 Another way to send WhatsApp Avatars is by heading to the "Settings -> Avatars" section. Then, select the "Browse Stickers" option and choose the one you want to send.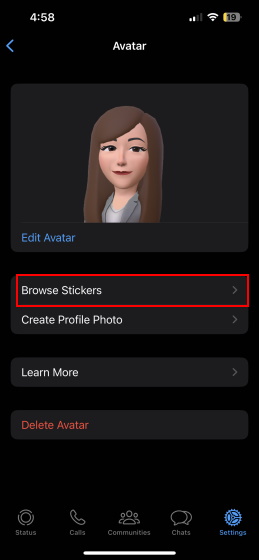 After that, select the "Forward" icon in the top right corner to send the avatar sticker to the desired chat.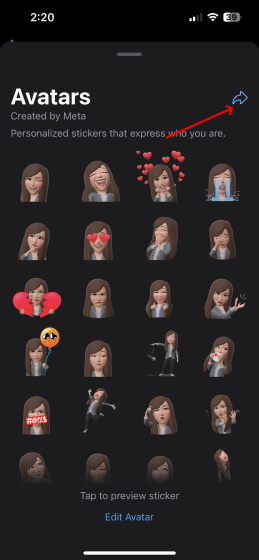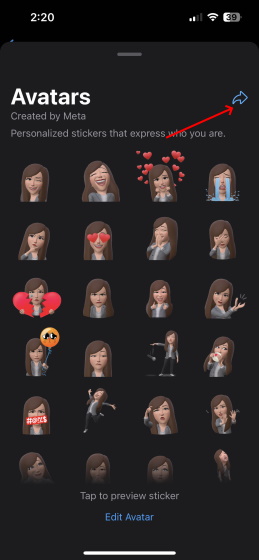 How to Make a WhatsApp Avatar Your Profile Photo
Besides sending avatar stickers to people for a fun chat, you can also set your WhatsApp Avatar as your profile photo. Follow these steps to learn how it works:
Head to WhatsApp settings and select the "Avatar" option once again.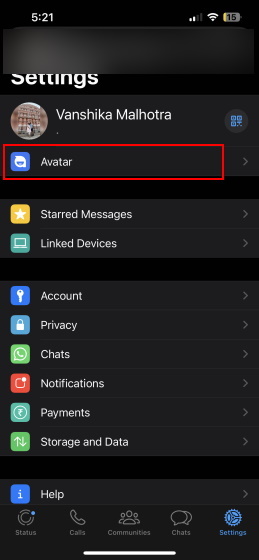 Here, you simply need to tap the "Create Profile Photo" option.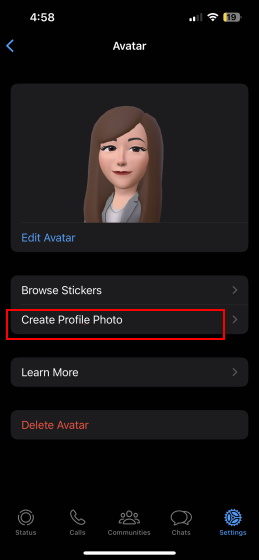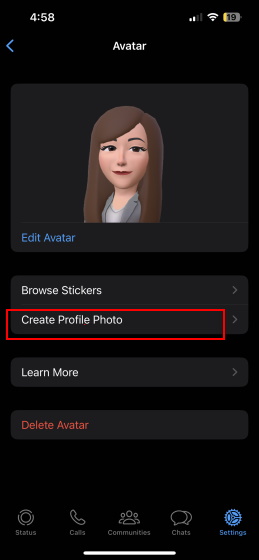 Now, you can select the desired Avatar pose, change the background color, and tap "Done" when you are ready to update your profile picture on WhatsApp. And finally, your WhatsApp Avatar is now your profile photo!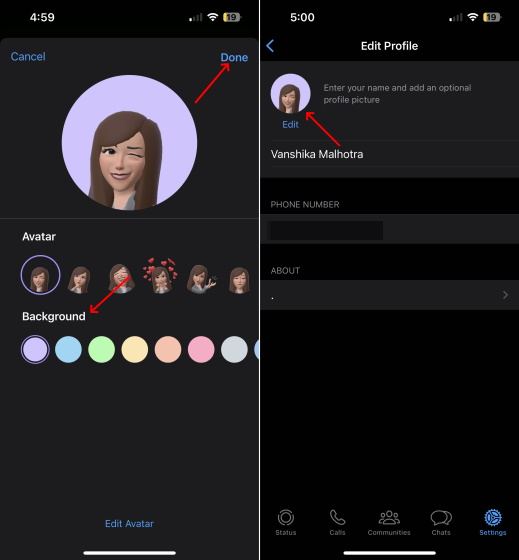 How to Delete Your WhatsApp Avatar
In case you are done with creating and sharing your Avatar on WhatsApp, you can also choose to delete it. For this, follow the steps below:
First, head to "Settings -> Avatar" in WhatsApp.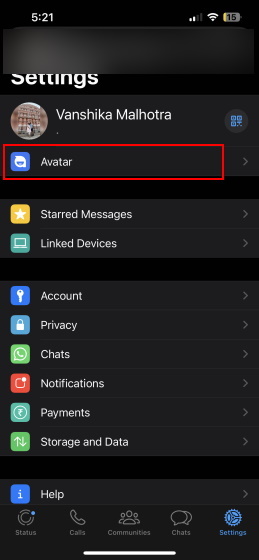 Then, tap the "Delete Avatar" option. You will then see a prompt on the screen asking for confirmation. Tap the "Delete" button once again to permanently delete your WhatsApp Avatar.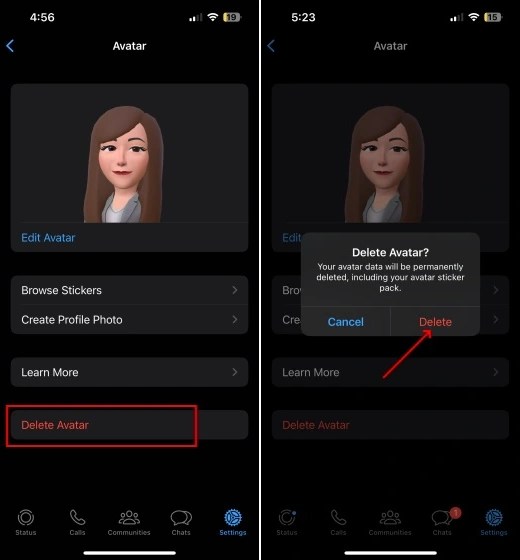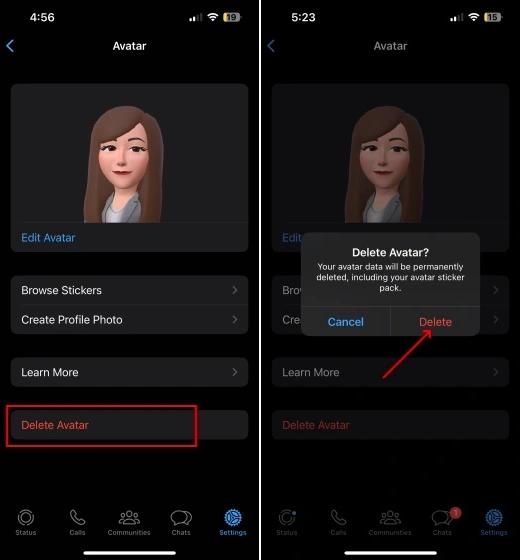 WhatsApp Avatars FAQs
Are WhatsApp, Instagram, and Facebook Avatars interchangeable?
No, you can't. While Meta has added Avatars on all three of its social media platforms, including Facebook, Instagram, and WhatsApp, your Avatar will be different on all of them. You need to create and customize your Avatar on each platform individually. So, you can't use your Instagram avatar on WhatsApp, WhatsApp avatars on Facebook, and so on.
Can you send and create WhatsApp Avatars on the web?
No, WhatsApp Avatars are currently available only on Android and iOS devices. You cannot create your Avatar using the WhatsApp Web app.
Where can you use WhatsApp Avatars?
WhatsApp Avatars can be used in individual chats and groups and even be used as display pictures.
Create Avatar Stickers in WhatsApp Chats
This is a complete guide you can follow to create and send WhatsApp Avatars to make conversations more personalized and fun. After all, WhatsApp is a messaging platform used by more than 2 billion to have most of their conversations! If you decide to make your Avatar, do let us know your experience and whether or not it's better than Snapchat Bitmojis or Apple Memojis. Meanwhile, also check our guide on how to send messages to yourself on WhatsApp, a newly launched and useful feature.
---
Load More