AnchorFree, the company behind the popular VPN service Hotspot Shield, has recently been accused of indulging in unethical practices that are jeopardizing the privacy and security of its users. A U.S.-based digital rights advocacy group, called The Center for Democracy & Technology (CDT), recently filing a complaint with the Federal Trade Commission (FTC), claiming that the company's software gathers data about its users and its lax privacy policy allows it to sell or share the information with third-party advertisers for commercial purposes. The report further accuses Hotspot Shield of "actively injecting JavaScript codes using iframes for advertising and tracking purposes".
It's difficult to say how the FTC will react to this complaint from the CDT, but it's safe to say that it makes many of us extremely uncomfortable to hear that a company we are trusting to keep us safe and protect our privacy may be actually doing just the opposite. If you're also in the same boat and feeling somewhat queasy about starting up Hotspot Shield the next time you're surfing the net, you should consider using one of the following Hotspot Shield alternative VPN services:
The Best Hotspot Shield Alternative VPN Apps and Software
1. ExpressVPN
ExpressVPN is one of the most secure Hotspot Shield alternatives out there. The popular VPN service doesn't disclose the exact number of servers it operates, but says that it offers over 1,000 servers spread across 136 locations in 94 countries. It supports a maximum of three concurrent connections per account, which should be good enough for most people. Express VPN is based out of the British Virgin Islands and, like many of the other services on the list, says that it doesn't log or store any user data, including browsing history or DNS queries. The company uses Google Analytics for website analytics, Zendesk for support tickets and Snapengage for live chat.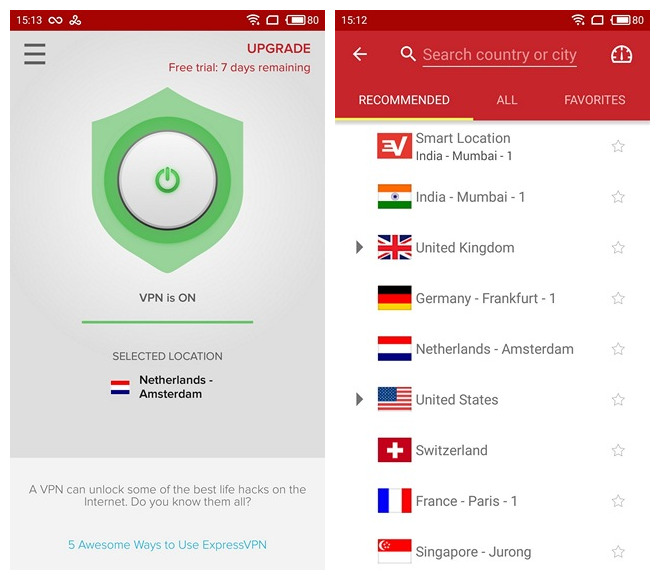 ExpressVPN clients use a 4096-bit CA, AES-256-CBC encryption, TLSv1.2 and SHA512 signatures to authenticate the company's servers. The service also offers the 'Network Lock' feature that prevents not just DNS leaks, but also any type of IPV4 or IPV6 leaks. The company accepts payments through VISA, MasterCard, American Express and PayPal, but "recommends" Bitcoin for privacy. Unlike Hotspot Shield, ExpressVPN doesn't have a free tier, but does offer a 7-day trial.
Download: Free Trial, Plans start at $12.95 per month
Platforms: Windows, Mac, Linux, Android, iOS, BlackBerry
2. TorGuard
TorGuard is a privacy-oriented VPN service that operates 3000+ servers in over 50 countries. It does not store any logs or session data on its servers, and runs a shared IP configuration across all servers, which makes it impossible to match any user with either an IP or a time stamp. TorGuard is owned and operated by VPNetworks LLC, which is based out of the Caribbean island of Nevis under US jurisdiction. While that means that the company does have to respond to DMCA notices, it says it has never been able to pinpoint any specific user because of its strict no-log and shared-IP policy. TorGuard, unfortunately, doesn't offer its services for free, unlike Hotspot Shield, but does offer a standard 30-day trial for its paid service.
TorGuard offers a wide range of VPN protocols, including OpenVPN, L2TP, IPsec, SSTP, OpenConnect/AnyConnect (SSL VPN) as well as iKEV2 and, uses TLS 1.2 on all its servers. "For faster speeds and obfuscated Stealth VPN access", the company suggests that its users employ OpenConnect SSL VPN with cipher option AES-256-GCM. TorGuard automatically disables IPv6 and blocks any potential DNS or WebRTC leaks by employing full-functional kill-switch to protect against unexpected disconnects. The company offers a wide range of payment options, including credit cards, PayPal, Bitcoin, altcoins, Alipay, UnionPay, CashU and more.
Download: Free Trial, Plans start at $9.95 per month
Platforms: Windows, Mac, Linux, Android, iOS
3. VyprVPN
VyprVPN is based out of Switzerland, and is operated by offers its users a choice of over 700 servers in 73 locations around the world. The company also more that 200,000 IP addresses, which means it has the largest collection of IP addresses among the services on our list today. In terms of privacy, the company offers a kill switch to prevent DNS leaks in case of connection drops, and was one of the first services to add scrambled OpenVPN packets when the Chinese government started its deep packet inspection program. The company also offers a wide range of connection protocols, including its own proprietary 'Chameleon' technology that uses the unmodified OpenVPN 256-bit protocol for the underlying data encryption.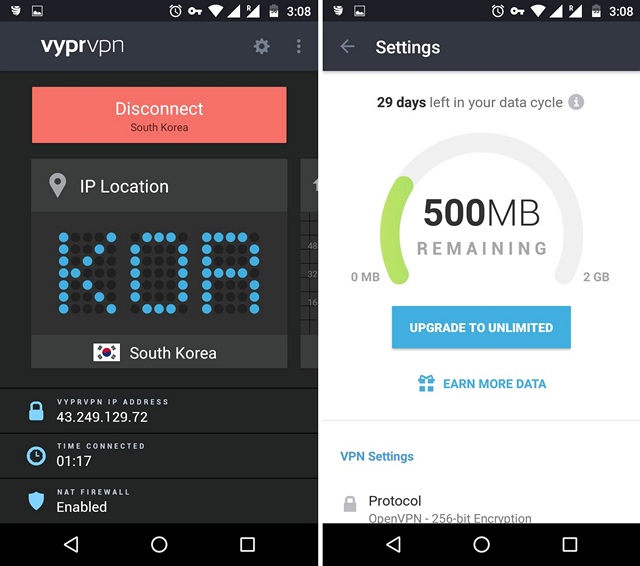 For all its positives, Golden Frog's VyprVPN has a couple of issues that prevents it from being our top recommendation. The company maintains a log of its users' connection and it doesn't accept payments in cryptocurrency. So if privacy isn't its strength, why is it on our list at all? Simple. Most of VyprVPN's servers are in tier-1 datacenters, which means its connections are generally stable and fast, so if you're looking to access geo-blocked content from popular streaming services like Netflix, Hulu and Amazon Prime, this could be a very good option. VyprVPN does offer a free tier, although, it's restricted to just the 500MB of data. Unlike Hotspot Shield, however, sites like BBC, Netflix, Hulu, etc are accessible as long as you stay within that limit.
Download: Free, Plans start at $9.99 per month
Platforms: Windows, Mac, Android, iOS
4. TunnelBear
TunnelBear is a Canadian VPN service provider that has made quite a name for itself in a very short span of time. One of the reasons for its growing popularity is that it targets mainstream internet users rather than going after the more tech-savvy ones, who have, traditionally, been the main user-base for VPN services. That being the case, the user-interface of its client software is really simplistic and doesn't offer all the controls and options that most of the other services on this list offer. While more advanced users may frown at the watered-down, overly-simplistic software, it has worked well for Tunnel Bear, so it's likely to continue with its strategy going forward.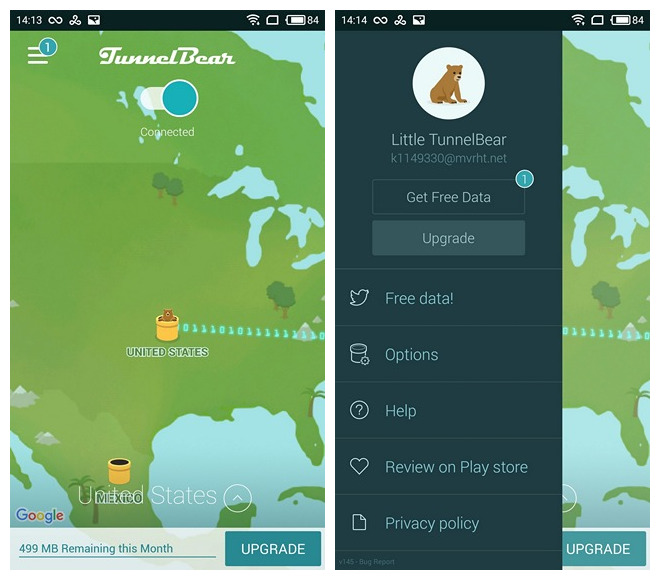 TunnelBear operates around 1,000 servers across 20 locations and supports 5 concurrent connections from each subscriber. The software is available on all major platforms, including Windows, macOS, Android and iOS. There are also anti-tracking extensions that you can download for popular browsers, like Chrome and Opera. Like Hotspot Shield, TunnelBear also provides a free tier, but it offers a mere 500MB of traffic per month. Although, you can get an additional 1GB of data by posting about the service on social networks. Paid plans offer unlimited usage and start at $9.99 per month or $59.88 per year.
Download: Free, Plans start at $9.99 per month
Platforms: Windows, Mac, Android, iOS
5. CyberGhost
If unlimited data usage with unrestricted speeds is what you want in your Hotspot Shield alternative and don't want to have to pay anything for it, this is where your search ends. Bucharest, Romania-based Cyberghost VPN is available for free, maintains a "strict no-logs policy", offers protection from DNS and IP leaks and supports 256-bit AES encryption. The company offers an OpenVPN-based proprietary client that is available on Windows, macOS and Android. If you use Linux or prefer native protocols, you have the option to manually configure OpenVPN, IPSec, L2TP (with IPSec encryption) and PPTP (Point-to-Point Tunneling Protocol).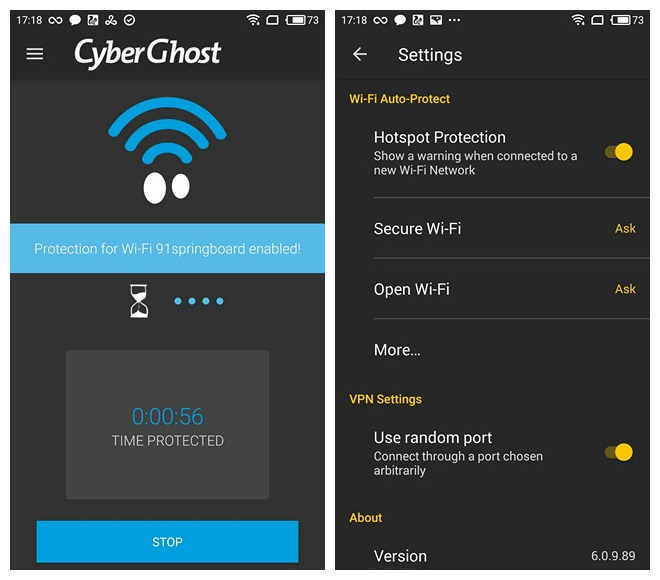 The reason why I've personally used Cyberghost for the past several years is that its free tier offers unlimited usage with high-speed servers in dozens of countries. Unlike Hotspot Shield, it values your privacy and doesn't inject ads in your browser, nor does it stop you from accessing any particular website, making it one of the absolute best options to use if you're looking for a free VPN service. However, CyberGhost's free tier doesn't support P2P connections, so if torrent downloading is your priority, you'll need to subscribe to its premium service that starts at $10.99 per month. The paid service also offers other bells and whistles, like the ability to choose individual servers. Another little annoyance for the free-tier users is the automatic disconnection that happens every two hours, although, you can re-connect immediately, as there are no restrictions on how many times you can connect to the service on a daily or monthly basis.
Download: Free, Plans Start at $10.99 per month
Platforms: Windows, Mac, Android, iOS
6. NordVPN
NordVPN is one the most well-known names in the industry, and advertises itself as "The world's most advanced VPN". The service is owned and operated by Tefincom co S.A. and, is based out of Panama, so DMCA and and other similar legislation have no legal bearing. NordVPN operates at least 1015 VPN servers that are spread across 59 countries worldwide. According to the the company, it does not monitor, record or store any VPN user logs. It also does not store connection time stamps, used bandwidth, traffic logs, or IP addresses of its users. Like IPVanish, NordVPN also use Google Analytics, but doesn't use the tool to track its users' online activities "by any means".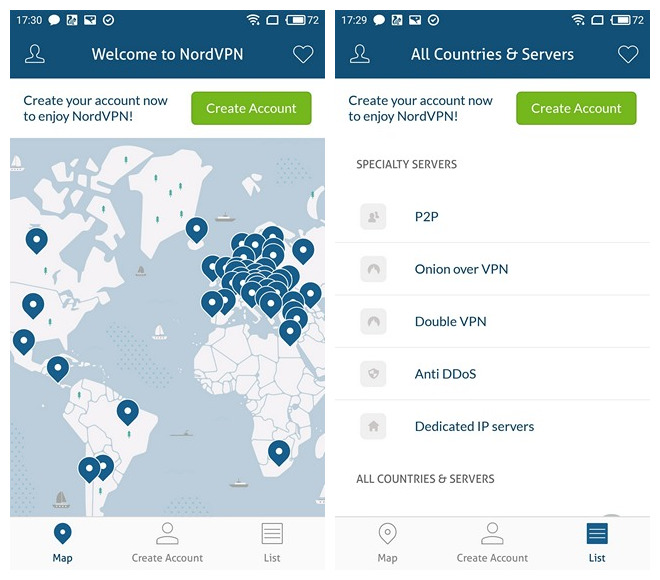 NordVPN uses strong DNS leak protection that includes the use of an automatic kill switch. It employs NGE (Next Generation Encryption) in IKEv2/IPsec. According to the company, "The ciphers used to generate Phase1 keys are AES-256-GCM for encryption, coupled with SHA2-384 to ensure integrity, combined with PFS (Perfect Forward Secrecy) using 3072-bit Diffie Hellmann keys". If you're looking to subscribe to NordVPN, you'll only get a 3-day trial, within which you'll have to decide whether to sign up not. There's no free tier on offer, not even with severe restrictions, as is the case with Hotspot Shield. The company offers monthly, quarterly, half-yearly, annual as well as biennial plans, while payment options include Bitcoin, PayPal and credit cards.
Download: Free Trial, Plans start at $11.95 per month
Platforms: Windows, Mac, Android, iOS
7. Windscribe
While some of the aforementioned VPN service providers have been around for some time, Ontario, Canada-based Windscribe is a relative newcomer to the industry. Unlike Hotspot Shield, it offers a free tier without too many restrictions. So you get 10GB of data per month and a choice of servers in 8 different locations with the free service, but there's also a premium tier that gets you unlimited usage through servers in 46 different locations. The company also says that it doesn't store any connection logs or IP timestamps, because, "one's browsing history should be taken to one's grave". Dramatic? Yes. Reassuring? Definitely. Unlike many of the other companies on this list, Windscribe doesn't even rely on Google analytics, and instead, uses self-hosted Piwik instance, while helpdesk is powered by an open source version of osTicket.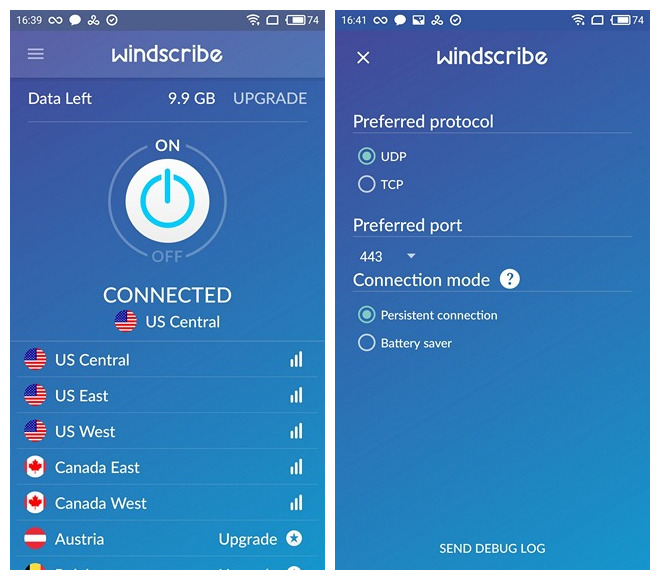 Windscribe uses AES-256 cipher with SHA512 and a 4096-bit RSA key for encryption, but doesn't use a kill switch to prevent DNS leaks. Instead, it relies on the built-in firewall to block all activity outside of the tunnel. The same firewall also blocks IPv6 and WebRTC requests from leaking, according to Windscribe. The service also offers browsers extensions that block ads, trackers, social widgets and changes the user agent. While the
Download: Free, Plans start at $9 per month
Platforms: Windows, Mac, Chrome, Firefox, iOS and Android
SEE ALSO: VPN: Pros and Cons You Should Consider Before Using It
Best Hotspot Shield Alternative VPN Services
While Hotspot Shield has been a popular VPN service over the years, many users have expressed their shock and unease at the recent allegations against the company. If you also belong to that group that now wants to sign up with a different VPN service provider, the aforementioned programs should do the trick in most cases, as they come with comprehensive policies against sharing user data with third parties. So, do you already use a VPN service, or are you willing to give one of the aforementioned ones a try? Do leave your thoughts in the comment section below, as we love hearing from you.