Honor 9N (Starting at ₹11,999) is a new budget device from Honor which brings a beautifully designed body and sports one of the best build quality found in any smartphone in its price range. Logic suggests that Honor must have cut some corners to bring such a beautifully designed smartphone at such an affordable price. Well, in this article, we will see if the smartphone's endurance is one of those departments which was sacrificed. We will put the phone through our charging test and also test how the battery performs in real-life situations. So, if you are interested in Honor 9N's battery performance, here is our Honor 9N battery test where we find out its real-world performance:
Honor 9N Battery: Specs and Charging Test
Honor 9N brings a 3000 mAh battery which is normally the size that we see in similarly built compact and slim smartphone. When it comes to charging, there does not seem to be support for any kind of fast charging here, which is sad, as Honor has one of the best fast charging technologies in the world. Since there is not fast charging support here, the phone charges at agonizingly slow speed. In our testing, the phone went from 5% to 55% in about an hour and ten minutes, while charging to a 100% required a full two and half hours. That is really abysmal and you will need to charge this phone overnight to get the most out of it. You can't just top it off for 15-20 minutes and be good for a few hours.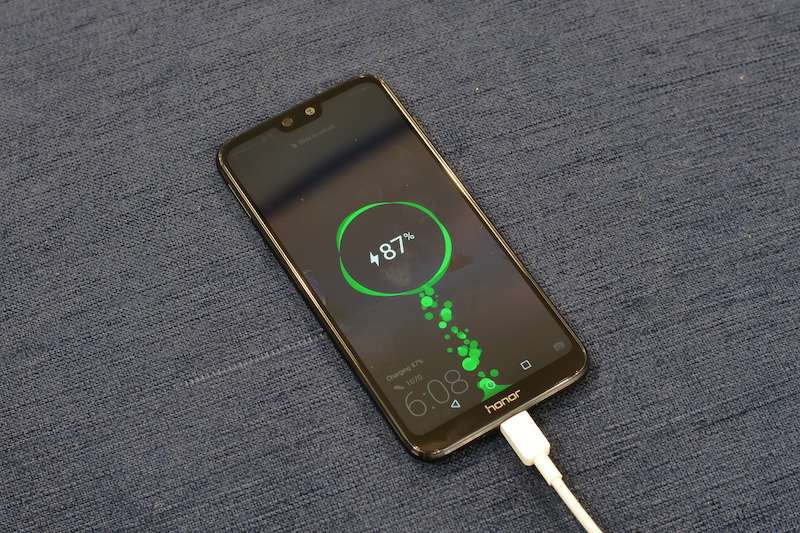 Honor 9N Battery: Real World Performance
As I mentioned above, the Honor 9N brings a 3000 mAh battery which is neither exceptional nor disastrous. In fact, 3000 mAh seems to be the sweet spot for battery which manufacturers have been targeting. In my testing, the battery lasts long enough to get you through the day. In my normal usage which includes an hour or two of calling, lots of web-browsing and social media apps, about an hour and half of listening to podcasts and songs, and less than an hour of gaming, I was able to end the day with almost 15-20% battery left in the tank. While it's not the best battery life I have seen in a smartphone in this price range, it's not terrible either, and most of you will be able to end the day without needing a charge.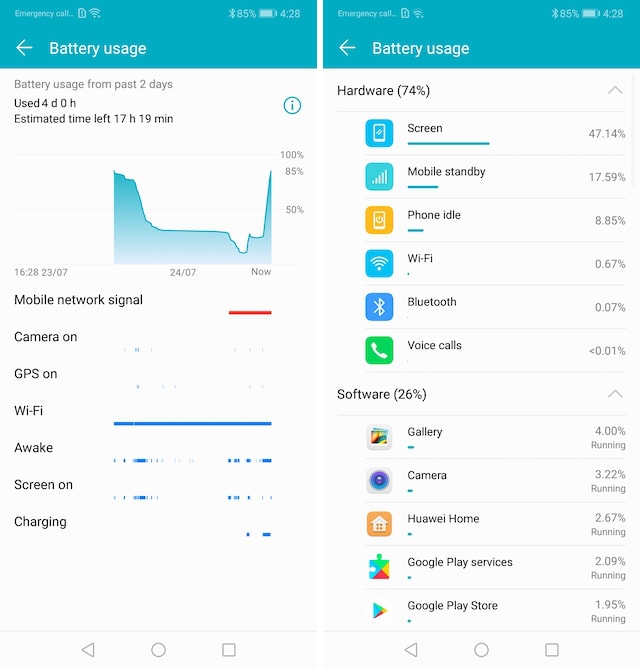 That said, if you are a super heavy user who plays a ton of games, and records extended videos, you will be able to kill the smartphone before the end of the day. In my heavy usage testing where I did two hours of gaming while keeping the same usage pattern for other activities, I was able to kill the phone before 9 PM. So, keep that in mind before you purchase this phone. Its battery woes are amplified by the fact that the phone doesn't have fast charging and you will have to set it aside for an hour or so if you want to see any respectable charging being done.
SEE ALSO: Honor 9N Review: A Phone You Want to Love
Honor 9N Battery Test: No Fast Charging Support Can Be a Dealbreaker
While Honor 9N was able to last us a full day under normal usage conditions, the phone will not be winning any endurance awards. If you are a heavy users, you will be better served with the likes of Redmi Note 5 Pro (starts at ₹13,999) or Asus ZenFone Max Pro (starts at ₹10,999) both of which pack larger batteries (4000 mAh and 5000 mAh respectively) and bring some sort of fast charging. However, if you don't game much, you won't have any battery-related problems with the Honor 9N.
Buy Honor 9N: Starting at ₹11,999