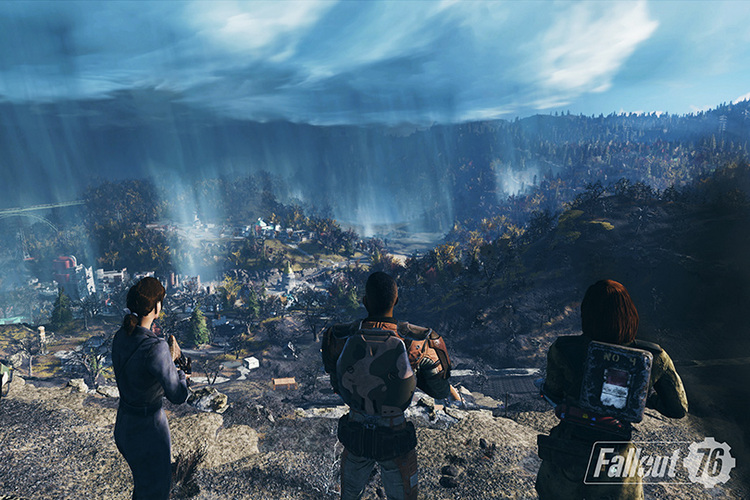 At the just-concluded QuakeCon 2018 in Grapevine, Texas, Bethesda revealed more details about its much-awaited upcoming game, Fallout 76. Perks in the game will be split into multiple categories, including Strength, Perception, Endurance, Charisma, Intelligence, Agility and Luck, all of which together form the acronym – S.P.E.C.I.A.L.
According to the reveal, they will be available as part of a card-based system, allowing players to apply them for perks, with each card coming with its own cost that's measured in terms of points. Interestingly, cards won't be part of the micro-transactions, so users won't have to be spend real money to get their hands on them.
Bethesda is also devising interesting ways to make players behave themselves and not kill their fellow gamers within the PvP environment. As per Game Director, Todd Howard, a player who kills a human will become a wanted murderer with a bounty on their head. They will be marked by a red star on the map, and won't be able to see anyone else on the map.
There will also apparently be a 'revenge system' that will allow players killed by another human to go back and hunt down their murderer for double the ordinary cap payout.
The game will also reportedly offer players the ability to customize characters to their heart's content, with the option to even change characters and their appearances later on. The developers are also looking to support mods in some form, but according to Howard, "Given the online nature (of Fallout 76) it's going to be very complicated, but we're committed to it".
Announced back at E3 2018, Fallout 76 from Bethesda Studios is one of the most anticipated games of the year. What's different about Fallout 76, apart from the storyline itself, is the fact that the title takes the open world of the Fallout franchise and opens it up to the multiplayer environment.
Fallout 76 will be the earliest prequel in the series, and will feature a less apocalyptic world than what one has come to expect from the franchise. It will be an online-only multiplayer game that will have a single-player aspect to it, but the best experience will be reserved for the multi-player mode that will involve cooperating with fellow players to take down monsters and fend off hostile enemy.
Fallout 76 beta will kick off in October, two months before the its official launch, which is scheduled for November 14 on PC, PS4 and Xbox One.
---