GoPro recently released a new action camera called the new GoPro Hero ($199) which is the new entry level GoPro Camera. The company without a doubt makes the best action cameras in the world and their latest offering, the GoPro Hero, is no exception. I like to think that GoPro action cameras are the iPhones of action cameras. The cameras are powerful, exceptionally well constructed, perform like beasts, and has a wide array of accessories available for them. The accessories part is very important as well made accessories allows users to take an already good product and make it even better. In this article, we are going to list the 15 best GoPro Hero accessories which you can buy to do just that:
Best GoPro Hero Accessories You Can Buy
1. GoPro 3-Way Grip
GoPro 3-way grip is probably one of the best accessories that you can buy for your GoPro Hero. The 3-way grip brings three different functionalities inside one product. The grip can be used as a camera grip, an extension arm, or a tripod, giving users ultra versatility and the ability to take a variety of shots. The best part about the 3-way grip is that just like the GoPro Hero, it is waterproof so you can use it pretty much anywhere. If there is one accessory that you should buy for your new GoPro Hero, it should be the 3-way grip.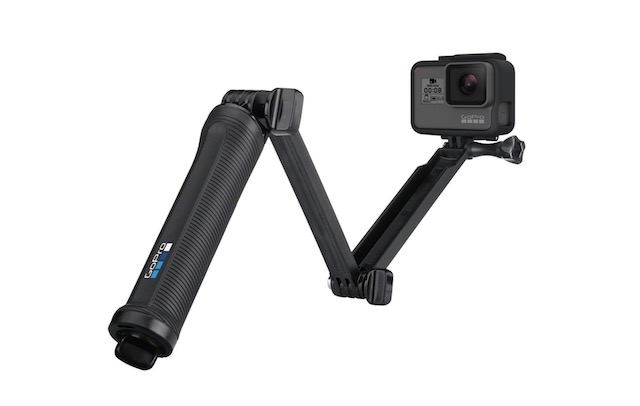 Buy From Amazon: $54.98
2. GoPro Dual Battery Charger + Battery
GoPro Hero comes with a 1220 mAh battery which is enough to power the device for 1.5 to 2 hours depending on how you are using it. The battery life might be good enough for most of the users, however, there are many GoPro users out there who will find the battery life to be not sufficient enough. If you are one of those users, you need to buy replacement batteries and a charger. The extra battery allows you to just swap the battery whenever your GoPro Hero runs out of juice and the charger allows you to charge the battery without keeping your GoPro Hero busy. If you plan on using your GoPro Hero for more than a few hours a day, this is something you should certainly buy.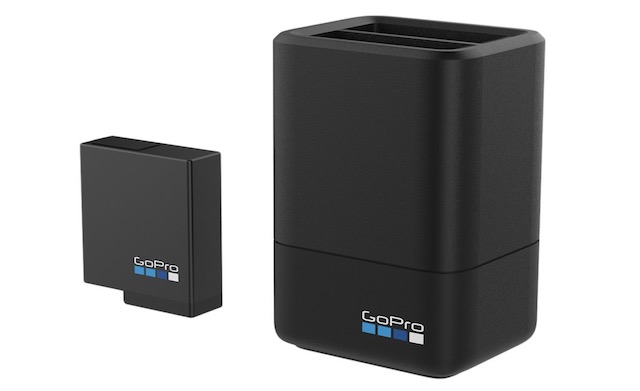 Buy From Amazon: $87
3. Anker PowerCore Portable Charger for GoPro Hero
While we are on the subject of batteries and power, do check out this 20,000 mAh portable charger for GoPro Hero from Anker which will allow you to charge the GoPro Hero more than 15 times over. The best thing about this portable charger is that it is pretty compact and you can carry it even in your pockets. The charger can output 4.8A current which means that your GoPro Hero is going to charge at a fast speed. Lastly, since it is a normal portable charger, you can even charge your smartphones and tablets with this one.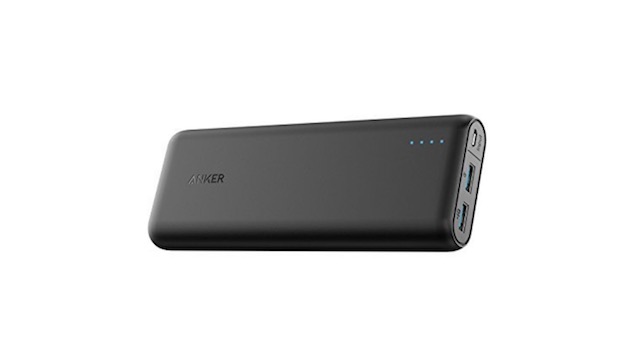 Buy From Amazon: $55.99
4. JOBY GorillaPod
JOBY GorillaPod is one of the most unique tripods I have ever seen and it will be a great accessory for your brand new GoPro Hero. The legs of the tripod are flexible and can be wrapped around or bended in any way. This bend-ability allows you to put your GoPro Hero even on rugged areas and get perfectly stable shots. The tripod is also very sturdy and can handle cameras up to 6.6 pounds which means that you can even use DSLR cameras with this one. The JOBY GorillaPod is a tripod which can you help you nail those tricky shots which you thought were not possible before.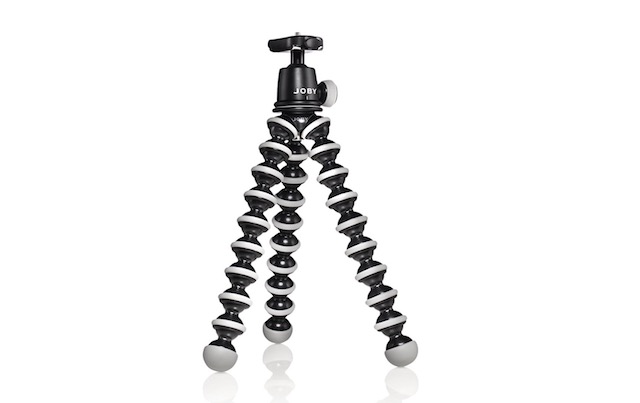 Buy From Amazon: $47.90
5. GoPro Suction Cup
Since GoPro Hero is an action camera, you will be using it take a lot of the action filled shots. Since you cannot use your hands to hold the GoPro Hero while you are biking, driving, surfing, or doing anything else, you will need some kind of mounting accessory which can hold the GoPro Hero in its place. One of the best mounting accessories that you can buy for the GoPro Hero is the GoPro suction cup which allows you to attach your GoPro to cars, boats, motorcycles, and more. The suction cup has been tested to hold its position at speeds above 150+ mph, so doesn't matter how fast you are going, you can be sure that your GoPro Hero and all its footage is safe.
Buy From Amazon: $39
6. Hapurs Shoulder Strap Mount Harness
While we are on the subject of mounting accessories, there are a few more you should check out. While the suction cup is good if you want to use your GoPro Hero while driving a car or riding a bike, it is useless if you are doing adventure sports such as paragliding and surfing. In such cases, you will need a shoulder mount harness which allows you to attach your GoPro Hero on your shoulder. The harness is made from elastic nylon and polycarbonate buckle which is not only comfortable to wear but also strong enough to keep your GoPro Hero in its place. The band is also elastic and adjustable which means you can use it irrespective of your body size.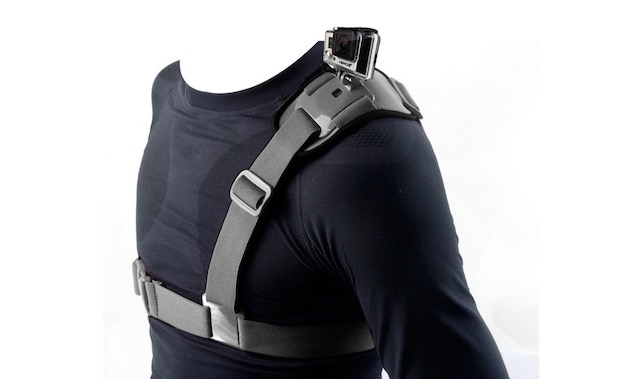 Buy From Amazon: $8.99
7. GoPro Helmet Front and Side Mount
Many people prefer to mount their GoPro cameras on their helmets and not their shoulders as the helmet mounted GoPro will record footage from your eyes' vantage point. If you are one of those people, then this front and side mount for helmets from GoPro is a really good accessory for the GoPro Hero. The mount brings a swivel mount assembly allowing you to easily adjust, rotate, and aim while the camera is mounted. The mount is also compatible with all the GoPro cameras so you can use it with both your brand new GoPro Hero or any old GoPro cameras that you already own.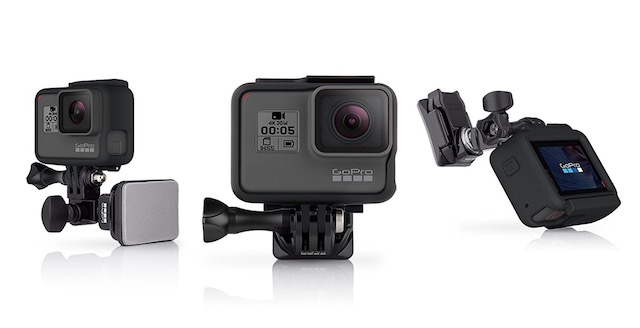 Buy From Amazon: $29
8. GoPro Handler
Of course, not all of us are into adventure sports and some of us just want to get footage when we are swimming with our friends or just walking around our neighborhoods. In such cases, the GoPro Handler will come in really handy as it's an accessory which allows us to mount GoPro cameras and easily handle them with one hand. The handler also comes with a writ strap which prevents your GoPro Hero from accidentally falling from your hands. One of the best feature of the handler is that it floats in the water so you can be sure that you won't loose your GoPro while swimming even when you drop it.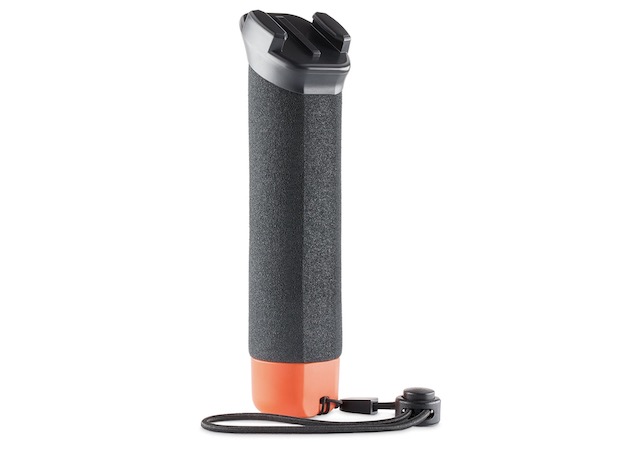 Buy From Amazon: $28.75
9. SHOOT Underwater Lens Hood Dome
Have you ever wanted to take those cool underwater shots which capture half the footage under the water and half above it? Well, those shots are made possible with third party accessories and the SHOOT underwater lens hood dome is one such accessory which makes those shots possible. Once you attach the lens hood dome on your GoPro Hero, it will move the waterline away from the camera lens thereby making those 50/50 shots possible. Not only that, the dome also reduces lens flare and improves the camera's underwater shots. If you want to take some cool trick phots with the GoPro Hero, do check this one out.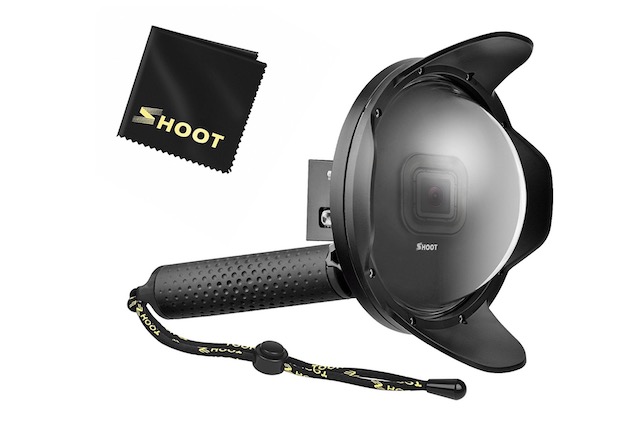 Buy From Amazon: $59.99
10. Professional Ultra SanDisk 64GB for GoPro Hero
There's no doubt that you can take some really great shots with your GoPro Hero, however, before you can even think of using it, you will need to invest in a good memory card which cannot only save the footage but also is fast enough to let you quickly offload that footage. GoPro Hero uses a microSD card slot and whenever I have to recommend a good microSD card, I always recommend the one made by SanDisk. SanDisk is a very prominent brand when it comes to storage and I have been using their products since I don't even remember when. I have never had any trouble with SanDisk's memory cards and have no qualms in recommending their products, so go buy one.
Buy From Amazon: $29.99
11. GoPro Super Suit
GoPro Hero like other GoPro cameras is very sturdy, however, they are not unbreakable. That's why whenever someone buy's a GoPro camera, I suggest them to buy the super suit from GoPro too. Not only the super suit protects the GoPro Hero during extreme outdoor activities it also increases the waterproofness of the camera. Out of the box, the GoPro Hero is waterproof up to 10 meters (33 feet). With the super suit on, the GoPro Hero will be able to survive up to a whopping 60m (196ft). Even if you don't care for the increased waterproofness, you should buy the super suit for providing your GoPro Hero with extra protection.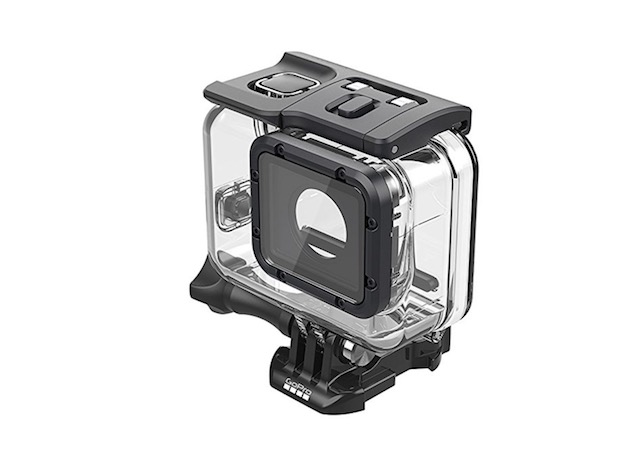 Buy From Amazon: $49
12. Hapurs Lens Cap and Lens & Screen Protector for GoPro
If you want a cheaper option to protect your GoPro Hero, take a look at this lens cap and lens and screen protector from Hapurs. While this won't provide overall protection to your GoPro Hero as the super suit, it will protect the most breakable parts of it which are the lens and the screen. The pack includes screen protectors for both the lens and the screen and a lens cap. Seeing how it costs only $8.59, this accessory is a no brainer for every GoPro Hero owner out there.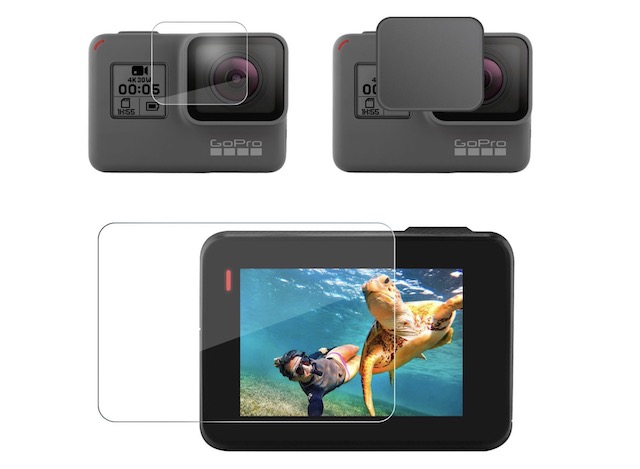 Buy From Amazon: $8.59
13. Lifelimit Accessories Starter Kit for GoPro Hero
The Lifelimit accessories start kit for GoPro Hero is one of the cheapest and the best accessory kit one can buy. The kit contains chest straps, headband, bicycle clip, handle bar mount, seat post mount, carrying pouch, and more. Most of the GoPro Hero accessories are very costly and if you cannot afford to invest so much money in accessories after just spending money on the new GoPro Hero, this starter kit is perfect for you.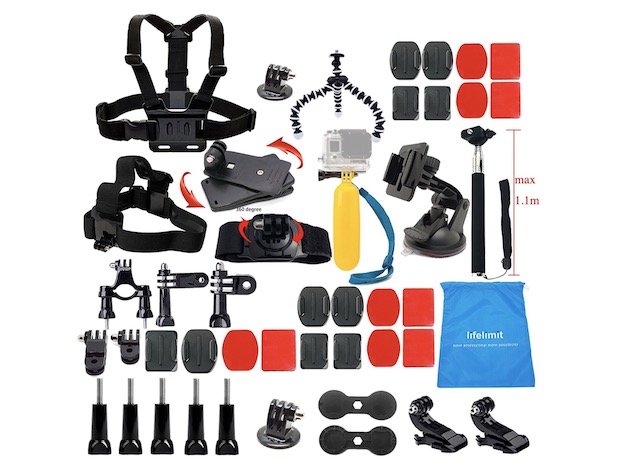 Buy From Amazon: $15.99
14. GoPro AAMIC-001 3.5mm Mic Adapter
While GoPro Hero can record really nice video footage, the same cannot be said about its audio quality. If you want to record flawless audio with your GoPro Hero, you will need to use an external mic, and this accessory will help you connect that external mic to the GoPro Hero. It's basically a USB-C to 3.5mm headphone jack adapter which allows you to connect external mics to GoPro Hero. While its not ideal to connect an external mike to your GoPro Hero when recording adventure sports, it does come in really handy if you are just recording conversation footage.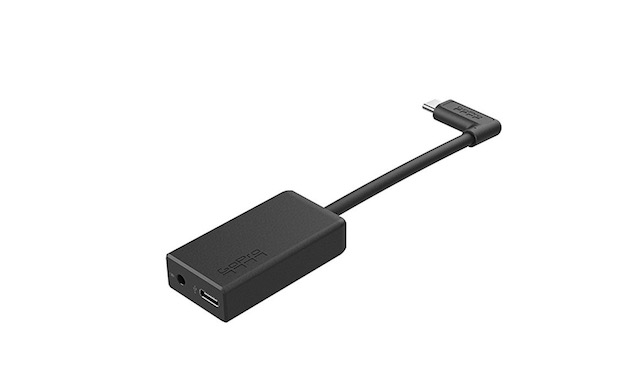 Buy From Amazon: $49
15. GoPro Seeker
Once you are done buying all your favorite GoPro Hero accessories, you will need a good backpack to carry them. That's where the GoPro Seeker comes in. GoPro Seeker is a bag designed by GoPro to especially carry the GoPro cameras and accessories. The bag has built-in compartments which can harbor up to five GoPro cameras, multiple batteries, microSD cards, and other accessories such as mounts, straps and more. The bag also comes with integrated chest and shoulder mounts allowing you to easily attach your GoPro Hero while carrying the backpack at your back. The backpack is a little bit costly, however, it is a one time investment and will keep on serving you in the future even when you upgrade your GoPro cameras.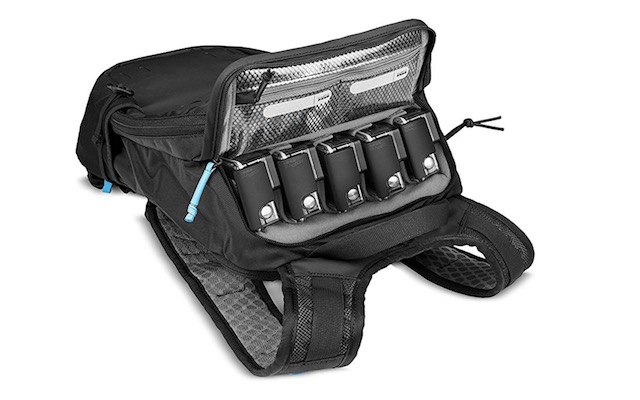 Buy From Amazon: $169
SEE ALSO: Dobot Rigiet Gimbal Review: Bang for Buck
Get the Most with the best GoPro Hero Accessories
That ends our list of the best GoPro Hero accessories that you can buy to not only protect your GoPro Hero but also enhance its usability. Do let us know which is your favorite GoPro Hero accessories by writing in the comments section below. If there are any GoPro Hero accessories which you would like to see on the list but are not there, do share with us their name too.