Smartphones and Action Cameras these days offer video quality that's good enough for home videos and/or making YouTube content. While technologies such as Optical Image Stabilization (OIS) are here, it is still not common across all devices. As such, a handheld gimbal can help the user in capture smooth, stable, and steady videos. While the DJI Osmos Mobile is the proven expert in this segment, there seems to be a new kid in town.
Dobot, the Chinese company based in Shenzhen that's previously made robotic arms, has now brought forth its own handheld gimbal, the Dobot Rigiet. The gimbal offers some great features, at just $269, which is almost half the price of the Osmos. But is the gimbal actually that good? Let's find out as we do an in-depth review of the Dobot Rigiet Gimbal:
Dobot Rigiet Specs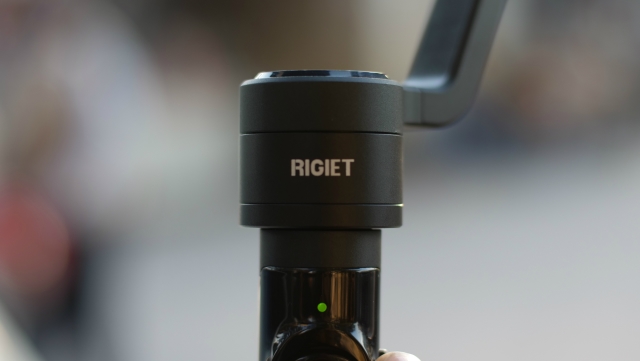 The Dobot Rigiet carries some impressive specs for its price and is compatible with a plethora of smartphone devices out there. Below is a list of the detailed specifications of the gimbal:
| | |
| --- | --- |
| Weight | 430 (bare machine) +50 (battery) =480g |
| Dimensions | 288×120×35mm |
| Mechanica Range of Gimbal (Pan) | 300° |
| Mechanica Range of Gimbal (Roll) | 270° |
| Mechanica Range of Gimbal (Tilt) | 300° |
| Stabilizing precision | ±0.01° |
| Battery capacity | 3340mAh |
| Battery voltage | 3.7V |
| Static stable battery life | 5.5h |
| Dynamic stable battery life | 3h |
| Weight of compatible smartphone | 100g~230g |
| Width of compatible smartphone | 56mm~85mm |
| Thickness of compatible smartphone | No more than 8mm |
What's In The Box
Alongside the gimbal itself, the company provides some decent accessories as well, such as: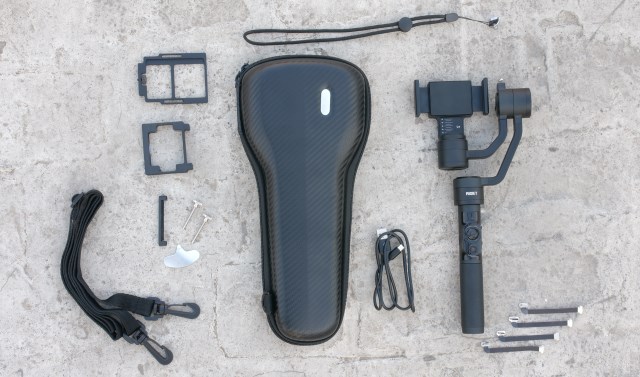 Dobot Rigiet Gimbal
18650 battery
Portable bag
User's Manual
Moisture-proof agent
MICRO USB cable
1/4 sling screw
Handle sling
Product package
Design and Build Quality
The design is probably the first thing you'll notice about the Dobot Rigiet, and I can assure you that it is quite aesthetic. For $269, you get a gimbal with a solid metal grip and a form-factor that is comfortable to hold, even for those prolonged shooting sessions.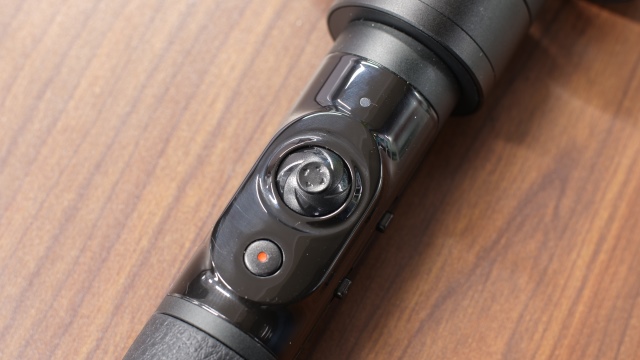 The handle of the gimbal has a rubber grip on it that feels quite comfortable and gives you a sense of confidence while using it. There's a joystick to control your phone/camera's movements, followed by the power button.
Above the power button is a single status LED. While for some devices, a single status LED works fine, such is not the case here. You'll have to resort to the user manual to try and remember all the various modes and statuses that the LED is trying to tell you. Personally, I felt that adding another LED to denote calibration for the stabilizer motor would have been better, rather than mixing the two things together.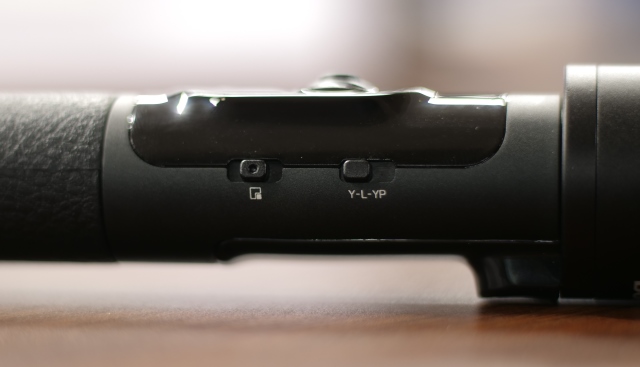 The right side of the gimbal has two slider buttons, the 3-position switch, which is then followed by the zoom control switch. The former one has three modes – Y, L, and YP, that mean Pan follow, Lock, and Yaw & Pitch follow respectively. The zoom control switch below it, has two modes, zoom in and zoom out, but can be used in various modes depending upon the direction and duration of switching the toggle.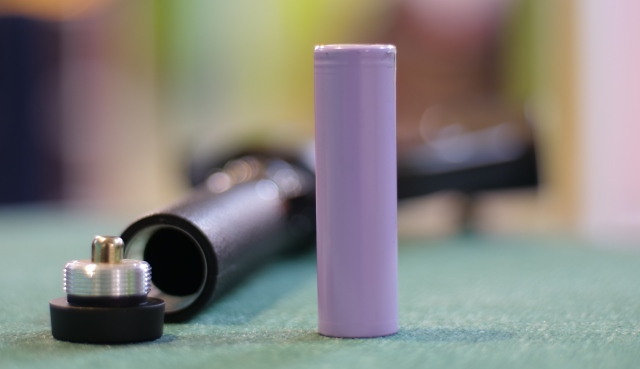 On the left side of the gimbal, you get a micro-USB port for charging the gimbal. The 2600mAh battery that comes included in the package, should last you for three hours before asking for a recharge. In all honesty, that's quite good. Furthermore, there's another micro-USB port up top, near the phone mount, allowing you to charge your mobile device while shooting.
Overall, the design of the Dogot Rigiet feels solid. Yes, it's made of metal, with plastic used in the control button, and that certainly makes it feel solid and sturdy enough.
Performance
The performance of the gimbal is what most users are concerned with since that's an area that calls for zero compromises. In my experience with the Dobot Rigiet, I found the gimbal to work very well. The gimbal comes with three precision motors that allow you to control roll, pitch, and yaw.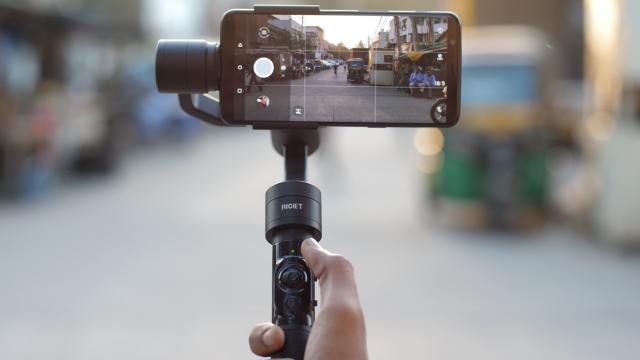 I tested the gimbal extensively with my iPhone 8 Plus, and the quality is top-notch. All three modes work pretty well, and I was able to capture some really nice footage out with my smartphone. Also, many users have often questioned me what effect does a gimbal have on a device with OIS? That's why I tried the gimbal with my iPhone X as well, with dual OIS lenses.
While the iPhone X's camera setup is capable of capturing great videos on its own, having a gimbal attached does bring forth a lot of difference.
That being said, no matter how user-friendly a gimbal might be, there's always a learning curve to it. You'll have to devote your time and practice a lot before properly understanding how you want your shots to look like in order to capture some really good footage. Having said that, once you understand how a gimbal practically works, the Dogot Rigiet certainly aids you a lot in recording some really nice footage.
Dobot Rigiet Companion App
One of the really cool features of the Dobot Rigiet is the companion app. The app is available for both Android (free) and iOS (free) smartphone devices. Apart from the standard shooting options, the app allows you to use the gimbal's power button as a capture button for your smartphone, as well as make use of the zoom buttons I mentioned earlier.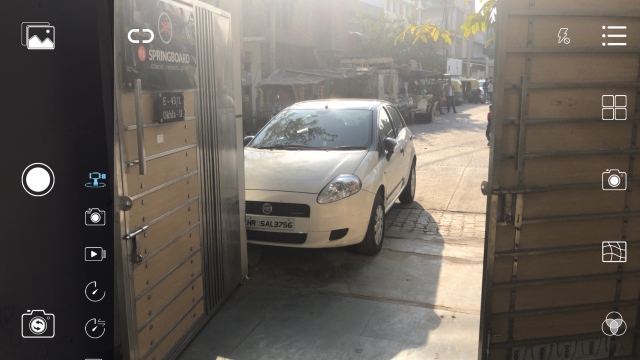 But that's all the basic stuff. The app also comes with some cool features that really make the whole app+gimbal experience worthwhile. One of these features is the fact that you can use the companion app to take effortless panoramas. You just ask the app to capture the panoramic image, and the gimbal will automatically move the phone to take a series of photos and then stitch them together.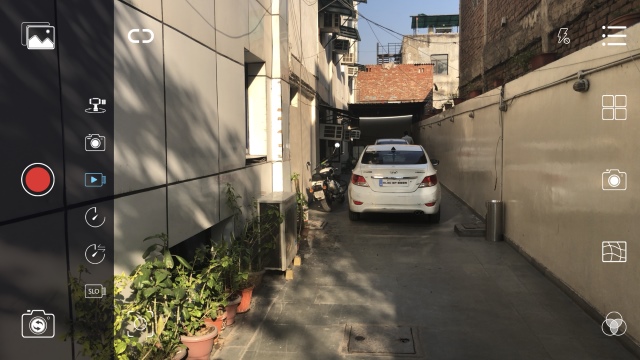 Another great feature is the auto-tracking feature. Similar to DJI's Active Track feature, you just draw a rectangle around your subject and the gimbal will then turn to follow it as it moves. That being said, like most gimbals and cameras that implement this feature, the tracking fails if the subject moves too quickly or goes out of the frame.
While I did like almost everything about this app, the only downside is the fact that the app saves all the images and videos within the app itself. So basically, it requires you to take the extra step of going through different menus to save the footage to your device locally.
Worth Your Money?
For a price tag of $269 (you can get the gimbal for $219 right now as part of the Christmas and holidays sale), you get a 3-axis gimbal with plenty of accessories, and a performance that, if not matches, at least competes with the DJI Osmo Mobile.
Yes, it does have a learning curve to it, but it is a gimbal that's suitable for both amateurs as well as intermediate videographers.
The companion app works great as well, and apart from the complicated task of saving images/videos, does provide useful features for the user.
Note: You can use the code UOJJC6IT on Amazon to get a 10% discount on the Dobot Rigiet gimbal.
Pros:
Decent and Sturdy Build Quality
3-axis Motor Works Well
Companion App is a nice addition
Cons:
Use of a single status LED complicates things
Dobot Rigiet Gimbal: Capture Steady Videos Easily
The Dobot Rigiet Gimbal proves to be a worthy accessory that allows you to record videos easily, that are smooth and stable. For its competitive price tag and the great performance, the gimbal proves to be a worthy competitor to the DJI Osmo Mobile and the GoPro Karma Grip. All in all, the gimbal is a good option for both amateur and experienced users alike. If you're into mobile videography, you can't go wrong with the Dobot Rigiet.
REVIEW OVERVIEW

Design and Build Quality

8.5

SUMMARY

The Dobot Rigiet gimbal proves to be a strong performer with all the bells and whistles at a very competitive price point. Though it does have a slight learning curve to it, the device gives the best-in-class gimbals a run for their money.