GoPro Fusion ($699) is the GoPro's most premium camera yet. The camera brings a ton of  features including 5.2K recording at 30 FPS, 18MP sensor, over capture, and more. However, just like it's with the other GoPro cameras, if you want to take the full advantage of the power that GoPro Fusion brings to the table, you will have to invest in accessories. That said, since there are a ton of accessories available for the GoPro Fusion in the market, it's a little hard to figure out which accessories you actually need and which you don't. To solve this problem for our readers, we bring you the 15 best GoPro Fusion accessories that you can buy to enhance your GoPro Fusion experience:
Best GoPro Fusion Accessories You Can Buy
1. SmilePowo 42-in-1 Accessory Kit for GoPro Fusion
I would like to start the list with an accessory kit which contains not 1, not 2, but 42 different accessories for your GoPro Fusion. The SmilePowo 42-in-1 accessory kit for GoPro Fusion is the best accessory kit you can buy. I know many people are reluctant to invest heavily in accessories when they have already spent $699 on their GoPro Fusion. If that's the case with you, this accessory kit is the right product for you. It brings all the major accessories that you will need including handle grip, handlebar seat post holder, chest mount, head strap, and more. That said, do remember that the accessories in the kit won't be as premium as the ones you will get if you buy them individually.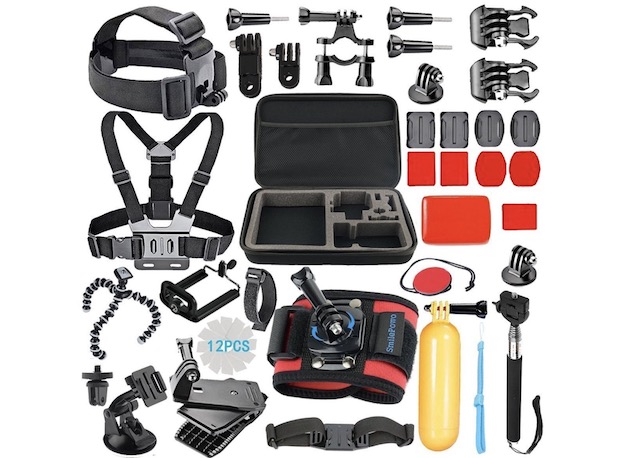 Buy From Amazon: $26.99
2. GoPro Fusion Case from Actpe
While GoPro makes cameras which are very sturdy and that includes the GoPro Fusion, nobody can blame you if you want to provide more protection to your brand new GoPro Fusion seeing how costly that thing is. If you want to protect your GoPro Fusion, the case from Actpe is one of the cheapest and the best case you can buy. The case covers your GoPro from all sides and even comes with both back and front lens caps. When it comes to the case itself, it is made of soft silicone material which can provide long-lasting protection for the camera, protecting it from dirt, scratch, dust, minor bumps and drops.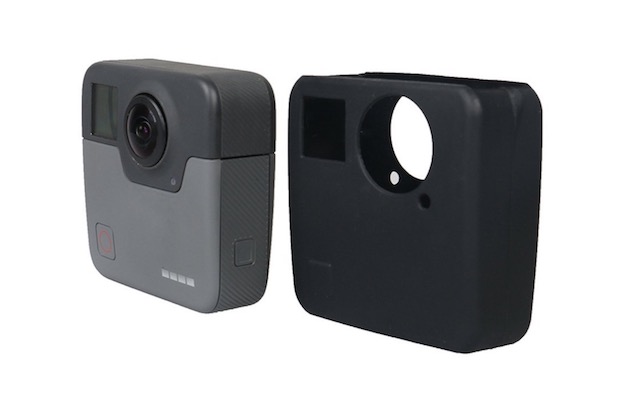 Buy From Amazon: $9.99
3. Kupton Case for GoPro Fusion
While a case is fine for protecting your GoPro Fusion when you are using it, you will need something sturdier if you want to protect your GoPro Fusion from damage while you are carrying it in your luggage. That's where Kupton case for GoPro Fusion comes in. The case is made of water-resistant and relatively hard material with removable buffer sponge. The outer hard shell protect your device in case your luggage is not handled properly while the soft sponge provides enough cushion to prevent any scratching or scuffing. If you travel a lot with your GoPro Fusion, you should definitely invest in this accessory.
Buy From Amazon: $17.98
4. GoPro Camera ASBHM-001 Fusion Grip
Now that we have seen to it that your GoPro Fusion is well protected, let us check out some accessories which can help you get the best out of your GoPro Fusion. The first such accessory on the list is made by GoPro itself and it brings 3 functionalities in one device. The Fusion Grip can be used as a camera grip, an extension pole, or a tripod. So whether you want to place your GoPro Fusion, take a selfie with it, or just need a grip to hold and carry the GoPro Fusion while you are recording, this accessory can help you.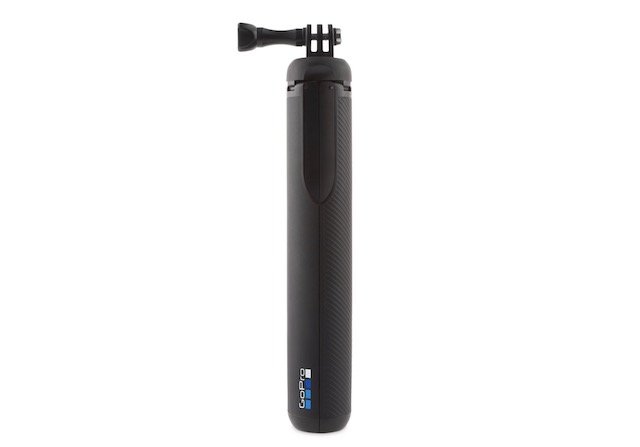 Buy From Amazon: $59
5. GoPro Camera ASBBA-001 Fusion Battery
As you might know, the GoPro Fusion comes with a 2620 mAh battery which can provide you anywhere between 1.5 to 2.5 hours of battery life depending on how you are using it. However, if you are someone who will be using his/her GoPro for more than that, you will need to buy an external battery. The external battery will ensure that whenever your GoPro Fusion runs out of juice you can just swap the batteries and go on with your recording.
Buy From Amazon: $29
6. Sandisk Ultra 64GB Micro SD Card
Although GoPro sells the GoPro Fusion at such a high price, it's sad that just like other GoPro cameras, the GoPro Fusion doesn't come with any SD Card, which means that you will need to buy one even before you can use it. When it comes to SD Cards I agree with GoPro here and suggest that you buy the 64GB version from SanDisk. SanDisk cards are not only fast but they are also reliable. In my years of using them, I have never had even one card fail on me. You don't even have to think before buying this one.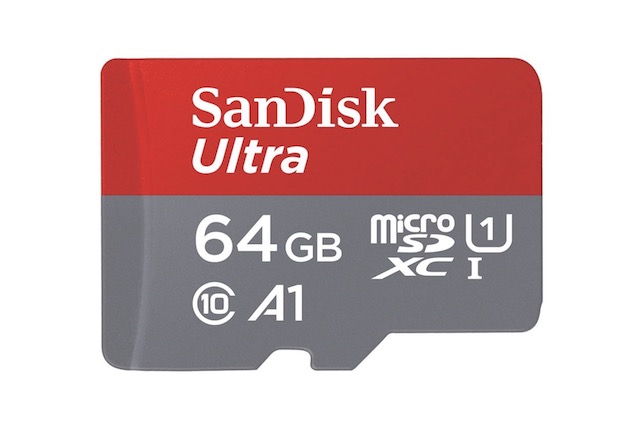 Buy From Amazon: $19.99
7. Anker PowerCore Speed for GoPro Fusion
One more accessory that you should consider buying for your GoPro Fusion is a portable charger. While swapping the batteries is a good solution, eventually, you are going to need to charge those batteries and if you are out in the wild, a portable charger will come in really handy. My suggestion for portable charger has always been Anker as I trust the brand. Their PowerCore Speed portable charger brings 20,000 mAh capacity, fast charging with PowerIQ technology, and packs all these features inside a package which is small enough to fit in your pocket. And since this is a portable charger, you can even charge your smartphones and tablets with it.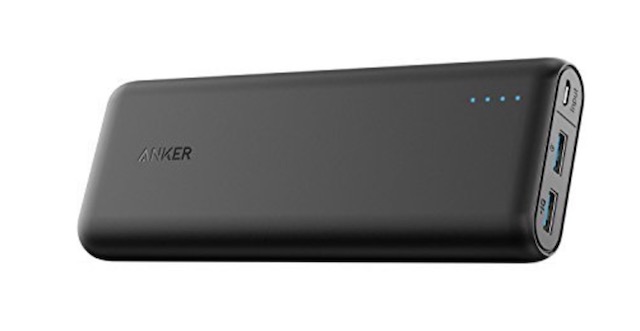 Buy From Amazon: $55.99
8. Joby GP3 GorillaPod
Joby GP3 GorillaPod is one of the best tripods that you can buy for your GoPro Fusion. The tripod is made from a combination of materials which include Japanese medical-grade ABS plastic, stainless steel, and German TPE which makes this tripod particularly sturdy. But that's not the main thing that makes this tripod unique. What's unique about this tripod are its legs. The legs bring two dozen individual joints which make them both bend-able and wrap-able. Which means that no matter how rugged a surface is, with this tripod, you will be able to place your GoPro Fusion straight and take stable photos and videos without any problem.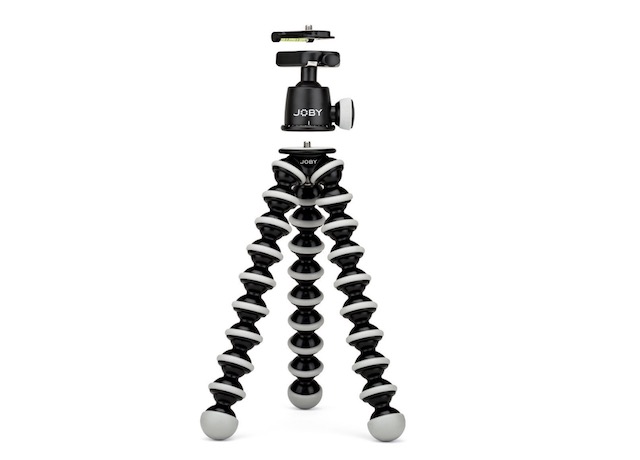 Buy From Amazon: $47.90
9. GoPro Fusion Suction Cup
Most of the users that buy GoPro cameras are buying it to record footage while performing some adventure sports or high-speed manoeuvres. I mean the GoPro cameras are not called action cameras for no reasons. Well, for capturing footage during those active moments, you will need to mount your GoPro Fusion using mounting accessories. The suction cup is one such mounting accessory which allows you to mount your GoPro Fusion to a car, bike, boat, and more. This particular suction cup has been tested at speeds of 150+ mph so you don't have to worry about your GoPro Fusion no matter how fast you are going.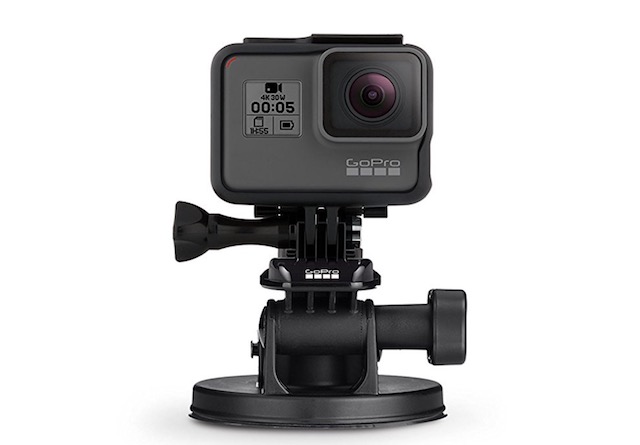 Buy From Amazon: $39.99
10. GoPro Helmet Front and Side Mount
While a suction cup is good when you are using your GoPro Fusion on a vehicle, it won't work if you want to record footage while swimming, surfing, paragliding, or doing pretty much anything which doesn't involve vehicles. In such cases, you will need to attach your GoPro Fusion to your body, and the GoPro helmet mount will help you do just that. The helmet front and side mount form GoPro not only allows you to attach your GoPro Fusion to your helmet but also helps you easily rotate and adjust the position while your GoPro Fusion is mounted.
Buy From Amazon: $29.99
11. Luxebell Chest Mount Harness Strap for GoPro Fusion
Just like the suction cup, the helmet mount also comes with its own shortcomings. For example, what happens when you are recording a footage when you are not wearing a helmet. Also, some people don't like to attach their GoPro cameras on the head as it is moving rapidly which can make the footage unstable. In such cases, you can use the chest mount harness which allows you to mount your GoPro Fusion to your chest. The harness ensures that you can use your GoPro even when you are not wearing a helmet.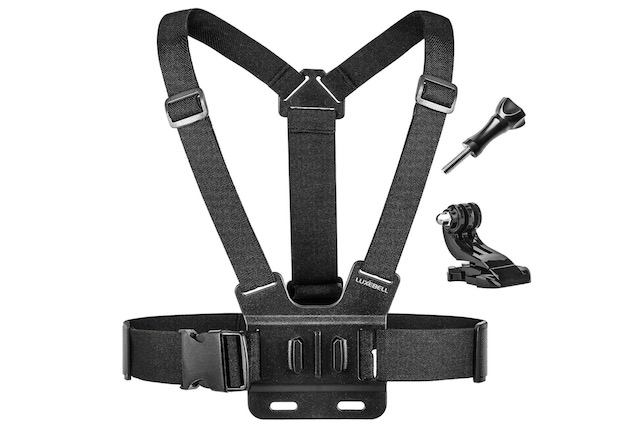 Buy From Amazon: $9.99
12. HAPY Pet Dog Harness for GoPro Fusion
There are many users out there who like to mount their GoPro cameras on their pet dogs to record their activities. If you also want to do that, the HAPY pert dog harness for GoPro Fusion can help you do just that. The strap allows users to easily attach GoPro Fusion on the back or the chest of the dogs. To make the experience comfortable for your dogs, the harness contains elastic adjustable straps which can be loosen or tightened to fit dogs between 10 to 110 lbs (5 to 50 kg). The whole harness is also lined with premium soft foam ensuring that your pet doesn't feel any discomfort.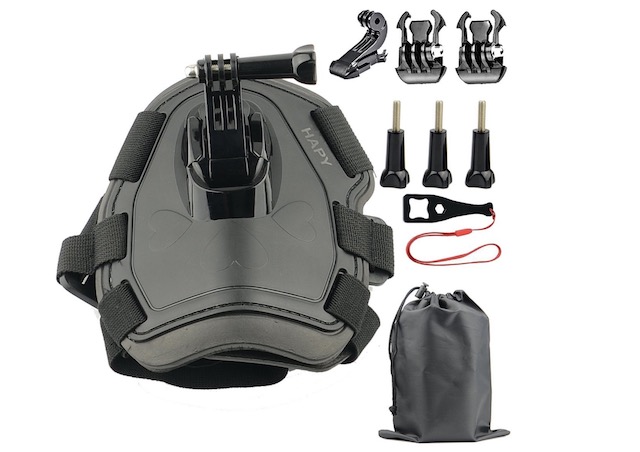 Buy From Amazon: $17.99
13. GoPole Bobber
GoPole Bobber is a must-have accessory for your GoPro Fusion if you like to take your GoPro for swims. The Bobber is basically a handheld mount for your GoPro Fusion which doesn't sink. That means that even if you drop your GoPro Fusion in the pool or the lake, it will keep on floating on the surface. The Bobber is also painted bright yellow in color allowing you to easily locate it even from a distance. If you don't want to lose your GoPro Fusion while swimming, do buy the GoPole Bobber.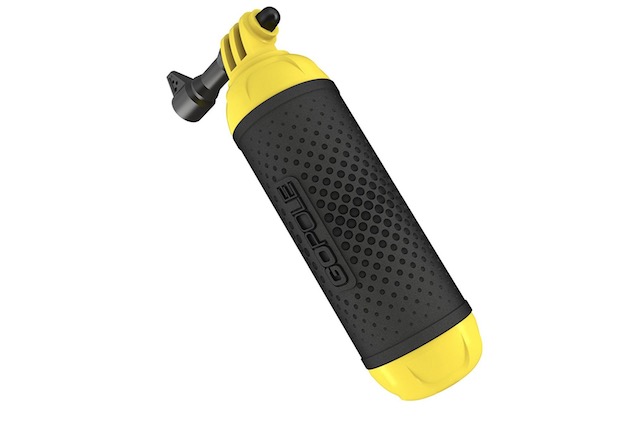 Buy From Amazon: $21.85
14. GoPro The Tool
It is the cheapest GoPro Fusion accessory on this list but it is one of the most important one. As its name suggests, GoPro the tool is a tool which helps you easily tighten the GoPro thumb screws. The tool will come in handy every time you mount your GoPro Fusion on any harness. If you want to ensure that your GoPro Fusion is securely attached to your harness and won't fall in the middle of a recording, you should definitely keep this tool handy.
Buy From Amazon: $4
15. GoPro Seeker
The last accessory on our list is the GoPro Seeker which is a sports bag from GoPro itself. The bag has been specially designed to help you carry GoPro cameras. The bag has separate compartments and can hold up to six different GoPro cameras, multiple batteries and microSD cards, mounting accessories, and more. If you carry a lot of gear along with multiple GoPro cameras, you should definitely buy this bag. The bag also comes with built-in chest and shoulder mounts which will allow you to use your GoPro Fusion even with the backpack on.
Buy From Amazon: $169
SEE ALSO: Dell XPS 13 9370 (2018) Review: Quality Doesn't Come Cheap
Unlock the Full Potential with the best GoPro Fusion Accessories
GoPro Fusion is currently the best action camera that GoPro makes and it brings a ton of features that can help you capture some really cool shots. However, the camera alone is almost useless and you will need to buy some useful accessories which can help you unlock its full potential. I hope that this article helped you in discovering those accessories. Do let us know which one is your favorite accessory by writing in the comments section below.
---
Load More