Google has addressed the weird bug which displayed users' text message on the Google app on typing phrases such as "the1975..com" and "izela viagens" in the search bar. The company has dubbed this a "language detection bug" and promised a fix for it in the coming weeks.
Redditor Krizastro who found the bug almost five days ago describes it as the "weirdest glitch I have come by". Many others echoed in on the post, confirming that the bug affected them as well.
Google said that it had identified the source of the bug in the Google Search app "which erroneously interpreted certain phrases as a request to view recent text messages". Notably, the Google app is capable of displaying text messages when users type "show me my text messages" in the search bar.
The tech giant also said that the bug only affected users who had given the Search app the permission to open and read text messages. A fix has reportedly been implemented and will reach users "over the next few days", a Google spokesperson said.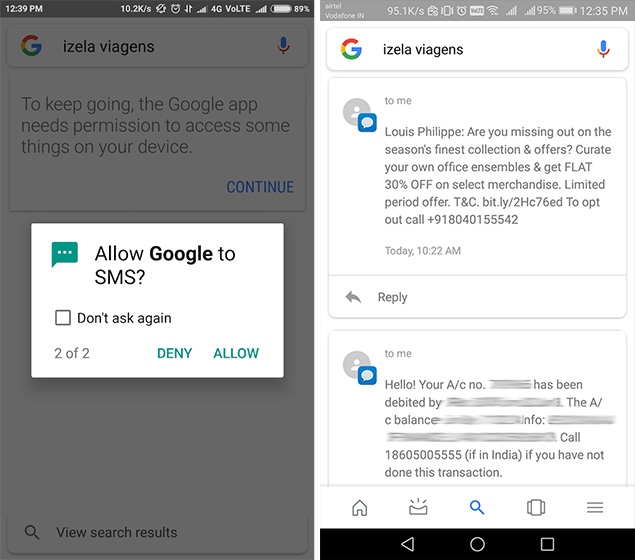 We can confirm being affected by the bug as well, although at the time of writing this, "the1975..com" seems to have been rectified while the other one still opens messages. The fix appears to have been configured on the server side as the bug was resolved without having to update the app.
Google has refrained from sharing what caused the bug or sharing a reason as to why the two "random" phrases crippled the app. Google did not share other potential phrases which might trigger similar glitches, either.
While this may appear to be a minor bug, it could have alarming repercussions. This is because a lot of services use SMSes for authentication of the user. In my case, the bug was horrifying because it bypassed security settings and displayed my text messages even when the Messenger app is protected by a fingerprint lock.