Google's much vaunted app-subscription service officially launched in the US on Monday, offering more than 350 titles ad-free and without any in-app purchases. Called Google Play Pass, the service comes with a free 10-day trial period and has been priced at $4.99 (around Rs. 350) per month, but for a limited time, Google is offering it at only $1.99 (around Rs 140) per month for the first year. It is coming to the US this week, and will 'soon' be available internationally.
The Play Pass portfolio includes some of the most interesting Android apps and games on the Play Store. Some of the more well-known ones include Terraria, Monument Valley, Risk, Star Wars: Knights of the Old Republic and AccuWeather. "And others you might be less familiar with that are just as amazing, like LIMBO, Lichtspeer, Mini Metro, Old Man's Journey and many more", said Google in an official blog post.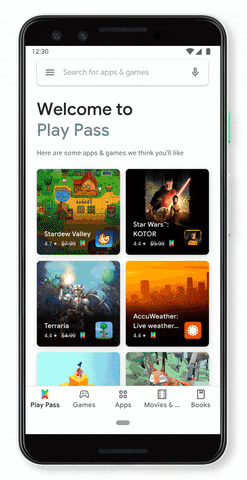 To make all these apps and games easier to find, Google has added a new Play Pass tab for subscribers. Play Pass apps and games can still be found throughout the Play Store through the Play Pass 'ticket' that will be visible front and center on the Play Store UI. "All apps and games found on the Play Pass homepage or throughout the Play Store with the ticket are completely unlocked with your subscription", said the company.
Believed to be in closed beta testing at least from last July, the Play Pass subscription service is described by Google as "a curated catalog spanning puzzle games to premium music apps and everything in between". According to the search giant, "From action hits to puzzles and fitness trackers, with Google Play Pass you unlock access to hundreds of premium apps and games without ads, download fees or in-app purchases".
---