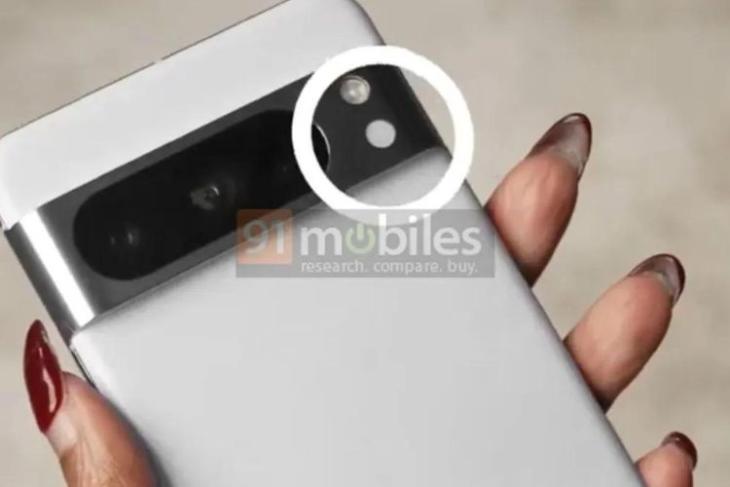 Back in March 2023, the first-ever renders of the upcoming Pixel 8 Pro leaked. These renders showed a circular cutout beneath the flash. Back then, it was thought to be another camera module housed separately within the Visor. However, it now seems Google had something else up its sleeve. Find out more below.
Will the Pixel 8 Pro Measure Body Temperature?
Known tipster Kuba Wojciechowski (via 91Mobiles) has revealed that the circular cutout is a new temperature sensor to measure body temperature. The sensor will take advantage of a built-in thermometer within the smartphone. Yes, that's right! An actual built-in thermometer within a smartphone. Sounds crazy but seems like Google is doing it.
Wojciechowski also posted a video demo of the sensor in action but it was taken down. However, another tech enthusiast Neil Sargeant posted the demo video on Twitter. As per the video, once you have identified the sensor on the phone, you are required to bring it near your forehead without touching it and tap the start button on the screen. Make sure there is no accessory on your face. Then, you will need to move the phone from your forehead to your temple, and when recorded (expected time is under 5 seconds), the phone will vibrate to show the results.
It is suggested that the built-in body temperature sensor will be available just with the Pixel 8 Pro. As for the other specs, the Pixel 8 Pro is expected to arrive with a 6.52-inch QHD+ display with a 120Hz refresh rate. The 8 Pro is expected to arrive with a boxy design and a flat display (confirmed further by the video above) with a 12mm thickness. It could have the Tensor G3 chipset with AI infusions, a triple camera setup, and much more.
The concrete details of the Pixel 8 Pro are still under the veil. We know how Google can be when it comes to sharing information on its products and hence, will have to wait for more details to surface. We will keep you posted on the details once we get them. Therefore, keep on reading Beebom.com for more updates, and do share your thoughts on the thermometer sensor in the comments below.
Feature Image Courtesy: 91Mobiles