Bikers can rejoice as Google Maps has just added a new Motorcycle aka the Two-Wheeler mode. The new Motorcycle mode allows riders to choose the navigation exclusively for bikers which shows them the best possible routes which otherwise is not available for four-wheelers.
Basically, the Google Maps navigation shows routes which are best suitable for bikers and also showa the ETA based on the route. The ETA will be calculated based on the data received exclusively from bikers and not from the traditional ETA data which is derived from four-wheelers on the road. This will make a huge difference, as normally in congested traffic areas, bikers can move more freely than car drivers. The Motorcycle Mode is especially beneficial for people living in developing countries like India, as some routes are not wide enough to service cars but can easily accommodate two-wheeler vehicles.
Currently, the service is going live in India and I have already received the update on my OnePlus 3 and Mi A1. I also checked on our iPhone X but the feature wasn't available.
Now users in India will see a Two-wheeler option alongside Drive and Walk under the navigation or Get Direction tabs. However, since the motorcycle mode has just launched, Google will need a couple weeks before it can correctly predict the two-wheeler ETA.
As you can see in the picture below, the two-wheeler navigation is showing an ETA which is only 5 minutes lesser than the one estimated for the four-wheeled vehicles. Also, the route options are pretty similar for both the motorcycles and cars.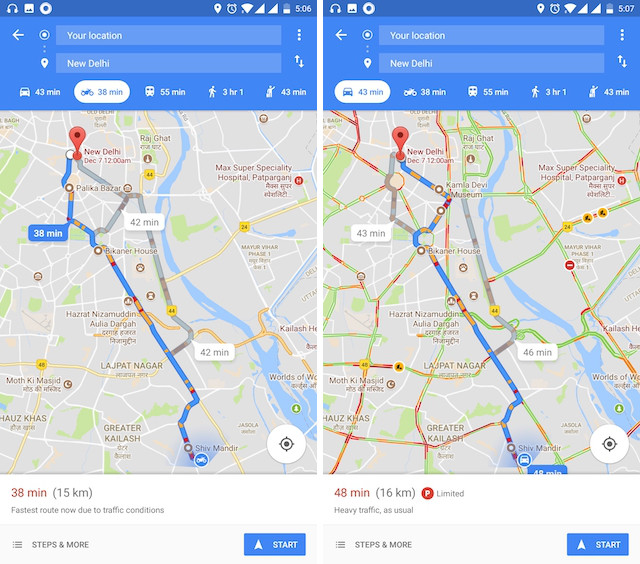 Right now, I don't believe that Google has enough data to make the optimal ETA or best route predictions. However, as more and more bikers start using this feature, Google will have enough data to work with and bikers will benefit from this feature. I am still a little bit concerned about using the navigation on a bike without compromising safety or stopping at intervals to check the navigation. That said, its a step in the right direction and I am waiting to see what Google does in the future to further enhance the biker's navigation experience.
---