With Augmented Reality (AR) and Mixed Reality (MR) blurring the lines between the real and the virtual, every tech company, from major corporates like Google and Facebook to startups like Magic Leap and WaveOptics, are trying their hands at the emerging new technology. Google has been working on AR for a while now as well, but its earlier project, 'Goggles', was discontinued as far back as in 2014. Undeterred by the setback, the company recently announced yet another service that promises to revolutionize the way we search for information about the physical stuff around us on the web. Called Google Lens, the software was announced earlier this year at the company's annual I/O developer conference in San Francisco, California.
The feature will be integrated with Google Assistant well as Google Photos, but will only be available on the two second-gen Pixel devices right now before being more widely available in the months to come. So, in case you want to try out something similar without buying a Pixel 2, you can try these Google Lens alternatives on your smartphone:
1. CamFind
CamFind is one of the oldest and most well-known image search apps, and it's available for free both on Android and iOS. The app isn't obviously an exact replica of Google Lens, insofar as it doesn't do AR, but it is, quite simply, the next best thing. CamFind lets you take a photo of any object around you and then upload it to its servers with just a single tap. It then uses it's proprietary CloudSight image recognition API to not only tell you what it is, but also suggest websites that could provide you with more info on the subject. From what we saw, these search results also include related images and local shopping results from e-commerce sites such as Amazon.
While the couple things we tried worked great (a computer keyboard and a hatchback vehicle), the company also says that CamFind is capable of correctly identifying movies from their posters. Not only that, once the app identifies a movie, it will apparently bring up trailers, showtimes, and even suggest local theaters that are screening the movie. You can also mark a particular search as favorite if you want to refer back to it in the future.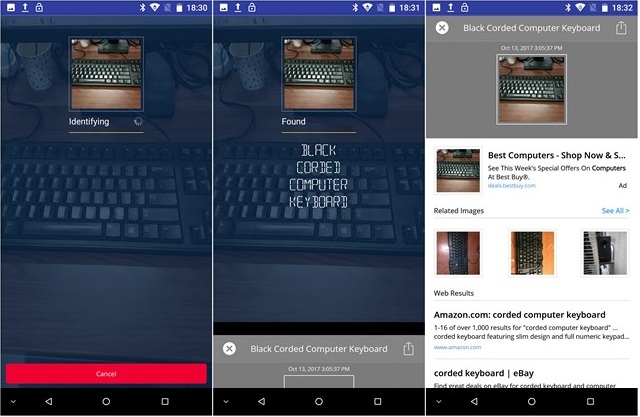 'Live Stream' and 'Popular' are two of the other features that allow users to view other searches in real-time. While 'Popular' showcases searches that have been marked as a 'Favorite' by other users, 'Live Searches' shows you new uploads in real-time. However, both these features are turned off by default and, need to be enabled manually if you want to share your searches with other users. That being the case, users concerned about their privacy can rest assured. On the other hand, if you want to advertise your searches to the rest of the world, you can also share them on social media or send them to your WhatsApp contacts from within the app.
2. Image Search
Image Search is another super-popular app that will identify images by uploading them to Google's Reverse Image Search Engine. You can select any image on your phone, but unlike CamFind, it doesn't let you take pictures directly, so you will need to snap the photo before you open up this app. Having said that, it's really not much of a problem when you think about it, although, the fact that it only supports Google right out the box could be a bit of a negative for some. While the app does let you create your own custom search engines, many non-tech-savvy users may find the process a bit too cumbersome and unintuitive.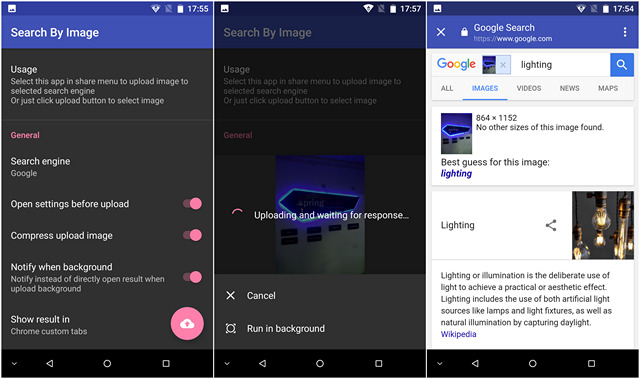 As can be seen above, the results can be a bit of a hit or miss, but it's not really the app's problem if Google's algorithm is still struggling to recognize a dimly-lit hoarding. Overall, Image Search is a good app, and being based on Google's image search algorithm means it works well more often than not. What I also liked a lot was the inclusion of the Night Mode that looks look a lot cooler and more sophisticated than the stark white screens that greet you when you use most of these apps. It's not perfect, and nowhere near as intuitive as CamFind, but it will still work as a Google Lens alternative until we can get the real deal on our phones.
Install: Android (Free)
3. Search by Image
Search by Image is yet another reverse image search app that displays reverse search engine results from Google Images and TinEye. To do a reverse image search through this app, all you need to do is select the picture from your phone by opening up the app and selecting the "+" sign on the landing screen. Thereafter, choose whether you want to upload an image from your gallery or take a new photo to search on the internet. Irrespective of whichever option you choose, you'll get the option to crop, resize or flip an image before actually uploading it.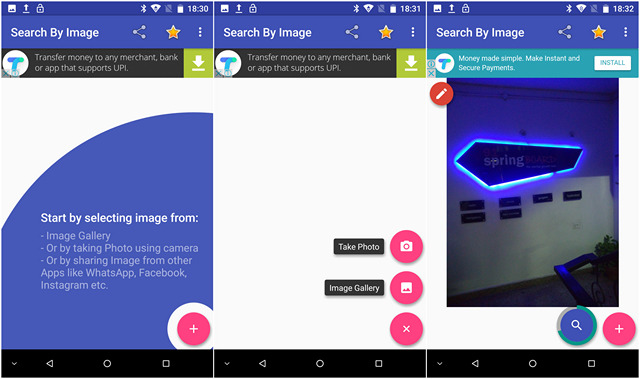 Both 'Search by Image' and 'Image Search' are rated fairly similarly on the Play Store, which isn't surprising, given how they both use Google's image search results, but personally, I felt this app was more intuitive and had a better UI than the previous one. As mentioned already, Google is the default search engine for this particular app as well, but you can change it to TinEye if you like, although, choosing Google will also let you use Google SafeSearch to block out disturbing images.
Install: Android (Free)
4. Image Search – PictPicks
Known earlier as Image Search Viewer, PictPicks is yet another app that you can try if you're looking for a Google Lens alternative on your smartphone. The app comes with Google's Material Design interface, making it quite pleasing to use, and in my opinion, has one of the most user-friendly UIs among the apps on this list. Like the ones above it, PictPicks also uses Google image search to deliver its results, but rather than throw you over to Google's webpage, the app shows the related images through its own user-interface.
PictPick has got a pretty high rating with over 100,000 installs on the Play Store, and once you've played around with it for a while, it's not difficult to understand why. It comes with all the features you'd expect from Google Image Search, which means you can filter your images by size, color, type and time, and also turn on SafeSearch if you don't want to be bombarded with NSFW visuals. You can also use the results to search for other similar images, share them via Bluetooth or WhatsApp, and also set the images as your wallpapers or contact photos.
Install: Android (Free)
5. Reverse Image Search
Last but definitely not the least, Reverse Image Search is one more option that you can try if you're looking to get more information about an image or looking to verifying the source of photographs, WhatsApp images, Instagram photos, screenshots and memes. Like just about all the other apps on this list, this one also uses Google's image search functionality, so you've got access to all the familiar functions, including SafeSearch.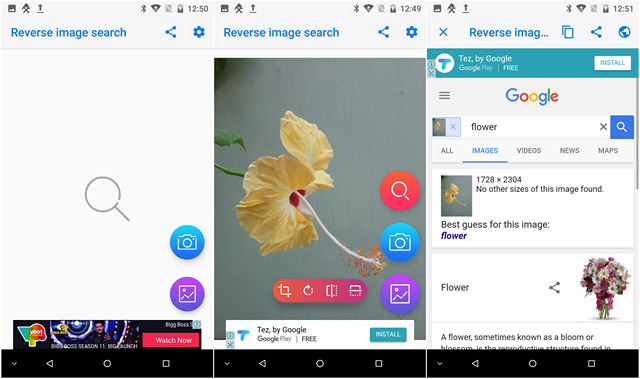 Unlike some of the apps on this list, this particular app comes with a camera interface that lets you click an image before uploading it, making the process a bit more seamless and intuitive. You can also share the images or your search results on social media, via messaging apps or through Bluetooth. Overall, it's a pretty good app that does what it promises, and is well worth a try if you're looking for a Google Lens alternative on your Android smartphone.
Install: Android (Free)
SEE ALSO: How to Get Pixel 2 Launcher on Any Android Device
The Best Google Lens Alternatives
Google Lens will hopefully turn out to be better-implemented than its ill-fated predecessor, Google Goggles. From what we've seen at the I/O developer conference, it certainly seems like something that might very well finally kickstart the AR revolution that has, thus far, been restricted to gamers who made Pokemon Go one of the biggest success stories last year. Whether Google Lens can actually popularize AR among mainstream smartphone users remains to be seen, but the search giant needs to roll out the service to a wider user-base sooner rather than later.