Fitness apps are nothing new, and I'm pretty sure most of you have seen a lot of them on your smartphone's app stores. Well, I've personally tried out a lot of them for varying periods of time, but almost none of them kept me interested in the long run and I ended up uninstalling them sooner than I thought I would.
Recently I came across this unique fitness and nutrition app called 8fit​ which is available for both iOS and Android devices. First impressions were great, therefore I decided to give it a shot, and so far, I've enjoyed using it quite a lot. Props to the
developers. They've successfully managed to motivate met to keep using the app every single day.
If you care about your fitness routine and want to maintain a healthy diet, 8fit will certainly be of great importance to you once you start using it.
Before you go ahead and hit the download button, let me explain all the great features that the 8fit app has to offer:
Key Features
8fit offers a variety of workout programs which differ based on your skill level, i.e. beginner, intermediate or advanced. When you head over to the workout section for the first time, 8fit asks questions about your activity, stamina and strength and places you into a skill bracket.
The app was smart enough to place me at Level 6 out 8 after my test and assigned me a personalized, "Premier" workout program, which holds me accountable for 6 workout sessions over the course of 6 days. Once you've set up your exercise program, the overall progress will be displayed at the top of the Workouts section of the app.
8fit stands out from the rest of the competition by offering six, well-detailed yoga videos in addition to their high-intensity interval training workouts. . The developers are currently hard at work trying to add more workouts for your core, arms and legs.
The Meals section of the app is where you help 8fit create a personalized diet plan for you. You can choose the ingredients which you usually eat and also exclude the stuff that might be allergic to you. The app also lets you decide the type of recipe you want. For example, if you're a busy person, you might want to get your food prepared as soon as possible. Well, 8fit's quick recipes are here to the rescue. Additionally, if the "Affordable recipe" option is app can also suggest food that's easier on your pocket, which is impressive to say the least. There are various other recipes that you can try out on 8fit, but "Quick" and "Affordable" are my favorite options.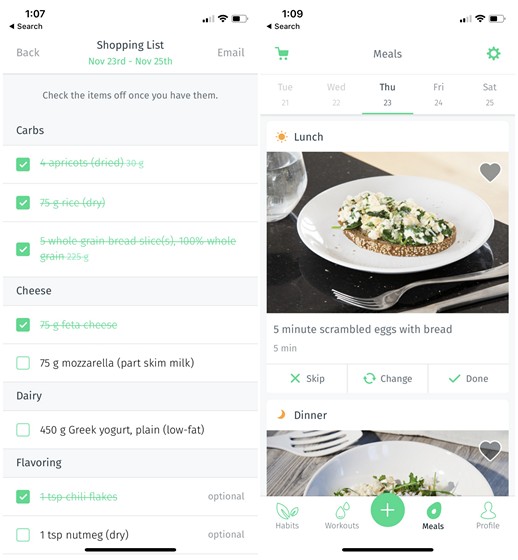 The 8fit app is also pretty smart in that it distributes the total calories you need per day out depending on the number of meals you have per day. 8fit also understands that some people get fed up with having the same food on a regular basis while others like to meal prep. The app can add variety to your meal plan depending on those kinds of preferences.
Keep Track of Your Activity
Worried that not all of your activity is tracked throughout the day? That's not a problem with 8fit. You can input various physical activities that you've performed outside the app (like your lunchtime walk or yoga class) so that it can be logged. This helps me quite a lot, as I don't use the app while I'm lifting weights at the gym.
In addition to inputting workouts, you can also add the meals or snacks you had outside of your personalized 8fit meal plan so that the app can log your calorie intake properly. Lastly, if you can input how much you weigh on a regular basis, the 8fit app can provide a neat graph of your progress over a course of time.
All in all, 8fit can make a significant difference if you constantly let the app know what your activities are through the day.
Steps Tracking & Apple HealthKit Integration
This part might be my favorite feature of the 8fit app. Apple's HealthKit platform for iOS has been available for a couple of years now, and thanks to this integration, you'll be able to let the 8fit app report your weight and calories burned during workouts to Apple's HealthKit app. The other benefit of this integration is step tracking, which allows 8fit to import the data recorded by your smartphone's motion sensors and display the number of steps that you've taken throughout the day within the app.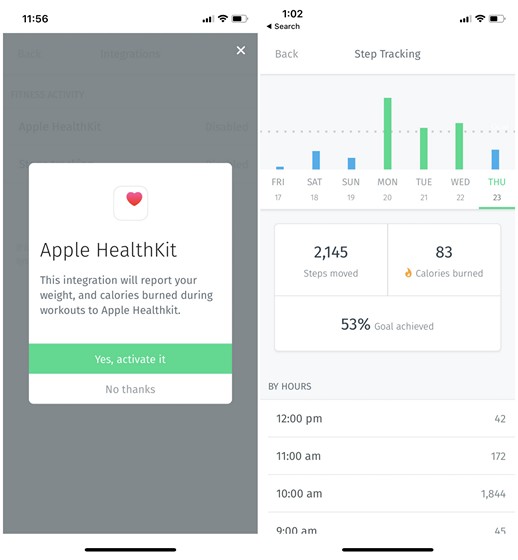 User Interface
As soon as you open up the app for the very first time, you'll notice 8fit's flawless user interface. You'll spend your first few minutes scrolling through the neatly separated sections before you check out everything else it has to offer.
An added bonus was when I noticed that the app was already optimized to take advantage of my iPhone X's full-screen display. It almost felt as if I was using a first-party app because I didn't face a single lag or crash during my period of usage. It was equally optimized for the new OnePlus 5T display as well. The developers deserve a lot of credit.
Out of all the fitness apps that I've tried so far, the 8fit app sits right at the top in delivering an engaging user interface.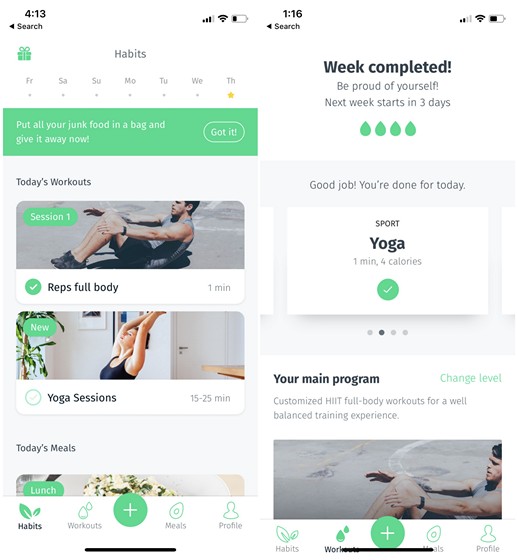 Pricing & Availability
Although the 8fit app is free to download on both iOS and Android platforms, it comes with a limited set of features out of the box. To unlock everything that 8fit has to offer, you need to subscribe to their Pro plan, which costs $25 for 3 months or $60 for the full year. However, if you want to try out the Pro plan before shelling out your hard-earned cash, it's possible. The app requires you to invite your friends, and once you get at least three friends to join 8fit, you'll be provided with the Pro plan for one month, free of charge. It barely takes a few minutes if you have three friends nearby like I did.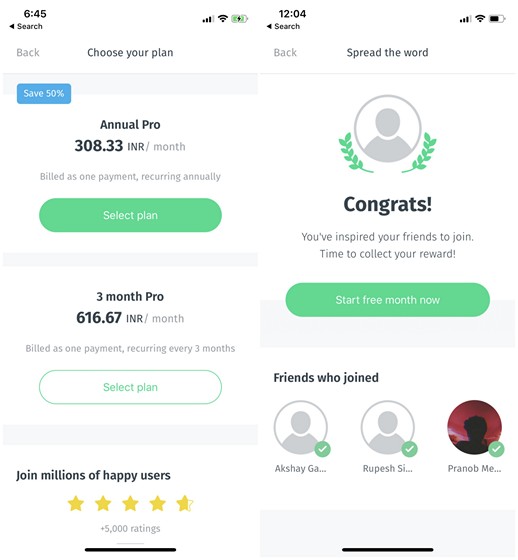 Pros:
Flawless user interface and well-optimized
Detailed videos for workout sessions
Steps tracking and Apple HealthKit integration
Fitness guides, exercise library and recipe book
Cons:
8fit is that One Fitness App You Need in 2018
If you have multiple fitness and health companion apps on your smartphone, it's highly likely that you'll uninstall almost all of them once you try out 8fit; it's good enough to be that one and only app you need to lead a healthy lifestyle. From workouts and activity tracking to recipes and meal plans, the 8fit app offers a compelling set of features to keep you engaged. Personally, I don't think I'm going to stop using this app any time soon.
Once you download and try out the app for yourself, let us know your experience with 8fit by posting your valuable opinions in the comments section down below.
Download 8fit app here.