Samsung recently launched its flagship Android tablet, the Galaxy Tab S4 in India at a premium price point of Rs. 57,900. The Tab S4 comes with pretty impressive specs even if the processor is a last gen Snapdragon 835, and Samsung has also managed to put in a beefy 7,300 mAh battery on this thing while still keeping it sleek and stylish. So, what is the battery life of the Tab S4 like, and does the Adaptive Fast Charging adapter that comes in the box charge it fast enough? These are the questions I'll be answering in this article.
Charging Test
Let's start off with the charging test for that big 7,300 mAh battery inside the Tab S4. Samsung's bundled fast charger is an 18W charger, by the way, and it takes the Tab S4 a little under 3 hours to get from 10% to a full 100% charge.
Now I know, 3 hours sounds like a lot, but keep in mind that this is a 7,300 mAh battery, unlike what we see in smartphones. So 3 hours is definitely a pretty fast charging battery. After all, the OnePlus Dash Charge (Warp Charge?) technology takes around 1.5 hours to charge a 3,300 mAh battery, so 3 hours for 7,300 mAh is by no means slow. In fact it's pretty fast and I really like it.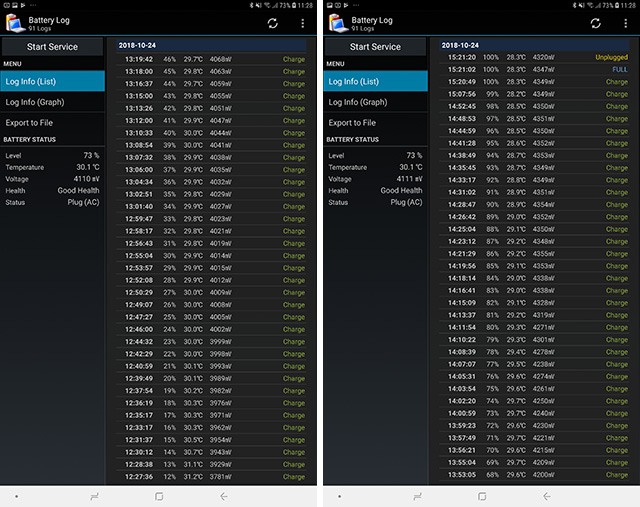 Since the bundled charger is an 18W charger, I wondered if that's the fastest the Tab S4 can charge at, which is why, I also tried charging it with the 61W USB-C that my MacBook Pro uses. However, it turns out the Tab S4 doesn't like charging at over 18W since even with that charger, the Tab S4 took 3 hours to go from around 12% to 100%.
If you think about it, it's nice that Samsung includes a fast charger inside the box that charges at the fastest speed possible for the tab. Nice work there, Samsung.
Battery Test
In order to check the battery life of the Tab S4, I decided to use it in two very different ways: In DeX Mode with a USB Keyboard and Mouse attached, and in normal tablet mode with medium usage. I couldn't use the Tab S4 as heavily as I would a smartphone because, at the end of the day it's a tablet and I prefer browsing Instagram and Twitter on my smartphone more than on a tablet.
Normal Mode
In normal tablet mode, I put the tablet through a little bit of everything, I played a match or two of Fortnite (Did I tell you Disco Domination mode is a lot of fun? Probably not. It is), one match of PUBG Mobile, browsed Twitter, watched YouTube videos, used Chrome to check out some websites, and oh, also used Quip (our collaboration app of choice) on the tab because damn it looks good on a bigger screen than it ever did on my OnePlus 5. Anyway, with that kind of usage, the Tab S4 lasted me well over a day, and I got a screen on time of around 4.5 hours from it.
I know what you're thinking, 4.5 hours off a 7,300 mAh battery? Sounds bad. However, that 7,300 mAh battery is driving a massiv 10.5-inch 2560×1600 sAMOLED display which, believe me, is a huge power drain. 4 and a half hours is a pretty good SoT, at least the way I tended to use this tablet — you know, for a bit of everything including gaming, browsing the internet, watching videos, etc.
Standalone DeX Mode
While using the tablet in Standalone DeX Mode, if you end up attaching a wired keyboard and a mouse to the tablet's USB-C port, they naturally suck out a lot of battery power since the tablet has to supply power to the (obviously) power hungry peripherals. I have tested the Standalone DeX Mode both with a wired keyboard and mouse attached via the USB-C port and with the official Samsung Book Cover keyboard that Samsung was kind enough to send us. Let's see how the battery life differed in the two use-case.
Standalone DeX Mode with Wired Keyboard and Mouse
While using the Tab S4 in Standalone DeX Mode with a wired keyboard and mouse attached, the battery life took a huge hit, as I expected it to. All I used the Tab S4 during that time was writing articles, reading news, and researching — all of which I did on Google Chrome.
Starting off with a full 100% battery, the Tab S4 was drained down to 10% in just under 3 and a half hours, with a screen on time of 2 hours and 45 minutes, and Chrome was used for 2 hours and 33 minutes of that time. However, even so a larger part of the battery was drained thanks to the keyboard and mouse I had attached to the tablet.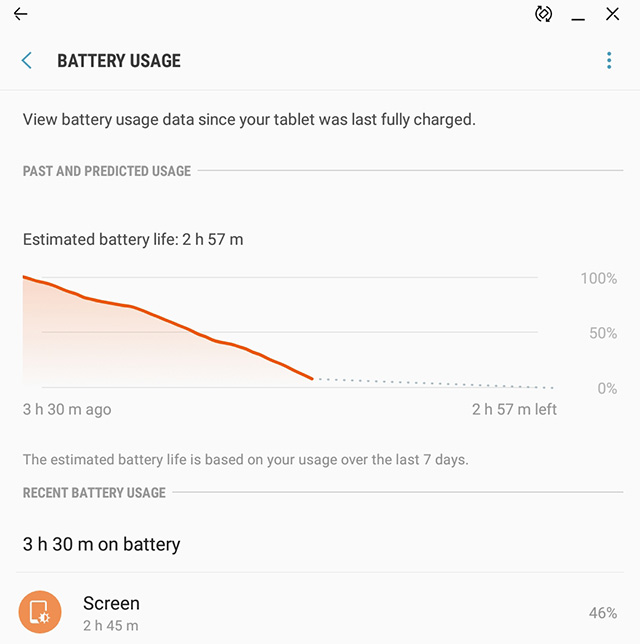 What I'm saying, is that if you're thinking of buying the Tab S4 for using it in the DeX Mode as a sort–of-almost-laptop-replacement, this battery drain is something you need to keep in mind; unless you choose to buy the Samsung Book Cover keyboard that attaches via the Smart Connecters on the side edge of the tablet.
Standalone DeX Mode with the Samsung Book Cover Keyboard.
If you do buy the Book Cover Keyboard that Samsung is selling pas an accessory for the Tab S4, you can expect way better battery life from your tablet. I used the Tab S4 with the Book Cover Keyboard in DeX Mode to do the same sort of stuff that I was doing when I had the wired keyboard and mouse connected, and the difference it makes its ridiculous. With the Samsung Book Cover Keyboard on the Tab S4, using it in DeX Mode gave me over 8 hours of screen on time. That's really impressive, and with a battery life like that, the Tab S4 is definitely something you can use as an on-the-go laptop replacement without any problems.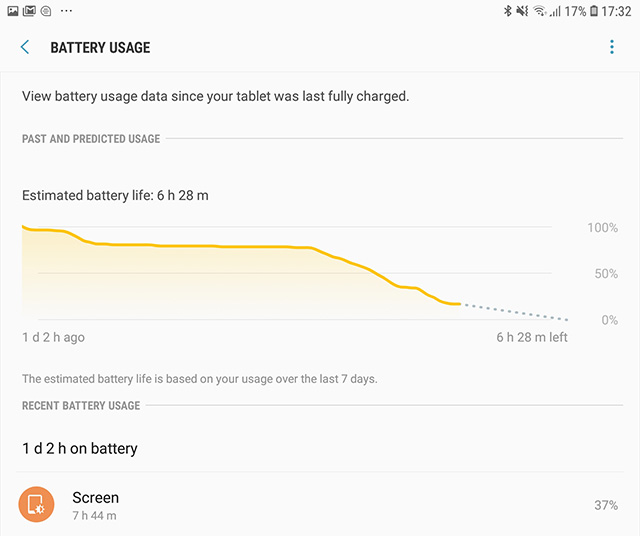 Galaxy Tab S4 Battery Review: Pretty Impressive
At the end of the day, if there's one thing I can say with confidence , it's that the Tab S4 has a pretty impressive battery life. The 7,300 mAh battery inside this good-looking tablet charges up really fast with Samsung's fast charger, and it lasts sufficiently long. If you use the tablet like a tablet instead of in DeX Mode, it will last you through the day without a problem, and even longer if your use case is not too heavy. However, if you do use it in DeX Mode, I'd suggest using it with the official keyboard to get a much better battery life than you will with third party wired keyboard and mouse configurations.
At the end of the day, the Tab S4 definitely doesn't fail to impress on its battery life and I don't really have any complaints with it.
Buy the Galaxy Tab S4 from Amazon (Rs. 57,900)