Samsung has just launched its flagship Android tablet, the Galaxy Tab S4 in India at a price point of Rs. 57,900. The tablet comes with a Snapdragon 835 processor, 4GB of RAM, and 64GB of internal storage. There's a 10.5-inch display with a resolution of 2560×1600 pixels and a nice, big, 7,300 mAh battery to keep things running. We have the Galaxy Tab S4 with us and we're testing it out right now. Until then, here's what you'll find inside the Galaxy Tab S4 box.
Tab S4: What's In the Box?
The Galaxy Tab S4 comes in a sleek black box with the 'Tab S4' branding on top in Samsung's signature blue color. Once you open it up, you'll find the following things inside:
Galaxy Tab S4
Samsung Adaptive Fast Charging adapter
USB Type-A to USB Type-C cable
User manual and warranty card
S-Pen
What stands out the most inside the box here is the S-Pen, and not just because it's a bigger S-Pen than what you get with the Galaxy Note 9. The S-Pen here stands out because it's pretty neat that Samsung decided to include this particular accessory with the Tab S4 instead of forcing users to buy it separately for a premium (I'm looking at you, Apple).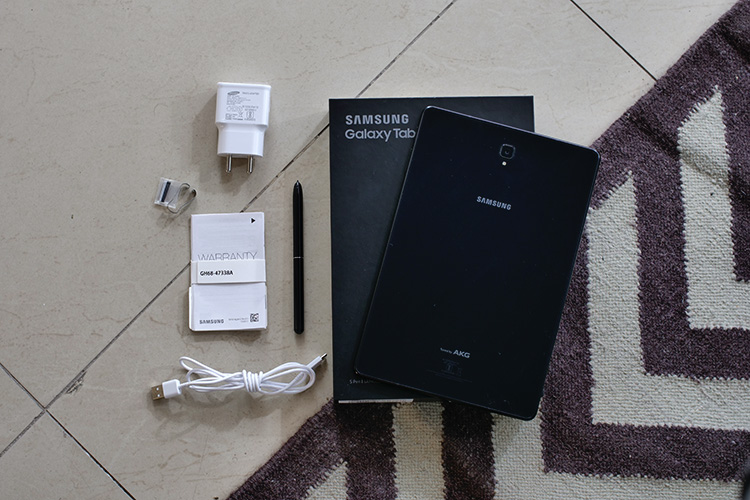 That said, since the Tab S4 is meant to be a productivity oriented tablet, and Samsung even put in a tablet DeX mode in it that works automatically with the Samsung Book Cover Keyboard, it's a little disheartening that we still have to buy that particular accessory separately. To be fair, Apple doesn't pack in its Smart Keyboard with the iPad Pro either, and that's just as bad. Every company should realize that if they're touting their tablet as a 'laptop replacement' in any way, they need to put the relevant 'laptop-y' stuff inside the box instead of making people buy it.
Buy the Galaxy Tab S4 from Amazon (Rs. 57,900)