Android for tablets is pretty much a declining market, and while there are a couple of options out there in the market, none of them really seem appealing. Samsung, which is one of the leading names in the tablet market, thinks it can change that, with its latest offering, the Galaxy Tab A (2018) (Rs. 29,990). While it does not pack in the great hardware like the company's successful Galaxy Tab S4, it does come in a premium design and much more. But is the Galaxy Tab actually good enough to attract consumers to its way, or will it just be another usual tablet from Samsung? Let's find out, as we review the Samsung Galaxy Tab A (2018):
Samsung Galaxy Tab A 2018 Specifications
Before we take a deep dive inside the brand new Galaxy Tab, let's get the on-paper stuff out of the way. The new, Samsung Galaxy Tab A's technical specifications are as follows:
| | |
| --- | --- |
| Display | 10.5-inch (1920x1200p) Display |
| Processor | Qualcomm Snapdragon 450 |
| RAM | 3GB |
| Storage | 32GB |
| Primary Camera | 8MP |
| Secondary Camera | 5MP |
| Battery | 7300mAh |
| Operating System | Android 8.1 Oreo with Experience UI 9 |
| Sensors | Accelerometer, Gyro, Compass, RGB Light, Hall Sensor |
| Connectivity | Wi-Fi a/b/g/n/ac; Bluetooth, VoLTE |
| Price | Rs. 29,990 |
What's in the Box
The Galaxy Tab A comes in a bright yellow colored box, that certainly looks distinguished. However, opening the box is quite a task, since there is just a lot of friction between the top lid and the box, and Samsung hasn't provided a string or something to better facilitate things. Anyway, inside the Samsung Galaxy Tab A box, you'll find: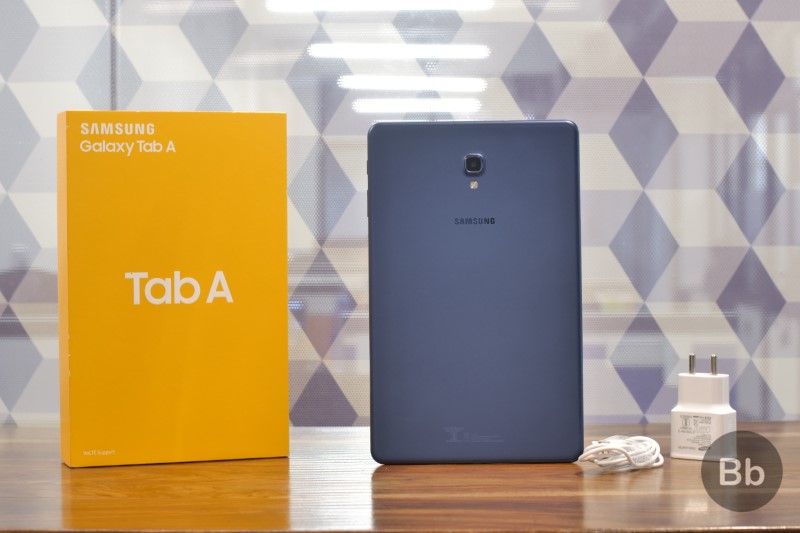 Samsung Galaxy Tab A (2018)
Travel Adaptor
USB Type-C Cable
SIM Ejector Pin
User Manual
Design and Build Quality
The design of the Galaxy Tab A is pretty standard, especially when you talk about the previous tablets that the company has produced. And I mean it in the positive sense. It's simple, easy to get accustomed to, and even a tad bit elegant.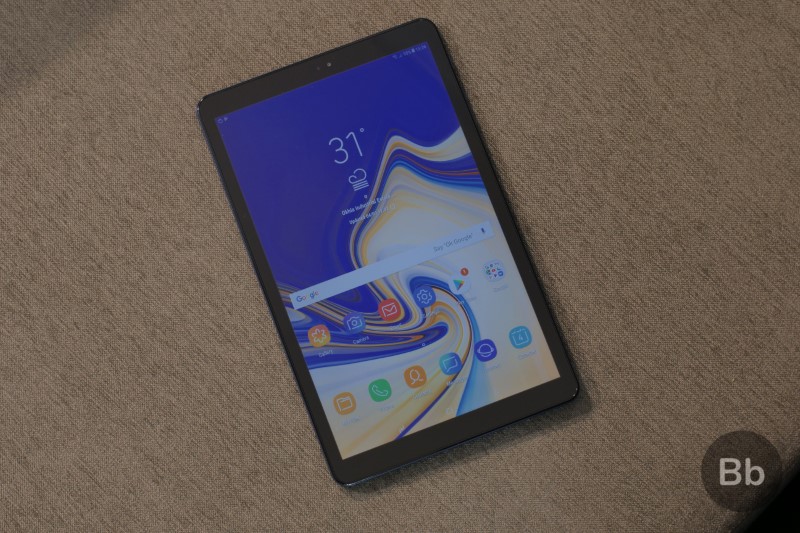 While the front of the device looks pretty similar to all the other tabs in the market, the back side is where things get a bit interesting. The Galaxy Tab A houses a single camera at the back, accompanied by an LED flash below it. The Samsung branding is in the middle with a subtle touch, and the overall texture of the tablet feels smooth and polished.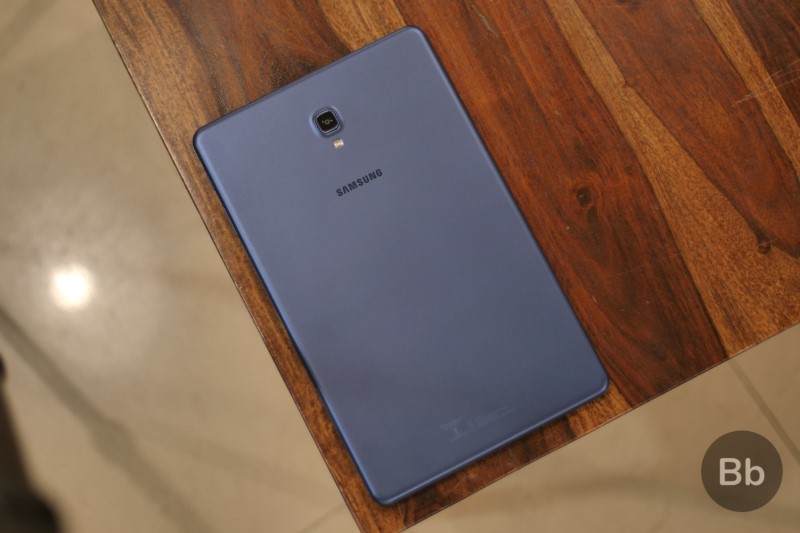 Considering that I'm someone who hasn't ever been a fan of tablets, the Galaxy Tab A certainly appeals to me, at least on the design front. Even the build quality is pretty good, and the device feels strong and sturdy.
Display
Displays have usually been Samsung's strong point, however, the same cannot be said for this one. The Galaxy Tab A houses a 10.5-inch Full HD display with a resolution of 1200 x 1920 pixels. That makes up for a pixel density of 215ppi, which is decent enough for a tablet.
There are a lot of things to like about the display on the Galaxy Tab A, like the fact that it gets decently bright and there's a High Brightness mode too, which really amps up the brightness, so using the display in the brightest of scenarios shouldn't really be an issue.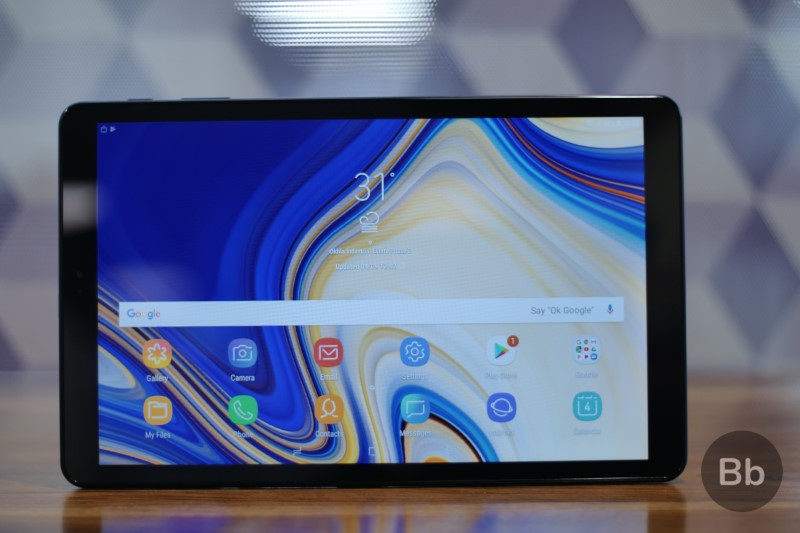 Plus, I also like the fact that the screen is responsive, and multitasking on this display with split screen mode is just amazing. However, personally, I felt that the content looked smudgy or pixelated at certain points. It's not a dealbreaker but it's something I felt in my usage.
User Interface
The Samsung Galaxy Tab A comes loaded with Android 8.1 Oreo along with the company's Samsung Experience UI 9.0 on top of it. The overall UI is pretty much the same as the one found on Samsung's mobile devices, and then there's a tad bit more. You get Advanced features such as the Daily Board, a Palm Swipe to capture, and Multi Window.
Apart from all that, there's also a Kid's mode, should you want to keep the interface locked down for your kids.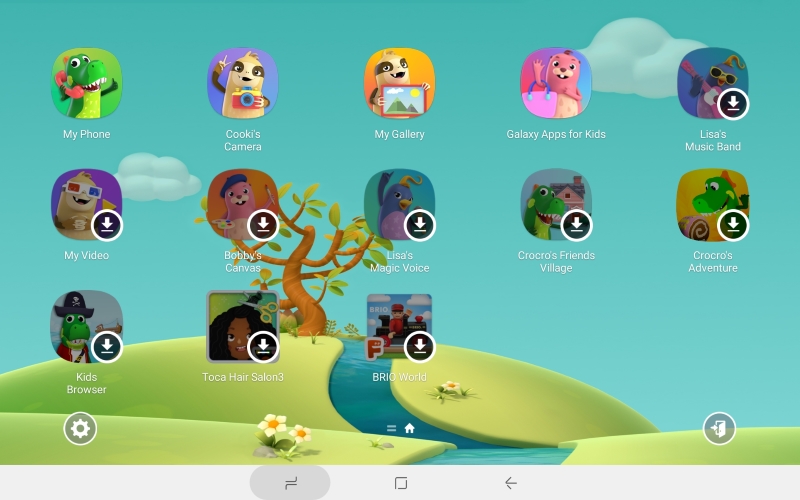 Overall, the Experience UI on the Galaxy Tab A is decent, that is, if you are a fine of custom skins. I'm more of a stock Android guy, and I don't really fancy the Experience UI here. However, apart from the personal preferences, the real question is how does the Snapdragon 450 handle Experience UI?
Performance
Okay, so coming at such a hefty price point, you'd expect it to perform well, right? Well, let me ask you one thing – Did you even go through the spec sheet? The Samsung Galaxy Tab A packs in the Snapdragon 450 SoC coupled with just 3GB of RAM. Now, this is a processor that we generally see in entry level Android phones like the Redmi. So, I am not sure why Samsung decided to go with a low-end processor on a tablet that's priced at around Rs. 30,000. And on top of that, there's the Samsung Experience UI. Well, the performance is just as how you'd imagine – bad!
When it comes to benchmarks, the scores on this thing are a joke, with the Galaxy Tab A managing to scrounge a score of 66,445 in Antutu Benchmark and 3525 in GeekBench's multi-core performance testing.
But benchmarks are just one side of the story. What about real life performance? Well, there is lag pretty much everywhere, apps take seconds to launch, and the animations are too darn slow. The story continues in the gaming world as well, with the device barely managing to play PUBG Mobile. Even on the lowest of settings, the game was lagging, and the performance is just plain bad!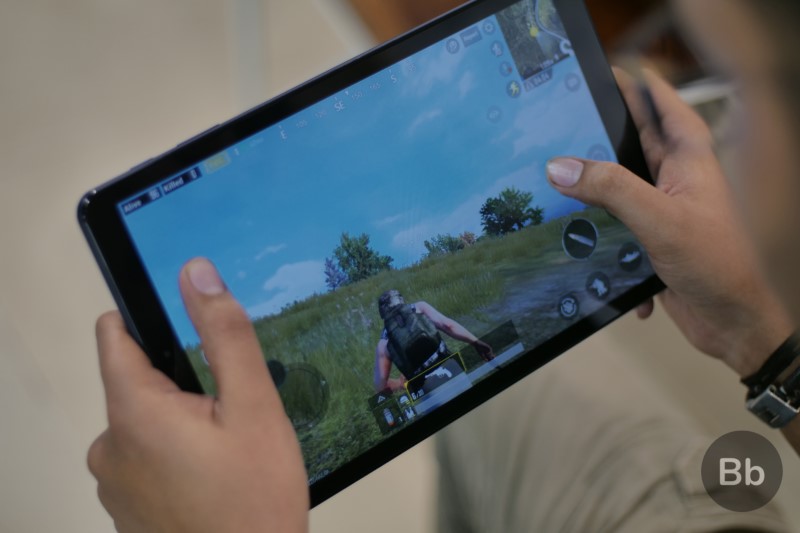 Camera
Nobody gives a damn about cameras on a tablet, and well, if you do, then nobody gives a damn about your opinion. Well, at least Samsung doesn't. The Galaxy Tab A has a single 8MP shooter on the back and it's pretty standard.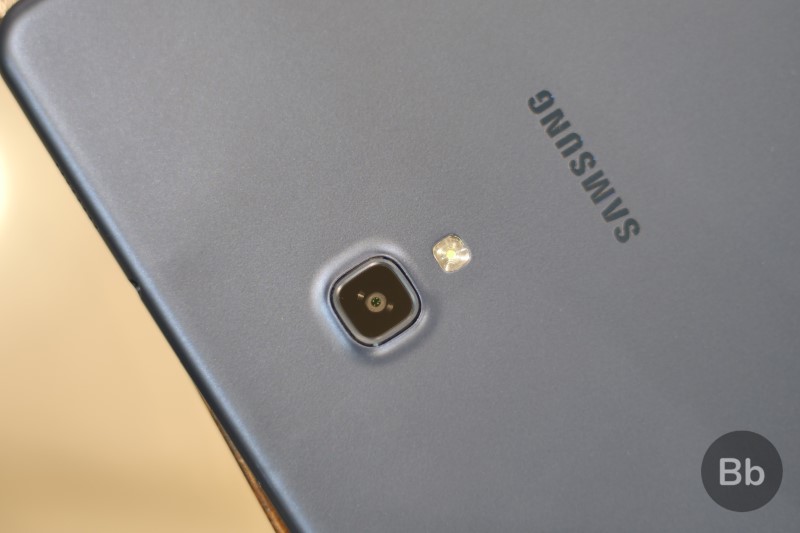 If anything, it's like a basic camera sensor with a flavor of Samsung to it. If you don't really know what that means, have a look at these samples:
As you can see, the images captured by the Galaxy Tab A are pretty standard, lack the clarity, and have a definite amount of graininess in them. However, the signature Samsung touch is still there, which means that the images have a saturated color tone. All in all, the camera performance is pretty bland, and apart from using it to capture the occasional image for note taking and stuff, the camera won't really back you up.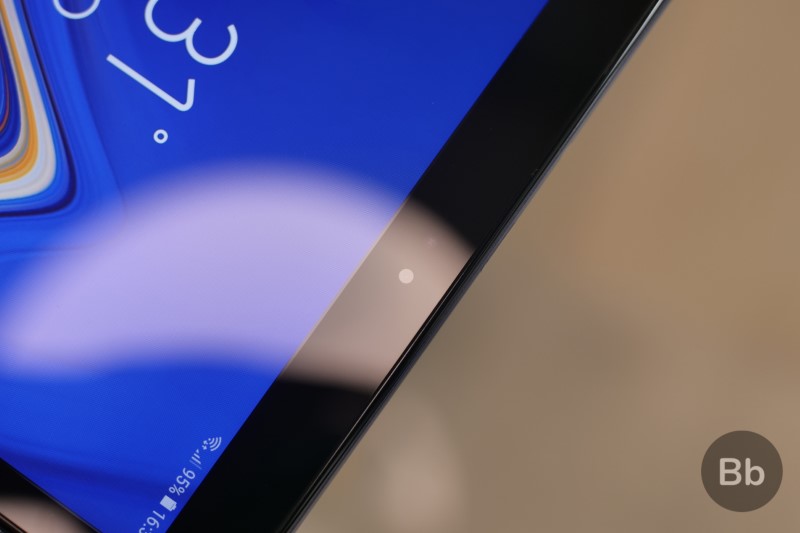 On the front, things aren't any prettier. The Galaxy Tab A houses a 5MP sensor, which is comparable to most webcams found on laptops. I and a couple of colleagues from the team did snap a few images, but the results were quite disappointing.
Apart from using it for video calls, it is hard for me to imagine why someone would want to use this front camera. Overall, the camera performance on the Galaxy Tab A is ordinary, which was expected really.
Battery Life
The Samsung Galaxy Tab A packs in a huge 7300mAh battery, which should hold up enough for most users, but would strongly depend upon the use case. For instance, under medium load which included using the tablet for slight note taking, watching some YouTube videos, or browsing the internet and my social media platforms, the tablet easily lasted a day and a half, with still 21% to spare.
However, turn things up a notch, and if you use this device for proper entertainment purposes, it'd die in about 9 to 10 hours. Again, that is pretty good, since that 9 to 10-hour claim is based on the fact that I was continuously watching Netflix on this tablet or playing PUBG Mobile, and the entire time, the screen was on.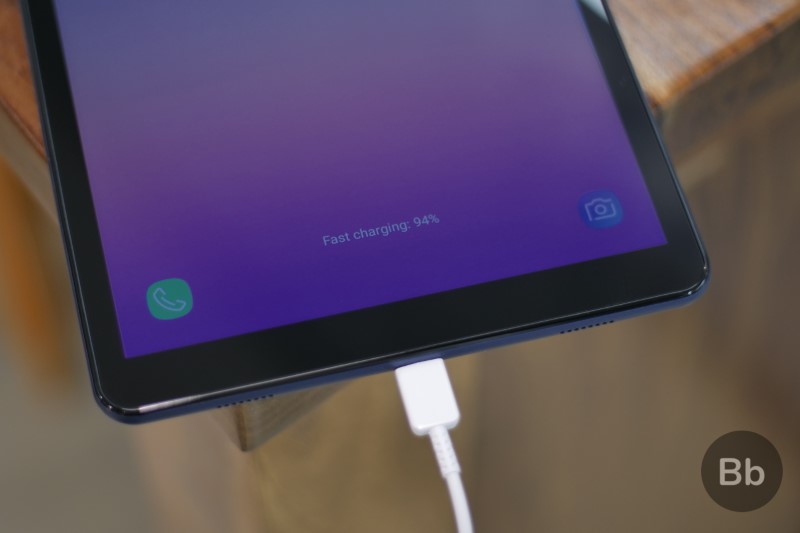 As for charging, the Galaxy Tab A takes about 3 hours to completely charge up, which seems decent, for a battery capacity of its size. Truth be told, there wasn't much to complain about the battery life on this device, thanks to the huge capacity and a power efficient Snapdragon 450 processor.
Audio
If you're planning to use the Galaxy Tab A for your entertainment purposes, the display is decent enough, but the speakers are quite amazing. There are a total of 4 speakers on the device, 2 on the top and 2 on the bottom, providing you with a stereo-like sound atmosphere.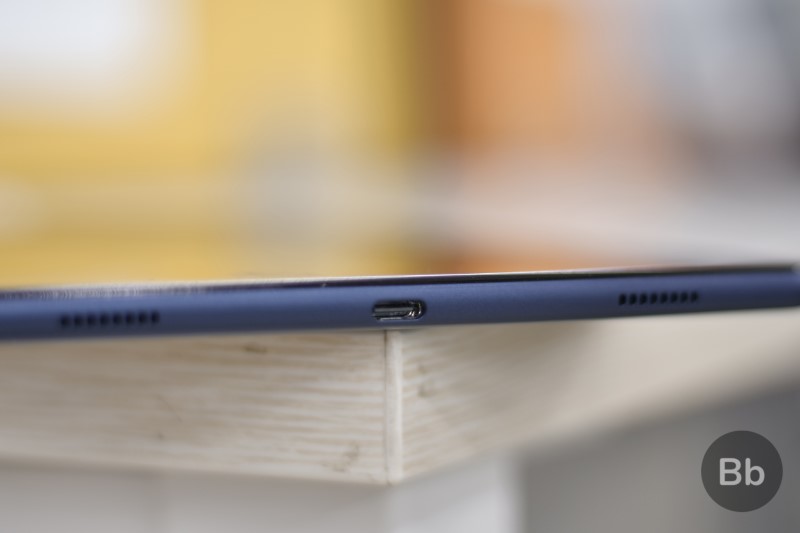 The speakers can get pretty loud too, so watching movies or TV-series shouldn't be an issue. I was watching Gotham on the Tab A, and while the display was a slight turn-off, the sound certainly was great, and even the hushest of dialogues were easily audible.
Connectivity
As for connectivity, the Samsung Galaxy Tab A can hold a single Nano-SIM card along with a microSD card slot. The interesting thing about it is that the tab actually supports VoLTE. Of course, there is no earpiece, so you'd have to plug in your earphones to actually make a call (unless you prefer the loudspeaker mode). The call quality in itself is amazing, and there wasn't really anything to complain about as well.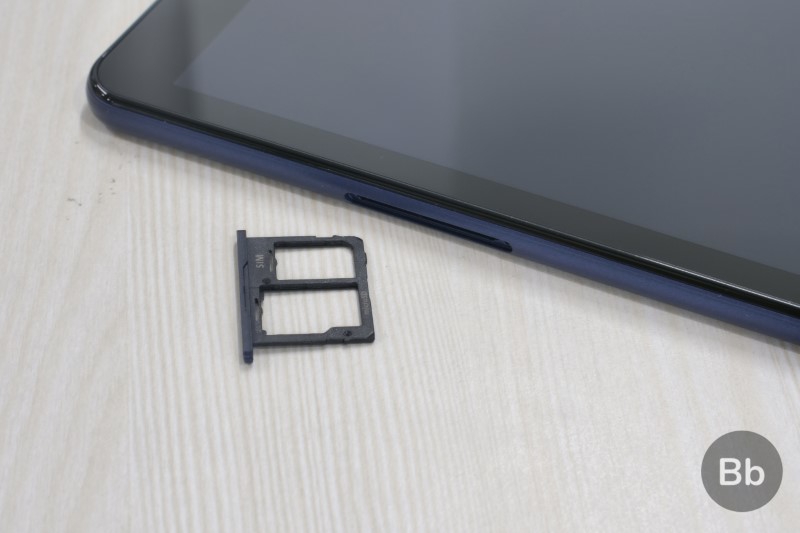 It also has a port for connecting a keyboard dock on the left side of the device, however, I did not get one in the box. Nonetheless, it's good to know that Samsung has taken extra care to ensure maximum compatibility with its peripherals. There's also the USB Type-C port at the bottom along with a 3.5mm jack on the top, so you get the best of both worlds.
Samsung Galaxy Tab A (2018): Overpriced and Underpowered
The Samsung Galaxy Tab A looks good, and well, that's pretty much it. There isn't a lot to talk about the tablet apart from the fact that it is overpriced. I mean, Snapdragon 450 + 3GB of RAM setup on a tablet that is priced at Rs. 29,990. To be honest, it just does not make sense.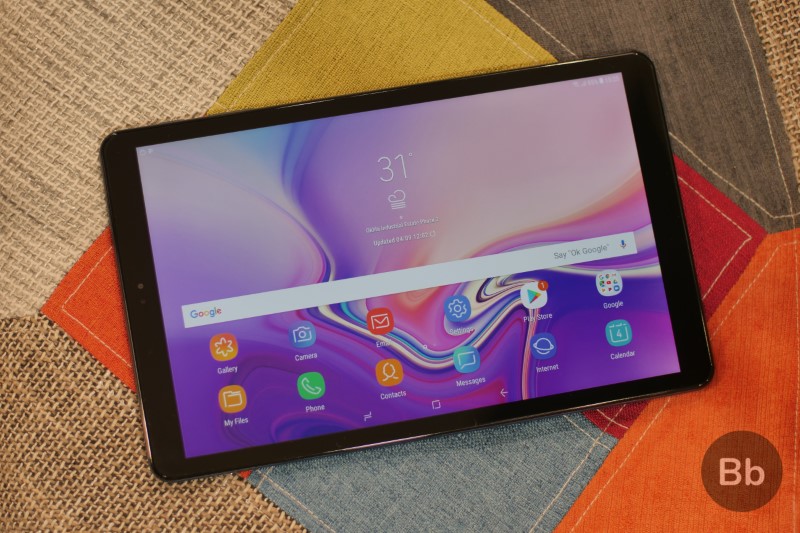 Honestly, Android on tablets is a lost cause. But if you really want one, you could wait for the launch of the Galaxy Tab S4 that packs in the Snapdragon 835 SoC and offers a great performance. That being said, it would definitely cost you a bit more. As such, why not just opt for the 6th-gen Apple iPad (Rs. 28,000)? It runs incredibly smooth, looks premium, packs in a snappy Apple A10 Fusion chipset, and comes with support for the Apple Pencil. Honestly, it's hard to recommend the Galaxy Tab A to anyone when there's the latest iPad in the same price range.

Pros:
Good Design and Build Quality
Decent Battery Life
Loud Speakers
Cons:
Sluggish Performance
Poor Value for Money
Buy the Samsung Galaxy Tab A (2018): Rs. 29,990
SEE ALSO: 6th-Gen iPad (2018) Review: iPad Pro on a Budget
Galaxy Tab A: A Disappointing Affair!
Well, that was our review of the Galaxy Tab A 10., which is another Android tablet that does not nothing to change the state of Android tablets. A better processor could have made the Galaxy Tab A a way better device than what it's right now. However, that wasn't to be, so yes, the Galaxy Tab A is a tablet that is not recommended.
REVIEW OVERVIEW

Design and Build Quality

8.5

SUMMARY

The Samsung Galaxy Tab A (2018) is just decent, and it doesn't take a "genius" to figure out that this is a Samsung product to pass on. Featuring an underpowered CPU along with a sub-par display makes things really bad for Samsung, and the Experience UI is pretty sluggish. At its price, the 6th-gen iPad is a no-brainer.