At a recent event in New Delhi, Samsung launched its first smartphone to feature a triple rear camera setup – the Galaxy A7 (2018). The device packs in a 24MP primary lens, coupled with a 5MP lens for depth perception and an 8MP 120-degree ultra wide-angle lens, all of which will allow users to take some stunning images with the device.
However, the Galaxy A7's triple camera setup isn't its only unique feature. At the launch event, Samsung also announced that the new Galaxy A7 (2018) features an industry-first fully expandable memory solution.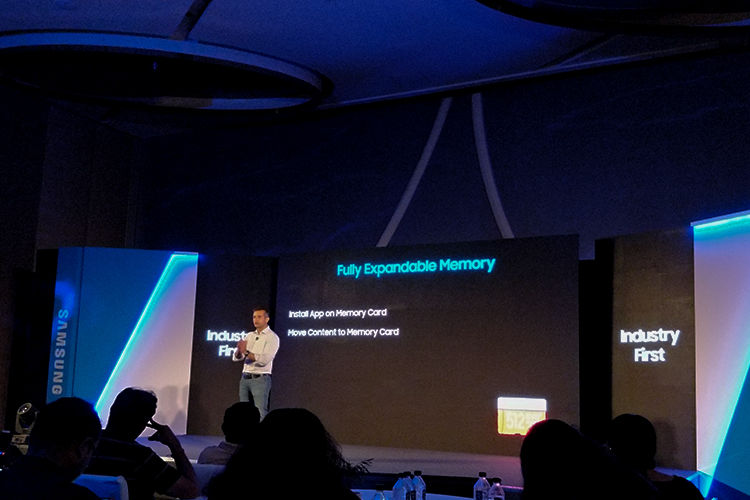 If you're wondering what the company means by fully expandable memory then allow me to explain. A number of smartphones in the market today offer expandable storage and quite like those other smartphones, the Galaxy A7 (2018) also comes with a dedicated microSD card slot which supports cards up to 512GB in size.
However, other smartphones don't allow you to install all your apps onto the memory card, forcing you to uninstall your apps and content when you run out of internal storage. That changes with the Samsung Galaxy A7 (2018), which will allow users to install all their apps directly onto the memory card while also allowing them to transfer their content onto the expandable storage.
While the device comes with a minimum of 64GB of internal storage, which should give users plenty of room to install their apps and store their content, it's great to see Samsung introducing new features that will really be beneficial in entry-level devices. A number of entry level devices in the market today offer just 16GB of storage which force users to uninstall their applications or remove some content from their device in case they run out of storage and wish to install another application.
As of now, the company hasn't revealed if the technology will be making its way to more entry-level devices, but it's great to see Samsung coming up with innovative solutions to address issues that plague the lower end of the spectrum.