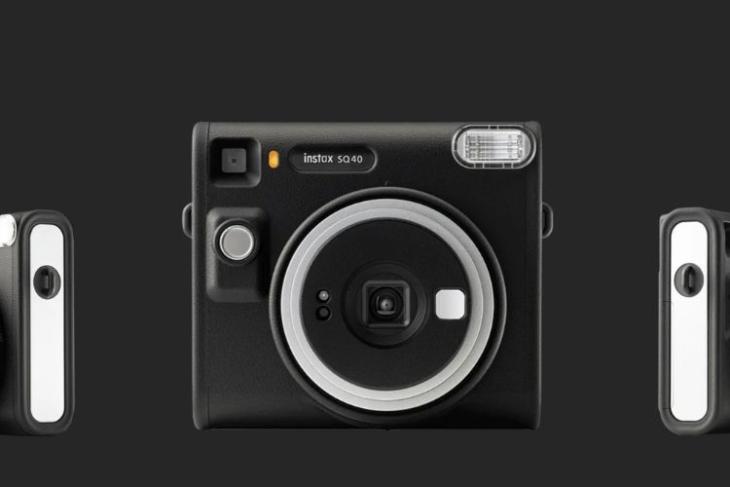 Fujifilm has launched the new Instax Square SQ40 instant camera in India. This comes in addition to the Instax Square SQ1 and brings about features like Reverse Galilean finder, auto Exposure, and much more all under Rs 20,000. Take a look at the details below.
Instax Square SQ40: Specs and Features
The Instax Square SQ40 is another instant camera by Fujifilm with a compact form factor and the iconic square design principle. With a classic black finish and a compact form factor, the SQ40 retains its classy looks. The highlighting feature of the device is its Auto Exposure functionality which determines the right exposure for a particular situation and adjusts the exposure levels accordingly. The resultant images are printed on a wide square 86mm×54mm film.
Another interesting feature is that the SQ40 has a dedicated "Selfie Mode." It is able to achieve this via a small squarish mirror placed right beside the lens. You can swiftly turn the camera towards you and use the embedded mirror to capture your own images.
Mr. Koji Wada, Managing Director at FUJIFILM India commented on the launch saying, "The launch of SQ40 will further strengthen our purpose of launching the INSTAX series. We also understand the changing demands of the consumers. To fulfill those demands we have also launched a brown version of INSTAX mini EVO, our flagship model of the INSTAX series, a hybrid instant camera incorporating digital technology and unlocking a world of infinite possibilities."
The SQ40 comes with a 2-element lens with an f 65.75 mm aperture. This enables a shooting range of 0.3 meters and above. There is a film developing time of 90 seconds, with an auto ejection feature.
Additionally, the Instax Square SQ40 has a Reverse Galilean Finder too with a target spot, to help you ensure that the resultant output is the same as what is being seen in Viewfinder. Inside the box, the camera comes with 2 AAA batteries, a film counter, and a film pack confirmation window.
Price and Availability
The Instax Square SQ40 will be available at the launch price of Rs 16,999. Additionally, Fujifilm has introduced the new Brown color option for the Mini Evo up for grabs at Rs 22,999. You can visit the Fujifilm Instax website to purchase both of the items.