It's quite evident that as users, we sometimes face difficulties while navigating through a website. We hate that part when we have no solution even after a few attempts. Many websites have a help-desk, but it's quite a long and tedious process to pick up the phone and make a call. There are even contact forms which make you wait for hours. There is no instant solution which we want. But it's possible now with Zopim.com. You will get an instant answer in real time for all your queries if the website owner has installed the Zopim's live chat widget. All you have to do is insert your queries into the chat box and you'll have your answers in no time at all.
Zopim is equally useful to admins as it helps them to keep their consumers free from problems. It shows your sincerity towards users. It exhibits your interest in giving them the best experience. So, if you have a website, it's highly recommend to have an a live chat widget such as Zopim. It lets you have live conversations with visitors on your website just like in a real shop. It helps you impress your customers before they move on to the next site. It is a tool which acts as the medium of conversation between you and visitors of your website.
Let's check out what all Zopim has got to offer to its users.
Trendy look:
The very thing that will impress you as soon as you sign up is the chic look of Zopim. It has got a very classy interface which promises an exceptional product inside.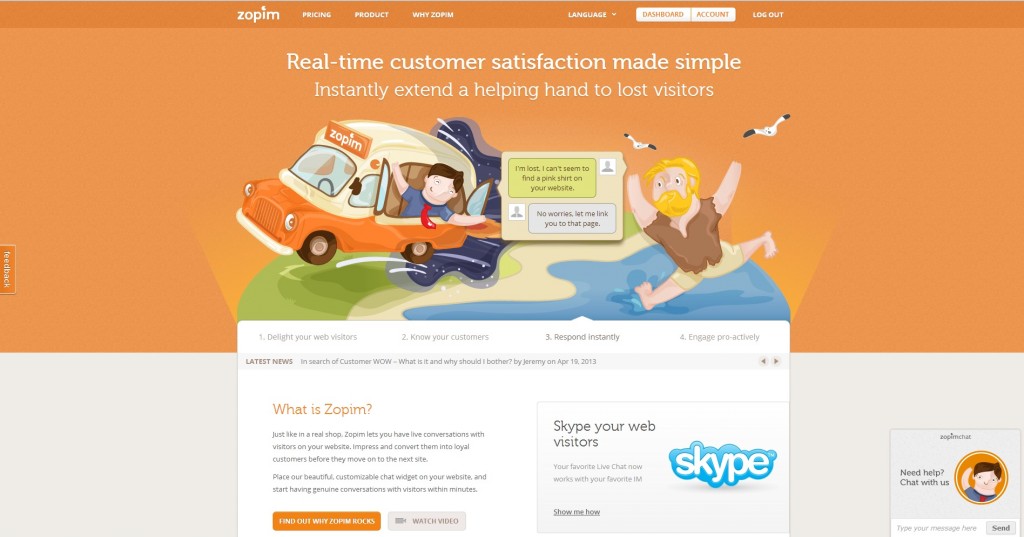 Customization:
You can easily customize the widget that appears on your website according to your wish.
• You can change the default title as well as the default bubble background of the widget. You can create the best look that'd go well with your website.
• You can customize the position of widget on your website. It has got bottom right and bottom left options.
• Zopim can display different status i.e. 'online', 'offline' or 'away' depending upon the current state of operator.
• A pre-chat form is also available that asks users to enter their information before they could use the chat option. This can be of great convenience to bigger companies but for smaller ventures, this feature might not please the customers.
Multi lingual interface:
Zopim can talk in the language of your website. It has multi lingual interface. The language detection script of Zopim detects the language that dominates your website and renders the widget in relevant language.
Analytics:
• Zopim has a robust dashboard that provides you with the complete information of your visitor. You can easily make note of which page the visitor has viewed. Zopim also gives you the record of visitor's navigation to reach a particular page. You can also check the location browser and IP address of a visitor.
• It keeps a track of new and old users using the browser cookies. It has personalized introductory messages for different users. This gives a personal feel to the visitor.
• It also maintains the entire history of visitors which can be used whenever needed.
• The entire list of visitors can be viewed easily. Zopim also allows you to group the users according to their activity, Page Title, Page URL, Country, Serving Agent, Search Term or Search Engine. You can visualize this list using Zopim's elegant interface.
Integration:
You can easily integrate with your favorite CRM i.e. Customer Relationship Manager. Zopim seamlessly integrates the data and information pulled from your CRM into visitors information panel which is at the right hand side of the chat window. This integration feature works fine and will definitely boost your operations.
Trigger:
Trigger is a feature which allows you to automate chat responses to visitors by taking into account their chat history, location, date/time of visit. The trigger feature can be of great use to automate responses to obvious scenarios thus easing your work.
Instant Messaging client integration:
Zopim provides you the feature of integrating with your favorite IM clients such as Gtalk or Yahoo messenger. While chatting through the IM client you need to logout from Zopim dashboard as an admin. If you login again to your dashboard as an admin¸ you'd be automatically logged out from IM client and your session will be resumed as an admin.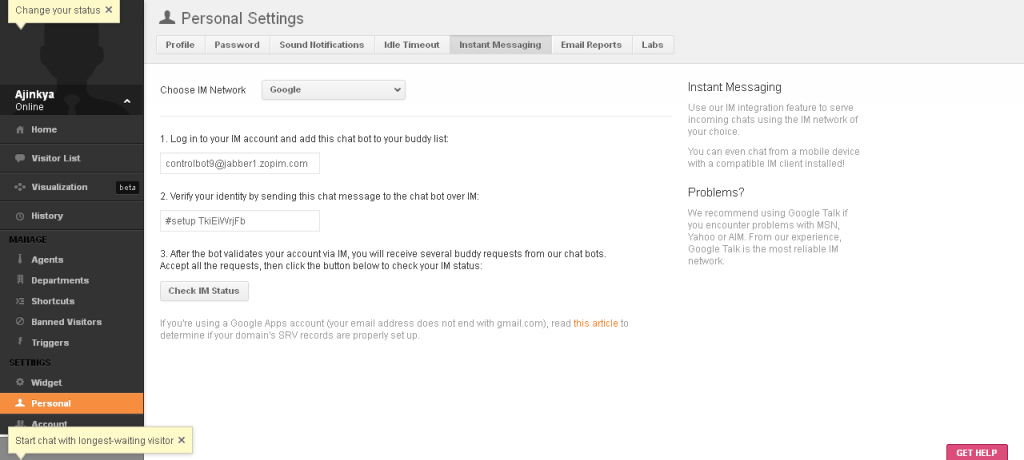 Best for Webmasters:
Zopim is an awesome tool for webmasters who manage more than one websites. Same HTML code can be embedded in all sites and the account can be managed from a centralized dashboard. Thus, webmasters now can handle their widespread network of sites from a centralized dashboard.
Pricing:
Zopim is surely much better as compared to other products in market. It has rich set of features with a beautiful interface. Yet, Zopim is priced reasonably and is affordable to all. It also provides free 14 days trial so that you can test the product. Zopim is available in three pricing schemes- Lite, Basic and Advanced.
• Lite version is free of cost and allows single operator, 1 concurrent chat and 14 days chat history.
• Basic version is priced at $9.8/month for 1 year. It allows unlimited chats, 2 triggers, 2 departments and unlimited chat history. It also allows full customization of widget to you.
• Advanced version is priced at $17.5/month for 1 year and has no limits on anything. It provides all things unlimited. The plus point of Advanced version is it provides detailed weekly analytics and reports of chat on your email.
Bottom-line:
Finally, I can say that Zopim is an excellent product with brilliant features and gorgeous interface. It has locked everything under its hood to make it perfect. Various plans are available according to the need. It is priced well and gives full value to your money. Thus, Zopim is one product that is must for every entrepreneur who wants to bolster their presence on web.
Don't miss it.