Most of the good screen recording software that are available for Mac and PC cost upwards of hundreds of dollars. So, if you are not a professional who can afford these costly screen recording software, you end up using apps that not only have an ugly UI but also make it very hard to record your Mac or PC's screen and annotate your recordings. However, there is a screen recording software on the market which not only promises to give you a good recording experience but also costs a lot less than its competitors. The software that I am talking about is called FonePaw Screen Recorder and in this article, we are going to take a deep dive into this software to find out what it offers and whether it's worth your time or money or not.
Key Features
1. Record Screen on Windows and Mac
This should not come as a surprise seeing how FonePaw Screen Recorder is a screen recording solution for Windows and macOS machines. What many people don't know is that apart from your Mac and PC's screen, FonePaw Screen Recorder even allows you to record PS4 Pro gameplays without using a capture card. FonePaw Screen Recorder makes it really easy to record your screens. Just launch the app and click on the "Video" option. Here, you can select and adjust the properties of your recording.
FonePaw Screen Recorder gives you a ton of control over your recordings. You can decide whether you want to record the whole screen or just a part of it. You can change the resolution of recording. You can also record your video using the webcam. I love that FonePaw Screen Recorder allows me to place the webcam recording anywhere I want. You can also choose to record both system audio and audio captured using a microphone to go along with your video.
2. Annotate Screen Recordings
FonePaw Screen Recorder not only lets you record your screen but also annotate your recordings if you want to. This is really helpful if you creating a tutorial. You can add callouts, arrows, text fields, and more to direct your viewer's attention to a particular area. You can also make your cursor stand out more so that viewers can follow what you are doing. This is a feature that I cannot live without and I am happy that it is here.
3. Record Audio
While screen recording is the main USP of FonePaw Screen Recorder, it also allows you to create audio-only recordings. As mentioned above, the FonePaw Screen Recorder allows you to record both system and microphone audio. I find the standalone audio recording feature very useful when I want to convert a video lecture or interview into an audio file and listen to it while traveling. The process is so simple that I don't have to even think about it.
4. Capture and Annotate Screenshots
While both Macs and Windows machines come with built-in screenshot tool, they are not that powerful. FonePaw Screen Recorder not only lets you capture screenshots but also annotate them before saving them. This saves you an extra step from opening a second app just to annotate your screenshots. You can draw on screenshots, mark it up using arrows and other shapes or add a text field.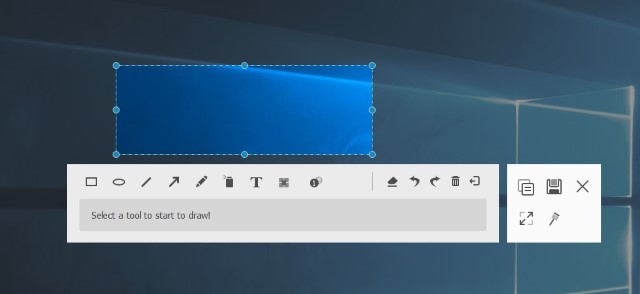 5. Schedule Recording
One of the unique features of FonePaw Screen Recorder which not many other screen recording solution offer is the ability to schedule screen recording. This is very helpful in certain situations. For example, let's say I conduct a video meeting with my team every Friday at 4 PM for an hour and like to keep a recorded entry of it. I can just create a scheduled recording where I can task FonePaw Screen Recorder to start recording my laptop's screen every Friday at 4 PM for one hour. After setting it up which just takes a few seconds, I won't have to worry about missing the screen recording session ever. This is just one example and I can see tons of constitutions where this feature will come helpful.
6. Export in Multiple Formats
Once you are done with your recording, FonePaw Screen Recorder allows you to export your file in various formats. It means you can set the desired export format so you don't have to use third-party software to convert the video later. You can even export small videos in GIF format (Windows only feature). While this doesn't seem like a big feature, I appreciate its inclusion in the software.
Pricing and Availability
FonePaw Screen Recorder is available for both Windows and Mac. You can click on the link below and visit FonePaw Screen Recorder's website to download a free trial right now. When you decide to go through the purchase, a single license will only cost you $34.95. You can also buy a family license which will work on five different PCs or Macs for just $69.95.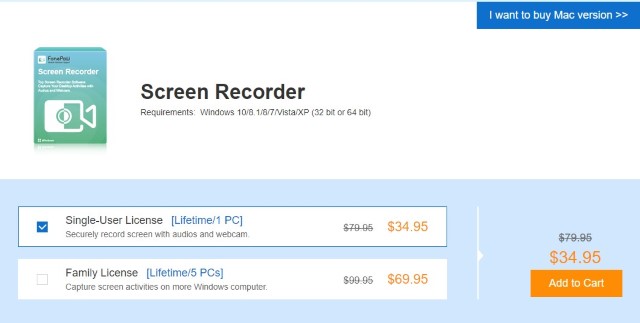 Check OutFonePaw Screen Recorder
Get an Affordable and Good Screen Recording Solution
FonePaw Screen Recorder is an easy to use screen recording software for both macOS and Windows operating systems. It's very easy to use, supports both audio and video capture has an additional screenshot tool and supports annotations for both recording and screenshots. You should definitely check it out.
---
Load More