Are you having trouble playing Roblox games? Are Roblox experiences taking too long to open or not loading entirely? These are common issues that many Roblox players encounter. There can be many reasons why Roblox games may not load properly, and it's not always easy to find the cause. However, there's no need to worry, as we have you covered. We have not only added fixes for some of the most common errors but also some unusual errors due to which you can't play Roblox games. With that said, let's get started and get your Roblox games working smoothly once again.
Fix Can't Play Roblox Games Issue (2023)
Roblox Games Not Loading: Common Errors
If your Roblox game experience is not loading, here are some of the common errors you might be facing:
These errors are caused by a variety of issues, including glitches, platform settings, corrupt cache, and more. But you can use our dedicated guides linked above to fix these Roblox errors in no time.
Roblox Update Error
Since almost every Roblox experience requires you to use the latest version of the platform, it can also be problematic if your app is not up to date. So, players who own consoles, a tablet, or a smartphone can update Roblox by going to their platform's dedicated application store. Meanwhile, for Windows and Mac users, you can use our dedicated guide to quickly update Roblox on Mac and Windows.
Unfortunately, much like the earlier mentioned common issues, updating Roblox isn't an error-free experience at times. Though lucky for you, we already have a guide to help you fix Roblox not updating on Windows and Roblox not updating on a Mac issue.
Roblox Not Loading Games? Use These Fixes
Now that all the niche Roblox errors are out of the way, we have covered common fixes for all the other typically unclear issues in the game. You can use them whenever you can't play a Roblox game and are unsure of the cause behind it.
1. Roblox Servers Down
To deliver a proper user experience, Roblox regularly does maintenance work on its servers, and this can often lead to scheduled downtime. Furthermore, Roblox servers can be down for long periods due to certain bugs and traffic loads. In that case, Roblox games not loading will be a common issue.
So, if you can't play Roblox games due to unconceivable reasons, it's best to first check Roblox's official server status website (visit here). It is constantly updated and reflects any and all issues in the operations of Roblox servers. While the server is down, the best plan of action is to wait till it's back up. In the meantime, you and your friends can probably hang out on the best Minecraft servers instead.
2. Date and Time Mismatch
While this issue isn't common on consoles, users on PCs and smartphones sometimes can't play Roblox games due to incorrect date or time settings on their devices. If your device's date and time don't match the correct internet time, Roblox games might fail to load. It is common for players who are traveling through time zones and playing Roblox on portable devices. Here are a few quick fixes for the same:
Manually update your date and time as per your current time zone.
Turn on the "automatic update" option within your device's date & time settings.
Make sure your device has a reliable internet connection to automatically sync the date and time with the internet.
Lastly, if you are traveling, turn on your location so that your device can update its time as soon as you enter a new timezone.
3. Check Your Connection
It goes without saying that Roblox is a multiplayer experience and having a proper internet connection is a must. Moreover, to play Roblox shooting games, you might require you to have a faster connection for proper gameplay. Here's how to check if your internet connection is good enough or not:
1. First, open Roblox's website or the official app on your device.
2. Then, use the search bar and look for "How many voxels can your internet handle?". Click on the game to open its store page.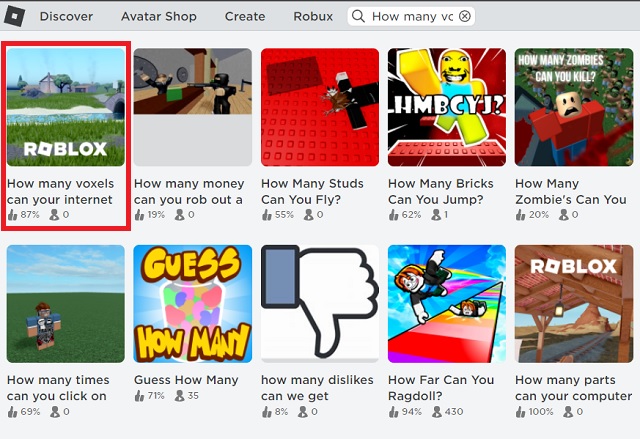 3. In terms of 3D game graphics, Voxels represent the smallest distinguishable shape on a three-dimensional plane. Each voxel has its own position, texture, and volume. When grouped together, the voxels make up entire in-game objects. For instance, you can imagine each block of Minecraft as a voxel making up its world.
4. On the store page, click on the "Play" button to launch the experience.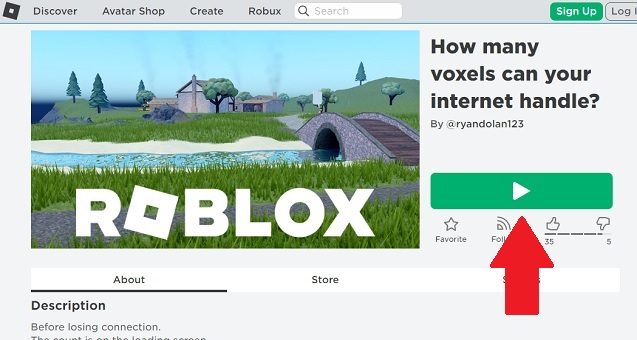 5. The Roblox experience will take time to render as many voxels as possible over your internet connection until it gets overloaded. If your result is around or above the average of 26 million, then your internet connection is fine for most scenarios. Otherwise, it's time for an upgrade.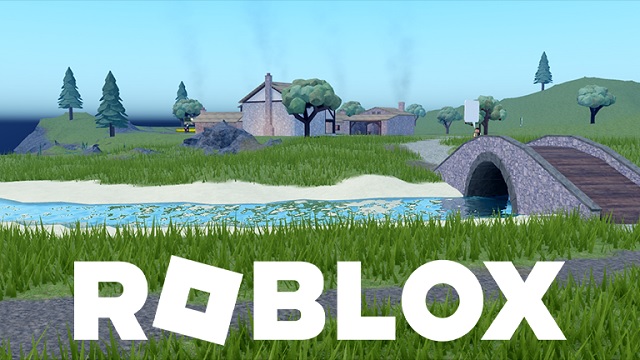 4. Open Appropriate Ports
While this issue is situational, it might affect some users. If you are using Roblox on a device with custom internet settings, its UDP ports might block you from connecting to the Roblox servers. UDP or User Datagram Protocol is a communications protocol that creates a low-latency connection between applications like Roblox and the internet.
If you are using Roblox in a school setting or with any external administrator, make sure that all UDP ports in the range 49152 – 65535 are open. You might have to contact the person responsible for the same as the port settings vary with platforms and routers. But once that's fixed, you can play all Roblox games without any issues.
5. Uninstall/ Reinstall Roblox
If your internet connection and the Roblox servers are working, the problems might be with the game you have on your device. Your game files can get corrupted over time or you might even accidentally delete some of them. Fortunately, you can easily reset them by uninstalling and reinstalling Roblox. But, keep the following in mind while doing so:
Only download Roblox from the official application stores or the official website (here).
To avoid any bugs, it's best to delete all the files and folders related to Roblox after uninstalling it.
Do make a backup of your Roblox studio files to avoid losing any game you might be creating. However, the players don't have to worry about it as Roblox save files are stored within the experiences.
6. Play Roblox on Browser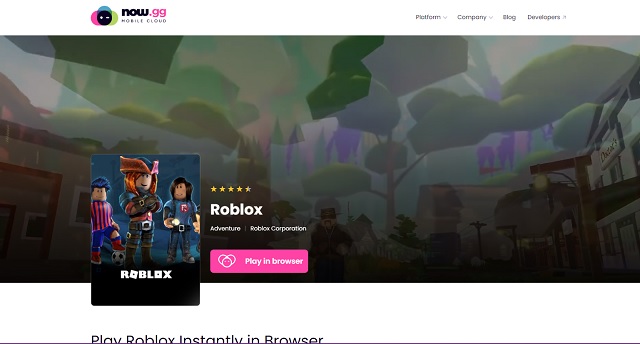 Want a quick fix to the can't load Roblox games issue? Well, avoid the app and play experiences in a web browser instead. Yeah, as weird as it might sound, you can easily play Roblox games on the now.gg cloud service (here). The experience is comparable to the original game but you definitely need more internet speed and bandwidth than usual. However, do keep in mind that this service is still not available in many Asian countries, including India. If you can't get it to work, it's best to stick with the other fixes.
[Solved] Roblox Games Not Loading Issue
With that, you are now ready to play Roblox games without facing any kind of issues. And the best way to test its functionality is by playing the best Roblox games with friends. Or, if you want to push the game to its limits, you can also go for the best Roblox battle games. Having said that, if you still can't play Roblox games and have any issues, do let us know in the comments below. Someone from our team will help you out.