I have been using Android from the Froyo and Gingerbread days and I have seen how the platform has evolved, both in terms of looks and functionality. I mean, Android today is known as arguably the most feature rich mobile operating system. While the Google platform has surely matured a lot, there are still a number of features that Android natively lacks. Well, today, I am going to talk about some of those features. Honestly, we have been waiting for some of these features since a long long time. Anyways, here are the 7 cool features that Android still lacks:
1. Screenshot Tools
Screenshot tools are important. I mean, we mostly use screenshots to show a particular thing to someone, and that's when the ability to annotate or highlight comes in handy. The iPhone has a great screenshot tool. On an iPhone, you can just take a screenshot, tap on it to open it up and start annotating, or adding text. The Note 8 and the S8 have the same feature and it's really handy. So, I can just jot down something, or just highlight a particular thing in a screenshot and quickly share it.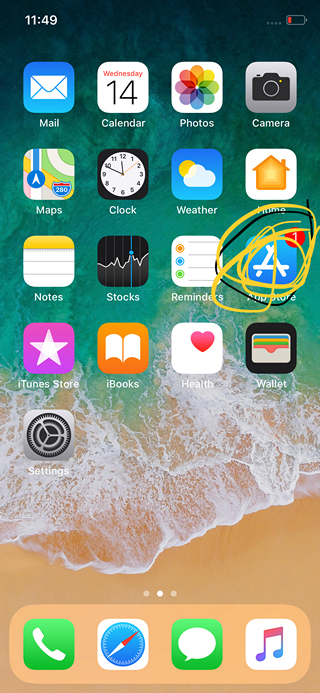 Well, Android natively lacks any such feature, which is a shame because stock Android and Google Photos do not even have any such markup options. And it's not like, it's a huge feature, it's pretty simple.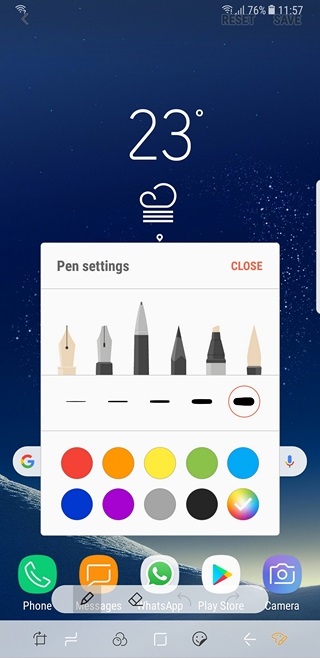 Another feature that Android natively lacks in the ability to take scrolling screenshots. The likes of the S8, OnePlus phones and the Xiaomi phones pack this feature, which stitches together screenshots for one long screenshot. It's handy when you want to send someone screenshots of one long conversation. Well, it's another screenshot tool that Android fans have been waiting for.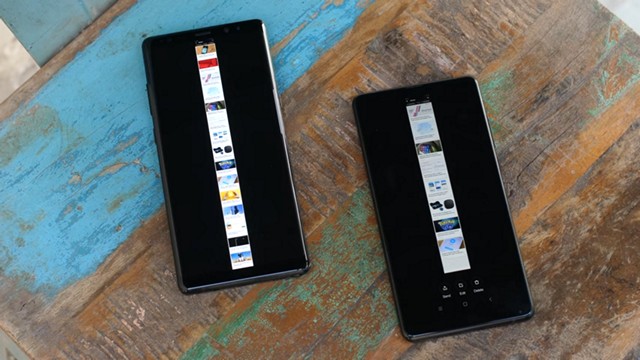 2. Native Screen Recording
I know what you are thinking. There are a ton of screen recording apps on the Play Store that get the job done. Well, if you have used any of those apps, you know that they can be pretty limited. These apps have either limited free versions or they don't work as well as you'd like. A native solution would work better.
Just look at iOS 11's screen recording feature. It's pretty awesome. First of all, it records the screen in 60 FPS, so it's all buttery smooth. Secondly, the native iOS screen recorder also records the audio from the device. On the other hand, if you want to record the audio from the device while recording the screen on an Android smartphone, you need root access. This is one problem we face when we need to record a game to show it to you guys.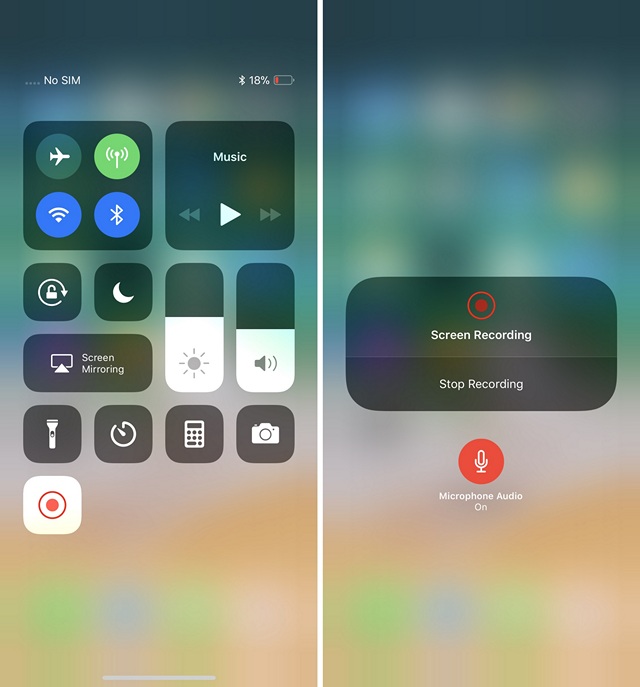 MIUI now includes a native screen recorder, so I guess it's high time Google too included a native screen recorder in Android.
3. Gestures
Let me be honest here. I love Android but sometimes I don't find the Google operating system intuitive enough. First of all, I don't like the on-screen navigation buttons. I mean, we have bezel-less displays on smartphones today but these on-screen buttons too are sort of a bezel. They are static and boring and they take up precious screen space. And this is why I have always been hoping for gestures in Android. Gestures are just a lot more fun and natural.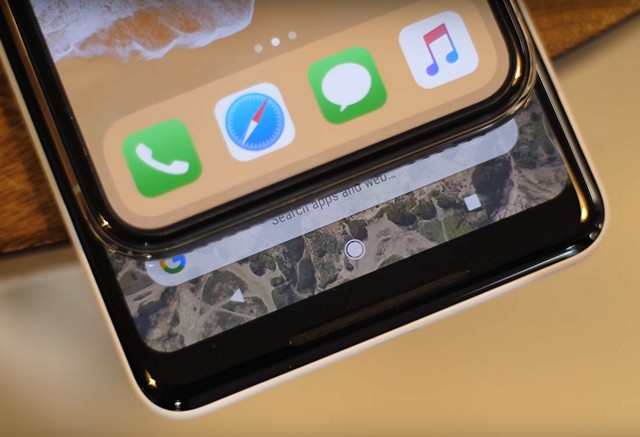 In fact, I like the gestures on the iPhone X. Yes, the phone that I love to hate, but all the hate aside, the iPhone X gestures are something I really like. They might be a bit confusing, but when you get the hang of it, it's oh so natural and cool.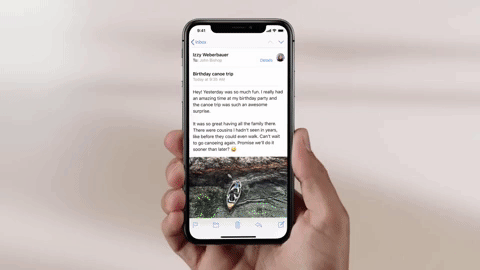 And it's not just me who likes the gestures on the iPhone X, OnePlus seems to have a liking for it too, because the company recently brought very similar gestures to the OnePlus 5T. I tried it out and while some of the gestures need work, the gesture for going home is remarkably well implemented.
Having gestures in Android just makes sense. Who likes tapping buttons? Plus, we should be seeing more bezel-less phones and I really don't want to see the boring on-screen navigation buttons on them.
4. File Sharing
Let's admit it! Sharing videos, photos, music or any other file on Android devices isn't very straightforward. Sure, there are workaround and apps but there's not a single unified method of file sharing. Right now, the best way to send a file to a nearby Android phone is by using Android Beam, which is pretty limited. It requires NFC and tapping two phones to pair and then share a file isn't the most seamless method.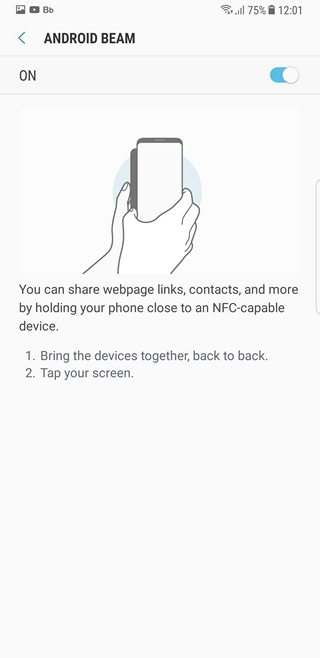 Say what you will about iOS and macOS, AirDrop is one feature that is so so convenient. With AirDrop, you can send any file from your iPhone to another iPhone, iPad or even a Mac, it works seamlessly.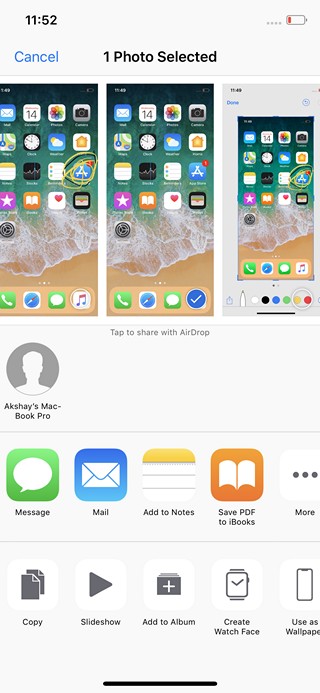 It'd be nice if Android too included such a feature, because right now, sharing files is messy. And it's not like Google isn't aware of this file sharing feature, because its Files Go app features a file sharing feature that works similarly to AirDrop, however, it requires the other device to have Files Go installed and open. Again, that's not really convenient, is it?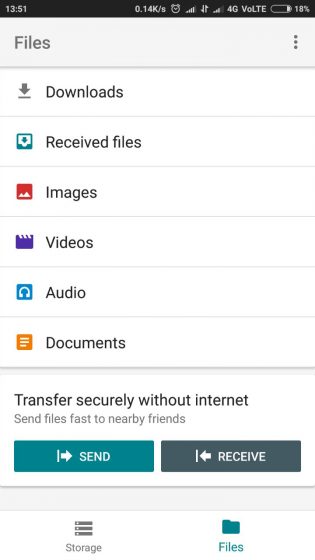 5. Full Backups
Yes, full backups, another feature that Android users have been desperately wanting. Sure, there are convoluted methods to make a full backup of Android phones but not everyone wants to go through that. Not everyone wants to use ADB or root their device to make a full backup of their device. Well, I sure don't. Well, some data is backed up by Google, like call history, contacts, texts, device settings, data of some apps but it's not full backup by any means.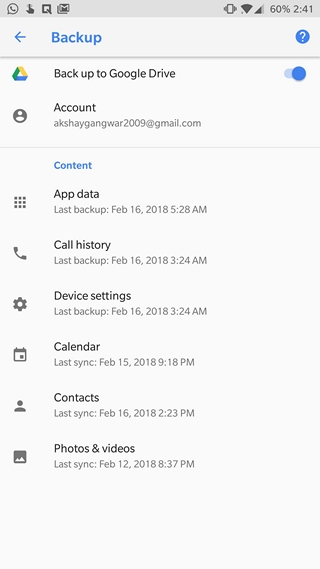 Honestly, Google can take a page out of Apple's book and bring an iTunes-like software, with just the backup feature. I mean, the ability to make full backups of an iPhone or iPad via iTunes on Mac or Windows is just amazing. It makes switching from one iPhone to another so so easy.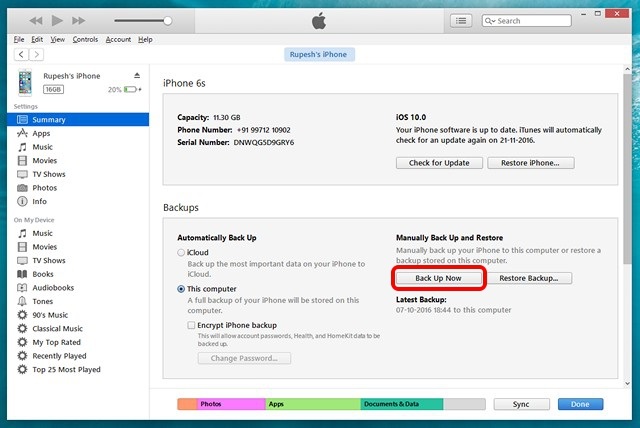 6. Notification Syncing
We all know how well iOS works with macOS. Along with the Continuity feature, which lets you start a work on an iPhone and continue it on the Mac, macOS also mirrors notifications from your iPhone. So, when you get a call on your iPhone, you also get it on your Mac and you can choose to decline or accept it on your MacBook. Now, this is one feature Android needs to have.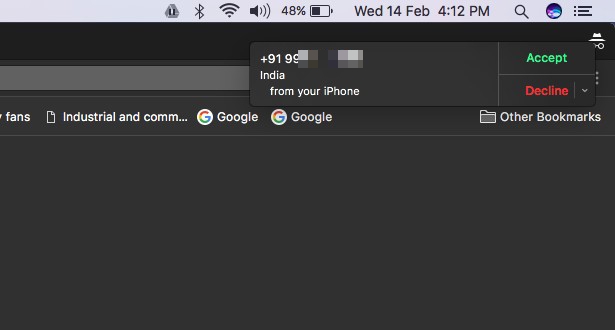 Notification mirroring from a phone to a computer is really handy. It makes sure you get important notifications from your phone on your computer and you don't have to keep switching between your phone and PC. And it's not like you can't do it with an Android phone. Pushbullet is a very popular app that brings you Android notifications on your PC or Mac and these are actionable notifications. You can reply to messages, reject calls and do a lot more.
The Cortana app too lets you mirror notifications from an Android phone to a Windows PC. So, there are ways to get the feature on Android but it's not as seamless. The Cortana notification sync is inconsistent, while Pushbullet's free version is quite limited. Basically, we need a notification syncing service that is built into Android.
7. Clipboard
Clipboard is another feature that Android needs to have. I mean, it's one of my favorite features on the S8 and Note 8 because it's just so handy. The clipboard on the S8 or Note 8 is available through the Edge Panel or the keyboard, so that you can quickly access any content you might have copied. You can even lock a link, text or even a photo in the clipboard, so that it's available at all times.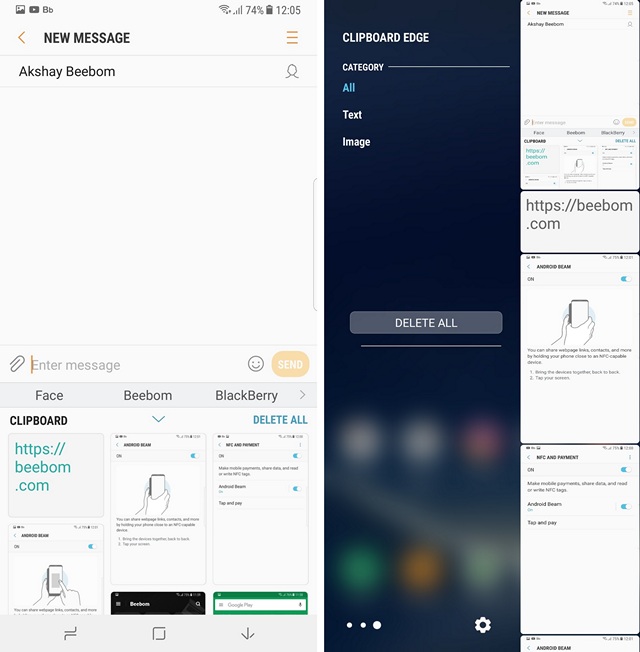 I know there are various clipboard apps on the Play Store but like I've said in the other points, native functionality is just better and more consistent. Plus, Google could go ahead and feature a universal clipboard service, which makes sure that the clipboard is available on Mac and PCs too. So, there's an idea for you Google.
8. Other Features
While those were the major features that Android still lacks, but that's not all. Let me just quickly run down a number of other features. Here we go, a theme store, a universal messaging service like iMessage, device performance controls, contextual navigation bar, in case they don't want to go the gestures route, data control like the Datally app. I am sure there are more but these are the ones I can think of right now.
SEE ALSO: Android P Will Reportedly Embrace the iPhone X Notch
All the Features We Want in Android P
Well, that's a lot of features Android lacks, right? Honestly, I am hoping Google cuts down the number of features Android lacks with Android P and my hopes are certainly high, because Android P is said to bring a major overhaul to Android. Here's hoping for that. Anyways, what important features do you think Android is lacking? Tell us in the comments down below.
---
Load More