Google is said to be working on a file manager app, Files Go, that has surprisingly leaked and includes an offline file sharing feature that is reminiscent to Apple's AirDrop. Files Go serves dual purposes, as it not only enables you to access your files but also share it with other Android users on the go. But, is its sharing capability comparable to AirDrop?
Files Go has been dubbed as a smart file manager that includes all necessary features you expect to find in a file manager app. The highlight of Files Go, however, is the file sharing feature that enables you to send/receive files from nearby Android users without the need for an Internet connection. The file transfer happens over Bluetooth. This is very much similar to what AirDrop does for Apple users but in a really simple manner.
Apple's AirDrop also allows you to share files but you don't need to download any additional apps to make it work. It is already built into iOS and macOS devices, where the sharing can happen by clicking the share button once both devices have AirDrop turned on. Files Go, on the other hand, requires both Android users to have the app installed on the device to share files, that too only from within the Files Go app. It is not omnipresent across the board, which simplifies the sharing, but Google could hopefully make that change someday.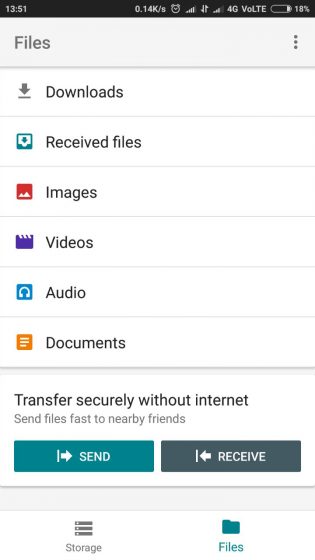 Much like Apple's AirDrop, Google's Files Go will also come in handy to share files between an Android device and any Chromebook. This has been made possible because of Chrome OS, which now allows the installation of Android apps. Though Files Go doesn't provide you as smooth of an experience as you'd expect but it is comparable to AirDrop. The Files Go app is lightweight and will definitely make it easier for low-end devices to transfer files.
Google had published the Files Go on the Play Store but it has now been taken down. You can, however, download the app from APKMirror to try out the offline file transfer on your Android devices. Do let us know what you think of Files Go in the comments section down below.