Yesterday at Facebook's f8 conference in San Francisco, CEO Mark Zuckerberg took the stage to unveil the next evolution of the service. The first major change, The Profile.
Zuckerberg noted that the original Profile was sort of like the last five minutes of your life. The updated Proile from 2008 extended that to show what was sort of like the last 15 minutes or your life. The new Profile unveiled today is "the rest," Zuckerberg noted. He calls this feature Timeline.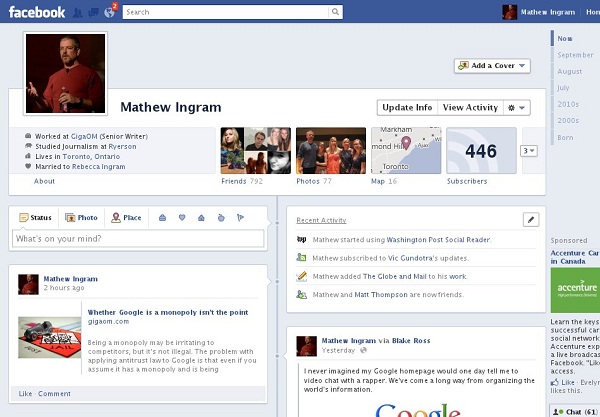 "It's the heart of your Facebook experience, completely rethought from the ground up," Zuckerberg says, noting that they've been working on it all year. "Timeline is the story of your life."
What Zuckerberg showed was a beautiful new Profile that is much more visual than anything Facebook has done before. It has three main parts:
all your stories
all your apps
a new way to express who you are
And it goes all the way back to when you were born.
And it works on mobile too.
"We wanted to design a place that feels like your home," Zuckerberg said.