Facebook has released its first ever Community Standards Enforcement Report, revealing that it took moderation action against around 1.5 billion accounts and posts which violated its community standards in the first three months of 2018. According to the report, most of the offending posts were spam, while most of the deleted accounts were fake. Overall, Facebook says it took action against 837 million spam posts and shut down 583 million fake accounts.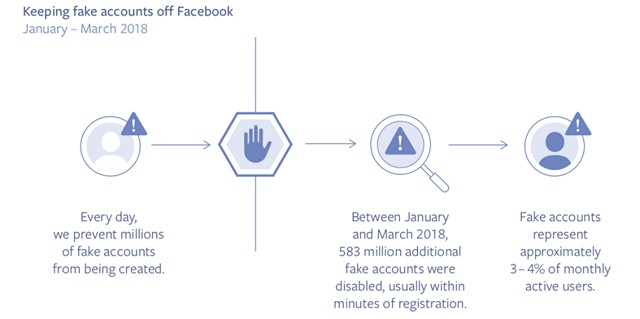 Much of the moderated content also included hate speech, depiction of graphic violence, explicit sexual imagery and terrorist propaganda. That being the case, the company claims to have moderated 2.5 million instances of hate speech on the platform, 1.9 million pieces of terrorist propaganda, 3.4 million posts related to graphic violence and 21 million images and videos featuring sex and nudity. The amount of violent content, in fact, almost tripled quarter-on-quarter, according to Facebook's vice-president of data analytics, Alex Schultz.
Facebook also released the latest installment of its quarterly Transparency Report Tuesday, revealing that government requests for user data increased globally by around 4 percent during the second half of 2017 as compared to the first six months of the year. According to the company, the number of request increased from 78,890 to 82,341 globally, although, requests from US government agencies remained roughly the same at 32,742. The company says it only entertains requests for user data if they are legally valid.
"We always scrutinize each government request we receive for account data — whether from an authority in the US, Europe, or elsewhere — to make sure it is legally valid. If a request appears to be deficient or overly broad, we push back, and will fight in court, if necessary"
The company also says that it had to take down many posts because of copyright-related issues and DMCA takedown notices. According to Chris Sonderby, VP & Deputy General Counsel at Facebook, the company took down 2,776,665 pieces of content from FB and Instagram based on 373,934 copyright reports. He also claims that the company got rid of 222,226 pieces of content from its platforms based on 61,172 trademark reports and 459,176 pieces of content based on 28,680 counterfeit reports.