Do you feel irritated when you put your iPhone on a wireless charger before bed, only to wake up and find it out of juice because you did not align your phone with it properly? Well, if you often face this issue, a MagSafe charger is what you need in your life. The MagSafe magnets guarantee a perfect alignment every time. Not to mention, a certified MagSafe charger from a brand like ESR can charge your iPhone faster with 15W charging support, which is much faster than standard wireless chargers.
However, finding the right MagSafe charger is a task in and of itself. Thankfully, accessory brands like ESR are here for that. To find just what ESR offers and how well it works, I have been using ESR's MagSafe wireless chargers and charging docks for some time now. Here is what I found, along with some of ESR's best MagSafe wireless chargers.
ESR MagSafe Chargers Offer the Fastest Charging Time
While there are a variety of MagSafe chargers, most third-party or even licensed alternatives take hours upon hours to juice the iPhone up.
ESR figured we would have this question and sent us some figures. During the testing, ESR charged an iPhone 14 Pro using a variety of chargers, including ESR Cryoboost, an officially certified MagSafe Charger, and a third-party non-MagSafe one. The phone was also used for two different tests, including one where it was being used versus at rest.
As we would have expected, an iPhone 14 Pro being charged with an ESR Cryoboost charger took 3 hours and 2 minutes to charge from 0% to 100%. On the other hand, an officially certified Apple MagSafe charger takes a whopping 4 hours and 30 minutes. It even stopped at around 80% because of the heat-up.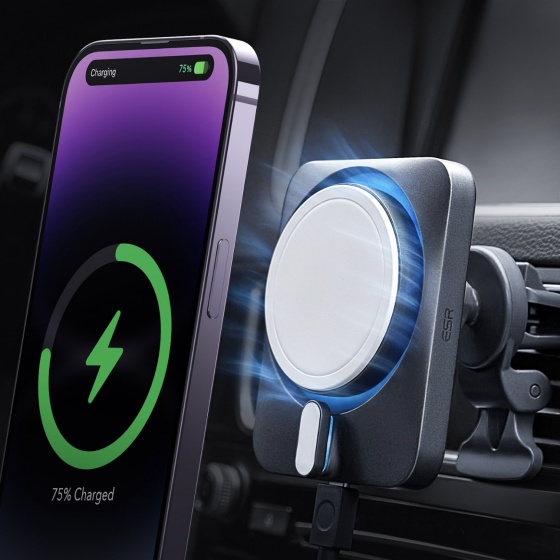 In a similar case, an ESR Car Charger took a total of 2 hours and 5 minutes, while an officially certified MagSafe one took a resounding 8 hours. Keep in mind that the phone was being used for navigation during these tests. ESR has also stated that CryoBoost tech keeps the phones below 98-degrees Fahrenheit during charging compared to standard chargers that reach 108-degrees Fahrenheit and higher.
Cryoboost uses first-of-its-kind heat-dissipating components to create a constant flow of cooling over the phone while it charges. This means that no matter what you do, ESR's Cryoboost MagSafe chargers will juice the phone up at constant speeds while keeping the temperature down.
ESR's Fastest MagSafe Chargers for iPhone
ESR 25W 3-in-1 Wireless Charger with MagSafe + CryoBoost
Key Features
CryoBoost Fast Charging
Fast Charging in a snap
Fully Adjustable view
3-in-1 Charging support
Can hold up to 1,400 grams of weight
This 3-in-1 wireless charger from ESR is a great solution to wirelessly fast charge your Apple devices such as iPhone, Apple Watch, and AirPods with proper heat dissipation. The MagSafe charger can fully charge your iPhone 14 Pro in just 2 hours and 6 minutes, which is way faster than other third-party wireless chargers in the market.
The ESR 3-in-1 wireless charger is an Apple-certified MagSafe charger that strongly holds your iPhone on the charging pad that keeps your iPhone in a perfect stationary position. You can also rotate your phone to full 360-degree in both horizontal and vertical positions to adjust the perspective to your needs.
So, if you have upgraded your iPhone or are simply looking to ease your lifestyle by switching to wireless charging, you should surely check out ESR's MagSafe charging solutions.
Get ESR 25W 3-in-1 Wireless Charger with MagSafe + CryoBoost
ESR 15W Car Charger with MagSafe + CryoBoost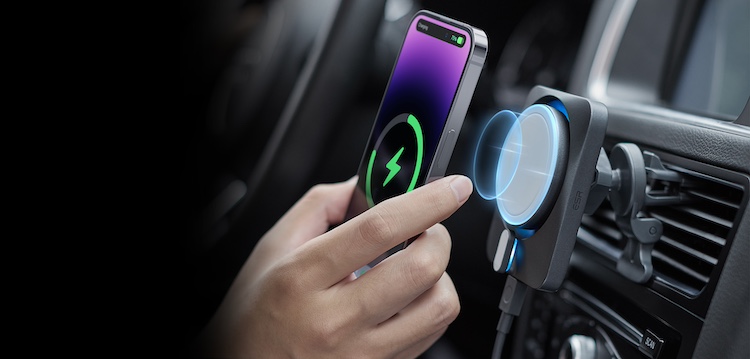 Key Features
CryoBoost Fast Charging
Strong Magnetic Lock
One Touch Mounting
Fully Adjustable View
Ready for Navigation
ESR's 15W Car Charger with MagSafe and CryoBoost is among the fastest officially certified MagSafe wireless car chargers you can get for your iPhone. This also comes with support for CryoBoost technology that ensures fast charging while keeping things cool.
Once you connect your iPhone to the charging pad, you can rotate the charging pad 360 degrees horizontally and vertically for the perfect viewing experience and to get navigation updates more conveniently. This wireless car charger comes with a sturdy magnetic lock, a non-slip silicone ring, and built-in magnets that exerts a strong suction force onto your iPhone, making it 100% safe on rough roads and at high speed.
The seamless integration and fast charging output certainly make it a worthy and essential MagSafe accessory, and we suggest ESR's 15W car charger.
Get ESR 15W Car Charger with MagSafe + CryoBoost
ESR 100W 6-in-1 Charging Station with MagSafe + CryoBoost
Key Features
Can charge up to 6 devices at once
CryoBoost Fast Charging support
Super-fast Magnetic Charging
Portrait and Landscape view support
Strong Magnetic Lock
The ESR 100W 6-in-1 Charging Station with MagSafe + CryoBoost is an official MagSafe model and a great way to charge up your iPhone, Apple Watch, AirPods, MacBook, iPad, and other wireless devices all at once with up to 100W GaN-powered fast charging support.
It is a durable, compact, and easy-to-use charging station while still providing the convenience of wireless charging. The design also allows you to place your iPhone in both portrait and landscape orientation to see your notifications and even attend a FaceTime call without touching your iPhone. It will come in handy when using StandBy mode in iOS 17 on your iPhone.
While nothing can beat the convenience of wireless charging, it also has one downside – "heat generation," which slows down the charging speeds and can adversely affect the battery's health. However, that's exactly where ESR's CryoBoost technology kicks in. This ESR 100W 6-in-1 Charging Station has a built-in CryoBoost fan that cools your iPhone as it charges.
And while the standard MacBook chargers are just 35W, this charging station can charge your MacBook and iPad with up to 100W with a USB C cable. The dock even smartly distributes power among devices being charged, so they all get enough charge juice. To see all of ESR's new MagSafe lineup at a glance, check out their highlight video.
Get ESR 100W 6-in-1 Charging Station with MagSafe + CryoBoost