DVDs might seem a little old school, but it's still the best way to store a physical copy of your all time favorite movies, TV shows and even a recording of special moment in your life. However, as we have come to know, DVDs can easily be broken, lost or even scratched, which can make them unusable. So, you must be wondering why can't I just copy the files of a DVD to a computer. Well, movies and TV shows in a disc feature videos in the VOB file format, which does not really play well with the majority of devices. Thus, you will need a DVD ripper software to convert video files in a DVD to popular video file formats and well, we would recommend DVDFab's DVD Ripper software.
The DVDFab is a pretty well known ripping solution, which brings a number of cool features that should make sure you don't need another ripping software. So, if you are looking for a DVD ripper tool, here's our review of the DVDFab DVD Ripper software for Windows and macOS:
Features: What DVDFab DVD Ripper Offers?
The DVDFab DVD Ripper software comes with some great features, making it a go-to ripping solution. So, let's take a look at some of its key features:
Rip DVD to Different Formats
DVDFab DVD Ripper lets you rip a DVD to almost all the popular video formats like H.265, MP4.4K, MKV.4K, MPEG-4, DivX, Xvid, H.264, AVI, FLV, WMV, etc. It even lets you rip a DVD to audio formats like MP3, MP4, M4A, WMA, WAV, AC3 and DTS. That's not all though, as DVDFab also lets you convert DVD files to 3D video formats like 3D AVI, 3D M2TS, 3D MKV.4K,  3D MP4, 3D MP4.4K 3D TS, 3D WMV and more. Basically, DVDFab has you covered if you have a normal device, 3D device or even a 4K-display packing device.
Preset Profiles for Various Devices
If you are someone who has no idea which file format would work the best with your smartphone, tablet, media player or any other device, don't worry, DVDFab DVD Ripper includes presets for more than 100 devices, with new ones being added everyday. There are devices like the iPhones, including the latest iPhone 7, iPads, Apple TV, Kindle Android tablets, Nexuses, Surface tablets, Xbox One, Samsung Galaxy smartphones and more. This means, you can easily select the device where you want to store and play the DVD content and DVDFab will easily convert the file without bothering you with file formats.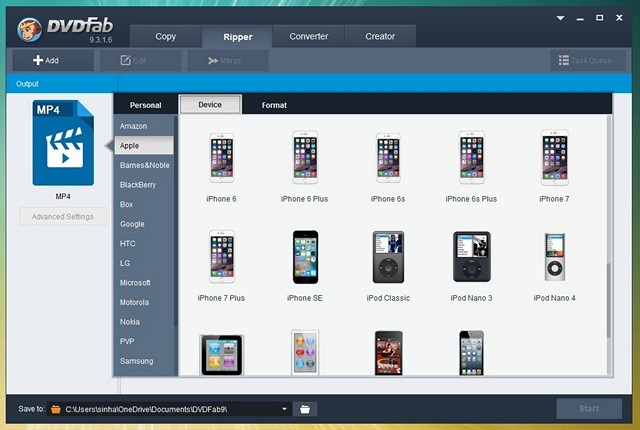 Total Control over Conversion
Along with the various file formats and preset devices, DVDFab DVD Ripper also brings you total control on the conversion. You can choose the start and end segments withing a video, which is pretty handy if you only want a certain video segment for your device. Along with that, the application also lets you choose the bit rate, frame rate, deinterlacing, aspect ratio, channel and volume. Plus, the software brings you real time updates of the file size and the different values. That's not all, as you can also reset the frame resolution, change the play region via the auto crop tool or custom cropping or just resize output from one form to another.
DVDFab DVD Ripper supports batch conversion, which means you don't have to rip files one by one. It even lets you rip a single file through different profiles, at once. Other features of the software include fast conversion, support for the latest multi-core chipsets, detailed preview of conversion, customizable UI and more.
How to Use DVDFab DVD Ripper
There's no doubt that the DVDFab software offers some really comprehensive features but let's take a look at its user experience. Here's how to use DVDFab DVD Ripper to rip DVDs:
1. After you have installed DVDRipper on your Windows PC or Mac. You can just launch the software and on the left panel, you can click on the output format to change it. You can choose from the various formats or select a device profile.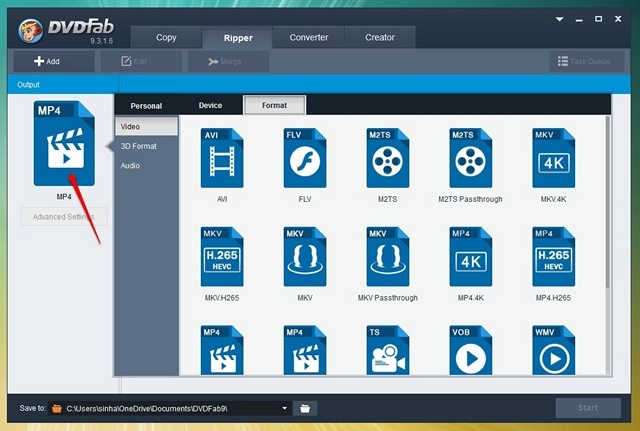 2. The software automatically detects a DVD but if it fails to do so, you can select the file location manually.
3. Once the DVD is detected, you can change the quality of the output video.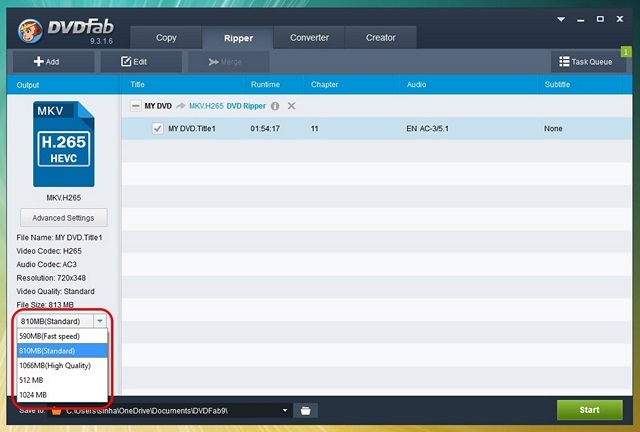 4. You can also check out the "Advanced Settings", where you will find options to change the codec, resolution, frame rate, subtitle mode, audio bitrate & channels and more. You can even save your preferred options as a profile for later use.
5. Once done, you can click on the "Start" button and ripping process will begin. The application's dialog box will then show you the time left for completion and other details.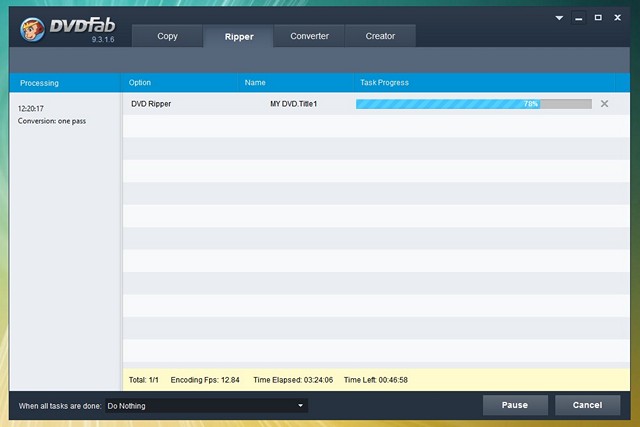 6. After the DVD is ripped, the software will automatically eject the DVD. You can then click on the "Finish" button and check out the converted files.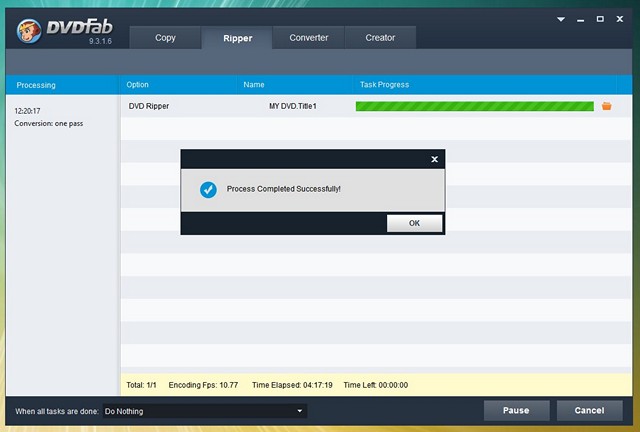 Overall, the software is pretty easy to use, with the interface being simple and streamlined. On the performance front, if you rip DVDs to H264 or MP4 formats, the process should only take a few minutes. However, it does take some time to rip movie DVDs to H265 formats but you can lessen that too, thanks to the H.265 CUDA Hardware Acceleration technology that DVDFab DVD Ripper incorporates. For instance, a software without the CUDA tech takes hours to rip a Blu-ray DVD to H.265, while DVDFab DVDRipper takes only a few minutes to rip the DVD, which is pretty impressive.
Also, it all depends on the configuration of your machine. Other than that, we really like the different options and control that the software offers.
Pricing and Availability
As we mentioned above, the DVDFab DVD Ripper is available for Windows and macOS. The software is available for a free trial of 30-days, during which you can check out all the features to make up your mind. After the free trial is over, you can get the full version of DVD Ripper for $49. You can download the software from DVDFab's official website.
Pros:
Plethora of file formats
Device Profiles
Feature rich
Ease to use
Cons:
SEE ALSO: 10 Best DVD Burning Software
Rip your DVDs with ease using DVDFab DVD Ripper
Well, if you are looking for a great DVD ripper solution, the DVDFab offering should be good enough for you. The application lets you rip movies with ease, plus brings you total control, thanks to its plethora of options. So, try out the software and do let us know how it worked out for you. Sound off your thoughts in the comments section below.