Twitter is a great place to get news, dabble in conversation, and spend hours upon hours every day talking with strangers around the world in 280 characters. Needless to say, if you are not careful about how you use Twitter it's going to eat up all of your free time that you could have spent doing something productive. Whether for this reason or something else entirely, if you're wondering how to delete a Twitter account, this is the right article for you. In this article, I am going to show you how to delete your Twitter account, once and for all:
Delete Your Twitter Account
While thinking of deleting your Twitter account is the good first step, actually executing it is not as simple as it sounds. I mean, losing deleting your Twitter account will mean that you will lose all your tweets along with your followers which you have acquired over the years. That's why, for some people, it makes better sense to put a restriction on their Twitter usage rather than delete the account itself. Keeping that in mind, in this article, we will show you how you cannot only permanently delete your Twitter account but also take certain steps to check your Twitter mania.
Permanently Deleting Your Twitter Account
Permanently deleting your Twitter account is pretty simple actually as you will see for yourself. Do note that you can delete your Twitter account from the app and website. I am going to showcase both processes so that you can execute the Twitter deletion no matter which device you are using:
Note: Twitter uses the word Deactivate instead of Delete. But they both mean the same thing in this instance.
1. Permanently Deleting Your Twitter Account on App
First, launch the Twitter app and then tap on your profile icon. Here, tap on "Settings and privacy".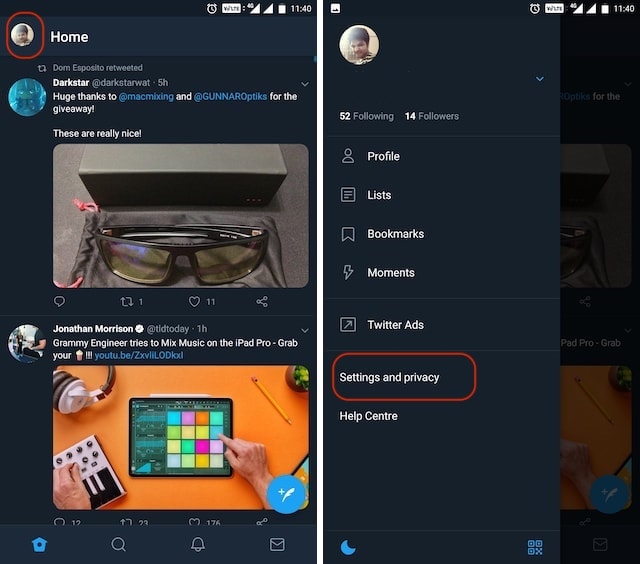 2. Now click on the Account tab and scroll down to find the "Deactivate your account" option. Tap on it.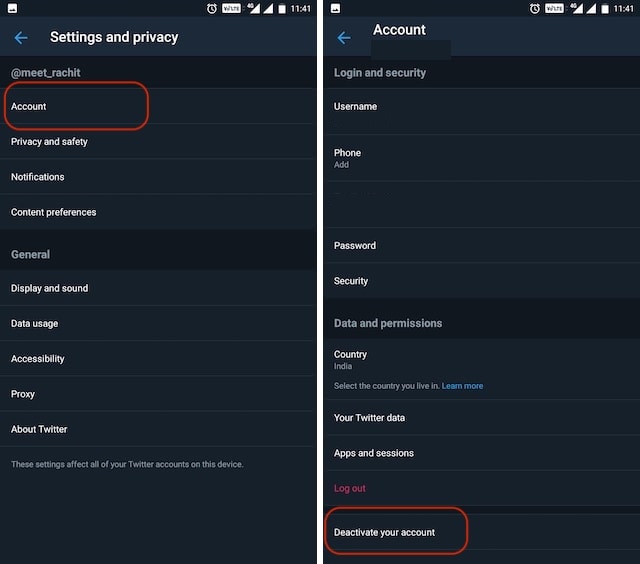 3. On this page, Twitter will show you some information regarding the process which you can read if you want. After you are done, tap on the red "Deactivate" button. Now, just re-enter your password and tap on the deactivate button to complete the process.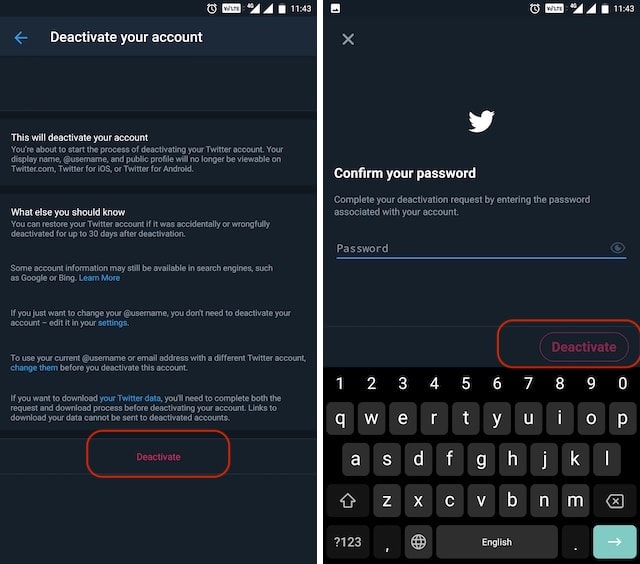 2. Permanently Deleting Your Twitter Account on Web
Go to Twitter and log in with your credentials. Now, click on your profile icon and then click on "Settings and privacy".
2. In the "Account" tab scroll down to find the "Deactivate your account" option and click on it.

3. Again, Twitter will give you some relevant information which you can read. After you are done click on the Deactivate button.
4. This will prompt you for your password. Re-enter your password and click on the Deactivate button to authorize account deletion.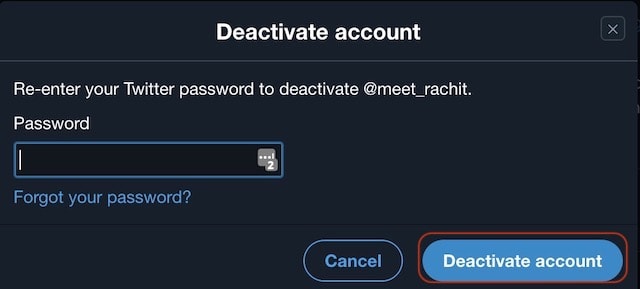 Whether you use the app route or the web, the result will be the same. Do note that Twitter gives you a grace period of 30-days before your account is permanently deleted. In case you change your mind, you can just log back into your Twitter account as you usually do and it will stop the deletion process. This is yet another attempt you to keep you hooked up as companies like Twitter and Facebook know that it's one thing to delete your account and it's another to have the self-control to keep logging back in for the next 30 days.
Managing your Twitter habits
If you don't want to lose all your tweets and followers and just want to get your Twitter usage in control so that you are not wasting an ungodly amount of time on the service, you can take certain steps which can help you manage your Twitter habits.
1. Use Screen Time to Manage Your Twitter Habits on iOS Devices
The new Screen Time feature on iOS 12 can help you manage your Twitter habits. With the help of this feature, you can set time limits on individual apps. So, in theory, you can put a time limit on Twitter usage and follow it to keep it in check. If that's something that interests you, this is how you can use Screen Time to manage your habits on iOS devices:
First, open the Settings app and tap on "Screen Time".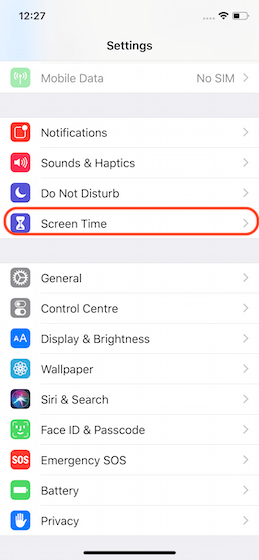 2. Here, tap on "iPhone" to see a detailed breakdown of your iPhone usage. Here, tap on Twitter to set a limit on it.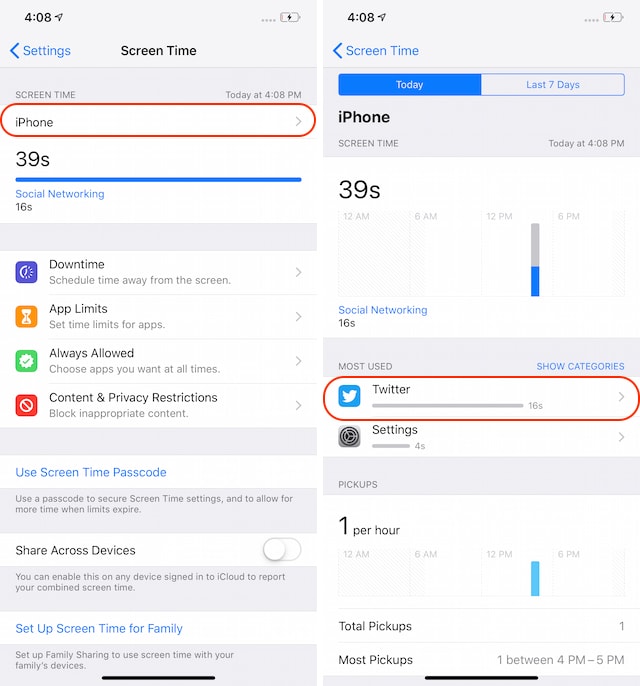 3. Here, tap on the "Add Limit" button and then select the time duration you want to use Twitter for. Once, you select the time limit, tap on the Add button at the "top-right" corner to add the limit.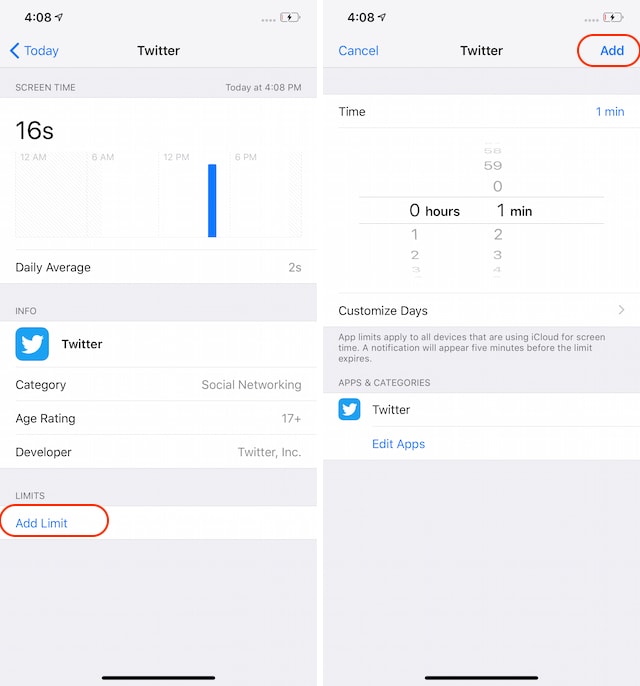 Your limit is set and whenever you cross that limit, Screen Time will remind you of that, by locking you out of the app and greying out the app's icon. However, do note that you can easily circumvent the limit by tapping on the "Ignore Limit" button. So, it will be a test of your willpower to not ignore the limit.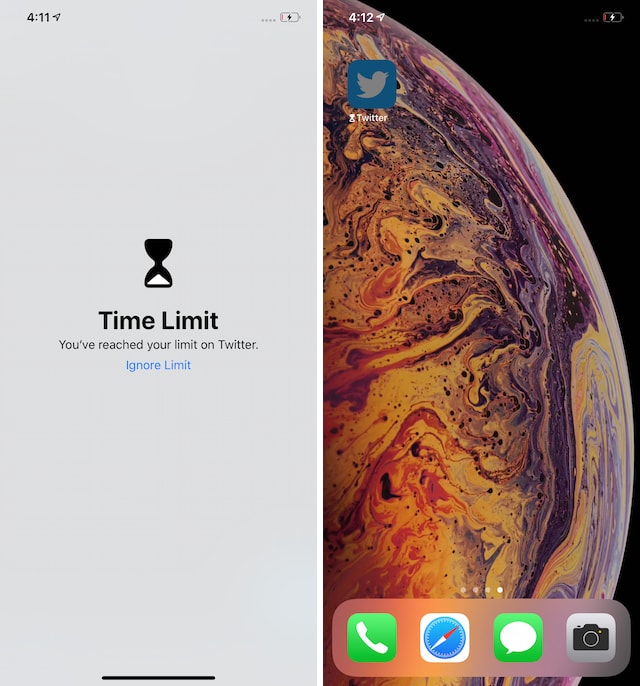 Use Digital Well Being to Manage Your Twitter Habits
Just like Screen Time on iOS, you can use Digital Wellbeing on supported Android Pie devices to set a time limit on apps. If you own a supported device, you can use this feature to put a limit on Twitter. Here is how you can do it:
First, open the Settings app and then tap on the "Digital Wellbeing" option. Here, tap on the Dashboard.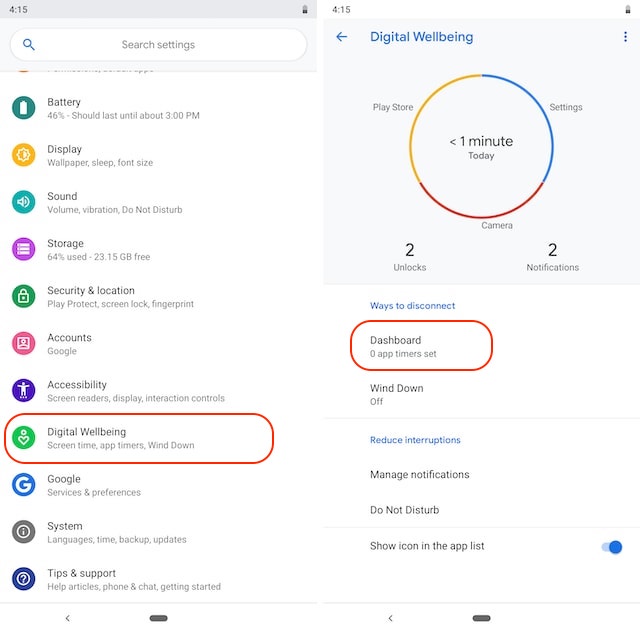 2. Now, find Twitter on the list and tap on it, and then tap on App timer.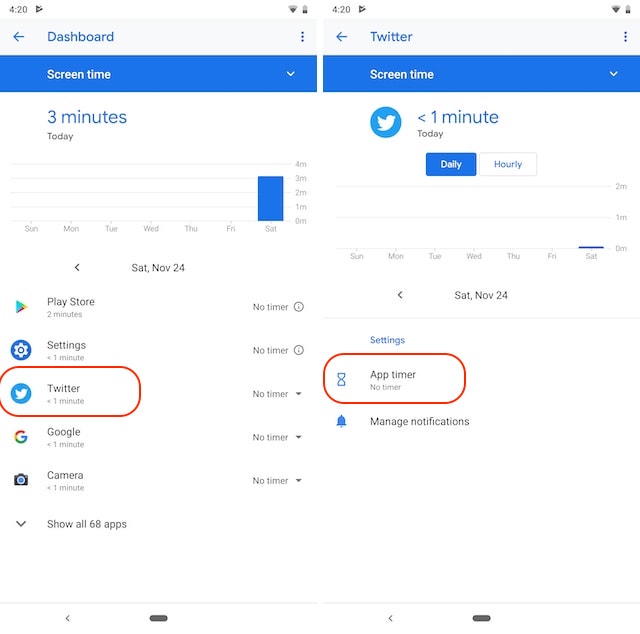 3. From the drop-down menu, you can select what time you want to allocate for Twitter usage.
Once you have set this, Digital Wellbeing will not only remind you before you exceed your allowance but also lock you out of the app. The only way you can use Twitter back is by going into the Settings app and removing the time limit.
Third-Party Apps to Set Time Limit for Twitter on Android Devices
While Digital Wellbeing is a powerful tool to manage your Twitter habits, sadly, it's only available on a very small number of supported devices. Thankfully, there are various third-party apps which can help you achieve the same results. If you own any other device other than an iPhone or Pixel, these are the apps that can help you curb your Twitter usage:
1. Stay Focused
Stay Focused is an app that is designed to improve your self-control by restricting the use of distracting apps which in this case is Twitter. The app allows you to either outright block the Twitter app after a certain usage time or just block its notifications. The notification blocking is pretty good and can really help you manage your Twitter usage. There's also a feature called "Profiles" which allows you to create multiple profiles and set block status for them. For example, you can create a work profile which blocks Twitter and any other distracting app that you want to. If you can't stay away from Twitter, definitely give this app a try as it out.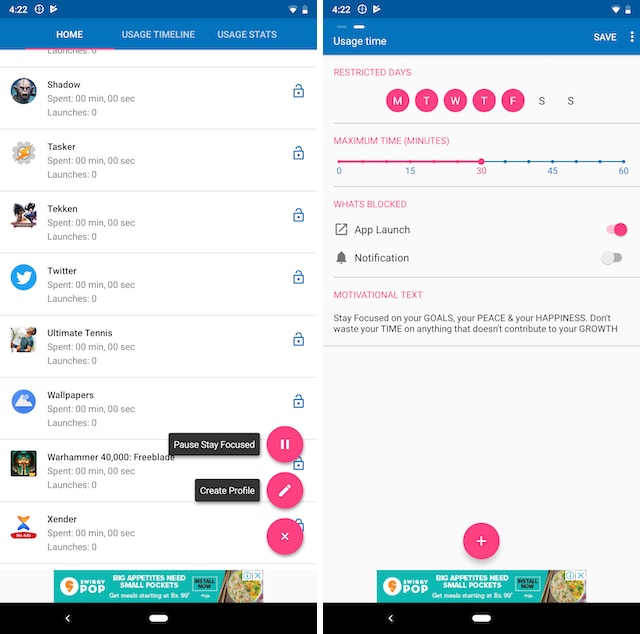 Install: (Free, in-app purchases)
2. Your Hour
Your Hour markets itself as an anti-phone addiction app and it can help you curb your Twitter addiction. The app gives you an overview of your phone usage and allows you to block certain apps and set usage limits. The app also provides you with daily and weekly reports which are really helpful for understanding your usage pattern. You can use this app to easily block Twitter based on usage time just like you can with Stay Focused. If for some reason, Stay Focused cannot fulfill your needs, Your Hour is a really good option for you.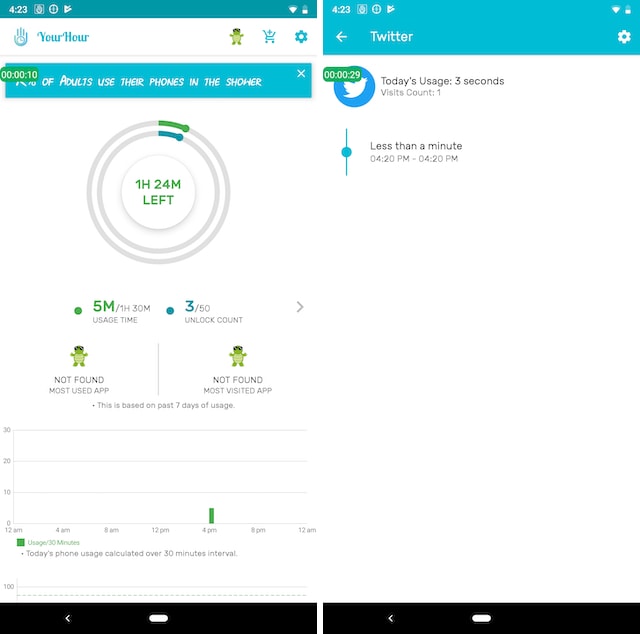 Install: (Free, in-app purchases)
3. AppDetox
I love AppDetox as it not only allows me to block apps based on usage but also on time of day. Let's assume that you are most productive in the mornings. AppDetox will allow you to block Twitter in the mornings so that you can get the work done rather spend it on Twitter scrubbing through your timeline. Once you have done your work, you can then spend as much time on Twitter as your heart desires. This is a great way to both work productively and enjoys Twitter at the same time. Of course, you can also set usage time based blocking just like you can on the above two apps. That said, the USP of this app for me is the ability to block Twitter or any other app for that matter based on time of day. You should definitely check this app if you want this functionality.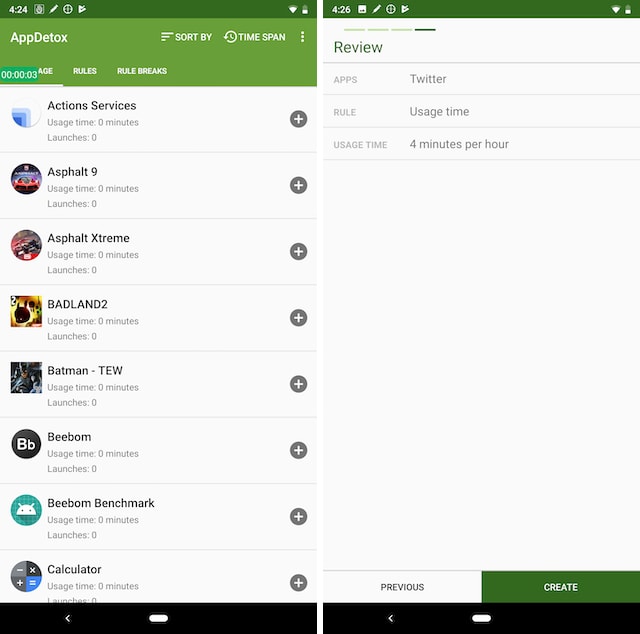 Install: (Free)
SEE ALSO: How To Delete Your Facebook Account: A Step-by-Step Guide
Delete Twitter and Take Control of Your Life
Just like any other social media service, Twitter can help you a lot if you know how you are using the service. However, instead of using a service productively, most of us spend hours and hours just wasting hour time. If you have fallen into that trap, the above steps can help you regain control of your life.