Every time you browse a website, they collect some of your personal data. Even when you have security tools such as VPNs at your disposal, data brokers can collect your personal information and use it to sell you goods and show you ads across the internet. They can also sell this data, having your private and sensitive information at stake. It might make you a victim of credit card fraud, harassment, stalking, or other cybersecurity threats. If you are worried about your data being misused, we have the perfect tool to help you avoid that. Called Delete Me, it is a trustworthy and incredible Privacy Information Removal Service that finds and removes your personal information collected by data brokers.
Delete Me is like a sharp sword that helps you cut down on spam calls, texts, and emails, making sure your personal information isn't being misused or abused. Once you make a request, Delete Me experts will find & remove your personal data that's collected by unfair means, file for removal, and send you a detailed report. They do this for you every three months. Read on to discover the unique features of Delete Me, why you should choose it, and how to use Delete Me to get rid of spam calls & texts.
What Is Delete Me in a Nutshell
Delete Me is a hands-free subscription service that removes your personal data from online data brokers and search engines. It's centered around a major goal: to make your personal data yours again. Headquartered in the US, Delete Me is serving various other countries, including the UK, Italy, France, Denmark, Australia, Belgium, Brazil, Germany, Canada, Singapore, The Netherlands, and the Republic of Ireland. Also, they are expanding to offer services in more countries in the coming future.
Delete Me is designed to suit the requirements of individuals as well as organizations. Individuals can use the tool to remove their unwanted personal data and businesses can protect their employee data, which if compromised can open them up to cybersecurity risks and executive threats.
Being the market leader in the privacy information removal domain, Delete Me scans over 750 data brokers and removes your personal information that's being sold online. This includes:

All you have to do is submit your personal information (kept secure on Delete Me's servers), and Delete Me will provide a quick response. Delete Me has been working in this segment since 2010, and the fact that it has served more than 100 million opt-out requests speaks volumes about the trust consumers have in the service. Add to this is a 4.7-star rating, which shows Delete Me has helped countless people delete unwanted information and prevent identity fraud.

Why Should You Use Delete Me for Privacy Protection
Guaranteed Removal of Personal Data Online
In today's online world where it's difficult to shield your personal information from prying eyes, Delete Me helps take the burden off your shoulders and offers guaranteed removal of your personal data from the top data broker websites. It not only removes your name, phone number, and email but also wipes off a variety of unwanted PII (Personally Identifiable Information), including photos, age, location, past address, social media, and more.

In short, this privacy protection service gives you control of your digital footprint, cutting down on spam calls, identity fraud, online abuse, and other risks.
Keeps Your Data Secure
With an entire focus on data security, Delete Me follows the best practices and demonstrated guidelines to safeguard your data entrusted to them. All the requests and removal processes are monitored by Delete Me, with no white-label partners to look into anything.
Massive Data Brokers Database
Building trust over the past 13 years, the privacy experts at Delete Me know how to find and remove your personal information that's being misused. Covering a massive list of 750+ data brokers, Delete Me offers a robust service to safeguard your online privacy and give you peace of mind that none of your data is compromised.
As the data broker industry expands, Delete Me also upgrades its offering to scan more websites. Moreover, new features are added on a regular basis to keep up with the customer's demands.
Automated Removal Every 3 Months
Delete Me doesn't follow a one-time removal approach. To make sure your record doesn't get repopulated after it was removed, Delete Me automatically scans and deletes your personal information collected by data brokers every three months when you choose a yearly subscription. So, you can just sit back and relax! Delete Me will help you take back control of your privacy.
User-friendly Interface
One of the biggest hits of Delete Me is the sleek, functional, and user-friendly interface that makes it easy to get around. You'll have all the information you need right in front of you, structured neatly on the Dashboard. If you want to edit your Delete Me account information or get your hands on any advanced features, you can explore the tabs on the left.
Custom Requests and Quick Response
Moreover, this privacy protection tool is custom-designed to accommodate everyone's needs. Delete Me serves individuals, families, and even organizations. Moreover, Delete Me understands that each individual perceives privacy differently. They value their customers and allow them to specify what information they want to get deleted. Once a request is submitted, the removal process starts right away, and the customer receives his first detailed report in 7 days.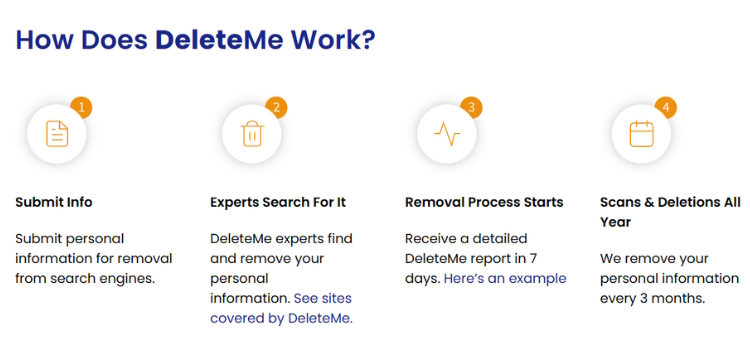 With quality results and utmost customer satisfaction at the center, there's chat, call, and email support to answer all your queries. The team has strong knowledge, skills, and experience to find and remove your private information from data brokers and listing websites.
How to Use Delete Me to Remove Your Online Data
Delete Me offers an intuitive and easy-breezy interface which makes it pretty easy to use this privacy protection tool.
1. First, you need to go to Delete Me and pick a subscription plan. You can choose to pay via a link or enter your name, billing address, and card details manually.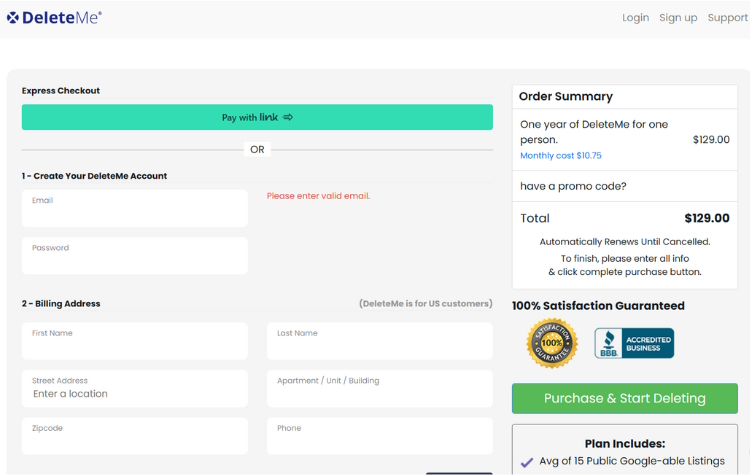 2. Once purchased, you will have to enter information about yourself. You might be asked to submit a scan of your government-issued ID. Don't worry, Delete Me's Privacy Policy clearly states that all your collected information is kept safe and secured.
3. Then, the professionals at Delete Me contact each data broker on your behalf to remove your information. You don't have to do anything manually. Delete Me removes your personal information from 750+ brokers.
4. After signing up and filling out the data form, it takes around a week to generate your first detailed report. It includes all the instances where your data has been found. You can easily access it with the neat Delete Me Dashboard.
5. You can head to the Delete Me Dashboard at any time to view a summary of listings reviewed, records removed, exposed data, and more.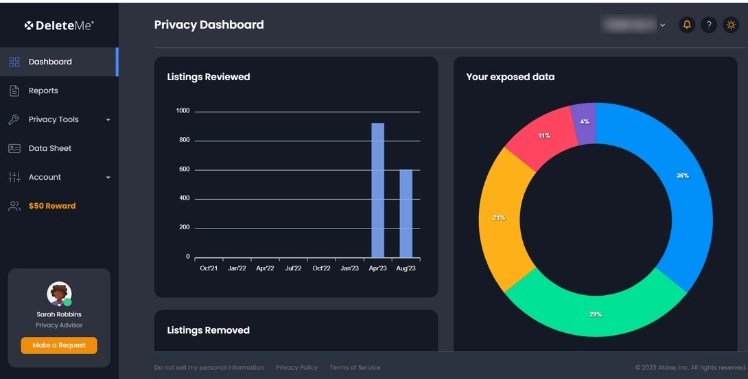 6. To ensure your online privacy, Delete Me will automatically scan and remove your personal information every three months.
Moreover, Delete Me offers a Free Scan to find out the data brokers that have your personal information. Once you see this report, you can decide if you wish to get a Delete Me subscription to remove this information. Here's how it works – Head to the Delete Me website and enter your first and last name. Here, click on the Get FREE report option. Delete Me will start the scan immediately. When prompted, enter your Email address to get the reports.
Delete Me: Plans and Pricing
Delete Me has divided its Protection Plans into four categories, namely Delete Me for 1 Person, Delete Me for 2 Person, Delete Me Family Plan, and Delete Me for Business to cater to the needs of an individual, family, and organization. Users can either pay annually or every two years.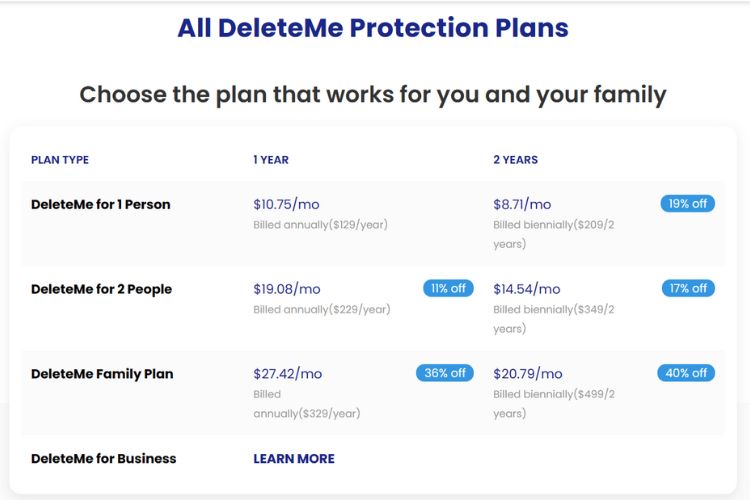 The Delete Me for 1 Person plan lets you remove yourself from all major data broker websites and costs only $10.75/month (billed at $129 per year). A user can also opt for the 2-year plan (billed as $209) and pay $8.71/month.
The Delete Me for 2 Person plan lets you cover another person and costs only $19.08/month (when billed at $229 annually) or $14.54 (when billed at $349 for the 2-year plan). The Family Plan costs $27.42/month when billed $329 per year or $20.79/month when billed $499 for every two years. To opt for the Business plan, you will have to contact Delete Me for a quote. So, are you ready to take control of your online data and privacy again? Visit Delete Me's website via the link right here!
---
Load More