Most of us use WhatsApp pretty avidly and even that is an understatement. The Facebook-owned instant messenger is undoubtedly the most used messaging app but that feat isn't making the company go lazy. WhatsApp has been adding new features every now and then, making sure that the competition doesn't get a chance to play catch up. Addition of new features every now and then mean there are plenty of new hidden features and tricks waiting to be unlocked. We have already listed a number of great WhatsApp tricks previously but if you are one of those people who want to be updated on the latest WhatsApp tricks, here are 8 cool new WhatsApp tricks for Android and iPhone:
1. Change font in messages
WhatsApp recently added the ability to send text messages in a different font known as FixedSys. The font is a pretty old one and was used back in the very first iteration of Windows in 1995. You can use the font in your WhatsApp chats to highlight a text. If you are not aware, WhatsApp does not show you how you can change fonts but don't worry, we have got your back.
To change the font of a message, all you need to do is add three ` (grave accent) characters at the start and end of the sentence or word.
iPhone owners can find the grave accent character by press holding on apostrophe, while the Android keyboard features it in the second page of symbols. On Windows and macOS, you will find the character just below the Esc key.
2. Use multiple WhatsApp accounts
We understand if you want to have different WhatsApp accounts for work and personal use but sadly WhatsApp only lets you use a single WhatsApp account natively. However, you can use a third party app dubbed Parallel Space on Android that lets you use two WhatsApp accounts  on a single device. After you have installed Parallel Space, you can just use the Clone apps feature to run two instances of WhatsApp. You can check out our detailed look on the app for more details.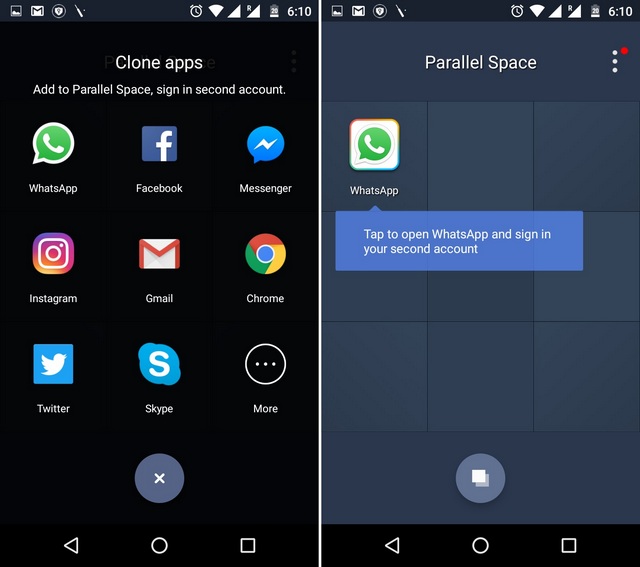 You can also use multiple WhatsApp accounts on your PC with the All-in-one Messenger Chrome app. The app also lets you use various different messengers in a single window. To know more, you should check out our detailed article on the Chrome app.
3. Read messages without sending read receipts (iPhone)
The read receipts feature is a boon for some while not so much for others. So, we won't blame you if you've always wanted to read messages without sending read receipts. On Android, you can see the messages by expanding them in the notification center but if you use an iPhone, we have a much better trick for you. When you receive a message on WhatsApp on your iPhone, you can simply use 3D Touch to get a preview of the message and this way you get to read the message while the sender does not get a read receipt. Pretty simple, right?
4. Embed a previous text in your reply
Chances are, you already know about this cool new WhatsApp feature but if you don't, we are here to help you out. WhatsApp now lets you embed a previous text in a reply. This should be especially handy in group chats, considering it can get a little confusing at times as to who someone is referring to. To use it, you can just press hold on the message you want to quote and hit the "Reply" option. Then, type in your reply and send it, after which you should see the quoted text with a reply.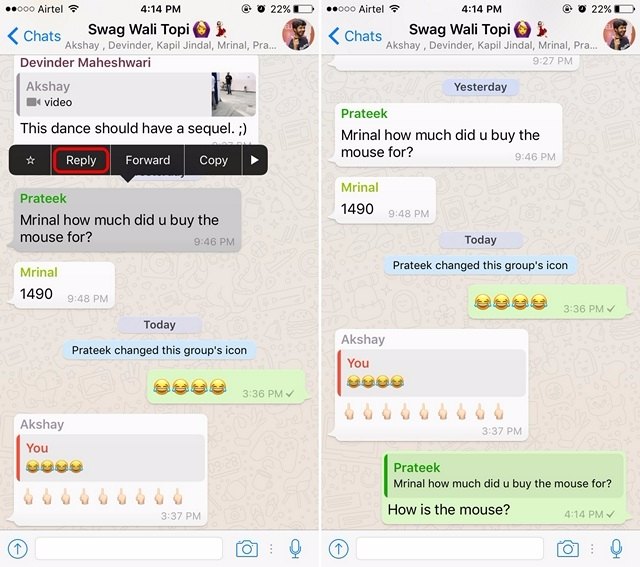 5. Block notification previews
Notification previews from WhatsApp on the lockscreen or notification center can be annoying, considering anyone who is using your phone can easily get a glimpse of your private messages. On an iPhone, you can easily stop notification previews by going to WhatsApp Settings->Notifications and turning off "Show Preview".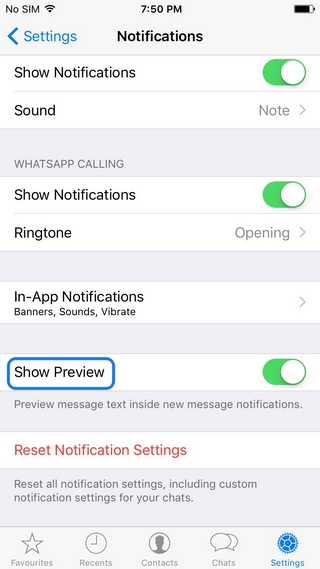 WhatsApp does not include the ability to hide previews on Android but you can use the OS' built-in notifications manager to hide WhatsApp's notifications. You can head over to Android Settings->Apps->WhatsApp->Notifications and select "Block All". Keep in mind though that this will result in no notifications from WhatsApp on your Android smartphone.
6. Share media to multiple contacts
In WhatsApp's current iteration, when you try and share something to the messenger from an external source, you can only send it to a single contact or group. Well, that's about to change, as the new WhatsApp beta lets you share media or any other content to multiple groups or contacts. All you need to do is, hit the share button anywhere and select WhatsApp. Then, you will be able to select multiple contacts or groups to share stuff. Since this feature is part of the beta, we can expect it to arrive on the stable WhatsApp version soon.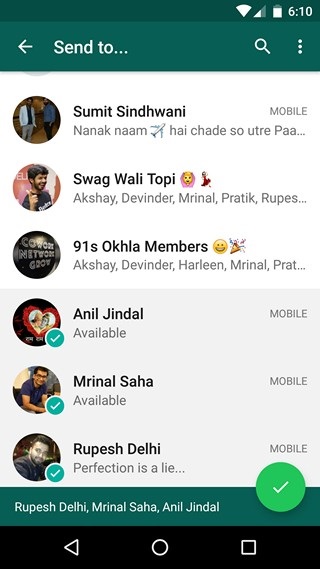 7. Find who you talk to most (iPhone)
If you have been wondering about who you talk to most on WhatsApp, well, iPhone users in luck. The WhatsApp app on the iPhone packs in a hidden option to let you know who you talk to most. Just head over to WhatsApp Settings->Account->Storage Use and you will see contacts with whom you share the most messages and media. Well, now you know who your best friend is!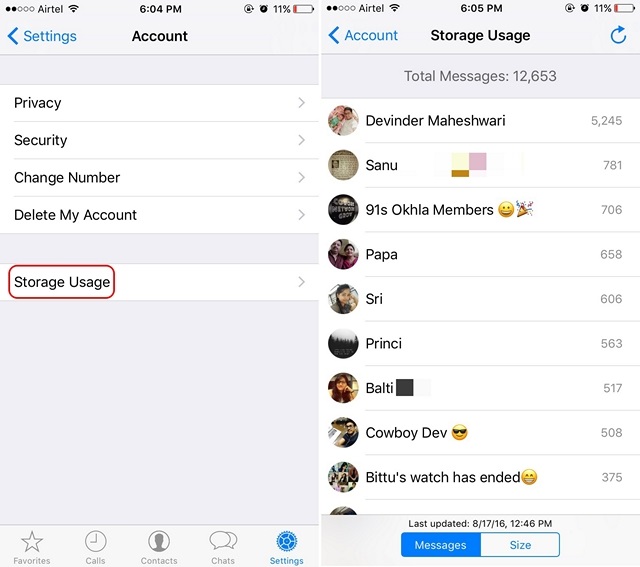 8. Format text
WhatsApp recently started letting you format text to bold, italics or add a strike through. Well, not entirely a trick or a hidden feature, this is something many people still don't know about.
Bold: Add a * at the start and end of a word or sentence.
Italics: Add an _ at the start and end of a word or sentence.
Strikethrough: Add a ~ at the start and end of a word or sentence you want to strike through.
9. Check who has read your message in a group
If you are part of a group on WhatsApp and you've just posted an important message, you'd want to check who has read your message after a period of time. Well, thankfully, WhatsApp lets you do that. On an iPhone, all you need to do is left swipe on the message. On Android, you can press hold on the message and then, tap on the "info" icon. Once done, you will see who has read your message along with details on when exactly they read it.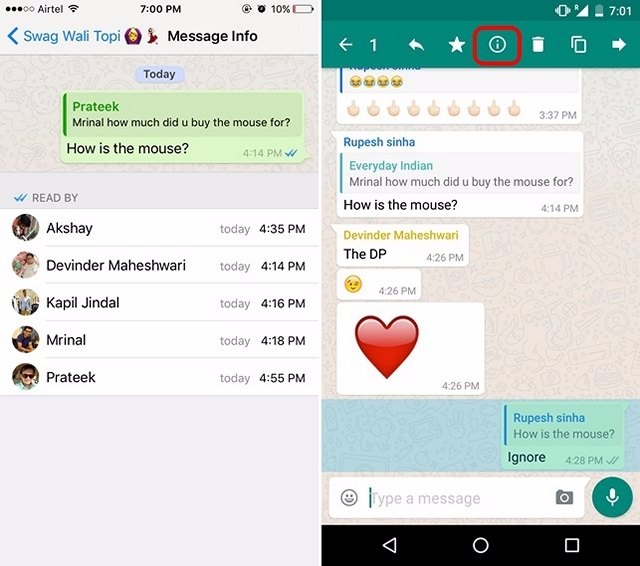 10. Unblock yourself from someone's account
This is something we would not recommend doing but if you really need to contact someone who has blocked you, there's a way to unblock yourself from their account. It's important to note that the steps to unblock will result in you losing all your account info including chats, backups, photos and anything else. If you are okay with that, here are the steps to unblock yourself:
First, head over to WhatsApp Settings->Account->Delete My Account and enter your mobile number and tap on "Delete My Account".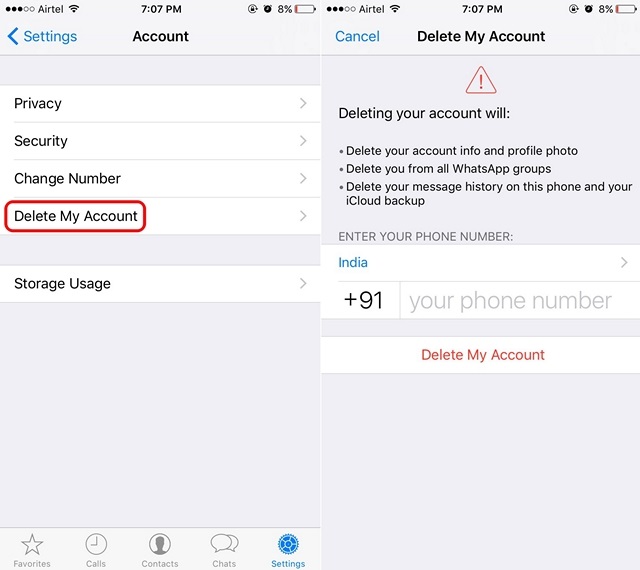 Then, uninstall WhatsApp from your device. Once done, restart your Android smartphone or iPhone.
When your device restarts, install WhatsApp afresh from App Store or Google Play Store, enter your details and start using WhatsApp. Your WhatsApp account will then be unblocked from all the accounts that have blocked you.
SEE ALSO: 6 Must Have Android Apps For WhatsApp Users
Like these new WhatsApp tricks?
Apart from these tricks, WhatsApp should be introducing GIF support soon, so keep an eye on that. Other than that, we are pretty sure that these are the best new WhatsApp tricks. So, tried them out yet? If yes, tell us how you found them. Also, let us know if you know of a cool WhatsApp trick we missed out on. Sound off in the comments section below.
---
Load More