WhatsApp is one of the most popular apps today and it's also arguably the best messaging app out there. The Facebook-owned company has also made sure to not take its domination lightly. There have been numerous updates to the app and it now includes a ton of new features like group video calls, sticker support, and more. While WhatsApp packs in some great functionality natively, there are a few Android apps that make it even better. Yes, you heard that right. We believe WhatsApp can be made even better when used with other third-party Android apps. These apps might offer different utilities but they fill in the voids one may find in WhatsApp. Without any further ado, these are 10 apps that make WhatsApp even better for you in 2020.
Must Have Android Apps for WhatsApp Users in 2020
1. Transcriber for WhatsApp
Transcriber for WhatsApp is one of those apps which I am sure everyone will benefit from. This app will come handy when you've received an audio message from someone, which you can't listen to because you're in, say, a crowded metro and don't have a pair of earphones. This app can transcribe the audio message for you and show the text version of the audio message.
Here's how easy it is to use Transcriber for WhatsApp app –
When you've received an audio message, you can simply tap and hold on that particular message and press the share button.
Now, simply tap on the Transcriber app icon to use it for transcribing the message.
The app will open as an overlay over the chat window to show the text version of the message. Pretty cool, right?

You can also open the app to see the chat history or play around with settings like language selection, interface opacity, and more. There's also an option to remove ads if can't stand seeing ads while using it.
Download Transcriber for WhatsApp (Free, in-app purchases)
2. AutoResponder for WA
You may have used a third-party app or software to setup auto-response for email clients. But have you ever tried one for WhatsApp? Well, if you are on the lookout for one, then the AutoResponder for WA is worth checking out. As the name suggests, AutoResponder for WA lets you set auto-response for messages from either a particular contact or for everyone. The free version of the app has some limitations, so you might want to splurge on the PRO version (around $5). The app has a little-to-no learning curve, so you should get going as soon as you install it.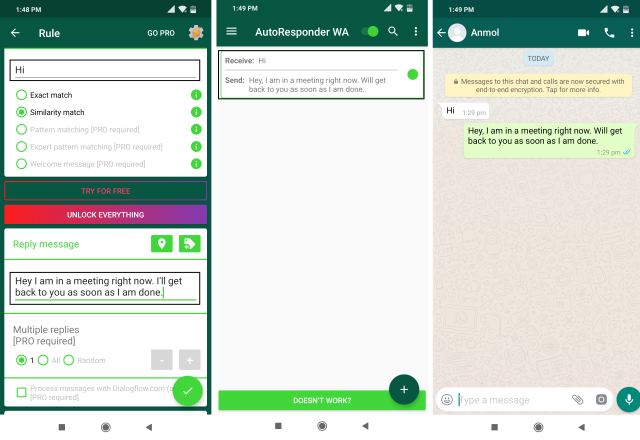 Download AutoResponder for WA (Free, $5)
3. WAMR
Does it happen that someone sends you a message on WhatsApp and deletes it immediately before you can see the message? Well, with WAMR, you can easily recover those deleted messages and without any loss. The app is basically a workaround and takes advantage of notification permission to store a copy of the message content the moment it arrives on your smartphone. In addition, WAMR can also recover deleted images and videos, but keep in mind, the media must be completely downloaded on your smartphone before it can make a copy. Apart from that, the app can also recover voice notes, GIFs, and stickers. All in all, WAMR is a really useful app for WhatsApp and you can use it to your advantage.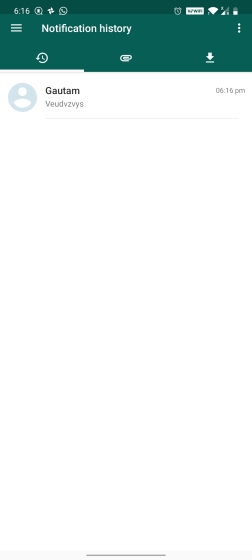 Download WAMR (Free, Offers in-app purchases)
4. SKEDit Scheduling App
SKEDit is a message scheduler for WhatsApp. With SKEDit, you can schedule a message on WhatsApp with a couple of simple steps. It's a pretty straightforward app with no hidden caveats. As soon as you install and open the app, you'll be shown a bunch of apps with which you can use the service. Simply choose WhatsApp, and connect your WhatsApp account. Once you do that, you'll be taken to the page in which you can schedule a message easily. SKEDit is available to download for free, so be sure to check it out. Plus, the app works completely automatically (unless you want it to ask you before sending a scheduled message) so you can just schedule messages and forget about it.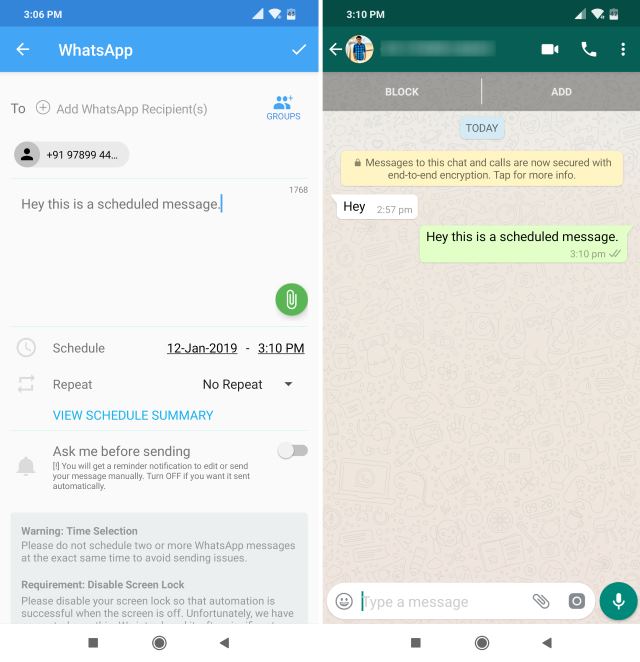 Download SKEDit Scheduling App (Free)
5. Sticker maker
A while back, WhatsApp introduced the ability to share stickers on Android and iOS. They are slowly taking over the messaging platform as an alternative to emojis. While WhatsApp gives you a 'small collection' of Sticker packs to start with, you can head to the Play Store to download an app called 'Sticker Maker' to create your very own stickers. We've already drafted an in-depth tutorial on "How to create your own stickers with Sticker Maker App", and you can read it right here.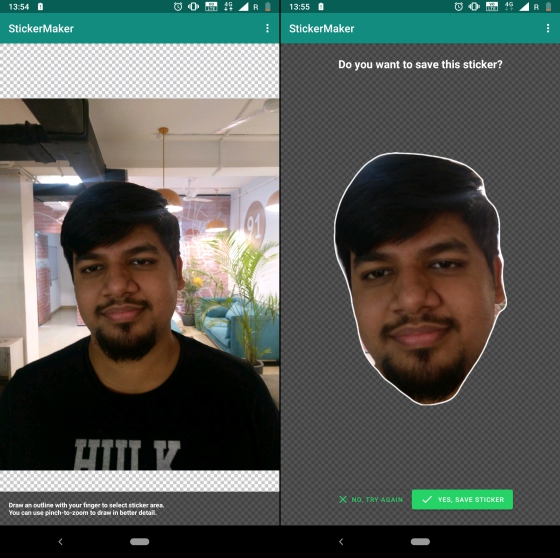 Download Sticker Maker (Free)
6. Notifly
Notify is an app that offers a more convenient way to receive notifications and reply to notifications than WhatsApp does. It opens up conversations in the form of bubbles or Facebook Messenger like chat heads and allows you to reply to messages without having to switch between apps. It offers a very simplistic design and allows the user to have a conversation without it getting in the way of anything else. Apart from WhatsApp it also supports Telegram, Line, Hangouts, Skype, VK, Tango, KakoTalk, Twitter, GroupMe, Threema, textPlus, Textra, ChompSMS, QKSMS, Facebook Messenger, Google Messenger, Plus Messenger, Gmail, and Inbox.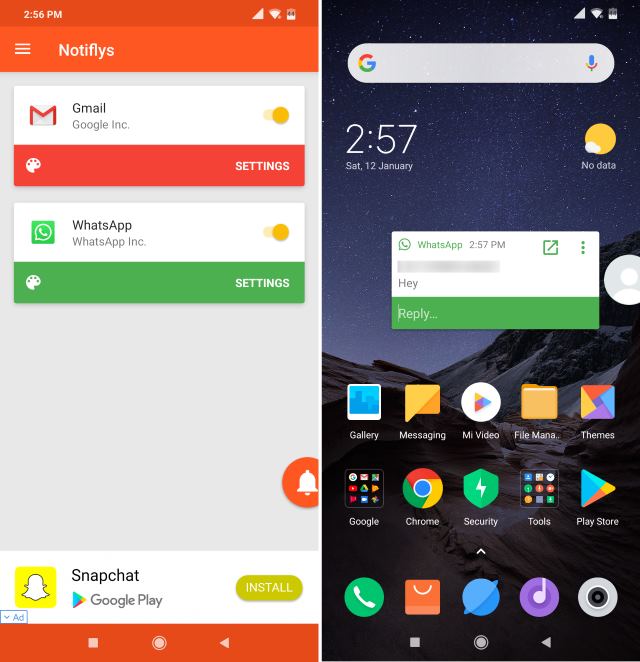 Download Notifly: (Free with in-app purchases)
7. CropShop
CropShop is an absolute must have app for everyone who is still waiting for the day WhatsApp allows non-square pics to be put as profile pictures. This may be one of the biggest shortcomings of WhatsApp, similar to how it was on Instagram before they came to their senses and started allowing images of any size to be shared.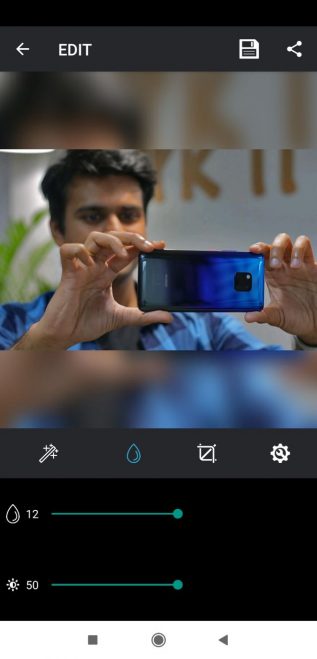 Well, till the time WhatsApp comes out with a solution for this, CropShop is our go to app to save the day. Using CropShop, you won't have to crop your favorite photos just so you can fit them as profile picture on WhatsApp, instead, you can use this app to edit it and add a blurred background which will give it a square shape. You can also make basic edits and add some fancy filters to your photos before sharing them. Use this app, so you won't have to chop your legs off the next time you want to make your selfie your DP.
Download CropShop: (Free)
8. Status Saver
WhatsApp Status has become what newsfeed is on Facebook. With this new feature, WhatsApp is no longer just an instant messaging app, but a social media platform where users share all kinds of images and videos to express themselves. Sometimes, friends and family share something interesting and you want to save it, but sadly WhatsApp does not offer a native download option. In that case, you can use a dedicated app called Status Saver which allows you to download video status from WhatsApp without doing anything. Just view the status on WhatsApp and the media file will be automatically downloaded in Status Saver.
You can also download Status images in original quality instead of taking a screenshot. What's more, with this app, you can get notifications when your contacts publish a status. So to sum up, if you want to download WhatsApp status in high quality then go ahead and install Status Saver.
Download Status Saver (Free, Offers in-app purchases)
9. Files by Google
We all get morning greetings on WhatsApp in the form of images and videos from our family and relatives, every single day. At times, there are friends who keep sending you dank memes despite your indifference to the popular meme culture. While the media files are not a huge problem on the surface, but if you don't have higher storage on your smartphone then you may quickly run out of space. And to clear space, you need to carefully select and delete photos and videos from multiple contacts which is simply a tiring exercise. But worry not.
You can use the Files app by Google which uses advanced algorithms to detect junk media files from WhatsApp. In my testing, the detection has been excellent and it picks up all the low-quality images and videos. Further, you can delete the files in one tap to clear space on your smartphone. So to put it straight, if you want to remove junk media from WhatsApp without fail, use Files by Google app.
Download Files by Google (Free)
10. App Lock
If WhatsApp is your primary messaging app, then you might want to protect it to prevent someone from taking a peek your conversations. Password-protecting the app is one of the best to ensure that your chats are kept private. There are a ton of apps on the Google Play Store to lock your apps, but App Lock is one of the most popular ones, and it works like a charm.
As soon as you open the app, you'll be asked to set up a Password or Pattern. You can also choose to use your Fingerprint for authentication provided that your phone has a fingerprint scanner.
Once done, you can just look for WhatsApp in the list and tap on the lock button next to it, to set up App Lock for WhatsApp.
That's it, WhatsApp will now be protected by an app lock so no one will be able to read your WhatsApp messages unless you unlock the app first.
Download App Lock (Free)
Note: WhatsApp has introduced its own app-locking feature. However, that uses the unlock mechanics on your phone. This app allows you to set a separate password for WhatsApp making it more secure.
Get the Most Out of WhatsApp Using These Apps
That wraps it up, these are the top 10 must-have Android apps for every WhatsApp user. Providing added security, scheduling messages, setting up an auto-reply, bubble replies, new stickers, un-cropped profile pictures; whatever you may have found missing on WhatsApp, can now be done using these apps. Moreover, these apps should also enhance messaging apps other than WhatsApp. So, try them out and let us know how you like these apps in the comments section below.
---
Load More