In the past, job aspirants had to learn LaTeX to craft the perfect resume; some still do, but building a resume is no longer a tedious task. A number of simple-to-use online resume builders have now cropped up, but is there a tool that makes the task even effortless? This is where I would recommend using Resume Trick, an AI-powered online resume and CV build that gets the job done in a matter of minutes. It offers several resume templates that let you quickly feed information and generate your CV. Moreover, Resume Trick is free to use with no paid premium plans. So, if you are intrigued, let's learn more about Resume Trick in this detailed explainer.
Easy to Use Resume Builder UI
Resume Trick is one of the best services to build a personalized resume and cover letter in no time. It has a straightforward website which can be accessed from any device. You just need to sign up and start building your resume. Resume Trick offers over 20 ATS-compliant (Applicant Tracking System) resume templates that you can select and customize to make a tailored and professional resume.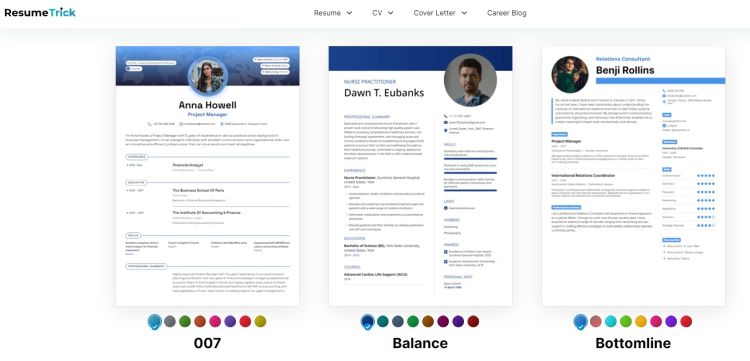 The best part about Resume Trick is its no-frills resume builder interface. You add your personal information using pre-defined fields on the left and insert a professional summary as well. Apart from that, you can mention your experience, education details, skills and expertise, links to your portfolio, and more. In case you want to add a custom section to make your resume even more personalized, you can do so easily. Finally, you can change the background, and add your photo, hobbies, awards, internships, etc.
Overall, in terms of ease of use, Resume Trick is one of the best AI-powered resume builders I have used so far. Anyone can build a resume or cover letter without having any expertise in document formatting or word processing.
AI-Powered Resume Builder
What's unique about Resume Trick is that its resume builder is completely AI-powered. If you want to write about your professional achievements and relevant skills by yourself, you can do that. But isn't that too 2022?
In 2023, everyone's turning towards AI to help with copywriting and drafting the perfect pitches. So, why not use AI to perk up your skills and experience in your resume too? So, for every descriptive field, Resume Trick offers an "Add AI-generated text" button that quickly generates text depending on your job role, skills, and experience.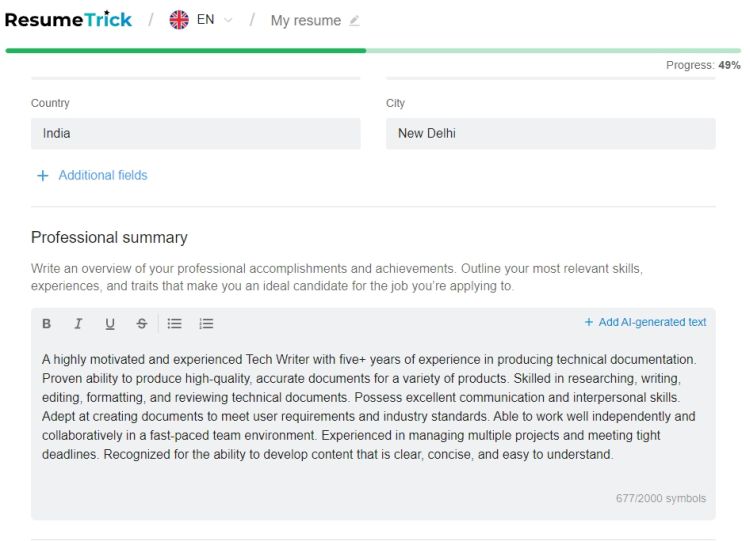 You simply need to add basic details like your job title, name, email address, phone number, city, etc., and then you can start generating descriptions using AI. You can generate a customized professional summary and experience with AI. This makes creating resumes and cover letters a task that can be completed in a few minutes.
In my testing, I made a professional resume within just 10 minutes with the help of AI on Resume Trick. That's quite remarkable, right?
100% Free Resume Builder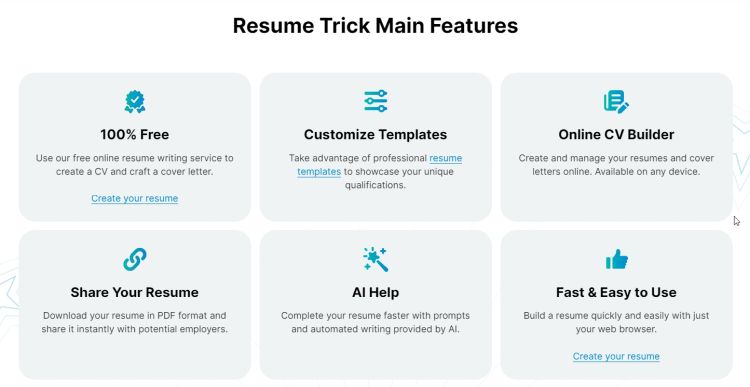 You might find it surprising, but Resume Trick is 100% free. No hidden charges or any dark patterns throughout the interface. You can even start building your resume without creating an account. Just to download the resume, you need to sign up for an account. You can even use AI services in Resume Trick without paying any fee. Simply put, Resume Trick is an entirely free service and you don't have to add any credit card or subscribe to premium plans to download your resume.
Many Customizable Templates
While you can choose a template and start building your resume on Resume Trick, it lets you customize the template with various options. If you feel certain sections are not needed, you can delete them in one click. And if you want to add a custom section to your portfolio or body of work, you can do that as well. On the other hand, the text editor in description fields lets you format texts with simple controls.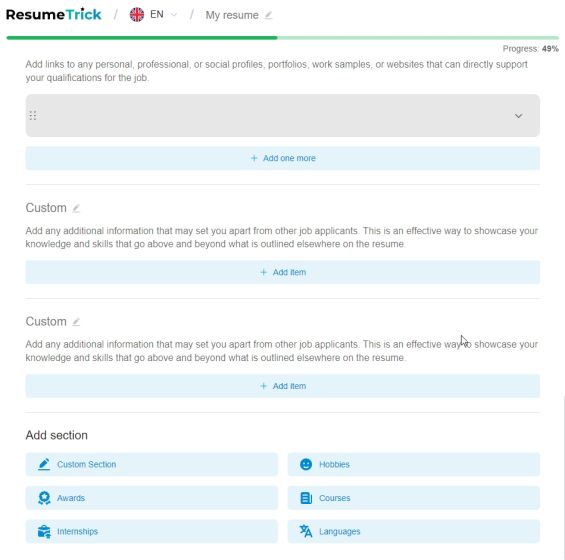 Moreover, what I loved about Resume Trick is that once you feed all your information and create a resume using a chosen template, you can swiftly move to a new template and preview it without any extra work. Add your information once, and download your resume in multiple templates and designs, absolutely for free. That's quite useful and effortless.
Check out Some Resume Examples
I created a professional resume for myself using AI and a custom template and did so without worrying about formatting, text descriptions, or anything. The website is quite easy to navigate and all the options are clearly labeled for anyone to understand. Here are some of the resumes I built for myself in various template designs:
Resume Trick includes a library of sleek and professional templates and comes with AI-powered text generation capability. In addition, the service is free to use and supports multiple languages including English, Deutsch, Italiano, Francais, Espanol, Portugues, and more. Not to mention, the website is straightforward to use. So if you want to build your resume online, go ahead and check our Resume Trick.
Check out Resume Trick (Free)