Apple's Macbook laptops are a lovely piece of hardware and they are beautiful with the glowing Apple logo on the back adding much character to it. But things can get monotonous after a while and as with every other Apple device, Macbooks too have the option of lots of customization options like skins, stickers & decals. Stickers and decals bring a personal touch to one's Macbook and you can choose to go with a minimalistic or an extravagant one.
With so many great stickers and decals at our disposal, things can get a little confusing while choosing the perfect decal or sticker for your beloved Macbook. Well, as always, we are here to help! We explored all the corners of the internet to find you the best Macbook stickers and decals available. Check them out and you can send us a thank you note later.
50 Best Macbook Stickers and Decals
Creative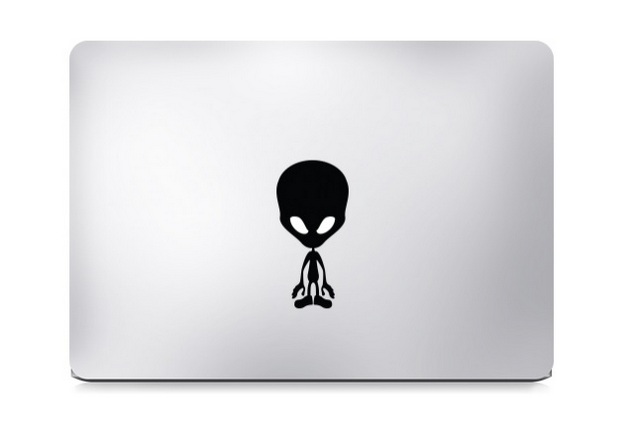 The alien decal takes over the Apple logo on your Macbook and uses it uniquely, which makes it look pretty cool. The stickers uses the glowing Apple logo in a cool unique way, which looks like Alien's glowing eyes. Use it if you like things minimalistic & creative and it's available in a variety of colors but we like it Black.
Buy: ($9.99)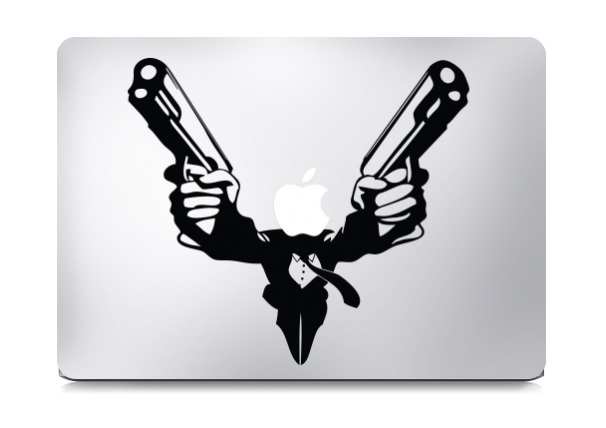 Your Macbook's Apple logo will become a badass with this decal, as it goes all guns blazing. This surely adds some firepower to your otherwise sweet looking Macbook.
Buy: ($12.99)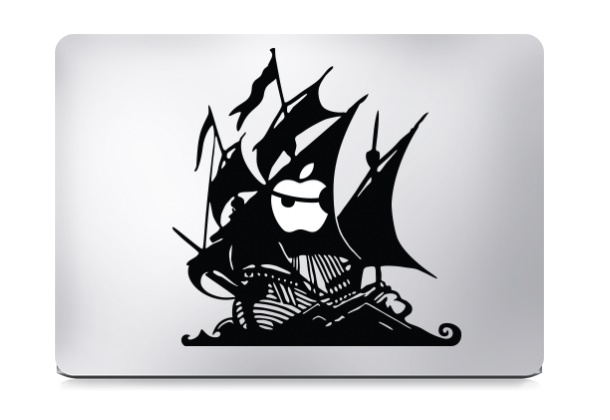 We have all been led to believe that pirates are cool, thanks to our very own Captain Jack Sparrow. Well, you can now have your very own Pirate Ship taking over your Macbook. The Apple logo on the back gets into Pirate mode with this sticker, thanks to the badass eyepatch.
Buy: ($12.99)
The Apple Evolution decal shows where the apple in the Apple logo might be turning into next. The evolution of the Apple does make up for a pretty cool appearance.
Buy: ($4.99)
Tree with birds always look scenic and that's the case with this Macbook sticker. Along with the Apple logo, the tree and birds give you a very serene look, which looks beautiful on Macbook's aluminium body.
Buy: ($3.99)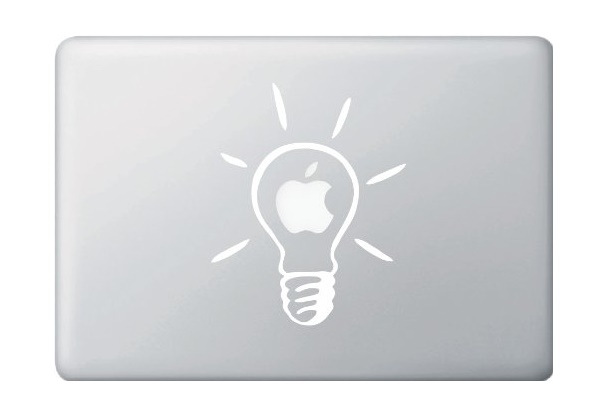 The cool Macbook sticker creates a lightbulb with an idea tinge to it around the glowing Apple logo. The glowing Apple logo surely adds to the lightbulb and idea effect. Like most other decals on this list, it's available in various other colors.
Buy: ($4.99)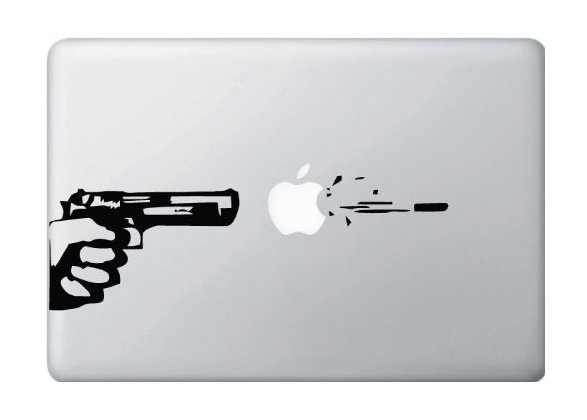 The missing piece from the apple in Apple logo is a mystery for many people and this cool decal might help you add a cool touch to it. The Gun and Bullet decal gives an effect of a gun shooting a bullet in the apple, which is the reason a piece of it falls off. It all looks very cool indeed.
Buy: ($4.99)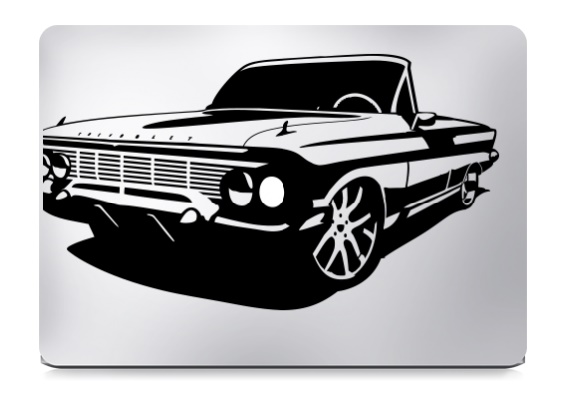 We all love vintage cars and having one of them on your Macbook should be pretty amazing. The classic car looks lovely on the Macbook and it uses the glowing Apple logo to light up its headlights.
Buy: ($14.99)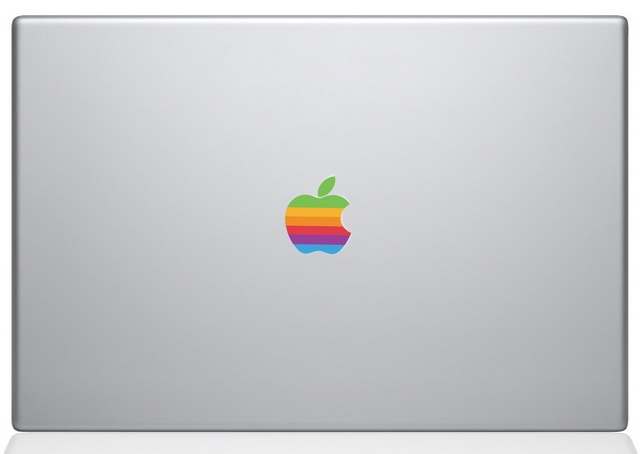 The new Apple logo is the norm now but the old classic logo was loved for its cool colors. If you are still a fan of the old Apple logo, you can get the Retro Apple logo sticker, which replaces your Macbook's Apple logo with the classic Apple logo.
Buy: ($12.99)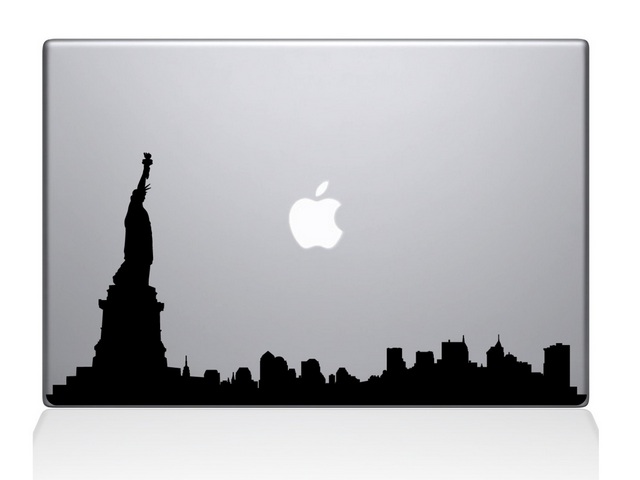 New York City is loved by many, thanks to its cool skyline & infrastructure and this cool decal brings the city's skyline to your Macbook. The decal includes statue of liberty along with the other buildings, which surely gives it a New York feel. So, if you are a New York lover, give it a try!
Buy: ($12.99)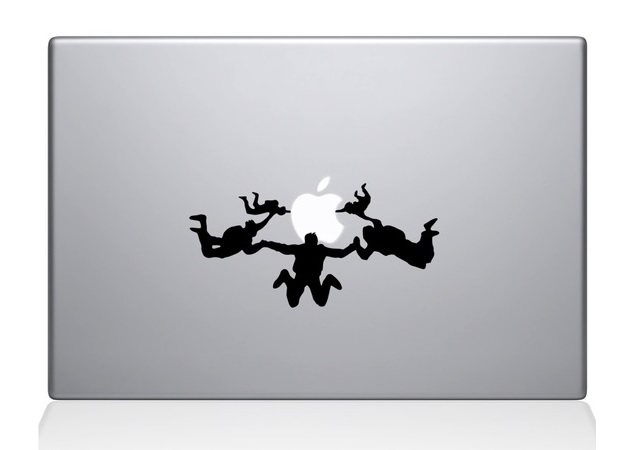 If you are an adrenaline junkie, who loves sky diving or wants to do it soon, you should try the Sky Divers sticker for your Macbook. It includes a group of Sky divers and having them around the Apple logo surely makes it look cool. It's available in a number of colors if you want to add some color to your Macbook.
Buy: ($12.99)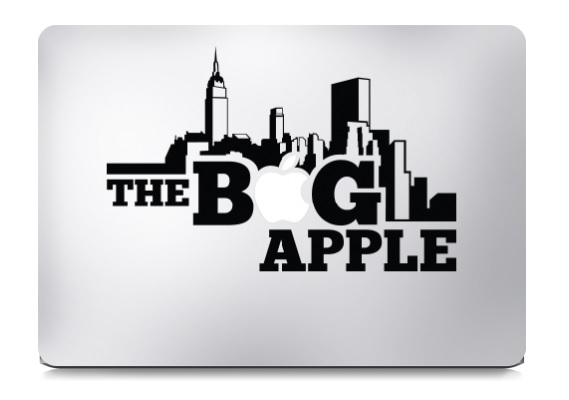 The Big Apple aka New York City's skyline looks amazing and now, you can have it on your Macbook. The Big Apple decal for Macbook brings the cool looking skyline with the text "The Big Apple", with the Apple logo working as the "i" in "Big".
Buy: ($12.99)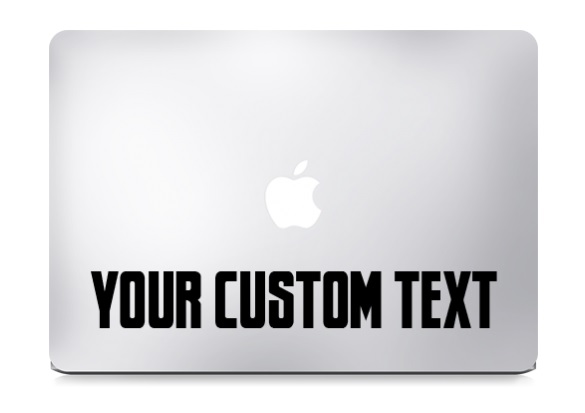 This Custom Text decal for Macbook lets you add custom text (3 words) in different font styles. The custom text sticker can be placed below or above the Apple logo. So, you can personalize your Apple Macbook with your own words.
Buy: ($12.99)
Comic Books: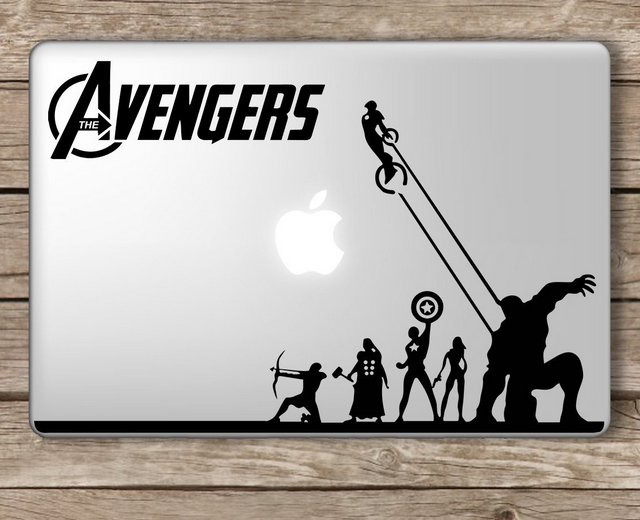 The Avengers have now assembled twice to save the world and they won't be assembling anytime soon but you can see your favourite Marvel heroes everyday, thanks to the cool Avengers Macbook decal. The Avengers sticker features all of the superheroes from the first Avenger movie, that is Iron Man, Captain America, Thor, Hulk, Black Widow and Hawkeye. So, get the Avengers sticker and feel like a superhero everyday.
Buy: ($14)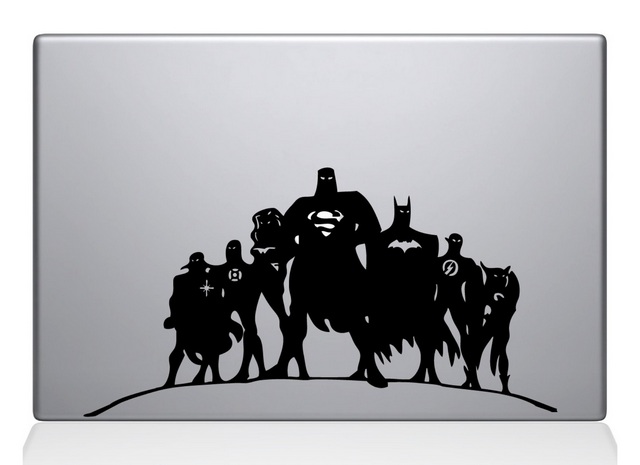 If you are more of a DC fan, you can go for the other superhero team as your Macbook sticker, that is Justice League. You are going to see all of them in a movie soon, so you can get this cool decal and be ahead of the curve.
Buy: ($12.99)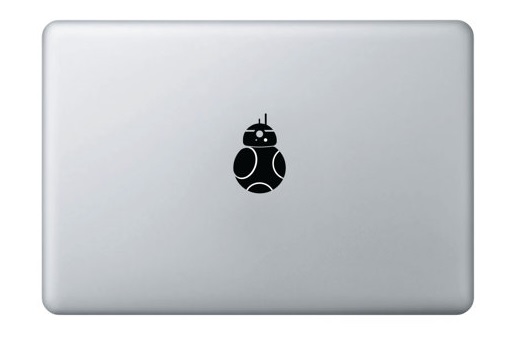 We have mentioned about the cool Darth Vader Macbook decal below and here we have a cute little BB-8 inspired Macbook sticker. The sticker uses Apple's glowing logo to full effect with the light coming out making it look even better. Fans of Star Wars, check it out.
Buy: ($11.11)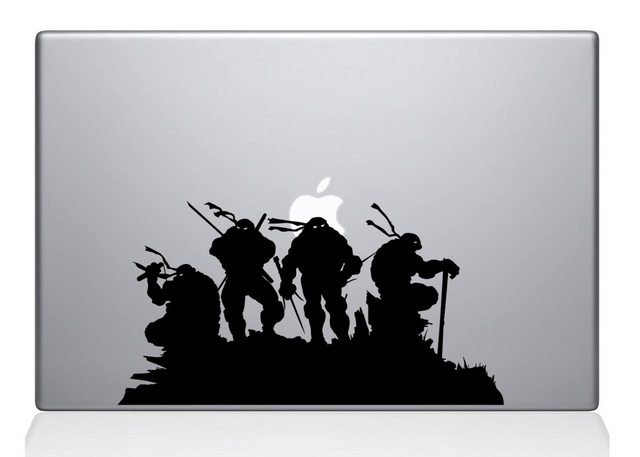 The warrior turtles might not have got a great big screen debut but they are still amazing and a fan favourite. This cool Ninja Turtle Macbook sticker features all the four mutant Ninja Turtles standing on a knoll, all ready to fight. They are also available in a lot of colors if you want to add more colors to your Macbook.
Buy: ($12.99)
This funky little Transformers Macbook sticker replaces your Apple logo with a Transformers logo and if you are a fan of the autobots, you should not be complaining at all.
Buy: ($3.99)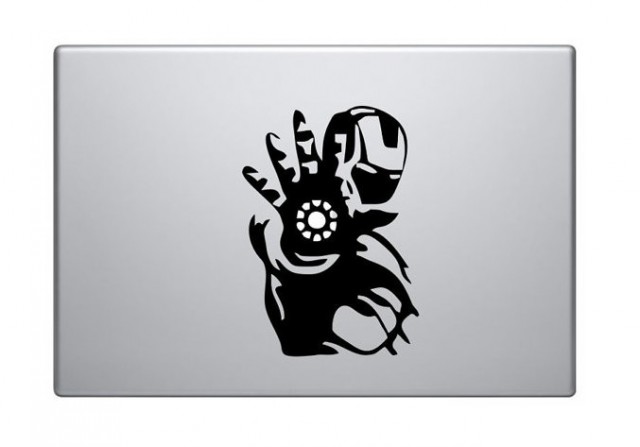 Iron Man is the perfect contender for a Macbook sticker, considering the superhero's glowing arc reactor featuring suit. Well, this Iron Man sticker looks great because it uses the Apple glowing logo, as Iron Man's arc reactor weapon that he blows through his hands. Overall, this is indeed my favourite superhero Macbook sticker.
Buy: ($8.34)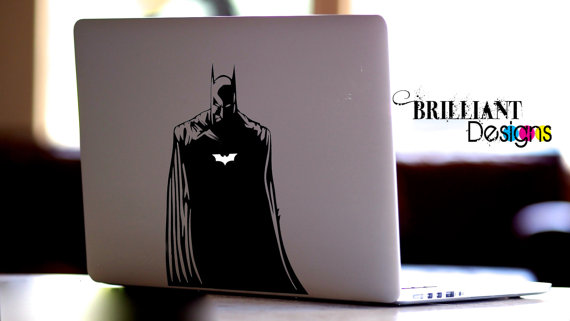 The Dark Knight looks amazing on the back of a Macbook. The elegant Macbook sticker features Batman in all his brooding glory and it uses Apple's glowing logo to light up Batman's logo in his chest. The caped crusader is arguably the most loved superhero and this Macbook decal does full justice to our knight.
Buy: ($8.69)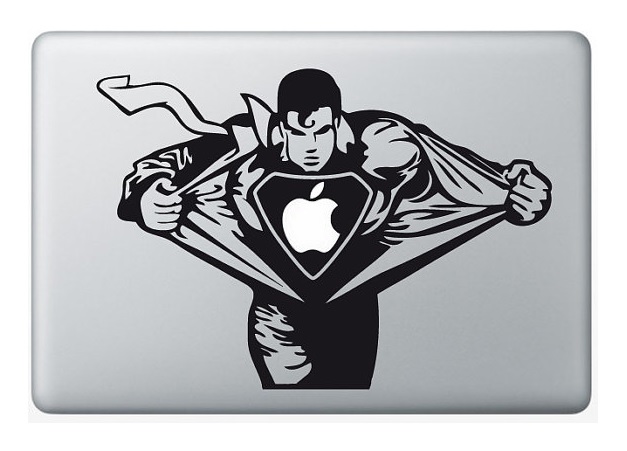 The Man of Steel is no slouch when it comes to popularity among the comic book fans and there are a ton of great Macbook stickers with Superman as the center of attraction. We quite liked this one, where the Apple glowing logo is used as Superman's chest symbol instead of the "S".
Buy: ($9.08)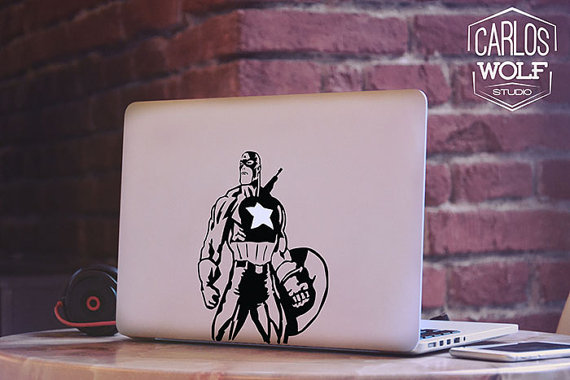 Captain America fans too have a lot of choices when it comes to Macbook stickers but we quite like this decal. It shows the comic book Captain America and the Apple logo has been modified to light up as Captain America's star logo. There's another cool Macbook sticker, which only features Captain's shield instead of the Apple logo.
Buy: ($23.35)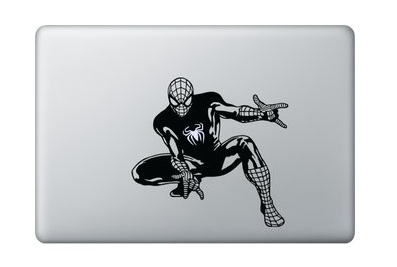 Our lovable web slinger doesn't really have a great Macbook sticker but Spiderman fans will grab it nonetheless. The Macbook sticker shows Spiderman in his usual web slinging posture, so if you are a Spiderman fan, go grab this sticker for your Macbook.
Buy: ($9.99)
Movies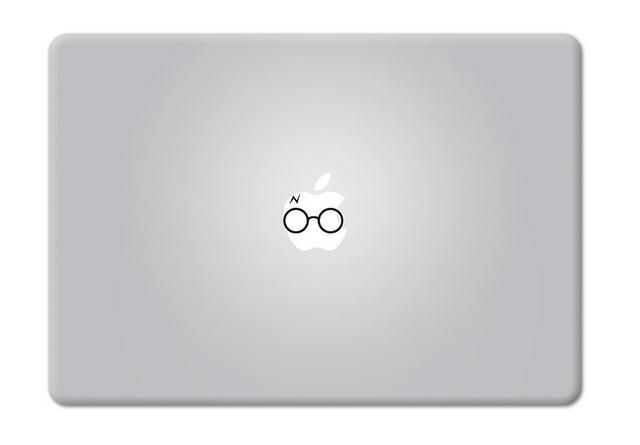 Harry Potter is a loved movie franchise & character and there are people who are die hard fans of it. Well, if you are a Harry Potter fan, you can get this cool Macbook decal, which adds glasses and the forehead mark of Harry Potter to your Apple logo. You can also try this Harry Potter decal, which has the wizard using his wand on the Apple logo.
Buy: ($3.99)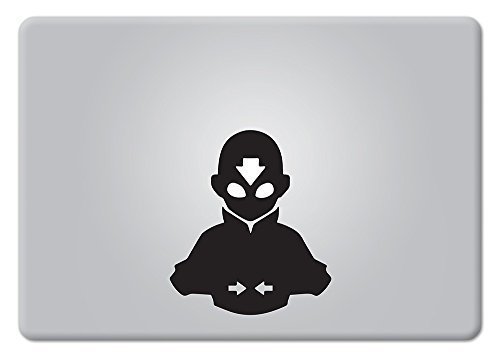 You can have Aang in the Avatar state on your Macbook, thanks to this cool decal inspired from The Last Airbender. The decal uses the Apple glowing logo to show off Aang's eyes and symbol in light, which looks very cool.
Buy: ($7.87)
This is the perfect time to get a Star Wars Darth Vader Macbook decal, considering the new Star Wars movie after a decade is just around the corner. This cool decal shows Darth Vader holding the Apple logo in his hand. Get this decal to give your Macbook a darker personality.
Buy: ($23.31)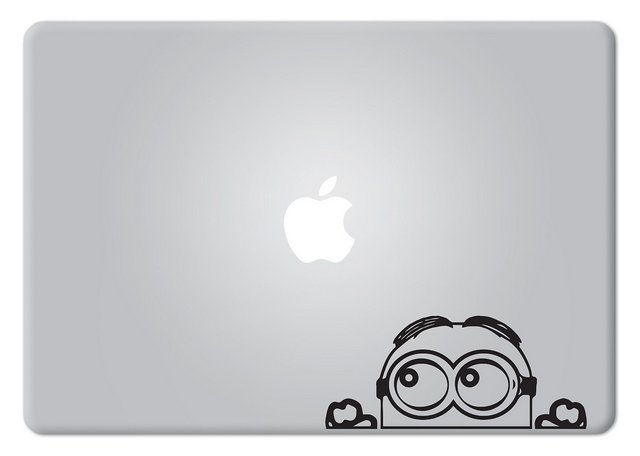 Who doesn't love the minions and the villains inside us wants to hire them. Well, you cannot hire them but you can at least add a minion to your Macbook through this decal. This decal shows a minion peeking from your Macbook. There's one more Minion decal, which shows a stunned and confused minion. They all look cute no matter what.
Buy: ($6.99)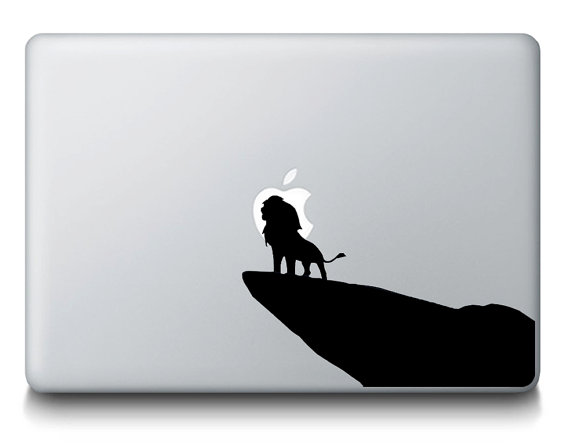 The Lion on Rock decal isn't necessarily a Lion King Macbook decal but it looks almost the same. The decal shows the Lion standing on a cliff with proud, which certainly resembles a scene from The Lion King, plus it looks great with the Apple logo in the background.
Buy: ($8.33)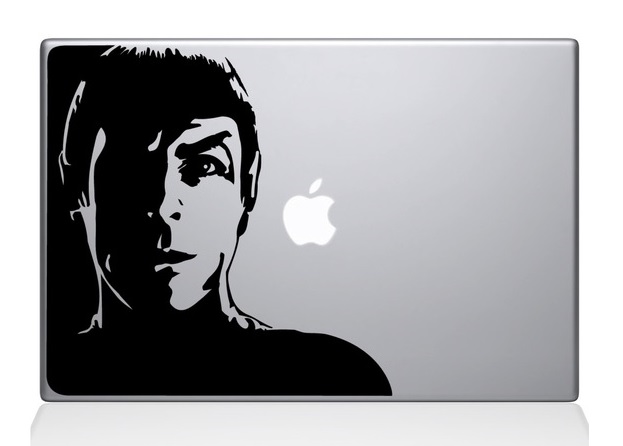 Spock is one of our favourite characters from Star Trek and if you are a fan of Spock, this Macbook decal featuring Spock should interest you.
Buy: ($12.99)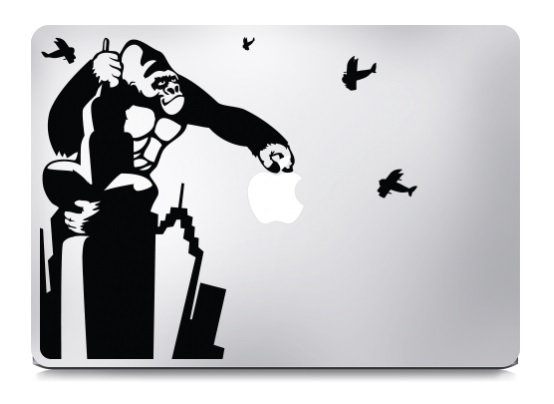 This Gorilla Macbook decal clearly resembles King Kong with the massive Gorilla on top of a building holding the Apple logo in his hand. Get this Macbook decal if you love King Kong.
Buy: ($12.99)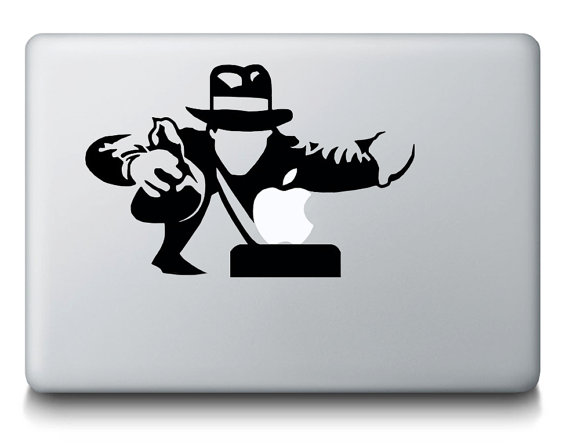 Indiana Jones fans should love this Macbook decal, which shows their favourite titular character in action.
Buy: ($11.10)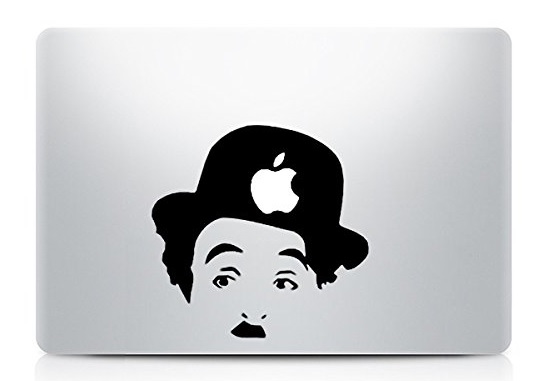 Charlie Chaplin is a very popular character and we are still a huge fan of his work even after all these years. So, if you want to add a little Chaplin character to your Macbook, you can use this decal. There's also one more Charlie Chaplin decal, which shows him standing in his usual trademark way.
Buy: ($6)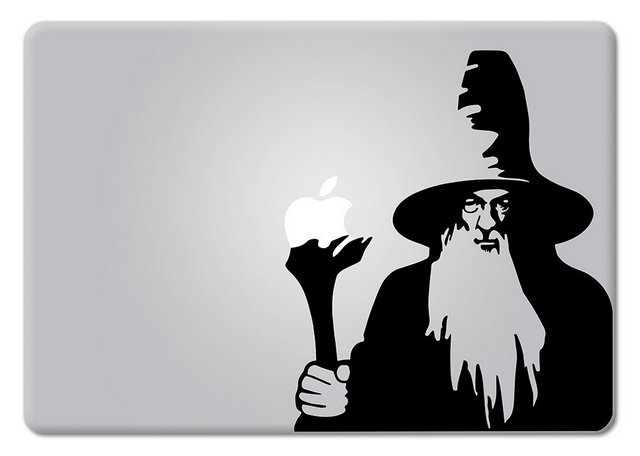 Are you a Lord of the Rings fan? If yes, you can try this Gandalf Macbook decal, so that any wanted programs do not pass your Macbook, if you know what I mean.
Buy: ($7.99)
Training a Dragon can be a pretty tricky task but not if you have Hiccup and Toothless with you all the time. Well, this Macbook decal brings both of your favourite characters from How to train your Dragon.
Buy: ($8.99)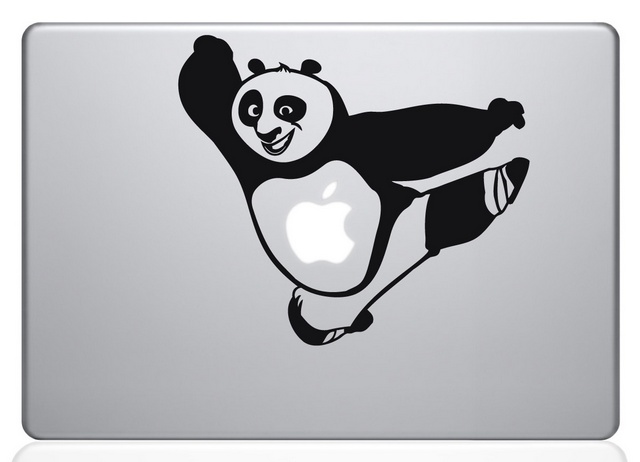 Po, the Kung Fu Panda is the cutest Kung Fu action star ever and you can add him to your Macbook through this cool decal. The Kung Fu Panda Macbook decal has Po in all his Kung Fu glory.
Buy: ($13.99)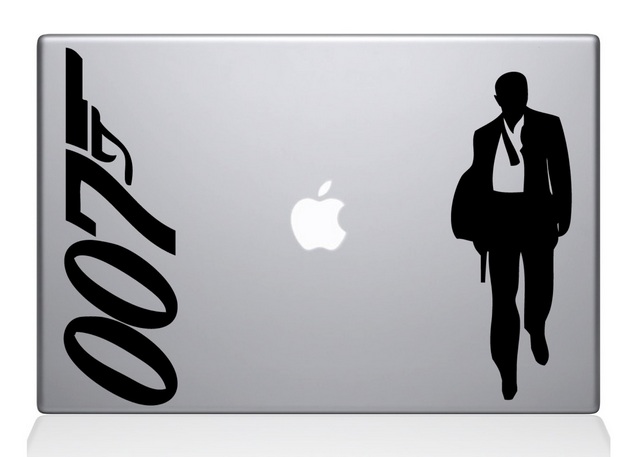 This cool 007 Macbook decal should help you bring some of James Bond's suave characteristics to your Macbook. Everyone wants to be a spy and this decal might at least bring a little espionage in your life.
Buy: ($12.99)
TV Shows/Cartoon:
While Breaking Bad has been over for quite some time now, Heisenberg and his dialogues still have a place in our heart. This cool little minimalistic Heisenberg decal lets you bring a little Breaking Bad touch to your life.
Buy: ($4.97)
"Winter is coming and we know what's coming with it". While the next season of Game of Thrones is still some time away, you can keep sanity through this cool Macbook decal that shows our very own Dany/Khaleesi with her dragon kids. There's one more cool Macbook decal that emphasises on the GOT Winter with a picture of one of the Stark wolves.
Buy: ($5.99)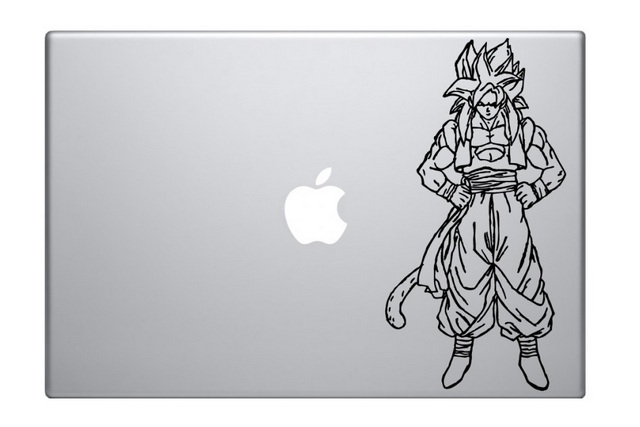 You can have your favourite Anime character on your Macbook now. The Goku decal adds a cool Goku picture to your Macbook.
Buy: ($14)
If you are a Simpson fan, you can add this cool Homer Simpson Macbook decal or just say "D'oh" and move on.
Buy: ($12.99)
There's a nerd inside each of us and The Big Bang Theory totally brings that out. Well, you can use this cool Big Bang Theory decal on your Macbook to show the world that you are not scared of the nerd inside you.
Buy: ($12.99)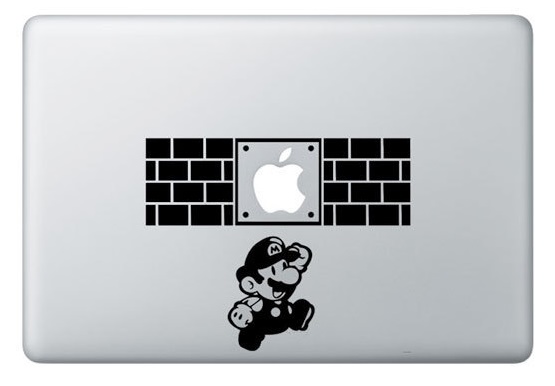 Super Mario is one popular game we have all played and if you are a huge fan of the main protagonist, that is Super Mario, you can get his very cool decal on your Macbook. The Super Mario decal shows him in action inside the game with game elements like floating bricks.
Buy: ($7.29)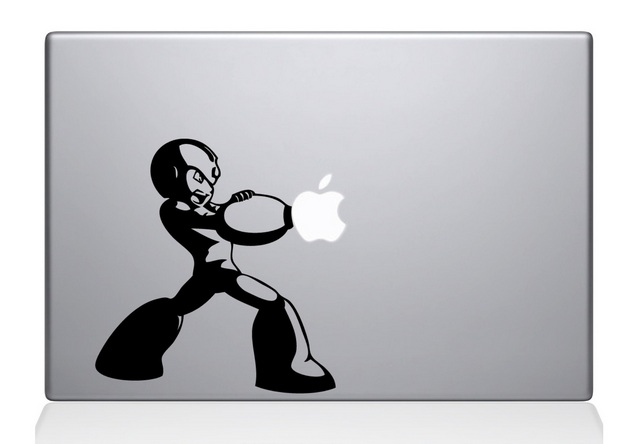 MegaMan is another popular game we have loved all these years and the decal is so cool, it does justice to the game. The decal shows MegaMan's gun blasting the Apple logo from it, which looks super cool.
Buy: ($12.99)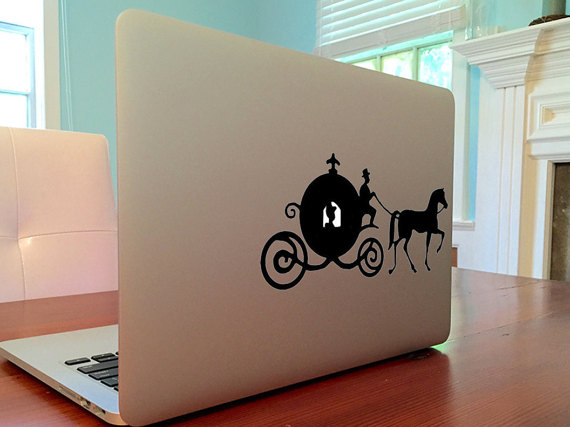 While the Cinderella Macbook decal might not cater to everyone, we all have to agree that her carriage is beautiful indeed. Well, the decal shows the carriage with a horse in a very simplistic way making it look beautiful.
Buy: ($11.10)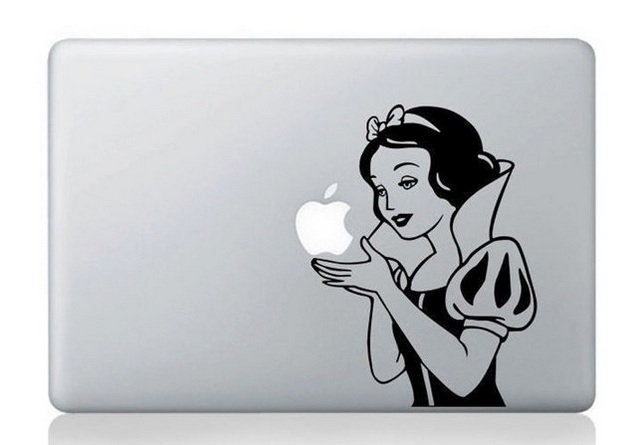 Fans of Snow White can get this sweet little Snow White inspired Macbook decal, which shows her holding the Apple logo in her hand.
Buy: ($6.94)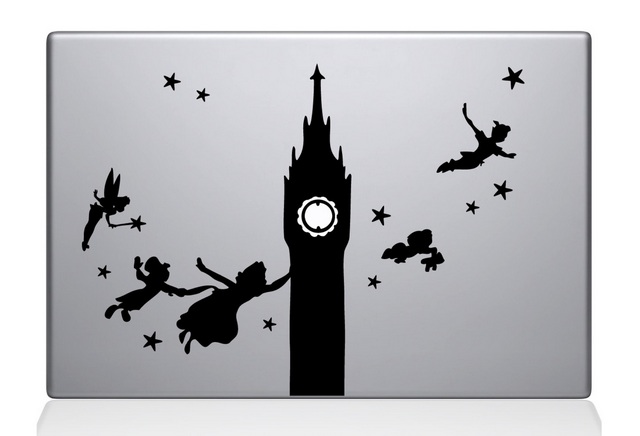 Peter Pan is one of our favourite stories from our childhood and anyone wanting to relive their childhood days can get this great looking Peter Pan Macbook decal. The decal shows all the characters flying across the stars and it looks beautiful. Peter Pan or not, the decal is beautiful.
Buy: ($12.99)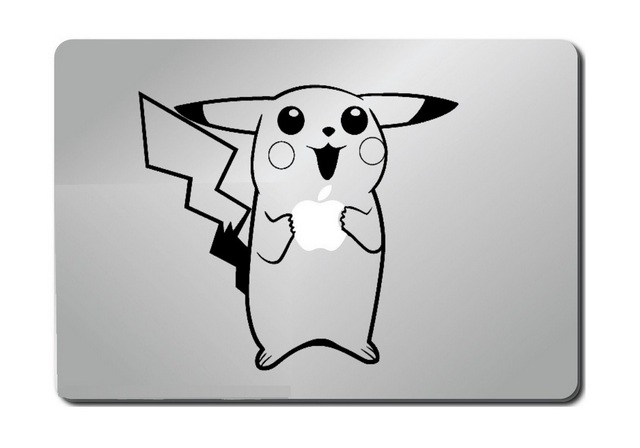 We all loved Pokemon and especially our favourite Pokemon, Pikachu. Pokemon might not be as popular these days but Pikachu remains lovable as ever. The Pokemon Macbook decal shows Pikachu holding the Apple logo in his hand with a very adorable expression that should melt anyone's heart.
Buy: ($4.99)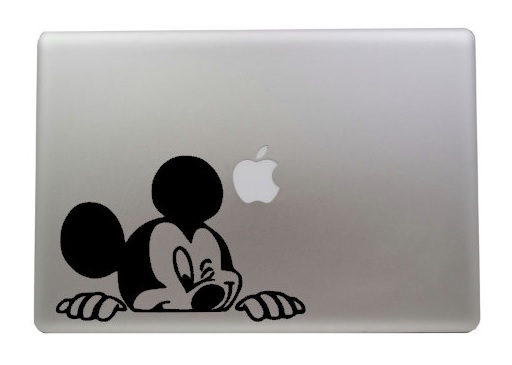 Mickey Mouse remains an evergreen character and if you want it to be a part of your life somehow, you can get the Mickey Mouse Macbook decal. The sticker features Mickey Mouse peeking and winking, which looks cute.
Buy: ($7.99)
Christmas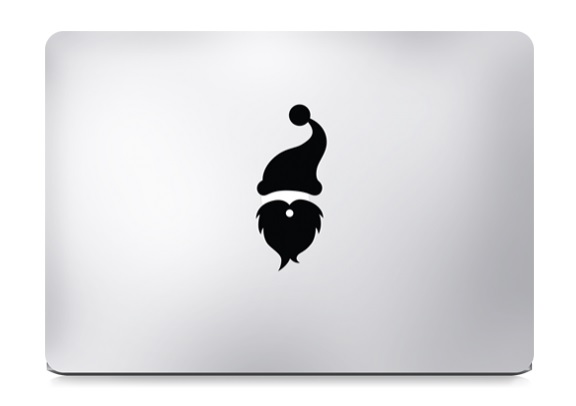 Christmas is just around the corner, so you could use a Santa Claus Macbook decal to get into the holiday and fun mode. This Santa Claus Macbook sticker is minimalistic and only adds Santa's infamous cap and beard to the Apple logo but it still looks very good, isn't it?
Buy: ($5)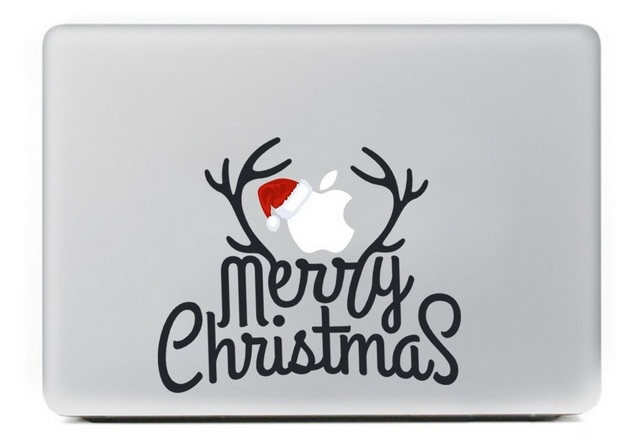 The Santa Claus Macbook sticker was minimalistic, this is not! This Macbook sticker goes all out to let the world know that you are indeed in Christmas holidays mode with the "Merry Christmas" and the red cap to the Apple logo. Well, it's Christmas time and anything extravagant is also accepted.
SEE ALSO: 15 Great Macbook Pro Accessories
These are 50 of the coolest Macbook stickers and decals we found for you. Do let us know in the comments section below if you use one of them.