As far as printers are concerned, my colleagues have all suggested that Ink Tanks are better than Ink Jets, and while I've not used a lot of Ink Tank printers, when Canon sent over the new Pixma G3010 to us for testing and reviewing, I was slightly more excited to check it out than I usually get about printers. So, if you're in the market for a printer, and the Pixma G3010 (Rs. 12,623) has caught your attention, here's my full review of the Canon Pixma G3010 all-in-one printer:
Pixma G3010 Specifications
Dimensions
445 x 330 x 163mm
Weight
6.3kg
Functions
Print, Scan, Copy
Printing Resolution
4800 x 1200
Connectivity
USB, WiFi, Canon Print app
Scan Speed
~19 seconds
Print Speed
Color: ~17 seconds
B/W: ~11 seconds
Display
1.2-inch LCD
Design and Build
The Canon Pixma G3010 isn't the most compact all-in-one you'll find. However, it is definitely one of the better looking ones out there. The printer comes in a nice matte-black finish that just looks classy, and just overall this feels like a better built unit than most other printers in its price range.
The buttons are all arranged on the right side of the printer, which is also where you'll find the LCD display. Not a lot can be said about these buttons, other than the fact that they get the job done. Personally, I didn't find myself using the buttons all that much, since almost everything on this printer can be done using a smartphone (more on that later), but the times when I did use the buttons (mostly to turn the printer on or off), the buttons felt tactile, and definitely well built.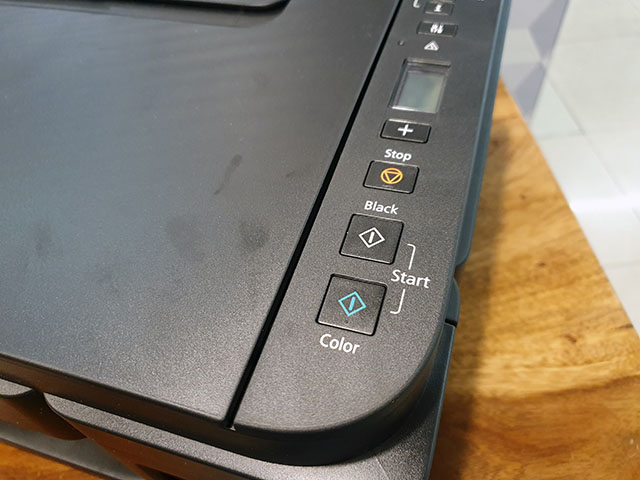 That's not surprising, Canon's products are well built (just take a look at their cameras), and the Pixma G3010 is no exception.
Other than that, the printer comes with the usual things — the extendable paper tray, and the (also extendable) paper output tray. The input tray is great, since it easily folds on top of the printer itself, so it can protect the internals of the Pixma G3010 from dust — that makes it easier to store the printer when it's not being used.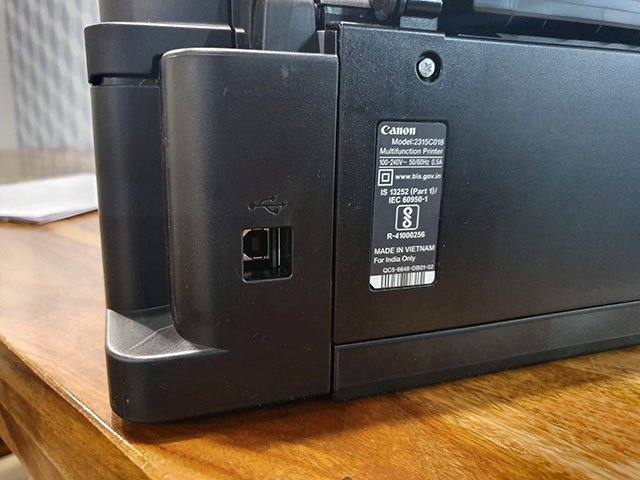 The Pixma G3010 is also well designed in the way that Canon has arranged the ports on this thing. There's the main power-input on the left hand side of the printer (which is also a reversible connector, and I love that. Brownie points to Canon), and there's a USB port on the right hand side that you can use to create a wired connection between the printer and your system.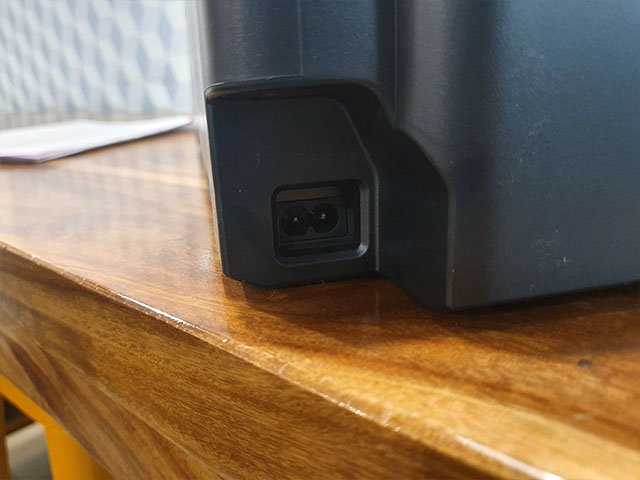 Setting Things Up
Setting up the Pixma G3010 might seem like a mammoth task if you take a look at the included manual with its really confusing drawings. However, it's actually not that difficult to set things up. The most important things while setting up the printer is actually installing the cartridges in the print-head, and filling up the colors — Canon provides single bottles of all the colors you'll need to fill the printer up inside the box itself, so you can get started with printing right away.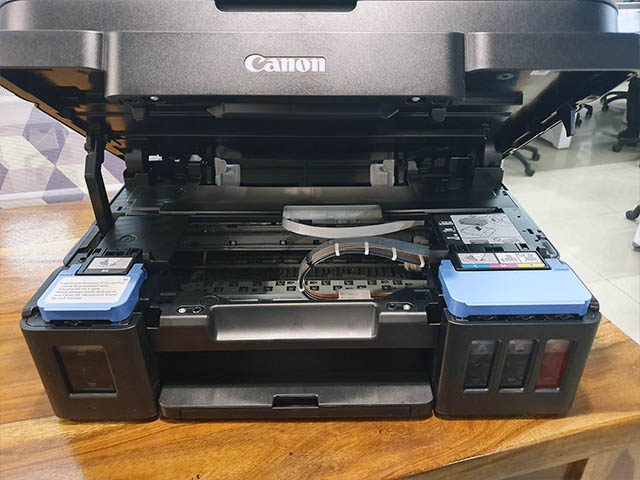 Once you've filled the ink, and set the cartridges, you can move on to connecting the printer to your PC and/or your smartphone — using a wired connection or a wireless one if you'd like. For the wired thing, you'll have to use the USB-port on the right hand side with the included USB cable.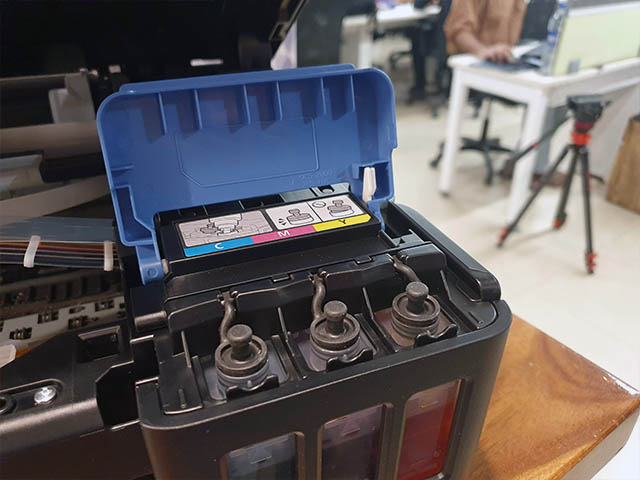 Connection and Compatibility
Even though the Pixma G3010 only offers a single USB port for wired connectivity, it does offer a plethora of ways to connect to a PC or a smartphone. There's obviously the wired method that you can use, by connecting the printer to your PC with the included USB cable  and installing the drivers, either from the Canon website, or from the included CD.
However, you can also use the Canon PRINT app (Android, iOS) to connect your phone to the printer and print photos, documents, scan items directly to your phone's memory, copy, and even click pictures from your smartphone camera and directly print them out with the Pixma G3010.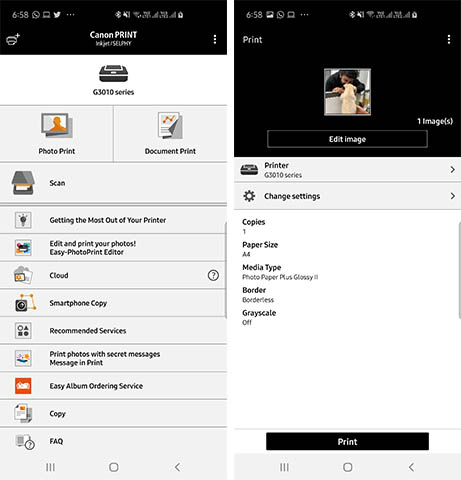 You can obviously also make the Pixma G3010 available over your internet so all your local devices can access it wirelessly and send printing jobs to it. That makes it very easy to share the printer, especially if you're in an office space with a bunch of systems, all of which might need access to the printer sometime or the other.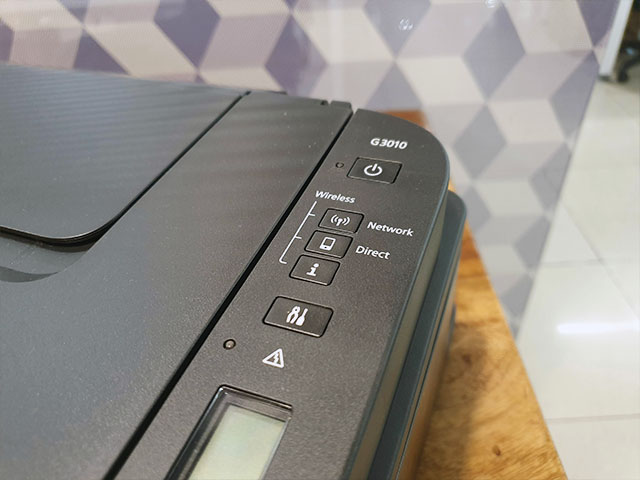 You will need the drivers for the printer in order to set things up, like I said, but there's one interesting thing I noticed. So Canon says that macOS isn't supported by the printer yet, and yes, if you try visiting the web-page mentioned in the manual for downloading drivers, you'll not find a download button. However, I was able to get the printer working with my MacBook Pro running macOS Mojave by simply downloading the Pixma G3010 series drivers from this website.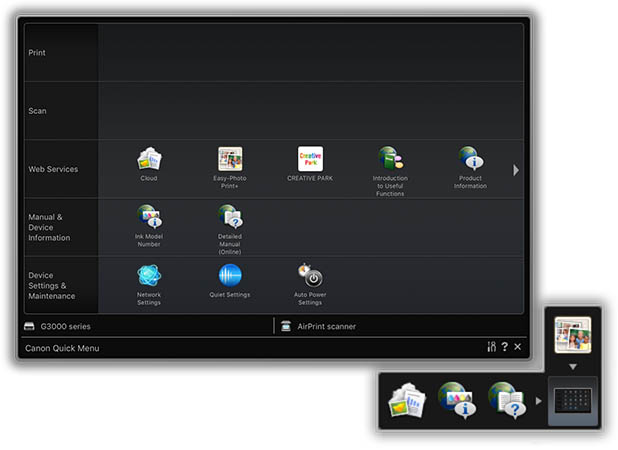 I'm not certain if Canon would approve of that, but hey, I use a MacBook Pro and I wanted to also test this printer out with my laptop, so I did what I had to. The good news is that it works perfectly fine, so if you're using a Mac, this is something you can do to get the printer working with your laptop as well.
Printing, Scanning, and Copying Performance
To test out the printing performance of the Pixma G3010 printer, I printed out an absolute ton of documents and images, both coloured and black-and-white, to see what things look like, and how good the printing quality on this printer actually is. I printed out documents, Photoshop files, even the Amazon listing for this very printer. I also scanned documents, took a picture from my phone and used the Canon PRINT app to print it out, and a lot more.
By doing all of that, the conclusion I've arrived at is that the Pixma G3010 will not let you down no matter what you're asking it to print. It can print text files, images (both monochrome and coloured), pictures clicked from your smartphone, and even screenshots you may have taken, all with a decent speed, and good quality that's at par with what other printers offer in this price bracket.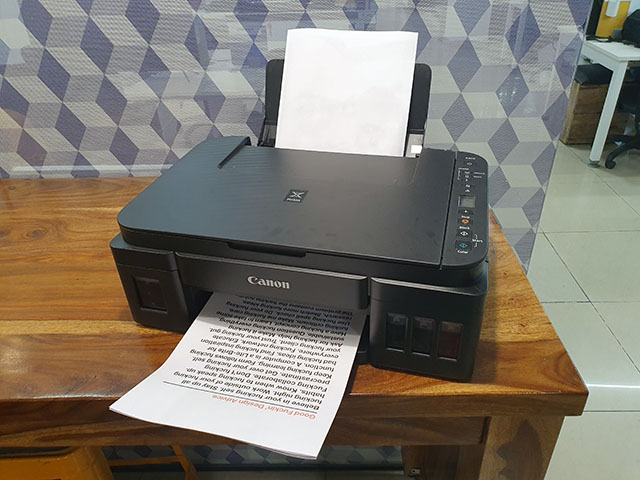 Unlike a lot of other printers, the ink doesn't smudge if you touch (or even rub) the paper too hard immediately after it's done printing, and there's also no colour bleeding on the paper. I did notice once that there were some wet spots on a sheet, but that only happened that one time, and never happened again, even though I printed almost everything I read today, so I'm willing to write that off as a one-off error that will almost certainly never happen again.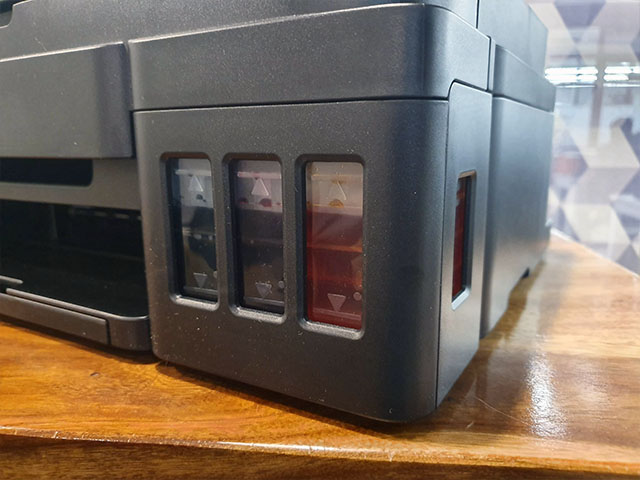 For pictures, I didn't have glossy photo quality papers on hand to actually test this out properly, but even on regular quality A4 sheets, the photos printed from the Canon Pixma G3010 look good. The printer doesn't seem to mess up colours at all, and the photos turned out really nice, especially considering that I used regular A4 sheets to print them out. I'm fairly confident the print quality of pictures on actual photo-quality sheets will be a lot better.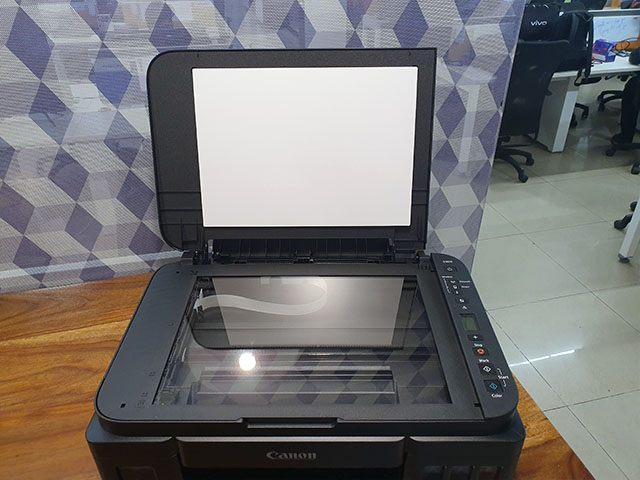 Also worth mentioning is that while the printing speed here is decent, the printer does take a couple of seconds to start printing when you send a document or an image to print — this happens regardless of whether you're printing over a wired USB connection, over WiFi, or sending a print job from your smartphone using the Canon PRINT app. It's not too long a wait, but if you find yourself printing hundreds of documents every day, the wait might get annoying for you. However, this is something we've seen happen with a number of ink tanks in this price range.
Other than that, the Pixma G3010 can also scan documents and copy documents and both these functions work as you'd expect them to. You can either start a copy function by pressing the 'Black' or 'Colour' button on the printer, or you can start a copy job through the Canon PRINT app. Scanning also works really well, in fact, if you start a scan from the Canon PRINT app, you can even save the scanned copy to your smartphone directly, which is just really cool.
Pros and Cons
While I personally came to a positive conclusion about the Pixma G3010 printer, here are some of the most important pros and cons about the printer so you can get a quick overview of everything this printer does well, and things it could improve upon.
Pros:
Good build
Printing quality is nice
Scanning and copying work really well
Excellent mobile app available for both Android and iOS
Cons:
The buttons can be confusing
No official macOS support
Canon Pixma G3010 Review: Worth the Money?
So, the Canon Pixma G3010 is a pretty amazing all-in-one printer that brings quite a lot of features, including wireless support, for a pretty competitive price of Rs. 12,623 on Amazon, and personally, I think this is a solid printer to consider if you're looking for in the Rs. 12,000 to Rs. 15,000 price range. It offers all the features you'll need, WiFi printing, easy set up, good print quality, an amazing mobile app, and more. That said, there are other printers you can consider as well — there's the HP Ink Tank 419 that my colleague reviewed, which offers a lot of these very features, for Rs. 13,150, but doesn't look nearly as good. There are also options from Epson that you can check out, but at the end of the day, Canon is a name that's pretty well known in the printing space, and keeping that in mind, I'd say the Pixma G3010 is definitely a printer worth considering.
Buy the Pixma G3010 from Amazon (Rs. 12,623)
REVIEW OVERVIEW

Printing and Performance

8.5

SUMMARY

The Canon Pixma G3010 all-in-one is an affordable ink tank printer that brings a lot of features for a very competitive price. If you are looking for a printer for home or office use that brings the ease of wireless printing, scanning, and copying for an amazing price, the Pixma G3010 is definitely something you should check out.