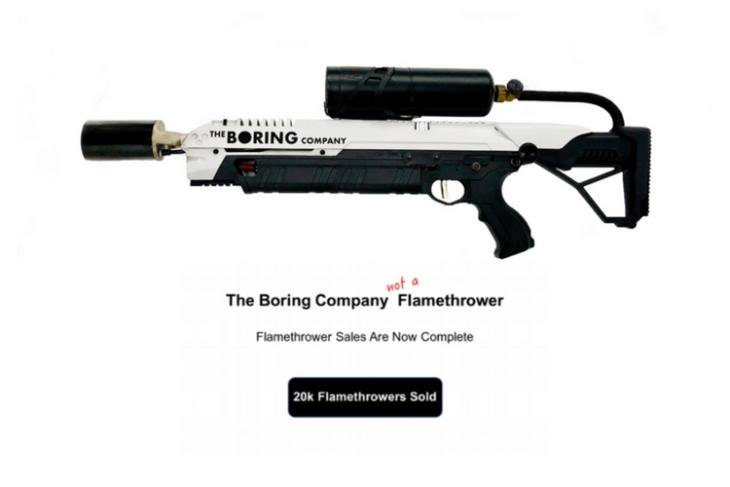 Tesla chief's The Boring Company Flamethrower has certainly attracted a lot of attention over the past couple of days. The company has sold a total of 20,000 flamethrowers within a week, which is quite impressive, to say the least. Although a lot of people are excited to see such a product in existence, it may have attracted a lot of unwanted attention as well.
As it appears, the Boring Company is having some trouble shipping the flamethrowers. It looks like the product is raising some red flags with customs agencies. As a result of this, Elon Musk said that they're rebranding the product to "Not a Flamethrower."
Apparently, some customs agencies are saying they won't allow shipment of anything called a "Flamethrower". To solve this, we are renaming it "Not a Flamethrower".

— Elon Musk (@elonmusk) February 2, 2018
No this isn't a joke. The company has actually changed the product's name to "Not a flamethrower." In fact, the company's website has already been altered to reflect the change.
Citing safety concerns, a California state assemblyman is trying to introduce a legislation to ban the sale of these flamethrowers in the state and other parts of California. Assemblyman Miguel Santiago said, "We don't allow people to walk in off the street and purchase military-grade tanks or armor-piercing ammunition. I cannot even begin to imagine the problems a flamethrower would cause firefighters and police officers alike."
Beebom's Take
I hate to admit it, but the state assemblyman Santiago has a point here. Although the boring company's flamethrowers are not as deadly as a military-grade weapon, I don't think its a good idea to have a bunch of people walking in the streets with a propane tank capable of setting things on fire.
For instance, take a look at this Instagram video by Elon Musk:
https://www.instagram.com/p/BeeYW0NA1HU/
Here, you can see Elon Musk firing the flamethrower and running towards the person holding the camera. Of course, he is having some fun, but it usually just takes one unfortunate mistake until it turns into a disaster. Just imagine the number of people who'll try to imitate this video itself. It is quite alarming!
As Santiago pointed out, it is probably not a good idea to have a bunch of people walk around with flamethrower in a state that just experienced one of the world's deadliest wildfires in the history.
That being said, none of this has stopped over 20,000 people from dropping a whopping $500 each on this flamethrower. In fact, a dozen of them are going for as much as $24,000 on eBay as well.