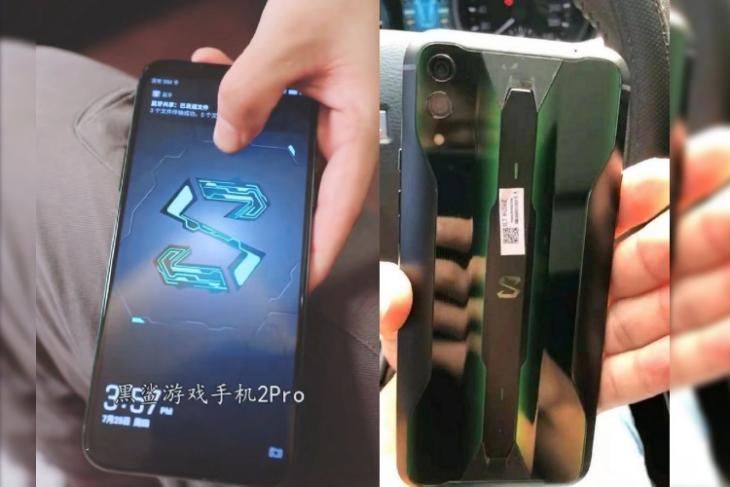 With the arrival of the Snapdragon 855 Plus, gaming phone makers are now rushing to adopt this mobile platform to offer more raw power to their users. Black Shark 2 Pro is launching tomorrow in China, but hands-on images for the device have found their way online a day before it went official.
The leaked images reveal both the front and rear design of the Black Shark 2 Pro. You should expect this smartphone to carry the same AMOLED panel as its predecessor in terms of specs and features. While Black Shark should introduce a higher refresh rate screen panel to compete with its gaming phone rivals, but that might not be the case.
Latest teasers for the Black Shark 2 Pro continues to talk about 240Hz touch response, which was already a notable highlight on its predecessor. There won't be a notch up-top this time around as well and a smaller, handier build is out of the question. It will be the same taller aspect ratio build from earlier this year, which was great and we did not have any complaints with it.
Turning our attention to the rear, you can see that the design isn't changed a whole lot different from Black Shark 2. The rugged glass and metal build has been retained for a "Pro" upgrade, but more RGB lighting is possibly being introduced into the mix. You will now observe the edges around the central spine will be lit in the signature green color of the Black Shark logo. It looks really cool and adds to the gaming aesthetic.
A recent report further revealed that the overclocked chipset will be coupled with 12GB RAM and up to 512GB storage, on par with the ROG Phone 2. We can expect to see 6GB and 8GB RAM configurations being phased out this time around in favor of 12GB+128GB, 12GB+256GB, and 12GB+512GB variants. It is expected to come in three color variants namely Black, Blue, and Ice Silver.
What are your expectations from Black Shark 2 Pro? Let us know in the comments below.