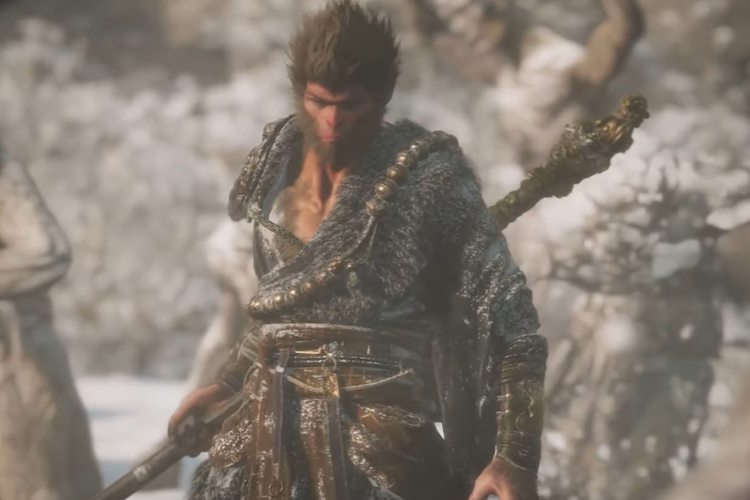 After a long silence, Black Myth: Wukong finally makes a grand comeback at the Gamescom 2023 ONL. The upcoming hack-n'-slash Soulsborne, featuring the mythical Wukong, was announced years ago to much fanfare. Unfortunately, developer Game Science has taken their sweet time with the game. And after a long development, they officially started releasing new gameplay. With the developers showcasing previews to the Chinese influencers and media two days ago, the rest of the world sees the first official trailer on the stages of Gamescom ONL.
Black Myth: Wukong Trailer Shows Wukong in Its Full Glory
The trailer begins with a headless ghost sitting on a wall, passionately playing music in a desolate desert. The gameplay then shifts to a video of Wukong walking through three different locales. We see a location covered in snow, with petrified humans stuck in a single place, a location in autumn, and a desert location.
We also see a new look at what seems like bosses featured in Black Myth: Wukong, most of which are characters from the story of Wukong. A tiger drinking blood from a blood pool, a Rhino harnessing electricity to attack its enemies, a snake spitting poison, and more. We also see a mythical enemy raining numerous blade wings, with Wukong parrying them.
Actual gameplay showcases the usual soulsborne gameplay features. Wukong can dodge incoming attacks with style and fight enemies skillfully. Wukong performs various movements throughout the trailer, implying that he comes with the ability to perform various fighting styles. He can also block and parry incoming attacks, and enemies can dish out unblockable attacks.
The trailer ends with Wukong sitting in front of a Buddha statue. Black Myth: Wukong still has not got an official release date yet, but the gameplay trailer confirms that more news might release in frequency.
---