Well-known for producing top-notch cameras, Sony is never short of an inspiration to amaze us. As you may expect, Sony Alpha a7R III or a7 III cameras have got all the bases covered to be among the best in the business. And that too at a price point of $1,999 and $3,199 respectively that can comfortably fit most enthusiast's wallets. Whether you already own one of these compact yet fully equipped mirrorless cameras or plan to get a new one, we have compiled a list of the 10 best Sony a7R III and a7 III accessories you can buy.
Best Sony a7R III or a7 III Accessories to Buy
While the choice of an accessory for Sony a7R III or a7 III may be subjective, I have included some essential accessories for these mirrorless cameras. From the scratch-resistant tempered glass screen protector to a handy remote shutter, this article has got you fully covered.
Apart from the essential accessories, the lineup also includes items that come into play during long shooting adventures and let you store your RAW shots securely. With that in mind, let's explore the roundup!
1. WH1916 – Highly Protective Tempered Glass Screen Protector
While a screen protector might not seem like a must-have accessory, it does have a role to play if you wish to safeguard your Sony a7R III or a7 III mirrorless cameras. With a durable screen protector, the rear LCD screen will remain protected from scratches and scuffs.
Made of high-grade tempered glass, WH1916 is a top-notch screen guard for a7R III and a7 III. The screen protector features a precise design and has a 2.5D edge that enables it to fit perfectly. Thanks to the 9H hardness, the screen defender also offers a trusted shield to the LCD screen against scratches.
Moreover, the WH1916 delivers up to 99% clarity and is completely bubble-free. Besides, it also resists fingerprints and sweat to retain responsiveness. Priced at $8, it comes in three-pack. Overall, it's one of the best screen protectors for a7R III and a7 III.
Buy from Amazon: $7.99 (3-pack)
2. Peak Design Ash Slide: An Ideal Camera Strap
Though Sony a7 III and a7R III come with pretty good Sony camera straps, some folks may want to have better camera straps. Especially the straps that can easily connect and disconnect from the camera. If that's you, the Peak Design Ash camera strap could be your preferred choice.
Peak Design Ash Slide is versatile in terms of functionality. The camera strap features 2 aluminum quick-pull adjuster, which makes length adjustment hassle-free. The internally-padded webbing not only enhances comfort but also ensures there is no additional bulk.
Depending on your needs, you can configure the strap for neck, shoulder, and sling carry styles. Though Peak Design Ash Slide is comparatively expensive at $65, you can't go wrong with it, given the impressive specs.
Buy from Amazon: $64.75
3. Amazon Basics UV Lens Filter – Excellent for Reducing Ultraviolet Light
Times when you travel for extensive outdoor photography, a UV protection filter becomes the need of the hour for multiple reasons. And this where the Amazon Basics UV lens filter comes into the reckoning. The lens sports a precise design and reduces ultraviolet light. Besides, it also eliminates bluish cast in images so that your shots can look at their best.
Amazon Basics UV lens filter is also quite protective. Made of aluminum and optical glass, it can shield the lens against scratches and also keep dirt and dust at bay. Do note that Amazon Basics offers this UV lens filter in multiple sizes, including 52mmm 55mm, 58mm, 62mm, 67mm, 72mm, 77mm, and 82mm. Hence, you can choose a preferred UV lens filter based on your needs.
Buy from Amazon: starts at $6.99 (52mm)
4. K&F Neutral Density Lens Filter – A Great Asset for Outdoor Photography
A neutral density lens filter comes in super handy when you wish to amp up your outdoor photography. If that's what you are looking for, this offering from K&F is worth checking out. The lens filter (77mm) is well-built and fully adjustable so that you can fine-tune it in line with your needs.
Made of high-grade optical glasses, the neutral density lens is incredibly slim yet durable. Another feature worth mentioning is that it keeps unwanted vignetting at bay to ensure you can capture stunning shots.
Furthermore, you can get this neutral density filter in multiple sizes such as 37mm, 40mm, 43mm, 46mm, 49mm, 52mm, 55mm, 58mm, 62mm, 67mm, 72mm, 77mm, and 82mm. Thus, choosing the one that can get along nicely with your photography requirement shouldn't be a big deal.
Buy from Amazon: $31.85
5. SanDisk Extreme Pro – Best Memory Card with Excellent Transfer Speed
Another essential accessory that you shouldn't fail to check out is an SD memory card with plenty of storage so that you can store a ton of photos and videos on the go. And for this exact purpose, SanDisk Extreme Pro is your best bet.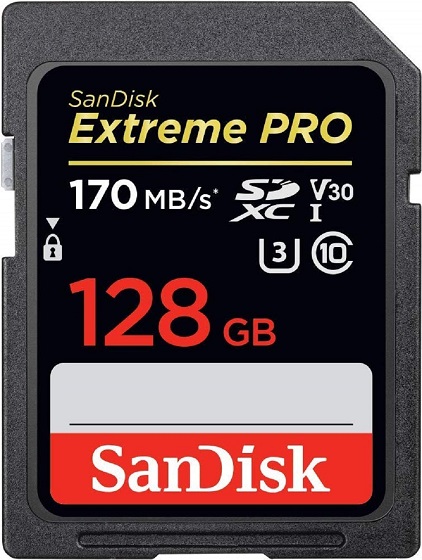 What makes Extreme Pro stand out is the 90MB/s shot speeds and 170MB/s transfer speed. Moreover, it supports Full HD (1920×1080) and 4K UHD (3840 x 2160) videos to let you record high-quality videos with the desired efficiency. Notably, SanDisk Extreme Pro is available in multiple storage variants such as 32GB, 64GB, 128GB, 256GB, 512GB, and 1TB. Overall, it's one of the essential accessories for Sony a7R III and a7 III camera owners.
Buy from Amazon: $33.49 (128GB)
6. Sony NPFZ100 Z-Series – Highly Efficient Rechargeable Battery
It's always better to have plenty of extra juice in the tank, especially when you are going on a photography adventure. A solid battery pack that can deliver long battery life should be ideal for this specific purpose. If that's where you have set your sight at, look no further than Sony NPFZ100 Z-Series, which is a powerful rechargeable battery designed for longer shooting hours.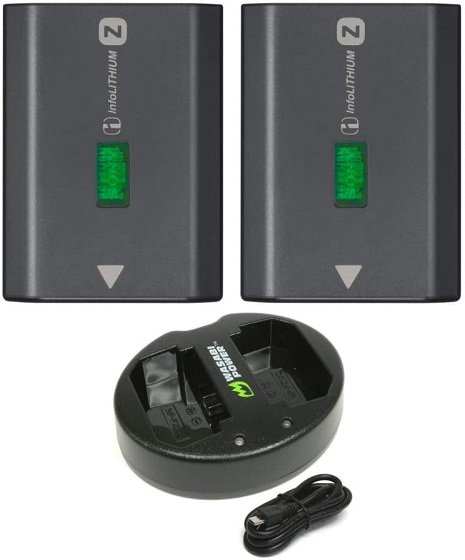 The 2,280mAh battery pack takes advantage of the InfoLITHIUM technology to show the remaining battery power in percentage and a five-step icon on the LCD screen. Thus, you can keep track of the battery life with ease. Priced at $183.59, it comes in two-pack.
Buy from Amazon: $183.59 
7. Anker PowerCore – Robust External Charger
Should you wish to go for a massive external charger, Anker PowerCore would be a strong contender for your needs. Boasting a 20,100m battery, the PowerCore delivers a ton of extra juice to a7R III or a7 III mirrorless camera.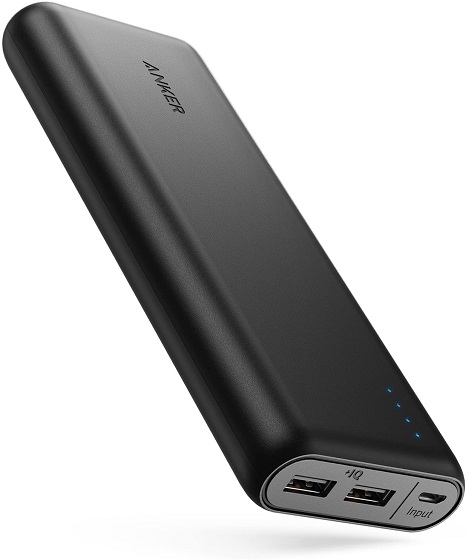 Thanks to the 4.8A output, it is fully equipped to charge your cameras at a rapid speed. Notably, this external charger features PowerIQ and VoltageBoost technologies to provide fast charging to your camera. Times when you want your extensive shooting hours to remain consistent, you would like to have this massive power bank at your disposal.
Moreover, PowerCore comes with the MultiProtect system to safeguard your mirrorless camera against short-circuiting, overcurrent, and other threats. Priced at under $40, it's one of the best external chargers for your a7R III/ a7 III mirrorless camera.
Buy from Amazon: $36.79
8. Aodelan Remote Control – Your Best Bet to Capture Time-Lapses
Unlike the previous models of Sony Cameras, such as a7R II or a6000, the a7R III and a7 III don't offer built-in apps that can be used for time-lapse functionality. That means you will now have to rely on other means to capture time-lapse shots.
The Aodelan remote control works as a super handy shutter remote control with up to 80m stable working distance. Equipped with 2.4GHz digital radio technology, it works reliably. Moreover, it supports time-lapse photography alongwith autofocus, single shot, bulb function, and continuous shooting mode.
Design-wise, Aodelan is pretty lightweight and compact. Hence, you can comfortably carry this remote control even in a tiny pocket. Considering these handy features, Aodelan seems reasonable at $39.
Buy from Amazon: $38.99
9. Seagate One Touch – Proficient External Hard Drive
If you don't want your computer's limited storage to fill up quickly with all your a7R III and a7 III photos, be sure to get an external HDD hard drive. You can then store all of your shots securely without cluttering the precious space of your computer. Bear in mind that you may need to reformat it for use with Time Machine on your Mac.
Sporting a pretty compact yet durable design, Seagate One Touch is a proficient external hard drive to store your images and access them with ease. Notably, the minimalist brushed metal enclosure further enhances the appearance of this portable hard drive.
You also get a one-year subscription to Mylio Create and a four-month membership to Adobe Creative Cloud Photography plan (not available in all countries) with the external HDD. These apps will let you edit and manage your photos with better control.
Buy from Amazon: $52.99 (1TB)
10. GWNNSH – A Versatile Tripod for Your Mirrorless Camera
I guess you saw it coming, didn't you? While a tripod may not be an indispensable accessory for the Sony a7R III or a7 III camera, you do need it when recording videos or shooting real estate and architecture photos. Besides, a top-notch tripod also proves its worth when you are dealing with low-light scenarios.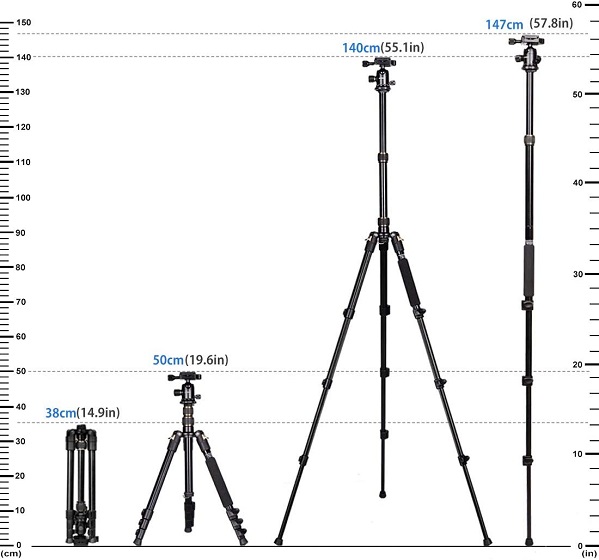 If you are hunting for a fully-equipped travel tripod for your Sony a7R III or a7 III camera, make sure to take a close look at this tripod from GWNNSH. With the durable aluminum alloy CNC construction, the tripod is well-built. Featuring a 4-section column leg and flip-lock system, it allows hassle-free setup.
Furthermore, the retractable tripod comes with dual-height adjustment knobs to enhance your outdoor shooting. Depending on your needs, you can convert the front leg into a standalone monopod to let you handle limited space. What's more, it also has a 360-degree ball head swivel system to allow a smooth-sailing transition of panorama shots.
Buy from Amazon: $64.99
Top Accessories for Sony a7R III and a7 III Lined Up for You
There you go! So, these are the best accessories that you can buy for your Sony a7R III and a7 III mirrorless camera. Whether you want to safeguard your camera, need additional storage, or enhanced comfort while carrying the camera, our accessories guide should come in handy.
By the way, which one of these accessories has found a safe spot in your kit? I would be glad to know your picks in the comments section below.