Conversations are an integral part of our lives, no matter how we do it. Messages is where the most action happens these days and while the likes of WhatsApp & Facebook are mostly used, the good old SMS does come in handy in a few situations. While IM services are good, you cannot be sure if anyone's online at a particular time. On the other hand, SMS is pretty reliable on that front. As the title suggests, we are going to list down some amazing SMS apps for Android. But you must be wondering why we need an SMS app? Well, there are certain reasons for that too.
The default SMS app on stock Android and other custom skins (TouchWiz, Sense etc..) work well but they are boring and don't bring anything cool or unique. Various third party SMS apps on the Play Store bring a lot more to the table like device sync, customization options, better notifications and more. We tested most of the SMS apps on the Play Store and while there's no dearth of great SMS apps, these are the best according to us.
Best SMS apps for Android
1. Textra SMS
Textra SMS is a very popular and highly rated SMS app, which brings a great combination of features and performance. The SMS app looks great, thanks to some very cool Material Design implementation. Along with the beautiful transitions, the app lets you customize its look totally with the ability to shuffle between dark and light mode, theme colors, app icon color, text styles and more. It supports intuitive gestures to delete a conversation or call someone directly from the app.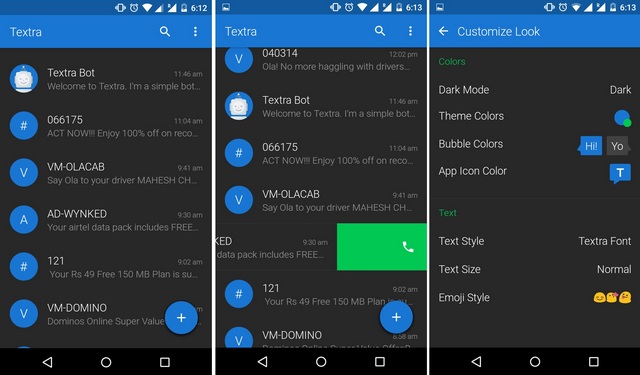 Textra SMS also brings some unique notification features like floating notifications, ability to quick reply to notifications, change LED color, vibrate patterns etc.. Other features include Quick Compose, Blacklists, Signatures, Android Wear support, emojis, video compression and more. To sum things up, Textra SMS is for people looking for a fast and sleek looking SMS app. The app looks beautiful and in our testing, we found it to be very responsive. Along with the responsive performance, the gestures and notification features make it worth a try!
Install: (Free with in-app purchases)
Compatibility: Android 4.0.3 and up.
2. HoverChat (Ninja SMS)
If you like Facebook Messenger's chat heads, you are going to love HoverChat SMS app. HoverChat implements the chat heads feature for SMSes and it adds its own touch. The pop-ups have the functionality of double tap to maximize, full-screen mode, multiple pop-ups, transparent pop-ups and more. You can also choose to select people you want pop-ups for, which is a handy feature, considering we don't want spam texts to come up with a pop-up. There are also a ton of customization options, as you can choose themes for pop-ups, its shape, size and transparency level. It also features a HoverChat Store for different customization items.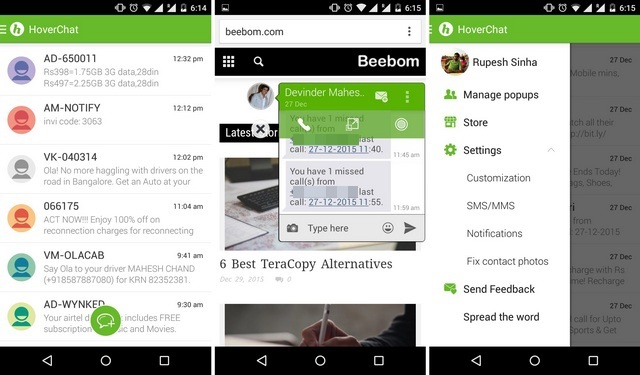 The app also includes themes for the whole interface along with the ability to change fonts. It also includes features like Backup & Restore, privacy mode (doesn't display message content in notifications), signatures, emoji support etc.. HoverChat, which was previously known as Ninja SMS is a great SMS app if you are looking to multitask. You can reply and read texts while watching a video or doing anything else, thanks to HoverChat's pop-ups. While the app does feel clunky at times, it works well if chat heads or pop-ups are all you need.
Install: (Free with in-app purchases)
Compatibility: Android 4.0 and up. 
3. GO SMS Pro
GO SMS Pro is another popular SMS app and as with every other app from the Go developer team, it is very feature rich. While the user interface in GO SMS Pro wouldn't win any laurels, we found it to be clean and good enough. The app also brings various customization options like themes (along with a Theme Store), various messaging styles, fonts and more. It also supports pop-up notifications and ability to change vibration pattern, notification LED color etc..
GO SMS Pro also lets you put sticky messages on top and save personal messages in a private box (encrypt conversations and lock). Other features include privacy mode, blacklist, plugins, backup & restore, favorites and folded stranger messages (arranges messages based on categories to keep your inbox clean). The app is available in a free as well as a paid version. The free version includes most of the features but the Premium version of the app brings Ad-block, Private Box Pro, unlimited backup, advanced MMS (up to 20 MB), custom delay etc.. If you like things simple, GO SMS Pro might not be for you but if you want all the features rolled into one, GO SMS Pro should be a great choice.
Install: (Free with Premium version available as an in-app purchase)
Compatibility: Varies with device. 
4. Mighty Text
If you've always wanted an iMessage alternative on Android, you should definitely try out Mighty Text. Similar to iMessage, Mighty Text lets you send SMS from your PC, Mac and Android tablet. The app works similar to the WhatsApp Web feature, as it syncs all your SMSes to its browser client, where you can send text messages and do a lot more. The app also lets you schedule messages, make calls along with bringing you phone call alerts right to your PC. Along with SMS syncing, the app also syncs other data from your phone like contacts, call logs, battery status, notifications, photos, videos, and more.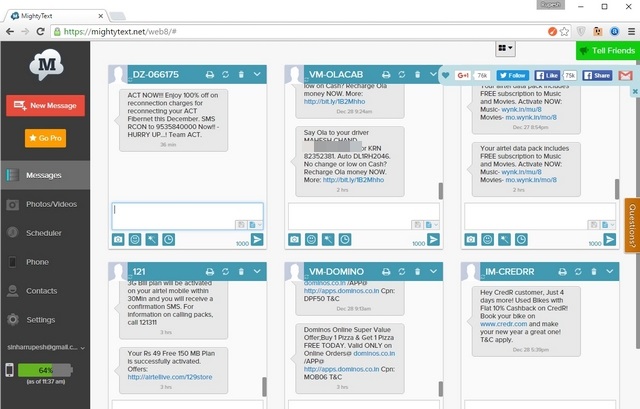 Mighty Text might not look like a SMS replacement app on your phone but it lets you text through your PC, which should be pretty useful in diverse situations. The app should come in very handy when we are working but there are some important conversations going on through SMS. Mighty Text is for you if you have been looking for an iMessage alternative that works on all platforms. The app also works as a desktop management software, considering it lets you do a lot more than just sending SMSes. It is available for free, so better get downloading.
Install: (Free)
Compatibility: Varies with device. 
5. Google Messenger
Google is slowly phasing out the not so popular Hangouts and it recently brought a new Messenger app, which works pretty well as an SMS app. Like most Google services & apps, Messenger is simple to use and beautiful to view, thanks to Material Design. The app features gestures to archive a thread, options to block a contact and turn off notifications for some contact. It also lets you choose settings separately for two separate SIM cards, if you have a dual SIM smartphone.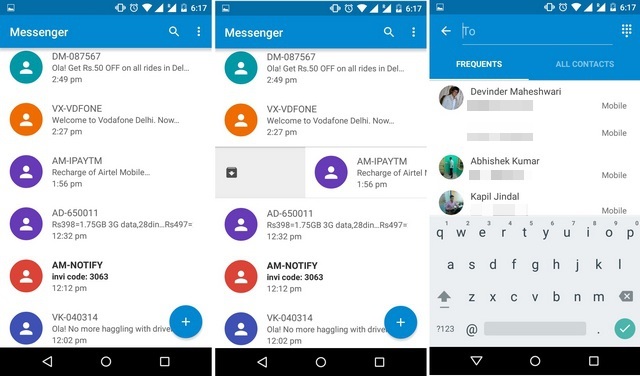 Along with that, Messenger lets you send pictures, voice messages, stickers and location. The SMS app looks beautiful but its performance is somewhat inconsistent. We felt slight lag when we were scrolling down through the long list of messages. We can expect Google to improve the app's performance with future updates. The feature list isn't so extensive but if you want a simple, cleaner looking SMS app, you should give Google's offering a try.
Install: (Free)
Compatibility: Android 4.1 and up. 
6. invi SMS
invi SMS is a new offering that claims to be the best SMS replacement app. While it's not the best, it does try to, which is certainly appreciated. The app lets you choose among various UI styles for the Inbox page. There are a number of beautiful themes to choose from and we especially like the theme which brings pictures to the background of all tile threads. You can further customize the looks of the app. There are also options to choose notification tone, quick reply popups, LED settings and more. The apps also lets you switch easily between instant messaging and SMS.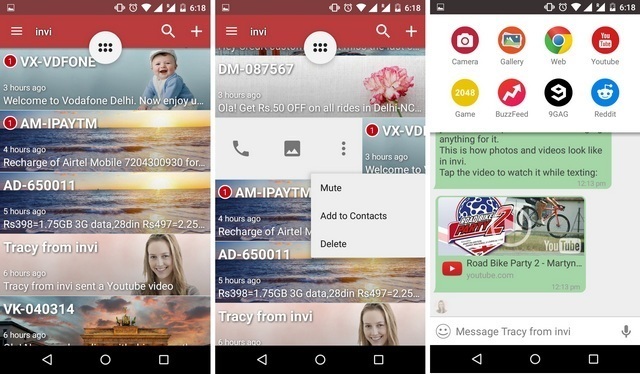 The best thing about invi SMS is its gestures. There are some amazing gestures for almost everything. You can swipe left from a thread tile to se the messages and you can swipe back to return to the Inbox. You can also swipe right on a thread to bring up the options to call, send image, mute, add to contacts and delete. The app also features a button in the centre top of the app, which lets you open games like 2048, browse the web, check Reddit or YouTube etc.. There's also the ability to share links or images directly through these mini apps. Like all the other apps on the list, invi SMS also syncs previously stored messages in the app. You should definitely give invi SMS a try because its unique interface and intutive controls are something no other SMS app brings.
Install: (Free)
Compatibility: Android 4.0 and up.
7. Handcent Next SMS
Handcent Next SMS app is a popular SMS app, which has been known for its customization features and the amount of control it grants to users. The SMS app also lets you send SMS through a Windows PC, Mac or an Android tablet with the "Handcent" feature. The app lets you share pictures, music, video, audio messages, location, contacts along with some cool greetings, eCard etc.. It also lets you doodle over a picture or spellcheck whatever you are about to send. The app also supports popups (chat heads), so you can multitask with ease.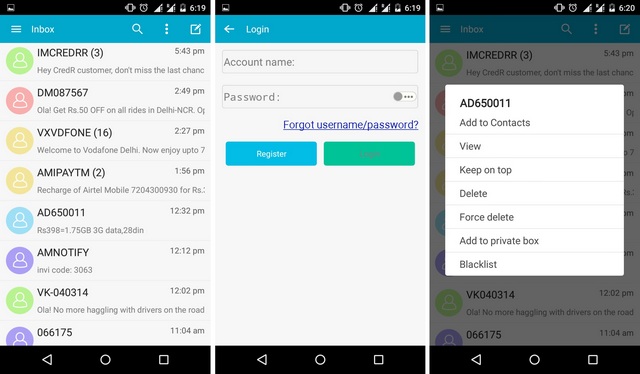 That's not all, as there are tons of customization feature, which should overwhelm you. You can tinker with almost everything in Handcent. There are options to change text background colors, fonts of various elements, icons, app skin, popup looks and more. Notifications also can be altered to fit all your needs. The user interface of the app is pretty straightforward with some fancy animations in tow. If you like extensive features in an app and if you love playing with options & settings then you are going to love Handcent Next SMS app.
Install: (Free with in-app purchases)
Compatibility: Varies with device. 
8. Chomp SMS
Chomp SMS has been developed by the same Delicious Inc, which also makes Textra SMS and while they are both SMS apps, they are a lot different in actual usage. Chomp SMS is the more simpler of the two and Material Design UI complements the app. The app looks beautiful and you can customize it even further, thanks to various themes. The app also has the ability to import fonts and edit default themes. With Chomp SMS, you can also have a pop-up for quick replies every time a message comes. You can also change the ringtone, LED color, vibrate pattern and more.
On the messaging front, the app packs in features such as schedule messages, message lock, backup & restore, signature support, Blacklists, quick compose, send delay etc.. There's also ability to pin threads to the top and email conversations. The app also works with Android Wear devices (By the way, we are giving away a Moto 360 2nd gen in case you haven't noticed) and third party notification app Pushbullet. In our testing, we found Chomp SMS perfectly capable of replacing our default SMS app, thanks to its simplicity and fluid interface.
Install: (Free with in-app purchases)
Compatibility: Android 2.2 and up.
9. mySMS
mySMS is a good looking feature packed SMS app that lets you text people through a PC as well. The app gives you a link, which you can open up on your PC to send SMSes. Along with SMS control, you can see your call logs and make remote calls right from your PC. The app brings SMS as well as IM features with 'mySMS friends'. It incorporates Material Design UI in its interface and lets you customize it through various styled themes, wallpapers etc.. There's also a cool interface element dubbed "Quick conversation access", which shows your conversations threads through icons even in the message view. The SMS app also incorporates swipe gestures for deleting conversation threads.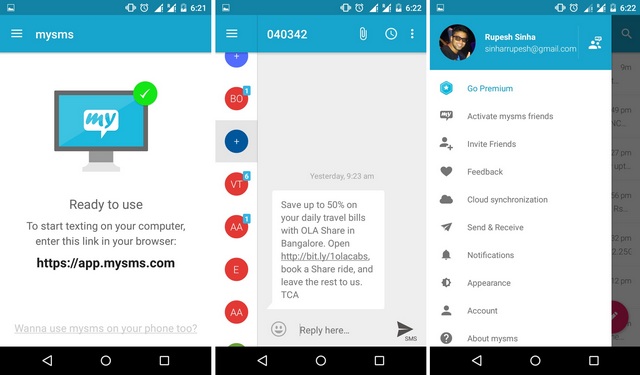 Other features of the app include Blacklist, Signature support, cloud sync and more. mySMS is available in a free version and it brings all the features we just mentioned. The Premium version brings features like backup & restore messages, SMS Scheduler, mirror SMS and ability to archive messages in cloud storage services like Dropbox, Google Drive. mySMS is another great SMS app that brings some cool features (Quick conversation access) along with a fluid interface. It's worth checking out!
Install: (Free with in-app purchase for Premium features)
Compatibility: Varies with device.
10. QKSMS
QKSMS looks like a simple SMS app on the front but dig deeper and you will find a plethora of features & options. The app also makes sure you feel overwhelmed with the options in its Settings page. That's the reason, the developer found it fit to add an option see all settings or fewer settings. QKSMS features Material Design UI, which means it's colorful and the app lets you choose among a lot of color scenes if you are not a fan of the default Blue color scheme. You can also choose among White, Off-white, Dark grey and Black as the app's background color. Other customization options include night mode, fonts, avatars, sliding tab etc..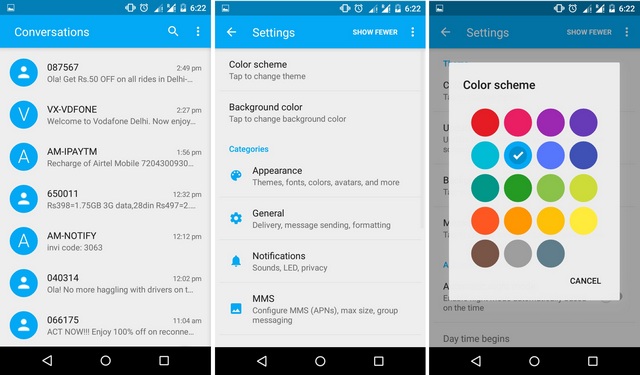 There are tons of other features like blocked inbox, ability to auto delete texts from blocked contacts, starred contacts for faster message composing to certain contacts. It also includes pop-ups support for quick replies, send delay, toast notifications, auto emojis, split SMS and more. Along with these features, the app works like a charm with no stutters or lags whatsoever. The interface is also clean and clutter free, even with all the options the app brings. If you are looking for the perfect mix of simplicity & features in an SMS app, QKSMS should be a good bet.
Install: (Free with in-app purchases)
Compatibility: Android 4.0.3 and up.
SEE ALSO: 7 Best Secure Messaging Apps To Keep Your Privacy Intact
These unique SMS apps may pleasantly surprise you!
We do agree to the fact that SMS is no longer as popular as it was before but there are people who still use it and to them, these SMS apps can come very handy. These apps certainly make texting over SMS way more interesting. Do give them a try and these apps might surprise you pleasantly. Do leave your comments below.
---
Load More